Brexit withdrawal agreement
Proposed EU-UK agreement for implementing Brexit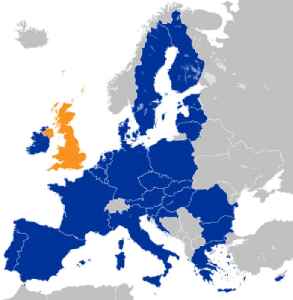 The Brexit withdrawal agreement is an unratified treaty between the European Union (EU) and the United Kingdom (UK), setting the terms of the withdrawal (Brexit) of the latter from the former. It covers such matters as money, citizens rights, border arrangements and dispute resolution. It also contains a transition period, and an outline of the future relationship between the UK and the EU. Published on 14 November 2018, it was a result of the Brexit negotiations. The agreement was endorsed by the leaders of the 27 remaining EU countries and the UK Government led by Prime Minister Theresa May, but faced opposition in the UK parliament, whose approval was necessary for ratification.. On 15 January 2019, the House of Commons rejected the withdrawal agreement by a vote of 432 to 202. The Commons rejected the Agreement again on 12 March 2019, on a vote of 391 to 242, and rejected a third time of 29 March 2019 by 344 votes to 286.


Germany's BDI: British PM irresponsible to call for Withdrawal Agreement to be reopened
Germany's BDI industry association said on Wednesday that British Prime Minister Boris Johnson's call to re-open the Withdrawal Agreement was irresponsible and said German firms had no choice but to..
Reuters - Published
UK parliament speaker approves Friday vote on Brexit Withdrawal Agreement
British parliament Speaker John Bercow said on Thursday he had accepted the government's bid to hold a vote on its Brexit deal on Friday as it will cover only the Withdrawal Agreement element of the..
Reuters - Published
Boris Johnson promises October 31 Brexit date on trip to Doncaster market
During his trip to Doncaster market, the Prime Minister purchased a cob loaf, some scones and English plums, joking with a lobster-seller: "We've got to take a few claws out of that Withdrawal..
Credit: PA - Press Association STUDIO Duration: 00:50Published
Boris Johnson vows to enter EU talks 'with a lot of oomph' despite backstop differences
The Prime Minister has said he will enter talks with EU leaders "with a lot of oomph" as differences between the UK and EU's position over the Withdrawal Agreement remain. Boris Johnson is due to meet..
Credit: PA - Press Association STUDIO Duration: 01:10Published
Search this site and the web:
You Might Like