John M. Richardson (admiral)
Current Chief of Naval Operations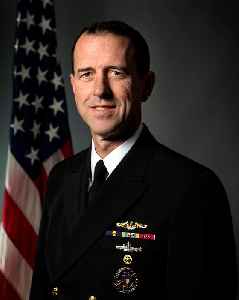 John Michael Richardson is a four-star admiral in the United States Navy who currently serves as the 31st Chief of Naval Operations. He previously served as the Director of the Naval Nuclear Propulsion Program from November 2, 2012 to August 14, 2015. While serving as Director of Naval Nuclear Propulsion, Richardson was responsible for the command and safe, reliable operation of the United States Navy's nuclear propulsion program and for all the current United States naval reactors deployed for usage as well as all facilities needed to ensure safe operations. On May 13, 2015, United States Secretary of Defense, Ashton Carter, announced Richardson's nomination to succeed Admiral Jonathan Greenert as Chief of Naval Operations. Richardson began serving as the 31st Chief of Naval Operations on September 18, 2015.


Maritime dimension of terror concern for both India & US: John M Richardson
In light of the COMCASA agreement signed last year during the 2+2 talks between Indian and American foreign and defence ministers, exchange of information on such terror activities will help in..
DNA - Published
Search this site and the web:
You Might Like