MOVIE REVIEW: Extremely Wicked, Shockingly Evil and Vile

Monday, 6 May 2019
by 👨‍💻 Graham Pierrepoint


EXTREMELY WICKED, SHOCKINGLY EVIL AND VILE

Dir: Joe Berlinger

Starring Zac Efron, Lily Collins, Kayla Scodelario, Jeffrey Donovan, Angela Sarafyan, Dylan Baker, Brian Geraghty, Jim Parsons, John Malkovich, Haley Joel Osment, James Hetfield





2.5 STARS (out of 5)
Biopics are some of my favourite movies to watch, dissect and discuss, and while that's a personal quirk of mine, they also remain hugely popular with the wider public. In the case of notorious serial killer Theodore 'Ted' Bundy, there has been enormous material to bring to the big screen for many years. Bundy's case is one which not only breached new levels of horror in the public eye, but which was also depicted in the media in completely unprecedented fashion. Bundy is a character whom no one will likely understand to the fullest extent, however, we are able to take stock of some of the terrible things he did.
Berlinger's movie – with an extremely long title, though named after a statement made by the judge presiding over Bundy's final trial – is one which attempts to show the case through the eyes of the people around him, in particular that of ex-girlfriend Elizabeth Kendall, and the killer's eventual wife Carole Ann Boone. While Bundy (portrayed by Zac Efron) is given much of the spotlight in his story here, we are presented with little in the way of speculation – simply the facts.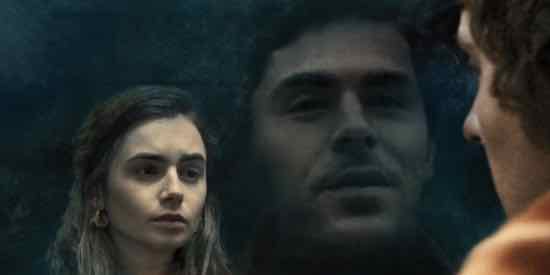 Extremely Wicked, Shockingly Evil and Vile (Voltage Pictures)
The story starts with Kendall (Collins) meeting Bundy and starting a relationship with him. At this point in time, Bundy is a budding lawyer, though it emerges that he is already facing a number of charges pressing against him in Utah. These charges escalate to Colorado, and eventually to Florida. Bundy is depicted – as witnesses stated throughout his case – as a charming, unassuming man, one who believes passionately in his own innocence. However, as evidence continues to stack against the man with regard to the mutilation, murder and attempted murder of women and a young girl across the three states, Bundy starts to fight against his own counsel.
It must be said, first of all, that the movie is wonderfully cast. Efron is not only the spitting image of Bundy in this, he genuinely and passionately sells his own self-belief with gusto. Efron has already broken out beyond his High School Musical days into bigger and bolder territory, though this may be his boldest move yet. Collins performs marvellously as the conflicted Kendall, while Scodelario puts as much into Boone as we physically know about her. In real life, Ms Boone and her daughter with Bundy have gone completely off-grid.
Notable turns from Malkovich, Parsons and Hetfield are also well-placed, and – as a brief aside – it's always great to see Haley Joel Osment take on challenging roles.
However, where Extremely Wicked falls flat is in the storytelling. The first 30-45 minutes are surprisingly dull given the story at stake. The pacing and the scene order are all over the place, the editing gives little in the way of breathing room, and for a lot of the runtime, it feels as though the scriptwriter is rattling along by the seat of his pants. A few more revisions, and perhaps a little more time taken to digest certain elements of this story, and we could be looking at a far better whole.
The last 20-30 minutes are nicely dramatic and are well worth holding out for. However, up to that point, the film struggles to actually nail much down. There are tons of missed moments for genuine intensity, pathos or contemplation. This is a movie which feels so compelled to get itself told, that it rather loses itself along the way. It's not a poor film by any stretch of the imagination – but it does feel rather like the 'Lifetime' take on Bundy.
Anyone expecting the film to take a deeper look at Bundy's psyche, or even why he committed the crimes he did, will be left barren. This is a movie which focuses on telling the basic story of the killer's trial, and how it affected people around him. Throughout the movie, we are shown that Bundy continuously and vehemently denied any wrongdoing. But we aren't shown the other side of the coin. We never get given much time to try and appreciate his complex nature. We're simply given the facts, and are asked to roll along with them. This is fair enough, but it hardly makes for the most satisfying watch. Granted, it may not be the easiest, nor most comfortable subject matter to navigate.
Extremely Wicked, Shockingly Evil and Vile - Official Trailer (Voltage Pictures)
Extremely Wicked is a good movie that benefits from a great cast and, dare I say it, a story which was already fascinating. Were this a less intense and shocking case, or a completely different story, things wouldn't be looking so positive. As such, it does a good job of introducing you to the Bundy files. The movie is based on Kendall's memoir, The Phantom Prince, which details her time with the killer and how she fit into the story. Her book is always going to be worth reading if you are left wanting more after watching this – and for anyone thirsty to know more about why Bundy did what he did, in-depth documentaries are always going to be your best port of call. Sadly, Extremely Wicked doesn't probe much deeper than the absolute minimum, despite having the absolute best cast available for the job.
What is especially nice about the movie, however, is the fact it takes a few moments, not just a fleeting one, to recognise the women who fell victim to Bundy at the very end of the film. While the movie may not probe too deep into these horrible crimes, innocent lives lost are at least paid tribute to in an honourable fashion.
You Might Like
💡 newsR Knowledge: Other News Mentions
Kaya Scodelario to lead cast of 'Resident Evil' reboot

Scodelario will play the role of protagonist Claire Redfield in the latest cinematic take on the iconic video game series.
Credit: Cover Video STUDIO Duration: 01:04
Published
Kaya Scodelario, Hannah John-Kamen and Robbie Amell Set to Star in 'Resident Evil' Origin Movie | THR News

Kaya Scodelario, Hannah John-Kamen and Robbie Amell will star in 'Resident Evil,' which is serving is the official origin story for the movie franchise based on the popular Capcom horror video games.
Credit: The Hollywood Reporter Duration: 01:23
Published
Zac Efron forced into lockdown in South Australia

Zac Efron has been forced into a six-day lockdown following an outbreak of coronavirus in South Australia.
Credit: Cover Video STUDIO Duration: 00:43
Published
Zac Efron strikes Gold with survival thriller

Zac Efron is turning his stay in Australia into a working vacation after signing on for survival thriller Gold.
Credit: Cover Video STUDIO Duration: 00:46
Published
Lily Collins' fiance sparked her love of the great outdoors

Lily Collins' fiance Charlie McDowell has transformed her life by turning her into a keen camper who loves connecting with nature.
Credit: Cover Video STUDIO Duration: 00:51
Published
Lily Collins, Ashley Park & More Talk New Netflix Series 'Emily In Paris' | THR News

'Emily In Paris' star Lily Collins, Ashley Park and Lucas Bravo, as well as creator Darren Star, spoke to THR about filming their new Netflix series on location in Paris. Lily and Darren also opened up about what inspired Emily's signature style.
Credit: The Hollywood Reporter Duration: 04:24
Published
Lily Collins stunned by road trip proposal

Lily Collins had no idea a recent road trip with her boyfriend would end with a marriage proposal.
Credit: Cover Video STUDIO Duration: 00:48
Published
Lily Collins engaged

Lily Collins is engaged to marry director Charlie McDowell.
Credit: Cover Video STUDIO Duration: 00:55
Published
Morgan Freeman to headline new virtual play series

Morgan Freeman, John Malkovich, and Zachary Quinto will lead an all-star cast in a series of virtual readings from plays written by the likes of Gore Vidal and David Mamet.
Credit: Cover Video STUDIO Duration: 00:47
Published
Jim Parsons insists being gay makes him a better actor

The star, who is currently appearing in Netflix movie The Boys in the Band - a small screen adaptation of the hit 2018 Broadway revival of the 1960s gay-themed play – has shared that his sexuality has improved his work as he has more "layers" to share.
Credit: Cover Video STUDIO Duration: 01:03
Published
Jim Parsons' battle with Covid-19 lasted 'a month to six weeks'

Jim Parsons and his husband Todd, thought they had bad colds as the coronavirus pandemic began but quickly realised it was something much worse when they both lost their sense of smell and taste.
Credit: Cover Video STUDIO Duration: 00:43
Published
Jim Parsons battled Covid-19 earlier this year

'The Big Bang Theory' star Jim Parsons has added his name to the list of celebrities who have battled Covid-19.
Credit: Cover Video STUDIO Duration: 00:44
Published
•More original news reports from newsR