MOVIE REVIEW: Stuber

Monday, 15 July 2019
by 👨‍💻 Graham Pierrepoint


STUBER

Dir: Michael Dowse

Starring Kumail Nanjiani, Dave Bautista, Iko Uwais, Natalie Morales, Betty Gilpin, Jimmy Tatro, Mira Sorvino, Karen Gillan





4 STARS (out of 5)
Buddy comedies have been around for a long time. They don't always work, either. It's not too hard to understand why – pair two people with opposite personalities and throw them into a bizarre situation – it's a cookie-cutter script which doesn't often require much intricate plotting to get from A to B. However, what these stories do rely on is great characters, a solid cast, and great comedy. This last part is difficult – you need great jokes on paper, timing and delivery. Despite what you've probably read elsewhere, I genuinely think Stuber does pretty well in these areas, surprisingly so.
Stu (Nanjiani) is an Uber driver who is struggling to forge a satisfying career, all the while being relied on as a 'friend with benefits'. This wouldn't be so much of a problem if he wasn't hopelessly in love with the friend in question. Vic (Bautista), meanwhile, is a visually-impaired cop who has been looking for the rogue killer of his ex-partner. As the chance to finally bag his man emerges, Vic hires an Uber and ropes Stu in for the ride, forcing him to confront a series of action movie escapades and to risk his rental car in the process.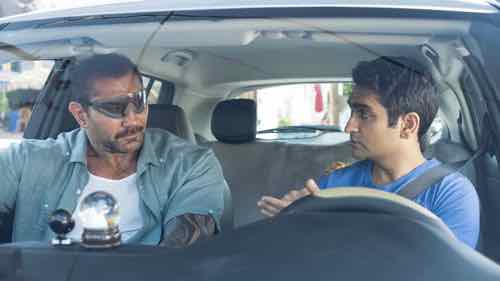 Stuber (20th Century FOX)
Stuber is, on paper, nothing special. If you've seen movies like Central Intelligence, The Man, or The Nice Guys, you're going to get the picture. That being said, two of the three movies I've mentioned are really worth seeing – as the formula does still work well. This is never going to be the sort of film which challenges Planes, Trains and Automobiles in the genre, but it has a clear sense of purpose from the start.
The movie benefits from stars with great chemistry. Nanjiani and Bautista have been rising stars for some time, and while some may not feel that this script challenges their styles in any particular fashion, I have to say that the jokes hit more than they miss. Nanjiani's aghast, incredulous delivery alongside Bautista's reckless, brutish take on an embittered cop work very well in tandem. There have been some comedy movies I've watched in recent years which have failed to raise a smile – I laughed at least ten times here, which – in my book – is something of a success.
Plot-wise, yes, it's nothing special. You know exactly how everything is going to play out, and you know that both characters are going to 'learn from each other' to become 'better-rounded individuals'. Providing you're comfortable with that, going in, you can sit back and enjoy the ride. The first twenty minutes or so, while setting up, are a little clunky – but when it hits its stride, and when the main duo hit the road, the comedy really starts to pick up.
The film also does try and do a few original things here, such as the main struggle Stu faces with Becca (Gilpin), his friend with benefits. This character struggle isn't something that gets examined too often. What's more, there are a few surprising character tropes and touches which might pop up and surprise you. It doesn't always go in the direction you expect it to.
However, anyone looking for anything ground-breaking, or close to an instant classic, may be coming up short. While Stuber isn't ever going to be used in the same breath as some of the comedy classics of old, it does at least succeed as a fantastic little diversion. The pacing is nice, and while I may not be too invested in these characters, I do at least find their jokes amusing. Character development and a script that genuinely makes me feel something will be worthy of a 4.5, or a 5 – and as such, seeing as Stuber made me laugh more than I was expecting, it earns a solid 4.
Stuber - Official Trailer (20th Century FOX)
I feel there has been a lot of critical snobbery over this movie. I advise you to compare critic scores alongside audience reviews – this isn't a case of a movie being 'universally panned'. I think it knows its audience well, and it does focus on what it sets out to do. It's nowhere near as wayward or as pointless as some movie critics are having you believe. If you've enjoyed this type of movie in the past, or already like the main leads, I'm confident you will come away with a smile on your face.
2019 has been a great year for movies so far, and a fantastic year for surprises. Stuber probably won't trouble my top movies of the year list, however, what it will do is earn a place on my rewatch list when it heads to streaming in the near future. Take a punt.
You Might Like
💡 newsR Knowledge: Other News Mentions
TV Comedy Actor Roundtable With Ramy Youssef, Kenan Thompson, Ricky Gervais, Kumail Nanjiani and Dan Levy

Ramy Youssef, Kenan Thompson, Ricky Gervais, Kumail Nanjiani and Dan Levy come together from their homes for the TV Comedy Actor roundtable.
Credit: The Hollywood Reporter Duration: 18:37
Published
Uber, Lyft drivers are employees -California judge

A California judge on Monday granted the state's request for a preliminary injunction blocking Uber Technologies Inc and Lyft Inc from classifying their drivers as independent contractors rather than employees. This report produced by Yahaira Jacquez.
Credit: Reuters Studio Duration: 01:08
Published
Uber rides plunge but food delivery doubles

Homebound customers of Uber Technologies more than doubled their orders from the company's food-delivery service in the second quarter but demand for ride-hailing trips only marginally recovered from pandemic rock-bottom. Fred Katayama reports.
Credit: Reuters Studio Duration: 01:21
Published
Uber driver faces tough choice as U.S. aid expires

Uber driver Johan Nijman faces a difficult decision as federal unemployment aid expires: risk failing to pay for groceries and even lose his home, or resume driving and potentially catch COVID-19 as a diabetic. This report produced by Yahaira Jacquez.
Credit: Reuters Studio Duration: 02:26
Published
Uber teams with Thames Clippers for boat service

Uber has joined up with Thames Clippers for the launch of its new service UberBoat. The service, which commences in London on Monday, will allow users topurchase tickets for Thames Clippers boats in advance through the Uber app andthen use QR technology to board. The payment will be processed using Uberaccount details. Passengers will be able to use the service across a fleet of20 boats on the River Thames, with departures from 23 piers across London.
Credit: PA - Press Association STUDIO Duration: 01:06
Published
California May Require Ridesharing App Companies To Go Electric

California's Air Resources Board wants to cap emissions from vehicles being used for companies like Uber and Lyft. These rideshare app businesses have an infamously tumultuous history with labor regulators in their home state. However, Gizmodo Earther reports they seem far more receptive to going green than they are to sufficiently compensating their workforce. The proposal would mandate that 60% percent of miles traveled by Uber and Lyft vehicles be in electric vehicles by 2030.
Credit: Wochit News Duration: 00:39
Published
Tweets about this
•More original news reports from newsR