MOVIE REVIEW: The Angry Birds Movie 2

Monday, 12 August 2019
by 👨‍💻 Graham Pierrepoint


THE ANGRY BIRDS MOVIE 2

Dir: Thurop Van Orman

Starring Jason Sudeikis, Josh Gad, Leslie Jones, Bill Hader, Awkwafina, Sterling K Brown, Eugenio Derbez, Danny McBride, Peter Dinklage





4 STARS (out of 5)
Ok – we're here again. Anyone who was reading my movie columns back in 2016 will remember that I was awkwardly surprised to genuinely enjoy the first Angry Birds movie. So were a lot of people. Video game adaptations rarely do well critically, if financially. It took this year's Pokemon: Detective Pikachu to finally break the curse and secure more than 50% approval on Rotten Tomatoes, however – believe it or not – Angry Birds 2 has gone and bested it. I dare say, too, that the sequel is on par, if not better than the first.
This time around, having bested the egg-thieving pigs in the first movie, Red (Sudeikis), Chuck (Gad), Bomb (McBride) and the crew find themselves having to join sides with Leonard (Hader) and the green-skinned porkers. That's because a new threat has emerged – Zeta (Jones), who intends to claim both the birds and the pigs' islands as her new domicile. She lives on Eagle Island – and it's here where the 'frenemies' will need to head to stave off the mutual threat.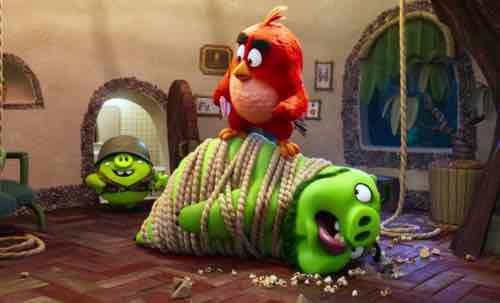 The Angry Birds Movie 2 (Sony Pictures Entertainment)
Firstly, once again, the animation is nice. It is nowhere near as stunning as something Pixar or Laika might put out – but it absolutely serves its purpose. The Angry Birds movies appear to be filling a niche where there is a genuine need for animated slapstick. Pixar movies are too invested in heart, DreamWorks movies are too invested in being current – this movie, and its predecessor, are fantastic fun from a traditional, physical humour standpoint. I've said the same about the Hotel Transylvania movies.
The characters are also likeable. There are a lot of them, but they're goofy, fun, and actually pretty flawed. None of them are really cookie-cutter tropes as such – there are shades, here and there – but the cast really does work to bring them to life. There are a ton of celebrity cameos this time around, all of which are worth spotting without spoilers.
What lets Angry Birds 2 down – and away from getting that coveted extra star – is its corporate trappings. It feels inescapably like a money-making exercise at times, which, of course, it is – most movies are! However, even when it's trying to insert heart or tell a story, it's going to be breaking out the pop culture soundtrack in the next breath. It's what sets the upper echelons of animated film apart from the rest. However, fair play to the studio for playing to its audience.
Pop culture gags in animated movies, however, need to press pause. The Emoji Movie was, of course, the worst offender, and is most likely to date horribly in years to come (if it hasn't already). Angry Birds 2 falls into the trap of showing off a funny joke or meme which – when it was in production, might have been timely – but which already feels dated. There is dabbing in this movie, and if you're not sure what that is, feel grateful for such ignorance.
The Angry Birds Movie 2 - Official Trailer (Sony Pictures Entertainment)
All being told, however, the jokes, once again, are pretty good. Even the trailers were fairly impressive. What sets Angry Birds 2 apart from the likes of Ice Age 5, Norm of The North, The Queen's Corgi and Sherlock Gnomes is genuine attention to what's funny. The comic timing is great – a lot of it is down to animated delivery – as well as, of course, the cast. When jokes fail in animated movies, they fail hard. Angry Birds 2 sets out to be a silly, funny spectacle and it's proud of it. It has no pretentions. Other upcoming animations – such as UglyDolls – don't seem as self-aware.
Angry Birds 2 is, of course, never going to break any new ground. It has actually surprised a lot of critics, and plenty of viewers as to just how entertaining it genuinely is. I, too, am surprised – but when you call your film 'The Angry Birds Movie 2', you're only ever going to be met by eye-rolling and parents muttering 'here we go again'. But no. Angry Birds 2 is – with no hyperbole – perhaps the finest videogame movie put to the big screen. I'll have to weigh this up against Detective Pikachu at the end of the year – but pound for pound, this movie hits most of the boxes it aims for. I'm just not sure some of these pop culture jokes are going to work as well, if at all, in 2029.
Angry Birds 2 fills a wide void in animated film right now. It's downright bonkers, it appeals to kids, there are a handful of moments parents can take away – it does its best. And that's more than enough for me.
💡 newsR Knowledge: Other News Mentions
'Coming 2 America' takes us back to Zamunda

Eddie Murphy and Arsenio Hall return in the long-awaited comedy sequel, joined by Tracy Morgan and Leslie Jones. David Daniel has a look.
Credit: Bleacher Report AOL Duration: 01:31
Published
Bill Hader remembers music producer Hal Willner

'SNL could be such a hard place,' says Bill Hader, but producer Hal Willner, who died April 7, 2020 of COVID complications, 'constantly reminded me that it should be fun, and how lucky we were that we got to do this for a living.'
Credit: Bleacher Report AOL Duration: 01:35
Published
Jason Sudeikis had a sweet reason for wearing hoodie to Golden Globes

Actor Jason was victorious at the virtual 2021 prize-giving ceremony on Sunday, taking home the award for Best Performance by an Actor in a Television Series - Musical or Comedy for Apple TV+ show Ted Lasso.
Credit: Cover Video STUDIO Duration: 00:58
Published
Jason Sudeikis dating model Keeley Hazell

Jason Sudeikis is reportedly in the "very early days" of a burgeoning romance with model and actress Keeley Hazell.
Credit: Cover Video STUDIO Duration: 00:55
Published
Awkwafina and Kelly Marie Tran voice Disney animation

'Raya and the Last Dragon' tells the story of a Raya, a young princess hardened by her past, who goes in search of the last dragon Sisu to rid the world of a killer plague.
Credit: Reuters Studio Duration: 01:32
Published
Kristen Wiig, Awkwafina and more to present at 2021 Golden Globes

On Feb. 17, the Hollywood Foreign Press Association announced presenters for the upcoming 78th Annual Golden Globe Awards.
Credit: Cover Video STUDIO Duration: 00:52
Published
Catherine Zeta Jones thrilled to finally work with local hero Michael Sheen

Jones was over the moon to land a role in Michael Sheen's TV drama Prodigal Son after almost crossing paths with the Welsh actor while growing up.
Credit: Cover Video STUDIO Duration: 01:10
Published
Liza Minnelli staging online birthday extravaganza

Liza Minnelli will be joined by stars including Harry Connick, Jr., Catherine Zeta-Jones, and Lily Tomlin to celebrate her 75th birthday in an all-singing, all-dancing online celebration.
Credit: Cover Video STUDIO Duration: 00:57
Published
You Might Like
Related news from verified sources
The Angry Birds movie 2 review: Red and gang's mission makes for a fun and pacy sequel
The Angry Birds Movie 2 delivers what it promises - laughs with the right dose of drama. Built on the signature brand of Angry Birds the movie gives it a good...
Bollywood Life
Also reported by •Mid-Day •Firstpost •Sify •Hindu
Movie Review: The Angry Birds Movie 2- 3.5/5
Right from the first scene, it's established that this sequel of 'The Angry Birds' is strictly a kiddie flick and thankfully, it never tries to be anything...
IndiaTimes
Also reported by •Sify •Hindu
'The Angry Birds Movie 2' is action-packed, entertaining (IANS Review, Rating: ***)
Film: "The Angry Birds Movie 2"; Director: Thurop Van Orman; Voice Cast: Jason Sudeikis, Leslie Jones, Peter Dinklage, Josh Gad, Rachel Bloom, Danny McBride,...
Sify
Also reported by •Hindu
•More original news reports from newsR