MOVIE REVIEW: The Addams Family

Monday, 28 October 2019
by 👨‍💻 Graham Pierrepoint


THE ADDAMS FAMILY

Dir: Conrad Vernon and Greg Tiernan

Starring Oscar Isaac, Charlize Theron, Chloe Grace Moretz, Finn Wolfhard, Nick Kroll, Snoop Dogg, Bette Midler, Allison Janney





2.5 STARS (out of 5)
The Addams Family is a pop culture staple which has been around for decades. As such, it's seen various reinventions, some sticking to the source material of Charles Addams' comic strip, while others choosing to flesh out the world a little. Ultimately, the familiar family of kooks and creeps seems to fascinate us at least once a generation, with this animated return to the Addams Mansion being the latest new adventure for the cast. To many people, the movies from the 1990s showed us the definitive Addams Family, and it's perhaps a little surprising we haven't seen a reboot until now.
This new movie isn't so much a reboot or a re-imagining. It falls in nicely with the Addams canon as we know it, choosing to take the well-known characters and to plunge them into a new situation. This, really, is how reboots and reworks should go – they've really not changed anything here bar the look of the characters and the cast of actors, and even then, they've stayed very true to the world they inhabit. The character designs, in fact, are closer to Addams' original drawings than any adaptation there's ever been.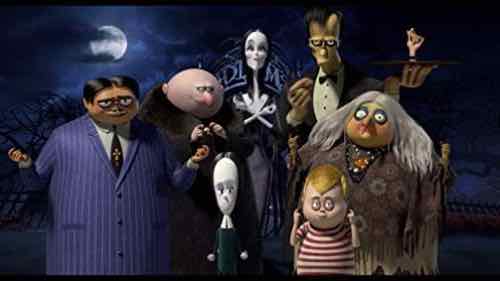 The Addams Family (MGM)


This time around, the Addams Family, a clan of curious kooks living in New Jersey, find themselves bearing the brunt of the local community and those who feel they are 'freakish'. Most of the plot surrounds the exploits of the two Addams children, Wednesday (Moretz) and Pugsley (Wolfhard), as they struggle to navigate wider society and family traditions, respectively. However, the rest of the clan get plenty of action, as they struggle against small-minded townspeople who haven't seen anything quite like an Addams before. It's nothing fans of the Addams Family haven't seen before in terms of plot, and that's not necessarily a bad thing.
So, first of all, let's focus on the positives. The cast is nothing short of phenomenal – yes, there's a plethora of big names here who have clearly been brought together for recognition's sake. However, there's some serious acting talent in here – each more or less perfectly suited to their characters. Whoever decided Snoop Dogg would be perfect as Cousin Itt, in particular, deserves merit.
The problems with this movie start when you look at the bigger picture. Yes, a lot of the Addams spirit is alive and well here, however, the movie doesn't really do anything too inspiring with the material. Yes – it gets the characters cast well and it makes sure that we all know how 'creepy and kooky, mysterious and spooky' everyone is – but beyond that, it's just a little flat. I agree with many critics who say that the movie suffers from being far too sugary and nice. This is an issue when you consider the source material.
The Addams Family - Official Trailer (MGM)
The Addams Family has always been knowingly dark and macabre, though not too much. This charm is what's helped the franchise to live on for years, at least in the minds of people who remember the original TV show, or even the movies. However, the charm used in this adaptation is just a little too on-the-nose. It feels somewhat like a safe kids' movie version of the Addams universe. In an age where we are wrapping our kids up in a fair amount of cotton wool, I dare say I'm not too surprised. A little bit of spooky fun never goes amiss – but the way things are wrapped up here, and the overall feel of the movie, rather dodge the point of the Addamses in the first place.
There's also the matter of the animation. While the character designs are spot-on with Charles Addams' original vision, it has to be said that the polish is rather dated. It feels like a movie that would have been cutting-edge ten years ago, possibly even more. In terms of visuals, it really isn't challenging anything. It's a shame, because when the movie stands still, it looks goofy and cartoony enough. But in motion? It's a little disappointing. It lacks the fluidity and true slapstick of the Hotel Transylvania movies, which I expect are the closest reference points for comparison here.
All in all, while it's a perfectly serviceable movie, this version of the Addams Family is far too clean and sedate for my tastes – as someone who enjoyed the grim, dusty nature of the 1990s movies. A sequel has already been greenlit for 2021, which means it has probably already done enough to secure its place back in pop culture. But does it stand up to previous adaptations? Maybe not. Take a look for yourself and see what you think – it's a nice trip out just in time for Halloween!
You Might Like
💡 newsR Knowledge: Other News Mentions
Charlize Theron's Daughter Does Her Makeup

Charlize Theron is well-known for changing up her hair color and style. Her makeup look over the years has been pretty consistent, however: low-key glam with defined brows and the occasional bold lip color. But like so many of us this year, Theron is apparently taking some of her extra at-home time to experiment, and she has a talented live-in makeup artist to help. "Now we're talking. 💕💕💕💕," wrote hairstylist Adir Abergel, while makeup artist Kate Lee wrote, "Oh boy.
Credit: Wochit News Duration: 00:32
Published
Anya Taylor-Joy, Chris Hemsworth, Yahya Abdul-Mateen II Set to Star in 'Mad Max' Spinoff | THR News

Anya Taylor-Joy, Chris Hemsworth, and Yahya Abdul-Mateen II will star in Furiosa, a standalone action adventure feature that acts as an origin story for the powerful character first embodied by Charlize Theron in 'Mad Max: Fury Road.'
Credit: The Hollywood Reporter Duration: 01:52
Published
Bette Midler reveals 'Hocus Pocus' reunion will feature A-List cameos

In a recent 'Late Night' interview, Midler announced that the reunion mockumentary is titled, 'In Search of the Sanderson Sisters'.
Credit: Cover Video STUDIO Duration: 01:04
Published
Bette Midler confirms 'Hocus Pocus' cast is reuniting for sequel

Better Midler has thrilled Hocus Pocus fans after confirming reports of a sequel.
Credit: Cover Video STUDIO Duration: 00:34
Published
'Riverdale' Production Paused in Vancouver, Oscar Isaac Signs On to 'Francis and The Godfather' & More | THR News

Oscar Isaac and Jake Gyllenhaal have signed on for a new film about 'Godfather' director Francis Ford Coppola, 'Riverdale' has paused production in Vancouver and reports say there will be major shake-ups with the next season of 'The Bachelorette.'
Credit: The Hollywood Reporter Duration: 02:04
Published
Oscar Isaac Set to Play Francis Ford Coppola in 'Francis And The Godfather' | THR News

Oscar Isaac is set to play director Francis Ford Coppola, while Jake Gyllenhaal will play former Paramount studio head Robert Evans in a movie about the making of Coppola's seminal feature 'The Godfather.'
Credit: The Hollywood Reporter Duration: 01:00
Published
Related news from verified sources
•More original news reports from newsR