MOVIE REVIEW: The Good Liar

Monday, 18 November 2019
by 👨‍💻 Graham Pierrepoint


THE GOOD LIAR

Dir: Bill Condon

Starring Ian McKellen, Helen Mirren, Russell Tovey, Jim Carter





2.5 STARS (out of 5)
With a cast boasting two big stars like McKellen and Mirren, you immediately assume that you are in for a rip-roaring ride that is going to be chasing scores of Oscars. It doesn't always follow this way, of course, as even the biggest of stars have to pull in a wage sometimes. The Good Liar is not so much cinematic mastery, but is something of an odd squib. It's in a genre that I certainly appreciate, however, it heads off in directions which will likely surprise people, and not necessarily in a good way.
The Good Liar focuses on Roy Courtnay (McKellen), a well-travelled confidence trickster who has made a fair amount of money from tricking elderly women into promising him their fortunes. Courtnay is a man who, despite being the protagonist, has nothing but scurrilous intentions at his core. Naturally, then, when he discovers that the wealthy Betty McLeish (Mirren) has money to burn, he makes a beeline for her, all the more keen given that she has just a short time left to live. Despite Courtnay being a trickster tour de force, will he fall for McLeish – instead of wringing her finances dry?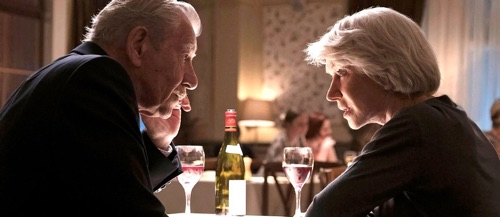 The Good Liar (Warner Bros. Pictures)
If you think I'm leading you down a well-worn path here, you're right. Thankfully, some contrivances in the plot don't come to light – and in fact, the twists that do occur along the way are so downright bonkers that it's hard to believe we all started at the same point. I am all for movies which really pull the rug out from under you – but the way The Good Liar does so is actually fairly underwhelming, once you've recovered from the initial swerve.
The Good Liar is, of course, a movie which is built around twists. It is, after all, a film about deceit. There is an obvious twist you can probably see coming from the synopsis alone, however, it takes this angle with such a weird grasp that I'm altogether unsure how I feel about it. This is certainly not a film which is sweetness and light in the first place, and Courtnay is certainly not a man you feel comfortable watching as the lead character, however, there are moments further and further into the plot which get intensively darker and darker. It is downright uncomfortable at times, and perhaps not always in a good way.
However, that is what makes The Good Liar better than the sum of its parts. It is a devilish, intense little movie which isn't afraid to step away from Hollywood expectations and actually give us something a little grimmer. That being said, I do insist on major trigger warnings before you go into it – as the unpleasantness, sadly, might hit too close to home for some – which, without giving anything away, is extremely depressing.
The Good Liar - Official Trailer (Warner Bros. Pictures)
This is a movie which is a little thin in some ways, but which certainly benefits from its main cast. Mirren always knows how to work with less than perfect material and to turn it into something watchable – though even she couldn't save last year's exorable Winchester. McKellen is still one of the finest actors living, and while his character here isn't ideal to put at the centre of a movie, he oozes malevolence and attitude in all that he does. If you intend to see this purely for McKellen, then you probably won't be too disappointed.
It is rare that you get a good, nasty little thriller on the big screen nowadays, and while The Good Liar is nastier than most, it will probably appeal to anyone who is keen to avoid clean-cut tropes and the way that Hollywood generally handles stories of this nature. There is a grimness that pervades this movie, and the twists that await you might not thrill as much as genuinely baffle you. What you must be prepared for is a movie which changes its identity once the twists unfurl – as you really will need to be paying attention. I love twists when they are performed well – and though I am really on the fence with just how effective The Good Liar's swerves are in practice, I can't fault it for sheer originality, or even audacity.
I've likely whet the appetite of anyone who loves mystery thrillers thus far – and that's a good thing. Go in expecting a cinematic version of one of the stories from Roald Dahl's 'Tales of the Unexpected', and you'll probably enjoy it. However, do be prepared to feel at least a little unsettled, if not by the subject matter, by the big change in tone and pace that occur once things really start tumbling out of the closet. Personally, I would save watching The Good Liar until it comes onto streaming platforms – but do see it if you're keen to try something different.
You Might Like
💡 newsR Knowledge: Other News Mentions
Sir Ian McKellen launches fundraising appeal for theatre workers with $50,000 donation

Sir Ian McKellen is supporting front-of-house and backstage theatre workers affected by the Covid-19 crisis with a new fundraising appeal.
Credit: Cover Video STUDIO Duration: 00:53
Published
Sir Ian McKellen reprising role as Hamlet at 81

Sir Ian McKellen is to reprise his role as 'Hamlet' in an age-blind production of the Shakespeare classic at Theatre Royal Windsor.
Credit: Bang Media World Duration: 01:11
Published
Helen Mirren and Simon Pegg donate belongings to Oxfam auction

Dame Helen Mirren and Simon Pegg are among the A-list stars donating some of their prized possessions to raise funds for non-profit organisation Oxfam.
Credit: Cover Video STUDIO Duration: 00:42
Published
'Gone With the Wind' star Olivia de Havilland dies aged 104

The actress beloved to millions as the sainted Melanie Wilkes in "Gone With the Wind," also won two Oscars and was key to improving Hollywood's contract system for actors. View on euronews
Credit: euronews (in English) Duration: 00:50
Published
Rome honours Oscar-winning soundtrack composer Ennio Morricone

Rome honours Oscar-winning soundtrack composer Ennio Morricone
Credit: Euronews English Duration: 01:05
Published
Ennio Morricone: Italian film composer, who won an Oscar for Hateful Eight, dies aged 91

He composed the famous coyote-howl theme for the iconic film "The Good, the Bad and the Ugly".View on euronews
Credit: euronews (in English) Duration: 01:44
Published
Oscar-winning Italian film composer Ennio Morricone dies

Morricone, who wrote music for more than 500 films, has died at the age of 91.
Credit: Al Jazeera STUDIO Duration: 02:18
Published
Ellen Ready To Ditch Show

Ellen Degeneres may be ready to quit her talk show. Anonymous insiders at Telepictures said Ellen is ready quit. The NY Post reports that Degeneres is shocked in the wake of recent allegations about "toxic" workplace conditions. Ellen is apparently telling executives at Telepictures and Warner Bros that she has had enough and wants to walk away from the show. "She feels she can't go on and the only way to recover her personal brand from this is to shut down the show.
Credit: Wochit News Duration: 00:30
Published
Last Surviving 'Gone With The Wind' Star Passes At 104

Legendary actress Olivia de Havilland has died at her home in Paris. She was 104. Elle reports the actress was the last surviving member of the 'Gone with the Wind' cast. De Havilland was also known for playing Maid Marian in The Adventures of Robin Hood (1938), opposite Errol Flynn. She also did an enormous favor for her fellow Hollywood actors, winning a high-profile court case against Warner Bros. in the 1940s.
Credit: Wochit News Duration: 00:37
Published
Warner Bros. delays 'Tenet' release again

The debut of Christopher Nolan's forthcoming film 'Tenet' has been shelved by Warner Bros. who, after shuffling the spy action thriller's premiere date three times, has removed the movie from its theatre schedule in the U.S.
Credit: Cover Video STUDIO Duration: 00:45
Published
Warner Bros. UK To Let Crews Report Coronavirus Safety Violations Anonymously

As studios grapple with the impact of coronavirus on the entertainment industry at large, Warner Bros. is reportedly planning to roll out an anonymous reporting system in the United Kingdom that would allow workers on production sets to flag violations of covid-19 safety protocols. Deadspin cited Trehy as saying during the closed-door panel that Warner Bros. plans to take precautionary measures that go beyond agreed-upon protocols, including those from the British Film Commission.
Credit: Wochit News Duration: 00:33
Published
Related news from verified sources
Tweets about this
•More original news reports from newsR