MOVIE REVIEW: The Good Liar

Monday, 18 November 2019
by 👨‍💻 Graham Pierrepoint


THE GOOD LIAR

Dir: Bill Condon

Starring Ian McKellen, Helen Mirren, Russell Tovey, Jim Carter





2.5 STARS (out of 5)
With a cast boasting two big stars like McKellen and Mirren, you immediately assume that you are in for a rip-roaring ride that is going to be chasing scores of Oscars. It doesn't always follow this way, of course, as even the biggest of stars have to pull in a wage sometimes. The Good Liar is not so much cinematic mastery, but is something of an odd squib. It's in a genre that I certainly appreciate, however, it heads off in directions which will likely surprise people, and not necessarily in a good way.
The Good Liar focuses on Roy Courtnay (McKellen), a well-travelled confidence trickster who has made a fair amount of money from tricking elderly women into promising him their fortunes. Courtnay is a man who, despite being the protagonist, has nothing but scurrilous intentions at his core. Naturally, then, when he discovers that the wealthy Betty McLeish (Mirren) has money to burn, he makes a beeline for her, all the more keen given that she has just a short time left to live. Despite Courtnay being a trickster tour de force, will he fall for McLeish – instead of wringing her finances dry?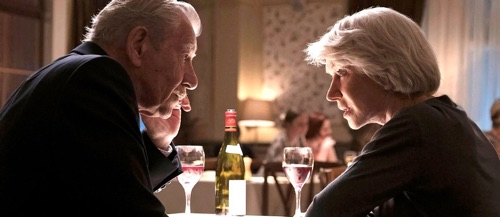 The Good Liar (Warner Bros. Pictures)
If you think I'm leading you down a well-worn path here, you're right. Thankfully, some contrivances in the plot don't come to light – and in fact, the twists that do occur along the way are so downright bonkers that it's hard to believe we all started at the same point. I am all for movies which really pull the rug out from under you – but the way The Good Liar does so is actually fairly underwhelming, once you've recovered from the initial swerve.
The Good Liar is, of course, a movie which is built around twists. It is, after all, a film about deceit. There is an obvious twist you can probably see coming from the synopsis alone, however, it takes this angle with such a weird grasp that I'm altogether unsure how I feel about it. This is certainly not a film which is sweetness and light in the first place, and Courtnay is certainly not a man you feel comfortable watching as the lead character, however, there are moments further and further into the plot which get intensively darker and darker. It is downright uncomfortable at times, and perhaps not always in a good way.
However, that is what makes The Good Liar better than the sum of its parts. It is a devilish, intense little movie which isn't afraid to step away from Hollywood expectations and actually give us something a little grimmer. That being said, I do insist on major trigger warnings before you go into it – as the unpleasantness, sadly, might hit too close to home for some – which, without giving anything away, is extremely depressing.
The Good Liar - Official Trailer (Warner Bros. Pictures)
This is a movie which is a little thin in some ways, but which certainly benefits from its main cast. Mirren always knows how to work with less than perfect material and to turn it into something watchable – though even she couldn't save last year's exorable Winchester. McKellen is still one of the finest actors living, and while his character here isn't ideal to put at the centre of a movie, he oozes malevolence and attitude in all that he does. If you intend to see this purely for McKellen, then you probably won't be too disappointed.
It is rare that you get a good, nasty little thriller on the big screen nowadays, and while The Good Liar is nastier than most, it will probably appeal to anyone who is keen to avoid clean-cut tropes and the way that Hollywood generally handles stories of this nature. There is a grimness that pervades this movie, and the twists that await you might not thrill as much as genuinely baffle you. What you must be prepared for is a movie which changes its identity once the twists unfurl – as you really will need to be paying attention. I love twists when they are performed well – and though I am really on the fence with just how effective The Good Liar's swerves are in practice, I can't fault it for sheer originality, or even audacity.
I've likely whet the appetite of anyone who loves mystery thrillers thus far – and that's a good thing. Go in expecting a cinematic version of one of the stories from Roald Dahl's 'Tales of the Unexpected', and you'll probably enjoy it. However, do be prepared to feel at least a little unsettled, if not by the subject matter, by the big change in tone and pace that occur once things really start tumbling out of the closet. Personally, I would save watching The Good Liar until it comes onto streaming platforms – but do see it if you're keen to try something different.
💡 newsR Knowledge: Other News Mentions
Ian McKellen's life got better after he came out

The 81-year-old went public with his sexuality in 1988, and during an appearance on The Jonathan Ross Show, McKellen joked he was "making up for lost time", and will never stop talking about being gay.
Credit: Cover Video STUDIO Duration: 01:20
Published
Lucy Liu signs up to play Helen Mirren's villainous sister in Shazam! sequel

Lucy Liu has joined forces with Helen Mirren to play villainous sisters in the upcoming sequel to superhero blockbuster Shazam!
Credit: Cover Video STUDIO Duration: 01:11
Published
Tyrese Gibson stares at Oscar replica to make career dream come true

Singer-turned-actor Tyrese Gibson stares at a replica Oscar statuette every day in the hopes of turning his career dreams into reality.
Credit: Cover Video STUDIO Duration: 00:43
Published
Glenn Close talks about that viral Oscars moment

CNN's Lisa Respers France interviews Glenn Close about the viral moment she began dancing to "Da Butt" during the Oscars.
Credit: Bleacher Report AOL Duration: 01:37
Published
Chloe Zhao & Kamala Harris named among Most Impactful Asians of the Year

Oscar winner Chloe Zhao, U.S. Vice President Kamala Harris, and actors Riz Ahmed and Olivia Munn have been named among the 100 Most Impactful Asians of the Year.
Credit: Cover Video STUDIO Duration: 00:53
Published
Michael B. Jordan on Modernizing 'Without Remorse' and Superman Rumors | Heat Vision Breakdown

Michael B. Jordan discusses performing his own stunts and modernizing his latest film 'Without Remorse', moving on without Sylvester Stallone in 'Creed 3' and addresses conversations surrounding Warner Bros. highly anticipated 'Superman' reboot.
Credit: The Hollywood Reporter Duration: 05:27
Published
'Mortal Kombat' Wins Box Office With $22.5M in Surprise Battle With 'Demon Slayer' | THR News

In the surprise box office battle between 'Mortal Kombat' and the anime film 'Demon Slayer the movie: Mugen Train,' Warner Bros.' video game-inspired film emerged victorious over the weekend.
Credit: The Hollywood Reporter Duration: 01:35
Published
First Trailer For 'The Conjuring: The Devil Made Me Do It' Released | THR News

Ed and Lorraine Warren return in Warner Bros. third 'Conjuring' film, which released its first trailer on Thursday. Patrick Wilson and Vera Farmiga star in the latest entry in the hit horror franchise, with Michael Chaves (who previously helmed the 'Conjuring' spinoff 'The Curse of La Llorona') directing.
Credit: The Hollywood Reporter Duration: 01:39
Published
NEWS OF THE WEEK: 'Godzilla vs. Kong' opens at the box office with $48.5 million

The Warner Bros. film raked in $48.5 million over its opening weekend between Wednesday and Sunday.
Credit: Cover Video STUDIO Duration: 00:57
Published
'Godzilla vs. Kong' opens at the box office with $48.5 million

The Warner Bros. film raked in $48.5 million over its opening weekend between Wednesday and Sunday.
Credit: Cover Video STUDIO Duration: 00:57
Published
You Might Like
•More original news reports from newsR