MOVIE REVIEW: The Good Liar

Monday, 18 November 2019
by 👨‍💻 Graham Pierrepoint


THE GOOD LIAR

Dir: Bill Condon

Starring Ian McKellen, Helen Mirren, Russell Tovey, Jim Carter





2.5 STARS (out of 5)
With a cast boasting two big stars like McKellen and Mirren, you immediately assume that you are in for a rip-roaring ride that is going to be chasing scores of Oscars. It doesn't always follow this way, of course, as even the biggest of stars have to pull in a wage sometimes. The Good Liar is not so much cinematic mastery, but is something of an odd squib. It's in a genre that I certainly appreciate, however, it heads off in directions which will likely surprise people, and not necessarily in a good way.
The Good Liar focuses on Roy Courtnay (McKellen), a well-travelled confidence trickster who has made a fair amount of money from tricking elderly women into promising him their fortunes. Courtnay is a man who, despite being the protagonist, has nothing but scurrilous intentions at his core. Naturally, then, when he discovers that the wealthy Betty McLeish (Mirren) has money to burn, he makes a beeline for her, all the more keen given that she has just a short time left to live. Despite Courtnay being a trickster tour de force, will he fall for McLeish – instead of wringing her finances dry?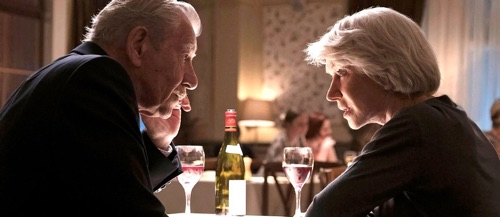 The Good Liar (Warner Bros. Pictures)
If you think I'm leading you down a well-worn path here, you're right. Thankfully, some contrivances in the plot don't come to light – and in fact, the twists that do occur along the way are so downright bonkers that it's hard to believe we all started at the same point. I am all for movies which really pull the rug out from under you – but the way The Good Liar does so is actually fairly underwhelming, once you've recovered from the initial swerve.
The Good Liar is, of course, a movie which is built around twists. It is, after all, a film about deceit. There is an obvious twist you can probably see coming from the synopsis alone, however, it takes this angle with such a weird grasp that I'm altogether unsure how I feel about it. This is certainly not a film which is sweetness and light in the first place, and Courtnay is certainly not a man you feel comfortable watching as the lead character, however, there are moments further and further into the plot which get intensively darker and darker. It is downright uncomfortable at times, and perhaps not always in a good way.
However, that is what makes The Good Liar better than the sum of its parts. It is a devilish, intense little movie which isn't afraid to step away from Hollywood expectations and actually give us something a little grimmer. That being said, I do insist on major trigger warnings before you go into it – as the unpleasantness, sadly, might hit too close to home for some – which, without giving anything away, is extremely depressing.
The Good Liar - Official Trailer (Warner Bros. Pictures)
This is a movie which is a little thin in some ways, but which certainly benefits from its main cast. Mirren always knows how to work with less than perfect material and to turn it into something watchable – though even she couldn't save last year's exorable Winchester. McKellen is still one of the finest actors living, and while his character here isn't ideal to put at the centre of a movie, he oozes malevolence and attitude in all that he does. If you intend to see this purely for McKellen, then you probably won't be too disappointed.
It is rare that you get a good, nasty little thriller on the big screen nowadays, and while The Good Liar is nastier than most, it will probably appeal to anyone who is keen to avoid clean-cut tropes and the way that Hollywood generally handles stories of this nature. There is a grimness that pervades this movie, and the twists that await you might not thrill as much as genuinely baffle you. What you must be prepared for is a movie which changes its identity once the twists unfurl – as you really will need to be paying attention. I love twists when they are performed well – and though I am really on the fence with just how effective The Good Liar's swerves are in practice, I can't fault it for sheer originality, or even audacity.
I've likely whet the appetite of anyone who loves mystery thrillers thus far – and that's a good thing. Go in expecting a cinematic version of one of the stories from Roald Dahl's 'Tales of the Unexpected', and you'll probably enjoy it. However, do be prepared to feel at least a little unsettled, if not by the subject matter, by the big change in tone and pace that occur once things really start tumbling out of the closet. Personally, I would save watching The Good Liar until it comes onto streaming platforms – but do see it if you're keen to try something different.
You Might Like
💡 newsR Knowledge: Other News Mentions
Ian McKellen says he is 'so happy' Elliot Page came out as transgender

In a recent interview with 'Attitude Magazine,' Ian McKellen offered his support and praise to 'X-Men' co-star Elliot Page.
Credit: Cover Video STUDIO Duration: 01:11
Published
Ryan Phillippe: 'Hollywood doesn't make my kind of movies anymore'

The actor shot to fame in the 1990s with his appearances in teen movies such as I Know What You Did Last Summer and Cruel Intentions, and went on to star in a variety of big-screen films including drama Gosford Park, Oscar-winning flick Crash, and war epic Flags of Our Fathers.
Credit: Cover Video STUDIO Duration: 01:11
Published
Hollywood prepares for virtual 78th instalment of Golden Globes

Judged by members of the international press in the United States, the awards are considered the antechamber of the Oscars.
Credit: euronews (in English) Duration: 02:24
Published
Palestinian film shortlisted for Oscar nomination

A short film by British-Palestinian filmmaker Farah Nabulsi, 'The Present', has been shortlisted for the 2021 Academy Awards.
Credit: Reuters Studio Duration: 01:12
Published
Ali Fazal: People on ground getting affected, aap Twitter par gyaan de rahe hain

Bollywood actor Ali Fazal speaks to HT City Entertainment Editor, Monika Rawal, about having a bittersweet 2020. While he garnered a lot of praise for his portrayal of Guddu Bhaiya in season 2 of web series Mirzapur, he suffered a personal loss when he lost his mother. Holding his head high, the actor is now looking forward to a great 2021 and also finally getting married to long-time girlfriend, actor Richa Chadha. Sharing his views on whether actors should speak up on important matters or not, Fazal says, "It's so stupid that we let that small square box with 280 characters control the narratives in a country." He also talks about the whole debate around web censorship and feels it's highly unfair on the technicians and a director's vision when a web show is asked to delete some scenes. "Then we're just pretending that we're racing for the Oscars, global dominance and the canvas has gotten bigger," he explains. About his next projects, Fazal spoke about shooting for Fukrey 3, preparation for Mirzapur 3 and awaiting the release of Death On The Nile in September.
Credit: HT Digital Content Duration: 27:38
Published
Russell Tovey's dad wanted to 'cure' him of being gay

The History Boys actor came out to his parents when he was 18 and it took his father, George, several years to accept his son's sexuality.
Credit: Cover Video STUDIO Duration: 01:23
Published
'Superman' reboot in the works at Warner Bros

According to Deadline, J.J. Abrams will produce the film under his Bad Robot label.
Credit: Cover Video STUDIO Duration: 00:51
Published
NEWS OF THE WEEK: Ray Fisher insisits Warner Bros. bosses know he's telling the truth about Joss Whedon

Ray Fisher has claimed the only reason he hasn't been sued after making abuse claims against Joss Whedon is because Warner Bros bosses know he's telling the truth.
Credit: Cover Video STUDIO Duration: 00:57
Published
Ray Fisher insisits Warner Bros. bosses know he's telling the truth about Joss Whedon

Ray Fisher has claimed the only reason he hasn't been sued after making abuse claims against Joss Whedon is because Warner Bros bosses know he's telling the truth.
Credit: Cover Video STUDIO Duration: 00:57
Published
'Wonka' prequel set for 2023 release

According to Warner Bros., the movie will focus on "a young Willy Wonka and his adventures prior to opening the world's most famous chocolate factory".
Credit: Cover Video STUDIO Duration: 00:52
Published
•More original news reports from newsR