MOVIE REVIEW: Zootopia (Zootropolis)

Tuesday, 22 March 2016
by 👨‍💻 Graham Pierrepoint


ZOOTOPIA (ZOOTROPOLIS)

Dir: Byron Howard, Rich Moore, Jared Bush

Starring Ginnifer Goodwin, Jason Bateman, Shakira, Idris Elba, J.K. Simmons, Jenny Slate, Alan Tudyk, Bonnie Hunt, Don Lake, Octavia Spencer, Tommy Chong





4.5 STARS (out of 5)
Expecting anything less than greatness from Disney is a fairly poor move – and while their flagship release of 2016 has been slightly delayed (and even renamed) in certain territories, it is refreshing to see that the umbrella continues to allow creative, entertaining movies to the delight of families and children everywhere – and while Big Hero 6 may not have replicated the critical favour nor box office money that the colossal Frozen pulled in over its record-smashing run, Walt Disney continues to be a seal of quality for family entertainment after a fairly uneven run in the early noughties. Therefore, I breathed a sigh of relief that Zootopia – or Zootropolis as it's known in my native UK – continues what may well be come to known as the studio's second renaissance. Tangled, Winnie the Pooh, Wreck-It Ralph, Frozen, Big Hero 6, Zootopia – as runs go, it's pretty impressive.
Zootopia focuses upon an aspirational young rabbit – Judy Hopps – as she becomes the first rabbit police representative of the multi-mammal metropolis of Zootopia (or Zootropolis), filled to the brim with rhinos, elephants, bears, giraffes, tigers, weasels and wolves – where the prey and predator balance has been smoothed away to allow for a peaceful yet patrolled existence. Hopps finds her first shifts on the job demeaning as she is crowned a meter maid, finding herself offering parking tickets across the city – until she finds herself offering herself up to solve a case that involves fourteen missing mammals from Zootopia, leading her to team up with a professional shyster of a fox in the form of Nick Wilde, and leading them both down a rabbit hole than runs deeper than they ever can have imagined.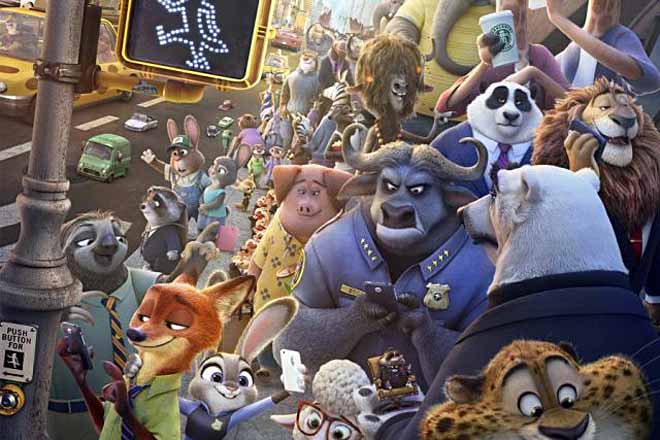 Firstly, obviously – it's beautiful. Disney really caught up with Pixar fast after the problems Chicken Little professed in the early noughties, and both the attention to detail and character design in Zootopia really help bring home a story that could have been too dark or too convoluted with the wrong characters or a poor cast – yet, we even remember Zootopia's various side characters, from the adorably dopey desk sergeant Clawhauser to Wilde's miniature yet barrel-voiced fennec sidekick – both who steal every scene they're in – this is perhaps the most loveable and most interesting cast that the studio have put forth in years.
Zootopia's storyline is peppered with a number of political nuances and moral messages that some may feel detracts from the child-friendly appeal and the finer elements of the central mystery and story – as the plot unfolds certain allegories bringing to mind race and gender relations, many of the themes and touches will sail over a younger audience, and an older audience may find some of the allegories a little heavy-handed or even unnecessary – regardless of these touches, however, the charm and central mystery remain unspoiled. The pacing is tight and fast, providing audiences with a colossal amount of story, character development and visual locations to take in in just over an hour and a half. It's the type of movie that demands several viewings – if not for the countless sight gags and Easter eggs.
That being said, there are a number of pop culture references, themes and touches here which could be considered fairly unsuitable for younger children, meaning that its guidance rating is suitably earned. However, it is not without recommendation. The perils it puts forward and the mature nuances applied throughout are necessary to plot and character development, and as such, it's essential family viewing.
Zootopia - Official Trailer (Walt Disney Animation Studios)
My only criticisms towards Zootopia, if I have any, are that while there is huge focus on story and character development, we are offered only fleeting glimpses of the wide and wonderful city that Judy finds herself thrown into – and beyond a fantastic opening sequence in which the main character travels alone into Zootopia, we are mainly shown action in an all-animal 'big city' with fleeting visits to other climates of the metropolis thrown in as the story demands. It's this lack of an emphasis on environment and atmosphere that cuts it down – there are so many characters, and so many plot twists and threads, that it rarely takes a moment to breathe.
That being said, the old Disney charm continues to excel with what will go down as one of their greatest modern classics – if only for the risks they have taken, and for the challenges made towards modern audiences – no other Disney movie has ever contained a scene that plays homage to the very adult Breaking Bad – and it's likely no other ever will. Such pop culture references are resigned to movies that struggle with plot or jokes in general – but in the world that Zootopia puts forward, it seems acceptable.
Zootopia is an absolutely fantastic movie that ceaselessly entertains and charms, placing itself at the very pinnacle of recent Disney triumphs. While certain nods to race and gender relations may feel heavy-handed in places – and while there are a few dark touches that younger children may not appreciate, it's otherwise one of the most entertaining movies in theaters this Spring – see it at all costs.