MOVIE REVIEW: The Shallows

Monday, 15 August 2016
by 👨‍💻 Graham Pierrepoint


THE SHALLOWS

Dir: Jaume Collet-Serra

Starring Blake Lively, Oscar Jaenada, Angelo Jose





2 STARS (out of 5)
Whatever happened to the shark movie? It's debatable. Jaws has a fair bit to answer for – notably, starting a wave of quasi-horror movies that saw wild animals take on unsuspecting humans in a variety of supposedly creative and gruesome ways. Sometimes, it's a genre that works – Jaws only ever made for one good movie, after all – but with the emergence of Sharknado 4 having recently made TV schedules, one has to wonder whether or not it's a genre that is beyond pastiche. In 2016, despite the animal attack / shark movie having been relatively left out to dry thanks to over-parodying and pastiching, The Shallows aims to try and resurrect faith in fear – and for the most part, it somewhat flops around.
The Shallows focuses mainly on one woman – Nancy (Blake Lively), who finds herself at the mercy of a particularly aggressive great white shark while surfing off the Mexican coast. What transpires is a lengthy battle of survival between woman and shark, as the creature continues to terrorise the young medical student in her bid to make it back to the mainland alive. As plots go, it's surprisingly simple – there really isn't much more to the tale than that.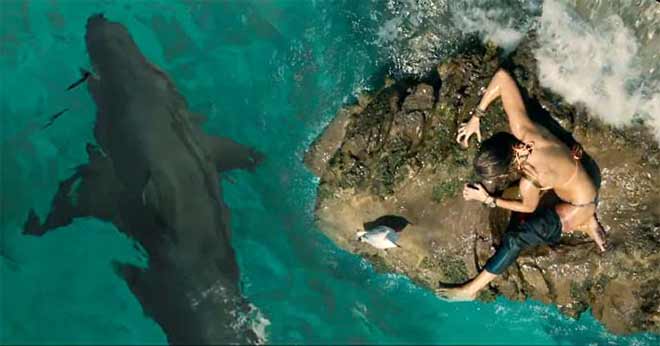 The survival movie genre is perhaps not as dead in the water as many may have believed – The Shallows has plenty of good ideas and Lively commands a good presence while largely on her own against the threat of errant wildlife – and while it can certainly be commended for some of its visuals, it's a story that is sadly let down by a number of plot holes and contrivances that anyone expecting little more than a modern take on Jaws may be infuriated by.
There's no doubt that this is a movie that's plugged with palpable tension – despite the fact that the shark movie has been around for years, the direction and score does a reasonable job of instilling primal fear into the audience. There are moments of gore and genuine twinges of terror, and it is largely thanks to the direction that these are the case. Where it suffers, however, is in the plotting and in the meat of the matter.
The Shallows - Official Trailer (Sony Pictures Entertainment)
While Lively holds her own here, it is a series of conveniences and contrivances that destroy much of the authenticity that the movie tries hard to build up in the first half of the movie. Nancy's story isn't actually all that interesting despite its well-intentioned telling; meaning that much of the movie's entertainment is left to visual and directorial thrills. Thankfully, they do come, but when they do, they're let down by a number of convenient moments and predictable twists. Certainly, without spoiling the ending, Nancy may not have ended up the way she did in real life. But perhaps this is the point?
But then again, perhaps it isn't. The Shallows has clearly been created as a murky, thinly-spread survival horror that lives by 'less is more' – with a clear intention to try and add a fair amount of believability into proceedings. Sadly, the balance between plot and character contrivance largely lets down any kind of atmosphere it is trying to cultivate. The Shallows is a movie that wants to be marvelled at for its grittiness, for its dedication to offering a more realistic, more simplistic take upon a shark attack. While there is more than just the one shark attack at stake here, it's a movie that still feels fairly lightweight, and this is somewhat to its credit – it's fair enough to say that this is as far away from the Sharknado series as you can possibly get. Therefore, in a sense, it succeeds.
In another sense, it's not hugely fulfilling. While many critics have praised this movie for its focus and for its directorial qualities, it struggles to engage or entertain on levels of character and plot convincingly enough for it to be the jaw-dropping alternative take on Jaws that it sorely wants to be. It benefits from having a cast of one – certainly – and this is just one of many directorial choices that work in its favour.
However, The Shallows is unlikely to be a movie that is remembered for much in the years to come – as a movie it's perfectly passable, and fans of the genre will find themselves entertained – but when getting to the meat of the matter, there just isn't much here to warrant multiple viewings, ticket prices, nor DVD sales. Its place in 2016 cinema is sadly just 'present' – never quite engaging enough to rise above The Finest Hours levels of entertainment. What's here is fine, and perfectly watchable – but I am confident that it will sadly be buried amongst better movies in the genre alone.