MOVIE REVIEW: Pete's Dragon

Tuesday, 30 August 2016
by 👨‍💻 Graham Pierrepoint


PETE'S DRAGON

Dir: David Lowery

Starring Bryce Dallas Howard, Oakes Fegley, Wes Bentley, Karl Urban, Oona Laurence, Robert Redford





3.5 STARS (out of 5)
Some remakes and reboots are vastly different to others – while some may try and recapture the spirit of an original work, so many can fall short of the mark and can come off as poor imitations. Certainly, movies this year that fail to capture such magic include the much-debated update to Ghostbusters, which has also felt box office revenue pain as well as critical dissonance – and while Disney have had incredible year so far with having upgraded The Jungle Book, continued their fantastic run with Zootopia and having brought a new standard to comic book movies with Captain America : Civil War, all eyes were firmly upon Pete's Dragon in recent weeks to see whether or not it could replicate the same level of success. Certainly, from a pure enjoyment standpoint, Disney seem to have struck gold once again.
Unlike the original musical movie of the 1970s, the Pete's Dragon of 2016 takes on an entirely different tone and set of circumstances, plunging us into the world of young Pete, who finds himself allied with a friendly, furry dragon whom he names Elliot, after his parents are tragically killed. Years go by and the pair find themselves at the mercy of civilised society as Elliot finds himself at odds with a world that struggles to understand him – and with Pete finally finding other humans to grow up with, he must face a choice that he never hoped he would have to.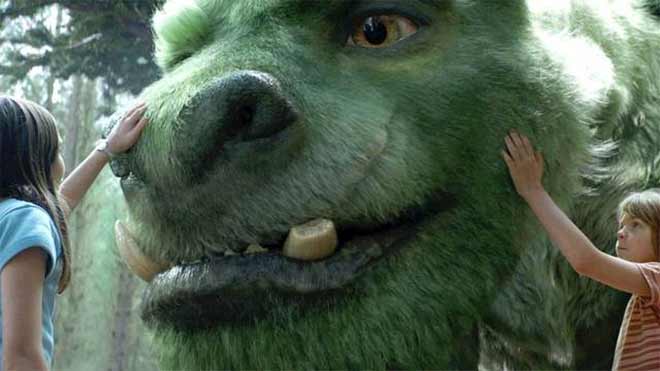 Pete's Dragon has a lot of heart and, for many reasons, is a million miles away from its humbler musical beginnings. The original movie has, as years have gone by, gotten rather cheesy and while it isn't necessarily one of Disney' most-loved features, it still holds a lot of heart and is therefore ripe for rewriting and updating for modern audiences. This is a movie with a lot of heart – there's an awful lot of wonder on display, really making use of Disney's uncanny ability to tap into childhood fantasy and to make huge, sprawling tales out of the simplest of scenarios. Disney have done wonderful things with live action lately, and Pete's Dragon is just as visually impressive as you'd hope it to be. The design of Elliot is a little unorthodox, but this is perhaps intentional – everyone expects dragons to look a certain way, and 2016's Elliot is furry, feral but loveable at the same time – hammering home the angle of misunderstood beast.
Pete's Dragon - Official Trailer (Disney)
The cast generally does well here and the partnership between Pete and Elliot really provides the core of the movie – while some of the characters may be fairly flimsy or thrown aside, it is this core relationship that brings out everything that the movie needs to bring out – this is a movie about the relationship between a boy and, essentially, his pet, and it's just as heartbreaking as it is heartwarming in certain places – without spoiling too much.
That being said, for all of its sweetness, its visual standards and its general execution, Pete's Dragon may not necessarily be as unique as it wants to be. Certainly, there are some design and character touches that are fairly uncommon here and there, but this is a story that feels rather familiar, even if it does work hard to make you feel rather deeply. That being said, it is still a remarkable achievement in that it is a recreation of an original movie that actually succeeds at creating something entirely new. While the movie may not have the technical prowess nor the satisfaction that The Jungle Book brought earlier this year, this is a twist on remake strategy that works well – core themes and values have been retained, but plot, characters and tone have been shifted to convey them in a completely different manner. The original Pete's Dragon is rather goofy and perhaps dated now – but the remake takes its core and creates a genuinely worthwhile family movie that will likely entertain its key audience with little difficulty.
While Pete's Dragon may not be the ground-breaking behemoth that some critics are selling it to be, it effortlessly offers a great story, genuinely touching moments and interesting twists that will not grate throughout viewing. Certainly, while some scenes may be memorable and it's likely that kids will get a lot out of this, it may not be the finest of family films made this year – but for its charm and its sheer effort, it certainly deserves to be in the running. Certainly, in a movie climate filled with shallower pictures, Pete's Dragon deserves to stand alone for its genuine heart, broad appeal and its overall entertaining execution. This is most definitely a movie that the whole family can safely get behind.