MOVIE REVIEW: Kubo and the Two Strings

Tuesday, 27 September 2016
by 👨‍💻 Graham Pierrepoint


KUBO AND THE TWO STRINGS

Dir: Travis Knight

Starring Art Parkinson, Charlize Theron, Matthew McConaughey, Rooney Mara, George Takei, Ralph Fiennes





5 STARS (out of 5)
Laika is an animation studio that has been growing a reputation over several years now for going against what is perceived as the 'norm' of animation. They are independent from much of Hollywood's hustle and bustle and have broken through previously with three extremely striking and original family movies – Coraline, ParaNorman and The BoxTrolls – all observing a twisted, unique aesthetic that smacks of Tim Burton's early work while retaining an identity and an agenda for the gruesome and the ghoulish.
Laika's latest work is Kubo and The Two Strings, a movie which couldn't stray any further from the aesthetic that they've carved out with their first three movies. Travis Knight, who has worked with Laika for considerable years, makes his movie direction debut here – and he does so with a movie that has so much to say and does so in myriad ways that it's truly difficult to get them all down in words.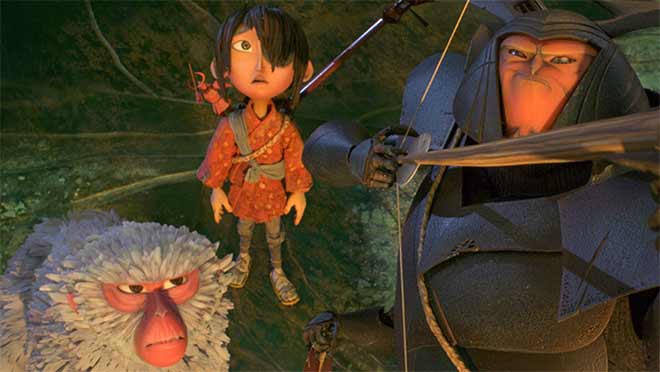 Kubo is a young boy with an extraordinary talent – he has the ability to bring paper to life into sentient, origami shapes that play out battles and accompany the stories he tells in his home village in ancient Japan. He does so by playing a shamisen that appears to carry the power to bring his characters to life through the power of magic. Kubo regularly tells villagers of the exploits of a brave samurai warrior known as Hanzo, battling beasts and venturing forth to take on the evil Moon King – but much to the disappointment of the fans he draws in, he can never finish his story. As it transpires that Hanzo is Kubo's missing father, and as his mother grows ill, the boy soon finds himself fighting for his life – and for the truth behind his family's secrets – allied with new friends and his paper creations along the way.
Anyone who reads my movie reviews here at One News Page regularly will know that I have never given a five star review before today – I don't do so lightly – as I don't believe that any movie should be considered perfect – but I am quietly confident that Kubo and The Two Strings is an absolute triumph in all areas. It is a family film that neither panders to nor travels too heavily for children. It benefits from a script that doesn't tiptoe around adult themes of death, acceptance and the importance of family. It offers characters that, while there is a clear divide between good and evil, possess fairly grey morality – the ultimate fate of the movie's arch villain is heart-wrenching to say the very least.
Kubo and the Two Strings - Official Trailer (Universal Pictures)
Visually, Kubo is stunning. It benefits from Laika's trademark touches and intricate stop motion that is just transparent enough to let you know that it's not the polished CG of Pixar or Dreamworks. The characters look as paper-thin and as textured as the origami creatures Kubo brings to life, all individually designed and with personalities demonstrated beyond their dialogue and actions. The soundtrack is wonderful – it benefits from a soft, billowing leitmotif that returns every now and again, taking a back seat to swells of brass and strings when tension is high or drama is close.
The cast is superb – Art Parkinson is best known as Rickon Stark from Game of Thrones, and while that character never truly had many moments to shine, it is with Kubo that the actor is able to demonstrate genuine talent for his craft. Parkinson offers genuine soul and passion as the titular character, while Charlize Theron ably plays stern-but-motherly to her advantage. Matthew McConaughey is comfortably at home as the comic relief, offering incredible comic timing and chemistry with Theron even during the most bittersweet of moments. Scenes where Kubo is accompanied by his friends Monkey and Beetle are addictively enjoyable, indicating that this is a chemistry that truly works.
Further to its advantage is originality. Taking into account the soundtrack, the character designs and the plot – which tells of a love story that is only fully told once certain truths are revealed and final confrontations are made – the movie really rallies against cinematic grain, at least from a family film perspective. There are twists and turns that are not easy to predict – though while some more genre-savvy viewers may pick out one or two, the movie builds to a climax and a resolution that could easily have travelled in a far more clichéd direction.
The script and the cast's performances allow us to get to know the central characters extremely closely, even in scenes where very little dialogue is used – there's some scenes early on where everything is left down to the animation and the soundtrack – and I can't remember when an animated film last went so far to cultivate such an atmosphere. Zootopia benefited from an incredible story world and Finding Dory capitalised on fantastic characterisation and a satisfying plotline, but Kubo manages to pull the audience in deeper than they expect by transcending so many different levels of storytelling. We genuinely care about these characters. We want to know why they feel the way they do, and we feel joy and pain when they do. This is what all of mainstream cinema strives to achieve.
The point that tips Kubo over from a 4.5 to a 5 star movie is this - it's dark, it's mysterious, it's sad, it's inspiring, it's often incredibly creepy and is also very, very funny – and it balances all of these elements with ease. It never pushes too hard with the laughs, and knows just how long to drive home the emotional tangents. Battle scenes never outstay their welcome – they're long enough and gripping enough to allow us to naturally move on to the next scene. Unlike some other animated movies released in recent years, this is a family film that never leans too heavily on humour nor heartstring-tugging – it doesn't wallow, it doesn't exploit, and as a result, it's incredibly deep. The screenplay, the animation, the score and the cast work together to create a melancholy that never feels too hopeless – in fact, hope drives the film and the characters on. It's heart-wrenching at times.
Kubo and The Two Strings has been subjected to widespread acclaim, currently holding a 97% approval rating at Rotten Tomatoes and a Metacritic score that places it in the top 30 movies released so far this year – at the time of writing – a remarkable feat.
Having watched Kubo for myself, I can easily understand why so many people have taken to heaping Knight's directorial debut with praise. In a movie landscape saturated by family movies that either try too hard or are too focused on audience engagement to try something a little left-field, it is genuinely refreshing to have watched a movie made for children that has genuine soul, unique approaches to design, animation and storytelling - and which engages audiences not by the virtues of pop culture references or bright colours and big budgets, but through superb storytelling, masterful characterisation and striking, memorable visual appeal. Kubo and The Two Strings is an absolute must-see while you still can, and I genuinely cannot wait to see it again myself.