MOVIE REVIEW: The Girl on the Train

Tuesday, 25 October 2016
by 👨‍💻 Graham Pierrepoint


THE GIRL ON THE TRAIN

Dir: Tate Taylor

Starring Emily Blunt, Rebecca Ferguson, Haley Bennett, Justin Theroux, Luke Evans, Allison Janney, Edgar Ramirez, Lisa Kudrow





1.5 STARS (out of 5)
Every so often, the thriller re-invents itself – and for good reason. For years, carbon-copies of Hitchcock's best ran rampant across the silver screen, none of them quite coming as close to the sheer terror and suspense that audiences felt when watching Rear Window or The Birds for the first time. Society and our tastes have changed dramatically since the dawn of cinema, and while truly magnificent thrillers – such as those directed by Hitchcock – have stood the test of time, others have struggled. The Girl on The Train, while an earnest attempt at adapting what was a colossal literary success for author Paula Hawkins in 2015, stumbles one too many times on creating what could have been a truly suspenseful and overall more engaging movie.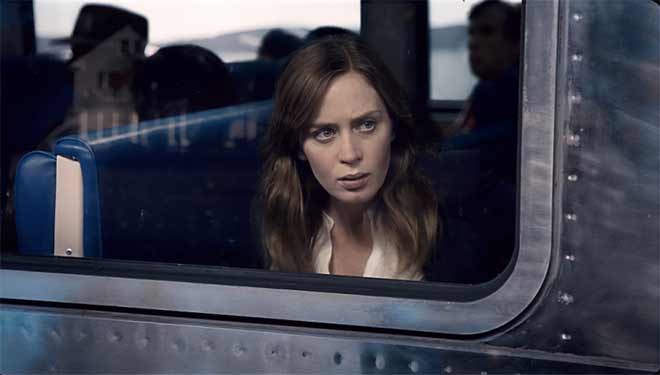 Rachel (Blunt) is a lonely, divorced woman who finds herself descending into alcoholism – we are informed that it is struggles with her infertility, her drink-induced blackouts and her ex-husband's infidelity that ultimately led to the breaking down of her marriage. She rides the same train every day, idolising a couple in a house she passes – until, on one occasion, she spots the woman kissing another man on the balcony – shattering her image and her fantasy immediately. The drama continues, however, when it emerges that the young woman in question is reported as missing, presumed dead – and Rachel finds herself immediately implicated in an extraordinary and dangerous situation.
The Girl on The Train is an interesting case study to say the least; while we are following several women throughout scattered flashbacks and moments across the movie's narrative, we mainly seem to follow Rachel as she struggles to grasp reality – and Blunt arguably puts in one of her most impressive performances of recent years. Praise is due to Blunt for being able to sell Rachel's mania and lose grip on clarity throughout the film – however, it is a crying shame that the remainder of the movie rather make her performance a lonely light to behold. This time, it seems, it's the script that is to blame.
The main problem that the movie suffers from lies in its refusal to let us really engage with any of its characters. This is an extraordinarily gloomy, plodding, wallowing script, and while it is obviously the type of film that is rarely going to exhibit moments of joy or happiness, there are absolutely none to behold – connecting to the characters we are presented with is extremely hard. The characters in this movie that are named are either abusive or adulterous – barring brief cameos from Lisa Kudrow and Alison Janney's recurring (and extremely dour) police officer – and with it, they exhibit self-loathing and insecurity. These are all good elements for well-rounded characters, however, they are presented to us with lavish lifestyles and wonderful homes, with little else to their personalities other than the internal grief and twisted motives that seem to define them. A good, balanced character is one that has positive and negative traits – and one that is grounded in reality. The cast on display in The Girl on The Train is mainly rather superficial, and rather cold. It's therefore difficult to want to feel anything for these people.
Rachel, too, is difficult to like – at first – as she's offered up to us as someone we should be looking down upon, but only because the rest of the cast do. We're given insights into her thoughts – but is this to help us connect with her, or to make us feel unease, much like Robin Williams' Sy Parrish in One Hour Photo? It's never clear. Rachel does eventually pull through as a character to root for, but only in the final act. By then, it's far too late to The Girl on the Train - Official Trailer (Universal Pictures)
The movie's narrative is all over the place. It uses flashbacks and selective viewpoints to hide certain character motives and moments here and there, but it's mainly used to confusing fashion – and its flickering from person to person and from months ago to days ago can get rather tiring. It's an interesting way to flesh out a story, and flashbacks can be used well, but here, they're erratic. The narrative, too, is plodding, and rather unimaginative – the first five to ten minutes is solid internal narration from the cast, and this is a trend that the film follows – we are told what is happening far more than we see what is happening. As such, the potential for a lot of tension and a lot of suspense is cast aside – what we are left with, it seems, is a movie that gets nastier and nastier until fizzling out. The twists thrown in during the third act may catch a few people out, but anyone savvy with the genre will not be surprised with what transpires in the last thirty minutes of runtime. The ending is rather hurried and altogether fairly unsatisfying.
That being said, it's a movie that can stir interest – while it fails to be truly effective at delivering suspense or effective character development, there are solid performances here by the cast despite a script that is largely 'tell' over 'show'. It's also reasonably paced, and it's shot rather effectively for what it stands to achieve. As a result, some viewers may find it a reasonable distraction. It's certainly a movie that has divided critics (with Rotten Tomatoes currently scoring it below the 50% threshold) – and from my perspective, it's fairly unsatisfying. Emily Blunt largely carries the movie on her back – while it's not an abject failure, the lacklustre script really is letting the side down here. Personally, I'll not be after a return ticket any time soon!