MOVIE REVIEW: Doctor Strange

Tuesday, 8 November 2016
by 👨‍💻 Graham Pierrepoint


DOCTOR STRANGE

Dir: Scott Derrickson

Starring Benedict Cumberbatch, Chiwetel Ejiofor, Rachel McAdams, Tilda Swinton, Mads Mikkelsen, Benedict Wong





4.5 STARS (out of 5)
Is there anything that the Marvel universe can't do? Certainly, the past few years have been host to what is becoming akin to a golden run for comic book movie adaptations, with this year's Captain America : Civil War remaining 2016's highest-grossing picture worldwide at the time of writing, and more and more new characters and plot strands being introduced into the cinematic universe all the time – Guardians of the Galaxy Vol 2, Thor : Ragnarok and Black Panther are all round the corner for moviegoers, and we have certainly been treated to more than a few comic book movies this year alone – most of them worthy of your money. Doctor Strange, thankfully, ranks well up there with one of the most entertaining comic adaptations of the year, if not the absolute finest.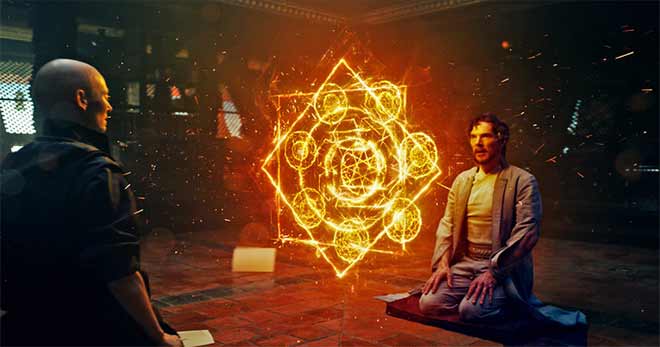 Doctor Strange surrounds the tale of the title character (Cumberbatch), a brilliant neurosurgeon virtually unparalleled in his field and often just as well-known for his photographic memory and technical ability as he is his ego – and when Strange loses much of the control of his hands after a near-fatal car accident, he descends into a spiral of self-pity as he searches for a cure to his condition – eventually leading him to Kathmandu, India, where he finds the secret ancient circle of Kamar-Taj, and where he is challenged to unlock secrets of the universe with his mind. Strange soon finds himself both learning to control – and at the mercy of – shifting parallel worlds, malleable, deconstructing landscapes and the manipulation of time itself. Of course, it wouldn't be a Marvel movie if there wasn't an evil force hell bent on colossal widespread domination of some kind – so that, too, is very much here.
Many people dismiss comic book movies as rather old hat now, and while many are certainly formulaic and are derived from material that is, cliché for cliché, rather similar, Marvel has always managed to inject a sort of joy and passion into filmmaking that has made their movies so easy to get lost in. Where DC has struggled and Marvel has thrived lies not only in the pacing of their tales, but also in their character development and variety – Batman V Superman : Dawn of Justice was incredibly plodding and featured none of the precise timing, pacing nor sheer thrills that Doctor Strange effortlessly provides. Discussing such movies side by side even before the year is over already feels rather tired.
This is, of course, an origin story – naturally, there are elements which Iron Man has done before all those years ago, and Stephen Strange is not entirely dissimilar to Tony Stark in many ways – but, at the same time, the way in which the movie is paced allows us to get into the life of our main character so subtly and so efficiently that the story feels neither too speedy nor too slow. We're shown what Strange is like, we're given his conflict, how he handles it and where he goes next within the first twenty minutes of runtime – it whips around at a fair speed but it never does so uncomfortably, making us really relishing the 'meaty' bits when they come around.
Doctor Strange - Official Trailer (Marvel Entertainment)
Doctor Strange benefits from a varied and brilliant cast. Rachel McAdams is well-cast as Strange's female counterpart (and the movie does well to avoid romantic subplot clichés for the most part), and world-class actors in Tilda Swinton and Chiwetel Ejiofor, both hugely versatile and very much at home here, help ballast the 'good guys'. Mads Mikkelsen is, of course, an ideal villain and Benedict Wong – who has long been a presence on British TV and more recently Netflix – is brilliant as a po-faced foil to Strange throughout. What can you say about Benedict Cumberbatch, however? He is ideally cast here, and while some may argue that it is his turns as Sherlock that have earned him the lead role, this is hardly a bad thing – Cumberbatch is great at playing haughty, slightly broken characters who are highly intelligent but are willing to come around to new ideas with enough encouragement. He has leading presence that the big screen is often in dire need of – and I'm among many hoping he will make more of a leap to the big screen should Sherlock come to an end in the near future.
Story-wise, it's fairly by-the-numbers – nothing too out of the ordinary for anyone in the ballpark for a Marvel movie, and while it throws curveballs and concepts and even a few nods and lines here and there which are genuinely new to the universe, anyone in line for comic book thrills will not walk away unentertained.
And now, the most obvious element to this movie that I have yet to discuss – the visuals. Doctor Strange is arguably one of the most visually stunning pieces of cinema I have ever watched – and it is not this way for the sake of it. Its set pieces, twists, turns and illusions make remarkable use of CG, and in 3D it is even better – I would go as far as to suggest that if you see one movie in 3D or IMAX this year, you had better well make it this one. After seeing The Finest Hours in 3D at the head of the year and being disappointed, I am genuinely thrilled that a movie like Doctor Strange can make me believe in the benefit of 3D movies once again. It's certainly worth popping specs on, and I dare say it will convert well to 3D Blu-Ray next year.
When it all boils down to it, Doctor Strange is a Marvel movie – I say with a shrug, but a happy one – as it's one that is so visually expressive, and so refreshingly focused on offering us as many different experiences as possible that it's impossible not to love. Doctor Strange is very, very well made indeed – and I'm saddened that I have to hold back my final 0.5 star on the grounds of its formulaic plotting, as I will certainly be purchasing the home release in mid-2017.