MOVIE REVIEW: Rogue One : A Star Wars Story

Saturday, 24 December 2016
by 👨‍💻 Graham Pierrepoint


ROGUE ONE : A STAR WARS STORY

Dir: Gareth Edwards

Starring Felicity Jones, Diego Luna, Forest Whitaker, Riz Ahmed, Ben Mendelsohn, Donnie Yen, Alan Tudyk, Jian Weng, Guy Henry, Peter Cushing





3.5 STARS (out of 5)
One of the last movies of the year and it's a very big one indeed – Rogue One is a very big deal for anyone following the Star Wars universe, particularly as it's the very first movie in the franchise to tackle a story without any of the main characters in the frame. There are no Han, Chewie, Luke or even R2-D2 here – while last year's Force Awakens took us into a new era with the help of a few familiar faces along with some new ones, Rogue One is a completely blank slate – and while we may get to see the odd cameo from a bad guy or two in the mix, it's an altogether rather strange experience. Certainly, while Rogue One is a great movie that benefits from such a fantastic universe to fall back on, there are a number of issues that prevent it from being as stupendous as it perhaps could have been.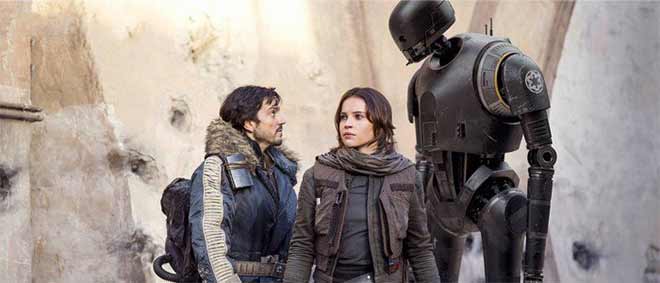 Rogue One fills in a gap between Episode III : The Revenge of The Sith and the original Star Wars (Episode IV : A New Hope), offering us a look into the world of Jyn Erso, a young woman forced into exile after the seizing of her father by the evil empire and the death of her mother during her childhood. As it goes, the Rebel Alliance need Jyn, some years later, to help thwart a plan that the Empire is putting into place – her father, Galen, who was forced to work once more for the Empire, compromised the original design of the Death Star craft, and the Rebels are desperate to track down his plans to help bring Darth Vader and his minions to their knees.
Rogue One is different – we already know how it plays out, for starters, and that's fine – it's nice to have a little back story to flesh things out – and the attention to detail in the craft designs, the dialogue and even the character names all give us the seal of assurance that this is indeed a solid Star Wars product. There's no doubt that it's an integral part of the bigger tapestry – and, as a movie, it's pretty good, too. In typical Star Wars fashion it's heavily plot-driven and moves at break-neck pace, throwing in twist after twist to propel momentum. There are moments of contemplation, but they never do much to slow matters down – on the whole, as this takes place during an extremely tense period in the universe's storyline, this is a very dark movie indeed – on a visual level as well as from a story perspective.
That being said, where Rogue One falls down is in part due to its characters and its overall impact. Its impact, firstly, is sadly lessened by the fact that we all know this is filler going in – in reality, it too it is a bridger between the releases of Episodes VII and VIII – and while this really won't bother many fans of the series, it has to be said that the die-hard fanatics are likely to be those who will get the most out of this movie. While The Force Begins was a completely blank slate and brought something new to the table, Rogue One had to build on existing lore and was perhaps therefore given less to work with. This doesn't stop it being good fun and a worthwhile entry in the saga, however – but for me, it simply doesn't have the incredible impact that Force Awakens had this time last year.
Rogue One: A Star Wars Story - Official Trailer
Coming back to characterisation, it is perhaps here that the movie is at its most disappointing. While the cast is great and the characters have clear motivations and struggles, they're not all that memorable – this is perhaps due to an over-reliance upon the enormous plot at stake and all the frantically-moving parts that make it up. K-2SO, Alan Tudyk's manipulated droid, is arguably the breakout character here – but even then, he pales in comparison with the charm of the silent BB-8 in last year's movie. I am unafraid to make comparisons between Rogue One and Force Awakens, as unfortunately it is the only comparison I can make at this stage – Rogue One is the first of its kind, and, as such, sets a precedent for future instalments. Great character development or more time for us to get to know some of the stars would have given the movie a little more impact – though, arguably, it is a movie that needs to move along rather quickly as it is bound by inevitability. There's no mucking around in the swamp in this one – it's fast, it's furious, and only the most dedicated will stick with it.
That being said, in the gulf of cinema that is the end-of-year release schedule (and up against Passengers, which has been critically mauled), Rogue One is a welcome treat for anyone looking for sci-fi escapism this Christmas. While it's advisable you be a Star Wars fan to get the most out of it, it's big enough, pretty enough and technically impressive enough to warrant the price of admission.