MOVIE REVIEW: Sing

Tuesday, 17 January 2017
by 👨‍💻 Graham Pierrepoint


SING

Dir: Garth Jennings

Starring Matthew McConaughey, Reese Witherspoon, Seth MacFarlane, Scarlett Johansson, John C Reilly, Taron Egerton, Tori Kelly, Rhea Perlman, Jennifer Saunders, Garth Jennings, Nick Offerman





4 STARS (out of 5)
Illumination Entertainment have really started coming into their own in recent times – while their animated movies may not have picked up the critical plaudits or attention that Pixar or Dreamworks have added to their arsenal over the years, they have remained steadily on-par. They are responsible for bringing the Minions into the world – as both Despicable Me movies and the Minions' own film earned the studio considerable box office cash. Last year's The Secret Life of Pets, while not necessarily a critical darling, was a surprise smash, earning $800 million on top of its budget worldwide. Rather than rest on their yellow, goggle-eyed laurels, however, they've come back with Sing, which is an attempt to once more bring a new cast of characters to our attention.
Sing is based around the world of theatre operator Buster Moon – a down-on-his-luck koala who is hoping to keep his business afloat for all the world to see. This is a world populated by walking, talking animals – and Moon has a great idea to grab the wild and wooly's attention – a singing contest. Only – the flyers for the contest claim that there is $100,000 up for grabs, and Moon is nowhere near so affluent. In come the hopefuls – among them a shy, talented elephant, a porcupine who won't be pigeonholed, a gracious gorilla who's trying to stay out of a life of crime, a put-upon pig and mother of several who dreams of leaving the chores behind, and a mouthy but magnificent mouse who has his eyes firmly on the prize money. Who will win? Will Moon be able to fund the big prize and save his theatre?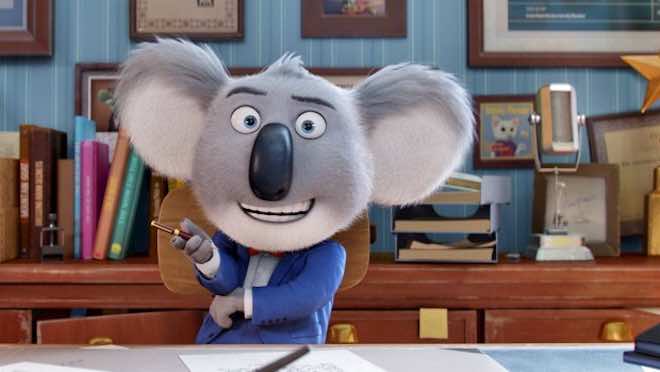 Make no bones about it – Sing is ridiculously good fun. It is unashamedly unoriginal in a number of aspects, from its cartoon animals down to its wry humour and comic timing – but what makes it such an appealing film is its sense of joy, its constant pep, and the sheer variety in both the characters and their backgrounds. This is a movie that does an absolutely wonderful job of balancing five or more main characters with surprisingly complex backgrounds and problems – and gives them all screentime and personality for us to genuinely care about their paths to glory. If a film can make us remember the names of the characters after we've finished watching, it's done well.
It also benefits from a great cast. McConaughey is going from strength to to strength as a leading actor and this is only his second voice role on the big screen, having provided comic relief in last year's impeccable Kubo and The Two Strings. Other big names such as Johansson, MacFarlane and Egerton do well in both selling us characters – and by singing, too. Anyone who knows a little bit about Seth MacFarlane will already be aware that he is as much a singer as he is a talented voice actor – but many will be impressed by the talents of the acting personnel on display.
Sing - Official Trailer (Zero Media)
While Sing does a good job of being very entertaining, well-paced and does a lot to hold the audience's attention, it suffers in some places in the way that its story is executed. It can hardly be denied that the plot is very much a done deal before it sets off – but, at the same time, it has a lot to juggle. It's in the way that these character threads are resolved late in the game that rather let the movie down. The main issue that faces the separate stories in play is that so much time is spent giving each of the characters airtime on the way to the finale that the final act is nothing short of a mad dash to tie everything up. Some character strands are tied up predictably and in such a bizarre fashion that they are somewhat underwhelming – and the fate of one character in particular feels hurriedly packed away to the point where you may be left wondering if there's more to come after the credits – sadly, there isn't. Similarly, the audition process, while fun, didn't take up nearly as much of the runtime that I had hoped it would – making the second act pretty much the centre stage.
The abruptness of the final act does rather prevent this movie from ascending to a 4.5 star caliber, which I had genuinely considered en route. Much in the same vein as Zootopia, this is a great little character world which Illumination may do well to revisit at a later date. They are, after all, doing so with (in my opinion) less interesting characters from The Secret Life of Pets – and it will be a shame to think that this is the only showcase for these characters. Despite its predictable nuances, its familiarity and its reliance upon popular music, Sing brings such infectious joy and entertainment to the table along with some really brilliant characters that it's a crying shame the whole package isn't neater than it is. With all being said, however, it is still hugely varied and is on the whole massive fun for just about everybody – and it is arguably up there with Illumination's best.