MOVIE REVIEW: Hacksaw Ridge

Tuesday, 24 January 2017
by 👨‍💻 Graham Pierrepoint


HACKSAW RIDGE

Dir: Mel Gibson

Starring Andrew Garfield, Teresa Palmer, Vince Vaughn, Hugo Weaving, Rachel Griffiths, Sam Worthington, Luke Bracey, Nathaniel Buzolic





4.5 STARS (out of 5)
The war movie is something of a genre which, for those who aren't captivated by it, may feel far too well-tread. The sad fact is, war movies exist due to war existing – full stop – and the very best of these films serve to showcase what the bravest among us go through to fight for their country (or even their country's constitutional rights). It's a genre that is incredibly important, and one that shoulders a huge weight of responsibility – after all, a movie that depicts conflict for the sake of it, or does so without due respect to those who gave their lives or even came through such battles, would rightly be considered abhorrent. Thankfully, Hacksaw Ridge tells a story that is incredibly prescient – one which focuses on the only US soldier in the Second World War to enter battle without a weapon by his side.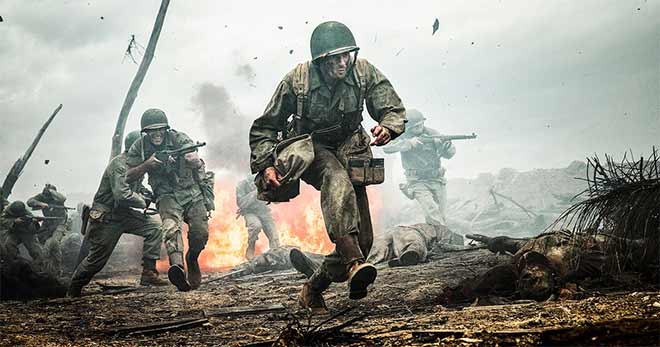 Desmond Doss was a young private who enlisted to give his life for his country and for the US constitution – at the same time, however, he was a deeply conscientious man, having been brought up to believe in Christian scripture and having cemented himself on the belief that God forbids violence in all forms. As a conscientious objector, Doss comes up against heavy opposition when he first arrives at barracks, eventually leading to a court-martial where he defends his beliefs to the last – he later went on to save the lives of 75 men at Hacksaw Ridge, and this movie tells the tale of how we did what he did, why he did it, and the struggles that the soldiers faced on the battlefield.
Many are claiming Hacksaw Ridge to be Mel Gibson's return to the Hollywood frontline, and he makes an absolute storming return to form in the director's chair. He is a director marked by visceral detail, intense scenes of violence and even hyper-realistic gore, perhaps most notable in his celebrated works Apocalypto and The Passion of The Christ (for which he is perhaps still best known for as a director). Hacksaw Ridge is an entirely different beast to either of these movies as it is not only required to offer the story of a man who struggled against all odds to take his moral standings onto the battlefield and to save lives, but also to depict the grim reality of war. While we may have seen many movies and even TV series excel at showing us what men went through behind enemy lines, Gibson is more than well-equipped enough to have made this movie one of the best. Thankfully, it really is – it's possibly one of the bloodiest, starkest and most harrowing war films you will see – this is arguably Gibson at his directorial best.
Hacksaw Ridge - Official Trailer (Lionsgate)
Hacksaw Ridge is a movie which balances the emotional trauma of war along with the physical vulgarities all too starkly – there's a real sense of realism about the world that Doss walks into, and while we are given colourful characters to meet, they are all human and free from stereotype. Andrew Garfield is fantastic as the likeable, strong-willed and good-hearted Doss, who fights against the military system simply to be able to do his duty in line with his core beliefs. Vince Vaughn plays marvellously against his usual comedic roles as a hard-bitten Sergeant who, while acerbic and belittling, shows genuine humanity as Doss continues to rebel against his company. Vaughn is fantastic at displaying genuine menace when he needs to, and I for one hope that he continues to use this to his advantage in future roles.
As with many war movies, it is a film that does not fritter itself with plot twists or throwaway moments – each scene, each line feels completely necessary – it's captivating viewing. This is arguably a testament not only to the superb cast and direction, but also to the costume direction, the visuals, and the grim, nightmarish atmosphere that layers itself across the battle scenes. It is a film that does not warrant much of your analysis, but does warrant your attention and your humanity. Many 'true story' films fall flat in the sense that they simply join the dots and stick to the written path (2016's The Finest Hours was a particularly egregious example of this) – Gibson's movie shows you everything – the skeleton, the flesh, the organs. It is absolutely stark, and absolutely unforgiving, making it all the more a pleasure to watch.
With these elements in mind, the drawback that pulls Hacksaw Ridge away from its five star rating lies in that it is perhaps still a little too by-the-numbers – but only slightly. It sticks to a safe path in terms of dialogue and characterisation (while the characters do come across as remarkably human, arguably down to the direction and the cast), meaning that while battle scenes are intense and bloody, it does opt to tell as opposed to show once off the battlefield. This, however, is only a brief observation, as it is a genuinely affecting and powerful film the whole way around.
Hacksaw Ridge may not be everyone's cup of tea, but it certainly tells a story that needs to be told, and is arguably one of the more effective war movies of recent years. With Christopher Nolan's Dunkirk due to reach cinemas later this year, this will not be the only war movie for audiences to peruse in 2017.