MOVIE REVIEW: Fifty Shades Darker

Saturday, 18 February 2017
by 👨‍💻 Graham Pierrepoint


FIFTY SHADES DARKER

Dir: James Foley

Starring Dakota Johnson, Jamie Dornan, Eric Johnson, Rita Ora, Luke Grimes, Victor Rasuk





1 STAR (out of 5)
Where do you start? Some years ago, the Fifty Shades of Grey novels became something of an overnight success. EL James, the author, had admitted to basing the stories on her own Twilight fan fiction – while this is not necessarily a bad thing, as it does display creativity and passion to some extent – James' style of writing, use of dialogue and scene-setting was derided by many in the profession. Despite this, the three main novels focused on the dominative / submissive relationship of Christian Grey and Anastasia Steele became a colossal worldwide phenomenon, seemingly filling a gap in the market for soft core adult adventures aimed at a female market. These are not stories that were entirely new - soft core adult literature has existed for decades – but there was something about James' novels that inspired millions of women worldwide to get into her world. Since then, she has become a multi-millionaire, and it was only a matter of time before film rights were snatched up.
Before delving into Fifty Shades Darker, it's important to briefly talk a little bit about Fifty Shades of Grey – the movie – that was released to box office success in 2015. While the movie performed well financially – perhaps, as some have argued, out of morbid curiosity – it was critically planned and considerably mocked for its clumsy dialogue (lifted from James' novels), poor acting (despite good core talent), and an overall baffling plot and dull, inconsequential pacing. Some moments in the first movie were considered 'so bad, it's good' – and this is largely how many consider it to this day. Despite this, however, it still retains a core audience – perhaps those that enjoyed James' books – and while it certainly does take different strokes to run the world, the sheer flimsiness of the film betrayed any chance of it really beefing up the maligned (if successful) original novel. The sequel, I'm afraid, is much of the same.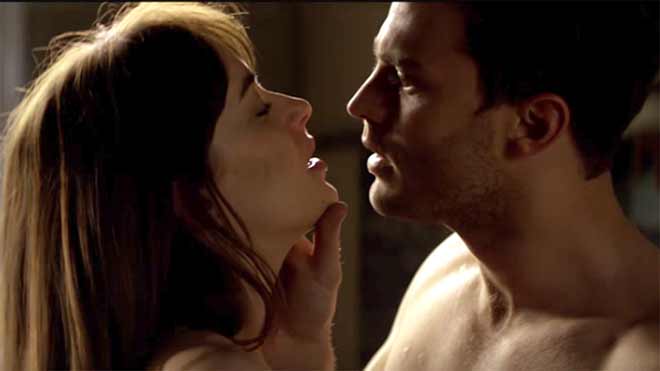 Fifty Shades Darker picks up with Anastasia Steele hooking back up with the mysterious, brooding and dominative Christian Grey – as Steele informs him that she will only get back with him providing there are no rules nor repercussions as per the contract that provided much of the previous movie's drama. Grey agrees, and their relationship grows as Steele finds out more about her partner's secret past, the people he has been affiliated, and she begins to try different experiences with him despite the lapse in contract.
The plot is fairly basic – after all, it is, purely and simply, a fantasy. Therefore, I will waste no time in saying that Fifty Shades Darker will satisfy anyone for whom the subtext is a genuine interest, and anyone who genuinely enjoyed the original movie may fare well here. That being said, it is extraordinarily paper-thin. This is a movie that is by-the-numbers in almost every facet, despite, again, a great core acting roster and a director who is famed for helming the celebrated Glengarry Glenn Ross – it's quite odd as to what happened here.
Fifty Shades Darker - Official Trailer (Universal)
Despite Dornan and Johnson being good actors in their own right, they genuinely lack chemistry. It's this that really dulls any tension. The movie tries to perpetuate excitement, tries to press this idea that the things that are happening are intriguing and against the norm. However, they are delivered with such a lack of passion in terms of direction, delivery and all-around performance that it's altogether rather uninspiring. Where Fifty Shades of Grey may have provided truly laugh-out-loud moments, Fifty Shades Darker is something of a dirge. It's been critically panned even more so than its predecessor, with a rating of under 10% currently plaguing the film on Rotten Tomatoes. So what on earth happened?
My theory – perhaps – is that the movie knows exactly what it is. It's self-aware. However, the problem is that this is likely to remain a theory, as it certainly doesn't show it. It ups the ante in terms of the genuinely adult scenes – if this is your scene – but it does so at the risk of sacrificing coherence and cinematic legitimacy everywhere else. It feels like an absolute plod, a rather pained one, from pillar to post. There are the same over-expositional moments of dialogue that you might chuckle at, the same moments that made the first movie 'so bad it's good' – but there's nowhere near enough of them. It's incredibly vanilla, despite its adult content and its subtext. There is a risk, I dare say, that some fans may even be dissatisfied.
The long and the short of Fifty Shades Darker is this – I'd like to say it does its best, but it really doesn't. It survives the lowest grade on the scale purely out of its dedication to the fans – in this case, it delivers, in the sense that it's certainly a follow-up to the original. However, anyone daring to give it a try, even out of morbid curiosity or for ironic reasons, will likely feel bored as opposed to excited. With more balance, and a lot more energy, this could have turned the franchise around. However, it will remain as a movie that only the die-hard fans need apply for.