MOVIE REVIEW: Lion

Wednesday, 1 March 2017
by 👨‍💻 Graham Pierrepoint


LION

Dir: Garth Davis

Starring Dev Patel, Rooney Mara, Nicole Kidman, Sunny Pawar, David Wenham, Abhishek Bharate, Priyanka Bose, Tannishtha Chatterjee, Nawazuddin Siddiqui





3.5 STARS (out of 5)
Much of this year's Best Picture Oscar nominees are based on true stories – from Hidden Figures to Garth Davis' Lion, it certainly seems once again that the most captivating movies, at least for Academy voters, are those which are loosely based on reality. This review will land shortly after the awards are given out – however, it is worthwhile taking a look at Davis' debut, a movie which – while aiming for the intensity and engagement that has propelled fellow nominees such as Hacksaw Ridge to critical acclaim – somewhat struggles on tone and finer points. This being said, however, it is still fairly captivating.
Lion is the story of Saroo, a young Indian boy who finds himself separated from his family after getting lost in Calcutta after falling asleep on a train – and what happens to him in a city where he is thousands of miles from his family and stranded with no grasp of the local language. The movie examines Saroo's journey to being adopted by Australian couple through to his determination, 20 years later, to try and find his biological family once again. Lion is very much a story told in two halves – focusing in one half upon young Saroo's separation and, later, the elder Saroo striving to return to his homeland to find out where he came from.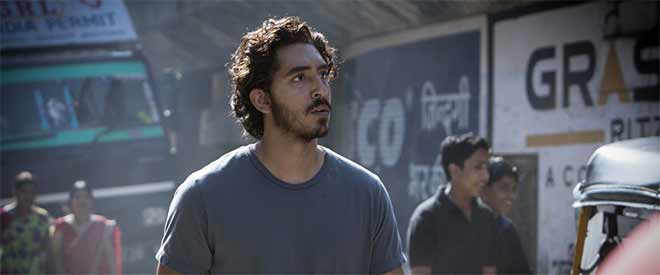 Lion is likely to be a hugely affecting story for many people and it handles a topic that is rather sensitive – familial separation – and Saroo Brierly's true story, adapted from his own book 'A Long Way Home', is extremely inspiring. It almost feels perfect for cinema – while it is a familiar story that has been written from scratch, it is all the more inspiring that this young man made his way through the torment of trailing Calcutta alone before being thrust into the arms of a family on the other side of the world – and that he strove to find out the truth about his origins so many years later. Some may accuse the movie of being 'awards fodder' – however, it is sweet, earnest, and all the more deserving.
Lion thrives on its central performances, Dev Patel in particular demonstrating that he has fantastic range and he continues to engage well as a lead actor years on from Slumdog Millionaire, the movie that brought him to prominence. Thankfully, the cast and the story generally do enough to help sell the emotional core, which will probably do enough for most people – however, there are still elements missing from Lion's execution that fail to convert it into the critical juggernaut it wants to be. While it's a movie with a great story and while it certainly has found critical success (86% on Rotten Tomatoes at the time of writing), sterner critics will be keen to point out that there is opportunity for more meat in the screenplay. The movie, of course, focuses on Saroo Brierly – but much of the tertiary cast do feel slightly under-developed, leading to an arguably underwhelming final product.
Lion - Official Trailer (The Weinstein Company)
It's a movie that looks great and certainly benefits from being neither too complex nor too basic, meaning that it will likely appeal to the majority of cinemagoers in the market for a feel-good true story, which is obviously its core intention. It does well to really grasp the emotional core of the story at stake but perhaps remains too focused on its eventual finale – there isn't much in the way of story conflicts being built up and it can at times feel as if it is going through the motions towards a foregone conclusion. While we don't necessarily know exactly what is going to happen in the end, the movie's focus is so intensely targeted that there's not much room for anything else along the way. This isn't necessarily a bad thing, of course – particularly as the end result and the journey are, generally, fairly satisfying.
In league with other movies that are nominated for Best Picture, Lion is arguably the wild card but I dare say that it does deserve some form of attention. It's not likely to be to everyone's tastes, however, and anyone likely to be bored by real life stories will do well to stay away – but for everyone else, it's a satisfying and engaging watch that will likely impact well on the right people, and it's certainly uplifting. Perhaps not Best Picture – but there are far worse. Are there any worse in the category? Personally, I think it's outclassed.