MOVIE REVIEW: The Belko Experiment

Tuesday, 25 April 2017
by 👨‍💻 Graham Pierrepoint


THE BELKO EXPERIMENT

Dir: Greg McLean

Starring John Gallagher Jr, Adria Arjona, Tony Goldwyn, Michael Rooker, Sean Gunn, John C McGinley





2 STARS (out of 5)
'Hell is other people', as they say, and there have been more than plenty of movies which have handled this premise and have run with it in all manner of directions. The way people react to certain situations brings out organic, intriguing drama – and in the context of horror, the central idea of the 'survivor group' has been around for a very long time – and it's been twisted around to great effect over the years. The fantastic Japanese survival epic Battle Royale is arguably one of the best examples of the idea – while William Golding's Lord of The Flies shows just how dark humanity can become when exposed to the primality of nature. It's been a while since we've seen an idea like this in a modern setting – and while The Belko Experiment has a very interesting premise, there are many areas where it could have monopolised high drama and horror – beyond the visceral gore already in place.
The movie is simple enough on paper – 80 office workers are locked into their building and are advised via intercom that they will have to kill each other in order to survive. Consider Saw meets Battle Royale, or even The Hunger Games with a bloody twist – it's a B-Movie dream right off the bat. Once the premise is in place, the mayhem begins – and mayhem certainly is the right word, as blood flies freely and there are a number of self-serving office archetypes who want to get the edge over their colleagues. It's a deadly game – and while a deceptively simple concept, it is one that is made more intriguing by the thought of how certain people will react to such a situation.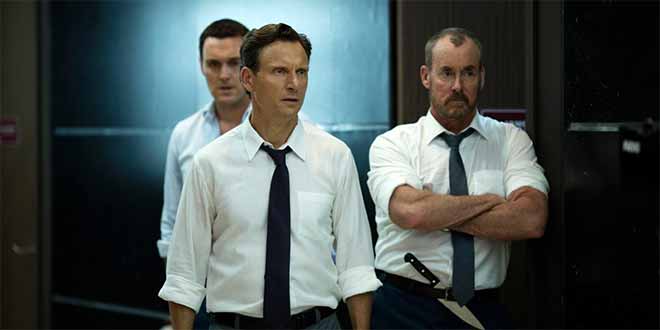 You can hardly say that screenwriter James Gunn is an amateur – he's best known for helming the Guardians of the Galaxy movies, but has built himself a solid record in horror movies thanks to the likes of Dawn of The Dead and Slither – and this is arguably a genre he loves. However, it is a shame that the character and intrigue that made Guardians so watchable wasn't captured in such a similar way here. Admittedly, it's a completely different type of movie – but that essential intrigue I was talking about earlier fizzles out by midway into Belko.
Despite a solid cast and some generally good turns from experienced film and TV actors here, the characters do very little to help us engage with them. Unlike survival stories such as Lord of The Flies and Battle Royale, where we were given insight into genuinely captivating characters and their stories, Belko never really gives their office archetypes much to aim for. We are never really fussed when a certain character dies, or when things take a darker turn – it's a grand shame. The characters are generally stereotypes of those you'd see in your average office – the harsh boss, the slightly creepy co-worker – these are all well and good, but the script could have benefited from a little more meat to their motivations, a little more satire in their actions and a little more toying with how they would react to such bizarre circumstances.
The Belko Experiment - Official Trailer (James Gunn)
For gore fans, however, this is a movie to rejoice about – it's very visceral indeed, and anyone looking for a B-Movie with plenty of blood and guts will likely go away satisfied. However, satisfied is likely the highest emotion the movie will draw from moviegoers – Belko feels like the eighth instalment of the Saw franchise, with little intrigue and far more emphasis on just how gruesome things can get. Don't get me wrong – visceral horror, when used correctly, is very effective – you only have to look at John Carpenter's legendary The Thing for perhaps the best balance of gore and tension – but for me, there were just far too many missed chances in the script for it to convert to anything beyond a mindless hour-and-a-half of bloody muddling around.
It is, generally, well directed; the casting is great and it's decently paced – there is still a little tension and a little intrigue lingering around – but if you aim to go into Belko expecting a character study under extreme circumstances, you will certainly leave disappointed. The team behind Belko clearly know how to craft shlocky horror and I certainly anticipate the movie becoming a cult horror classic in the years to come (purely on the grounds of its genre awareness and its appeal to a certain audience), but it will fail to live up to the standards of satire that it could have done. The king of horror satire, for my money, will always be Cabin in The Woods – and I certainly feel that Belko could have learned a thing or two from the balance of tension, intrigue and almighty visceral horror so keenly displayed there. Like blood and guts? Go see it – but it won't be the psychological challenger so many people expect it to be.