MOVIE REVIEW: Their Finest

Wednesday, 26 April 2017
by 👨‍💻 Graham Pierrepoint


THEIR FINEST

Dir: Lone Scherfig

Starring Gemma Arterton, Bill Nighy, Sam Claflin, Jack Huston, Eddie Marsan, Helen McCrory, Richard E Grant, Henry Goodman, Jeremy Irons





4 STARS (out of 5)
Light-hearted British drama is, at best, very difficult to live up to. It's almost a genre in itself – not quite comedy, not quite high drama – but they all tell stories in a very similar way. They often have home-grown casts you've seen elsewhere (who are perfectly dependable and are likely to have appeared in a Harry Potter movie or two), handle a period of history that isn't too far away to be considered irrelevant, and fill their scenes with eccentric, determined and loveable characters. Consider the Marigold Hotel movies and last year's Florence Foster Jenkins – while many may not break box office gold (though Jenkins rightly saw Meryl Streep nominated for an Oscar), they still have a certain core audience of people who just want to smile and feel fuzzy inside. Thankfully, Their Finest has arrived at a time where unrest in the outside world needs to be pushed aside for a couple of hours at a time.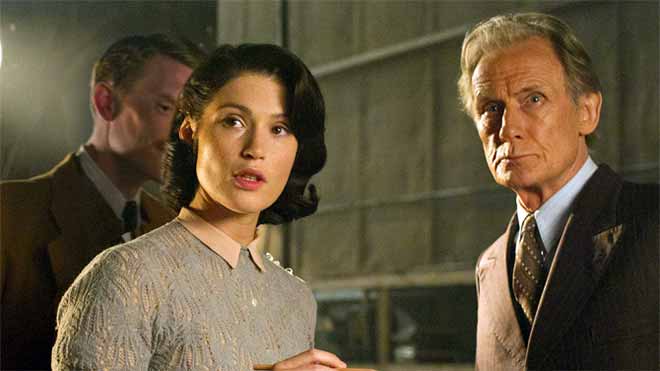 The movie largely surrounds young Catrin Cole (Arterton), a scriptwriter who is noticed for her talents and who is encouraged to help produce a stirring film to help inspire the British public during the Second World War. It's during a time where propaganda is being generated to help keep spirits high and the home fires roaring – and with the world five years away from ceasefire, the British Ministry of Information is keen to make inspiring drama out of soldiers' efforts at Dunkirk. Cole finds herself working with beaten-down scriptwriter Tom Buckley (Claflin), and it soon emerges that has-been thespian Ambrose Hillaird (Nighy) will be taking on a lead role – and from here, of course, things only start getting interesting.
The movie, on paper, certainly benefits from a fantastic cast. Arterton is ideal as the sprightly and hard-working Cole, while Nighy is of course on form in his scenery-chewing best as the veteran actor struggling for a gig. The cast certainly helps the script along nicely, though it in itself does well to balance gentle humour alongside genuine insight into the inner workings of wartime propaganda and – of course – the work of writers and creators in the industry. If anything, the movie does very well to educate us while entertaining us without us ever realising it – if you believe you've seen all the movies you ever could about World War II, you'll likely be very surprised by Their Finest.
Their Finest - Official Trailer (Lionsgate)
There are some tropes and hard-wearing clichés used here which will likely make some viewers groan – it sadly throws little new into the pot – but its attention to the details that went into film-making of the time will likely more than distract anyone aiming to take a pot-shot at the script. It's certainly well-paced, with the creation of the film and the various journeys of the main characters nicely interwoven and not in such a way that will leave anyone frustrated or befuddled. It helps that there are certainly a number of very funny moments, too – once again, ably delivered by a good cast, mainly bolstered by Bill Nighy, who has arguably rarely delivered a bum note regardless of who he is drafted in to play.
The only aspect of the movie that may put some people off seeing it is that it does rather still smack of several movies that have come before it. It's very much what-you-see-is-what-you're-getting, and if the idea of a lighthearted look at how the British helped with the war effort seems far too familiar and well-trodden, it's unlikely you will get much out of this. However, for the sheer effort of the cast and the nice historical touches and context that runs throughout, I fail to see why you wouldn't find it a very easy watch indeed. Certainly, it's a genre of film and a subject matter that is aiming for a particular audience – it is never going to be a box office smash, but I highly doubt anyone it is aimed at won't go away loving it.
British dramas and comedies can struggle occasionally but Their Finest stands proud on its dedication to the central premise – the pacing keeps the film alive as you genuinely want to see the film being made come to life. You do genuinely feel for these characters, even Nighy in all his pomp and bluster – it's a very 'British' film, and it certainly knows it. While it may not be the blockbuster movie it could have been, it doesn't seem to want the accolade – it's warm, it's funny, it's intriguing and is certainly worth the price of admission – if only for the acting chops on Bill Nighy alone, who was a shining light in the otherwise drab Dad's Army last year. Their Finest, however, shows a side to war that brings people together – and, in a way, it's every bit as inspiring as it intends to be.