MOVIE REVIEW: A Dog's Purpose

Tuesday, 9 May 2017
by 👨‍💻 Graham Pierrepoint


A DOG'S PURPOSE

Dir: Lasse Hallstrom

Starring Josh Gad, Dennis Quaid, Peggy Lipton, Bryce Gheisar, KJ Apa, Juliet Rylance, Luke Kirby, Gabrielle Rose, Michael Bofshever, Britt Robertson





1.5 STARS (out of 5)
Animal movies are, of course, always guaranteed to pull in a certain crowd – and when done well, they can actually resonate across several audiences. However, when executed in a predictable or even hokey fashion, they are sadly doomed to circle the bargain bucket and drop out of consciousness altogether. A Dog's Purpose, an adaptation from the novel of the same name, sadly meanders more into the latter category despite a clear conscience and heart – and it is not a film without controversy. Some months ago, footage allegedly leaked from the set of the movie showed a german shepherd being coerced into a body of water for the sake of a scene – while the validity of this shot has been denied by several, it continues to linger in the background, perhaps even tainting how well this movie could have been perceived. Allegations of animal cruelty aside – which, if true, are genuinely reprehensible – A Dog's Purpose simply isn't very good.
The movie surrounds the ethereal journey of a canine (you read correct) who finds himself resurrecting from dog to dog, helping out various families from many different walks of life, offering dog-tinted perspectives on life and bringing a few heart-breaking moments at the same time. It is something of a cross between Marley and Me, Fluke and every other dog-related movie you've ever seen – albeit with a running message and one which the auteurs of the film are clearly keen to ensure viewers go home with. The movie boasts the reliable Josh Gad (Frozen, Beauty and the Beast) as the central canine voice – and it's thought Bradley Cooper was originally in line to offer his vocals instead. How different could this film have been with the voice of Rocket Raccoon sniping over the top?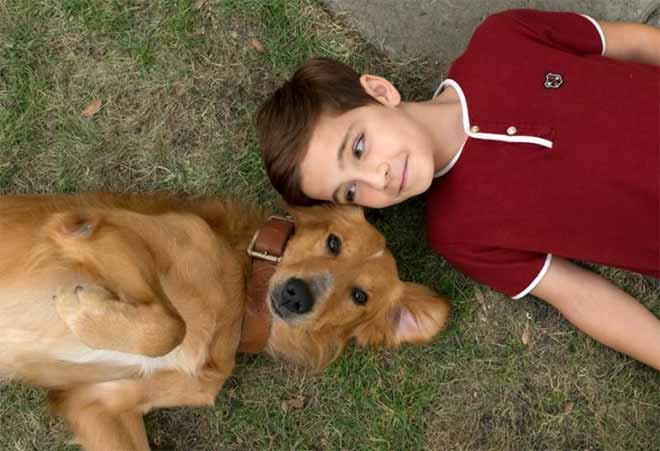 It's very, very clear what you are getting into the moment you see the trailer. This is a movie for anyone going crazy for canines, and this is certainly where it holds the crux of its charm (and all of its appeal). It's very cute – almost too cute – in a schmaltzy and saccharine fashion which will not unlikely be to the taste of everyone, but the key audience for the movie is so clear and defined that it's hard to understand why anyone outside of the demographic would want to buy a ticket. To this end, A Dog's Purpose fills its purpose – it plays to its audience well, but it really doesn't do it in an original or surprising fashion.
A Dog's Purpose is essentially a patchwork quilt of stories and vignettes narrated by Gad as a dog – reincarnated time and again – goes on something of a quest to find his inner purpose. It's both quite a bizarre premise while being strangely familiar – overly so – which really does let down the effectiveness of the message and the delivery of the entertainment. The cast is generally good – it feels like a very long time since we've seen Dennis Quaid – but this movie layers on the sugar and the cheese so thick that anyone likely to play along will be bawling by the finale. This is the sort of movie that would fit in well on a daytime TV movie network – nestled somewhere in towards the end of the afternoon before the news – as it really lacks the finesse and gravitas of anything destined to pull in major acclaim.
A Dog's Purpose - Official Trailer (Universal Pictures)
The story is, at least, quite interesting – and I highly expect legions of dog lovers to get at least something out of the funny moments and those which are brought in to wrench your heart. It's no Marley and Me, but it'll press those buttons just fine. A Dog's Purpose is simply so twee and so lightweight that it's very hard to take it seriously – there appears to be genuine effort and heart here in places, but at the same time, should the controversial footage be truthful, this does make things sting a fair bit. On the grounds of the controversy alone, it remains for me to say that I'm not sure who to recommend it to – it's very much a kid-friendly movie otherwise, but would you take your children to a movie with so much alleged abuse from behind the scenes? Maybe not.
Therefore, let's take A Dog's Purpose on at face value – as a movie it's fluffy, amiable and sweet – much like a dog, generally – but it layers on the sweet and sickly so thick that it really is difficult to sit through in some places. I have no doubt that there are viewers out there who will get something out of this – but at the same time, it sticks to more than a few clichéd and manipulative tricks to try and eke a reaction from the audience. Ultimately, too, it seems that the controversy surrounding its production will outlast any legacy it ever stood of laying down. For genuinely rewarding experiences involving canines, I heartily recommend adopting a dog of your own instead.