MOVIE REVIEW: Cars 3

Monday, 17 July 2017
by 👨‍💻 Graham Pierrepoint


CARS 3

Dir: Brian Fee

Starring Owen Wilson, Christela Alonzo, Nathan Fillion, Larry the Cable Guy, Armie Hammer, Chris Cooper, Bonnie Hunt, Tony Shalhoub, Ray Magliozzi, Paul Newman (archive recordings)





3 STARS (out of 5)
Cars has always been the black sheep of the Pixar line-up. While Brave and The Good Dinosaur may have its dedicated fans amongst the naysayers, the Cars franchise has, over the years, become something of a punchline. Granted, it is arguably one of Pixar's most financially successful lines of all time – thanks to a seemingly never-ending toy line that hasn't aged over three movies – but the jury has always been out on the quality of this franchise when it comes to the actual stories that are being told. The original Cars, over ten years ago now, was a novelty the first time around and, while it hit all of the hallmark Pixar moments and nuances, it struggled to worm its way into our hearts the same way Toy Story, Wall-E or Ratatouille did. Cars 2 was even less well-received – offering a confusing spy plot that ushered comic sidekick Mater (Larry the Cable Guy) into the lead, this movie saw the unthinkable occur – a less than glowing consensus on a Pixar release.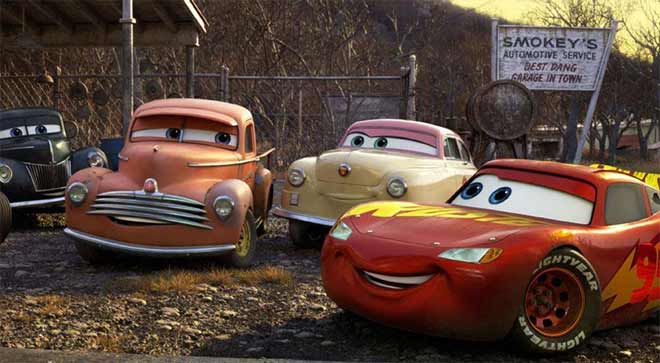 Cars 3, therefore, was met with some derision upon its announcement – and while the kids of 2005 will have likely grown up and moved on from Lightning McQueen's original escapades, it seems the studio were still keen to try and usher in these characters and themes into the hearts of a new set of young viewers. Pixar movies, certainly, make brilliant family viewing – but the Cars franchise has always been nodding towards the young male demographic the most. The more cynical amongst us would complain that Cars 3 is coming around as a result of the studio squeezing the final few dollars they can out of the merchandise – and as I am set to review this movie, I hardly feel that part of discussion is relevant at this moment in time.
Cars 3, then – the movie that many thought would swerve about attempting to rekindle its cool from a decade back – actually does quite well. Lightning McQueen (Wilson) is now finding himself up against some stiff competition in new blood on the racing circuit – particularly in the form of Jackson Storm (Hammer). McQueen is a multi-time champion – and yet he is finding himself struggling to cope with new techniques and new technology – as he is forced to go back to the drawing board and to team up with a trainer, Cruz Ramirez (Alonzo) in an effort to get himself back on track. Only – along the way, things seem to take a bit of an unexpected turn.
I will say this first and foremost – though nowhere near the scale of Pixar's best, the plotline for Cars 3 is surprisingly captivating. Unlike Cars 2, we are solely focused on McQueen – there are things genuinely at stake, and the story has moved things along in time very nicely indeed. There are plenty of nice nods to the character of Doc Hudson, who has passed away in-universe – just as the legendary actor who voiced him, Paul Newman, had since the first Cars hit our screens. Characters such as Mater who outstayed their welcome at the front of the pack in the previous movie now offer sideline relief – which is absolutely where they should have been. If anything, Cars 3 feels as if it is the movie that Cars 2 should have been – almost to the point where it feels it is making up for lost time.
Cars 3 - Official Trailer (Disney / Pixar)
The main problem with Cars 3 is – no matter how much they do with the plot – and no matter how spectacular the racing action is (and believe me, this will have younger viewers gripped if they're Cars crazy), the universe in which these characters preside just isn't as interesting as those of, say, The Incredibles – or Mike and Sully, or the Inside Out crew – and while the movies have always benefited from a capable cast, the series really does continue to rely upon gimmicky situations and cheeky nods to our world. Taking this into account, however, Cars 3 does an incredible amount with the world we're returning to – and it does a very good job of making sure we care about its central leads. I dare say that it swerves around one or two tropes – and the ending, and the lead up to it, was a very pleasant string of surprises that seem to suggest Cars 4 may come around some day.
All things considered, as family movies go, Cars 3 is good fun. There's plenty of action, the comedy is well-timed and nowhere near as infuriating as the second instalment would have you bear witness, and there's a story that is – horror of horrors – well-told. Its let-down is, sadly, that it is part of a run of movies and characters that just aren't up to the Pixar standard. Pixar have shown that they can do sequels incredibly well – Finding Dory was one of my picks for 2016 overall – and while this instalment does glide in seamlessly with the other movies, it still doesn't fill that hole that the original Cars left empty – and that Cars 2 filled with disappointment.
Therefore – fear not. Cars 3 is not the pile-up many people were expecting, nor is it the masterpiece that others were hoping for. It's an entertaining family film that kids will love and at least returns the series back to its heart – now let us never speak of Cars 2 again….