UK sees highest net migration since Second World War

Thursday, 24 November 2022
The UK has seen the highest net migration since the end of the Second World War.
Video Credit: ODN - Published
Labour on migration: Tories have 'completely mismanaged the system'

00:39

Shadow Home Secretary Yvette Cooper says the "Conservatives have completely mismanaged the system" when it comes to migration. According to the latest ONS figures, net migration to the UK has climbed to a record half a million, driven by "unprecedented world events" including the war in...
You Might Like
💡 newsR Knowledge: Other News Mentions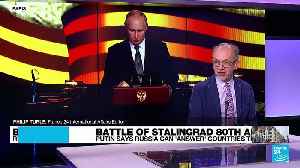 Russia 'again' threatened by German tanks, Putin says at WWII commemoration


Credit: FRANCE 24 English Duration: 03:28
Published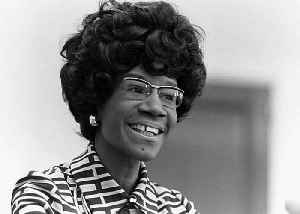 7 Little-Known Black History Facts

7 Little-Known , Black History Facts. 1. Shirley Chisholm, She was the first Black woman elected to Congress and survived multiple assassination attempts when she ran for President of the United States. 2. John Baxter Taylor , He was the first African American to win an Olympic gold medal. 3. Billie Holiday, Her song, "Strange Fruit," was originally published as a poem by Abel Meeropol, a Jewish school teacher. 4. Hattie McDaniel, The first African American to win an Oscar, McDaniel wasn't allowed to attend the premiere of 'Gone with the Wind.'. 5. Phillis Wheatley, At only 12 years old, she became the first published African American female author. 6. Josephine Baker , The famed entertainer worked as a French Resistance spy during World War II. 7. Black History Month , It was decreed a national observance in 1976 by President Gerald Ford
Credit: Wibbitz Top Stories Duration: 00:54
Published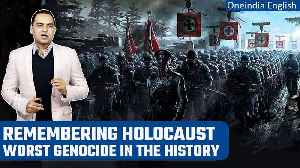 World to observe 'Holocaust Remembrance Day' on 27th January |Oneindia News * Special

There are dates in history that have been labelled as harbinger..or bellwether of prosperity and good fortune. And then, there are also dates….or rather eras that have gone down in history in infamy…as mataphors of persecution..atrocities…and exterminations. One such date is 27th January that brought curtains down on almost 12 years of mass slaughter.. deliberate and systemic killings… before and during the time of Second World War. Every year, 27th January is observed as the 'Holocaust Remembrance Day'. In this video, we take you to a sombre trip back to the period between 1930s to 1940s when the gravest… and definitely the most unforgivable crime against humanity was committed. But before that, don't forget to like, share and subscribe to Oneindia. #Holocaust#Holocaustremembranceday#27Januaryholocaustday
Credit: Oneindia Duration: 09:01
Published
Related videos from verified sources
Apocalypse The Second World War I

Apocalypse The Second World War 2009
Credit: Rumble Duration: 44:45
Published
Apocalypse the Second World War V

Apocalypse the Second World War 2009
Credit: Rumble Duration: 46:58
Published
Record of Ragnarok Season 2

Record of Ragnarok Season 2 Trailer HD - This anime, based on the popular manga serialized in Monthly Comic Zenon and which has sold over 14 million copies, enters its second phase! The original hit..
Credit: Teaser Trailer Duration: 01:49
Published