Biden and Netanyahu in icy exchange over Israel's controversial judicial reforms

Wednesday, 29 March 2023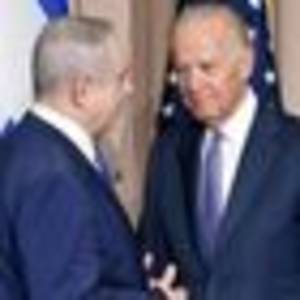 US President Joe Biden has openly criticised Israel's controversial judicial reforms and told Prime Minister Benjamin Netanyahu to "walk away" from them.
💡 newsR Knowledge: Other News Mentions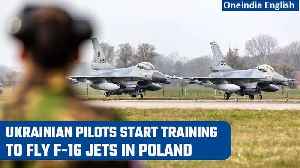 F-16 training begins for Ukrainian pilots in Poland amid Russian invasion, says EU | Oneindia News

EU foreign policy chief Josep Borrell said that the training of Ukrainian pilots to fly F-16 jets has begun in Poland. The move comes after US President Joe Biden last week gave the go-ahead for Ukrainian pilots to be trained on the American-made jets that Ukraine says it needs to fight off Russia's invasion. #F16Jets #RussiaUkraineWar #F16Falcons ~PR.151~ED.102~GR.124~HT.96~
Credit: Oneindia Duration: 02:01
Published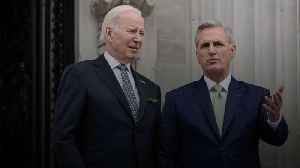 Biden and McCarthy Still Haven't Made a Debt Limit Deal

Biden and McCarthy , Still Haven't Made a Debt Limit Deal. June 1 is the deadline for America's debt limit to be raised before the country defaults for the first time ever. The House speaker and U.S. president ended their current round of talks regarding the situation on the evening of May 22, CNN reports. The House speaker and U.S. president ended their current round of talks regarding the situation on the evening of May 22, CNN reports. While no deal was reached, the two leaders are optimistic. . I felt we had a productive discussion. We don't have an agreement yet, but I did feel the discussion was productive in areas that we have differences of opinion, Kevin McCarthy, House speaker, via statement. We reiterated once again that default is off the table and the only way to move forward is in good faith toward a bipartisan agreement, Joe Biden, U.S. president, via statement. While there are areas of disagreement, the Speaker and I, and his lead negotiators… and our staffs will continue to discuss the path forward, Joe Biden, U.S. president, via statement. McCarthy also said that once an agreement is reached, he will uphold the House's three-day rule to make sure legislators have enough time to examine the deal before voting. But not everyone is so optimistic about the discussions thus far. . Democrat Hakeem Jeffries said things are moving in the "wrong direction.". They've rejected the fact that President Biden is willing to consider freezing spending. It will reduce the deficit by a trillion dollars. , Hakeem Jeffries, House Democratic leader, via statement. This is what the extreme MAGA Republicans say that they want. They rejected. They rejected an unwillingness to not put the country through this again, Hakeem Jeffries, House Democratic leader, via statement
Credit: Wibbitz Top Stories Duration: 01:31
Published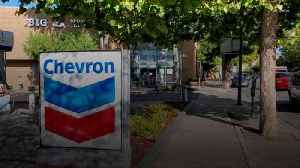 Chevron to Acquire PDC Energy

Chevron to Acquire , PDC Energy. Chevron made the announcement on May 22. It will acquire the shale producer in a deal worth $7.6 billion. Chevron is currently the second-largest oil company in America. The acquisition will help the company to bolster "production, capital expenditures and cash flow," Reuters reports. As geopolitical tensions remain prominent amid Russia's war on Ukraine. Chevron Chief Executive Michael Wirth said, "It's a strong investment in our business in the U.S.". Last year, Chevron and other oil companies were criticized by President Biden for not ramping up output as fuel prices skyrocketed. Chevron also recently announced that it is seeking to "reduce its cash stockpile" to benefit shareholders, Reuters reports. . We're repurchasing shares at a rate of $17.5 billion per year. So we'd buy those shares back very quickly, Michael Wirth, Chevron Chief Executive, via statement
Credit: Wibbitz Top Stories Duration: 01:31
Published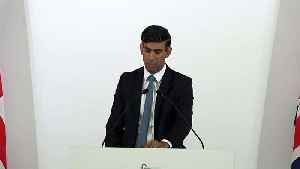 Sunak hails G7 support for Ukraine

Speaking before leaving the G7 summit in Japan, Rishi Sunak has praised the 'historic' attendance of President Zelenskyy and reinforced the unity and determination of the G7 allies to stand with Ukraine. Mr Sunak hailed President Biden's provision of F-16 fighter jets to Ukraine and said that the UK will help train Ukrainian pilots starting this summer. Report by Etemadil. Like us on Facebook at http://www.facebook.com/itn and follow us on Twitter at http://twitter.com/itn
Credit: ODN Duration: 02:19
Published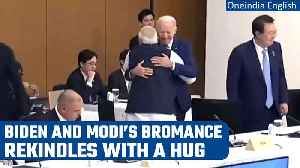 US President Joe Biden hugs PM Modi during a G7 meeting in Hiroshima | Oneindia News

US President Joe Biden and Indian Prime Minister Narendra Modi displayed their bromance during the G7 summit in Japan's Hiroshima. #JoeBiden #PMModi #BidenModihug ~PR.150~HT.98~ED.102~
Credit: Oneindia Duration: 02:02
Published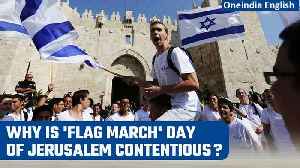 Jerusalem Day: City on edge ahead of Flag March day after Hamas issues threats | Oneindia News

Israeli forces are on high alert as preparations for Jerusalem Day Flag March is underway. Palestinian terrorist groups have issued threats against the Israeli flag march scheduled for tomorrow. Prime Minister Benjamin Netanyahu has said that the Jerusalem Day flag march will take place on its traditional route. Israel's far-right ministers Itamar Ben-Gvir and Bezalel Smotrich are also likely to attend the march, as they have done in past years. Palestinian businesses in the area have been shut down and movement of residents have been limited in order to facilitate the procession and avoid confrontation. More than 2,000 police officers will secure the controversial march, along with more than 1,000 other security personnel who will ensure that other events in the capital throughout the day are adequately protected. The annual parade is organized by right-wing and religious organizations to commemorate Israel's unification of Jerusalem and the capture of the Old City including the Western Wall and Temple Mount, in the 1967 Six Day War. #Jerusalemday #Israelflagmarchday #Palestine ~PR.153~HT.99~ED.101~
Credit: Oneindia Duration: 02:33
Published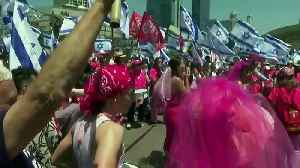 WATCH: Israelis block roads in protest against Netanyahu legal plan

Israelis blocked roads and demonstrated on Thursday against a contentious government plan to overhaul the judiciary, hoping to ramp up pressure on lawmakers after parliament reconvened this week following a month-long recess.
Credit: euronews (in English) Duration: 01:00
Published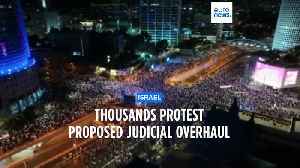 Israelis rally for 17th week against judicial overhaul plans

Tens of thousands of Israelis protested judicial overhaul proposals Saturday in the 17th weekly rally against Prime Minister Benjamin Netanyahu's governing coalition.
Credit: euronews (in English) Duration: 01:10
Published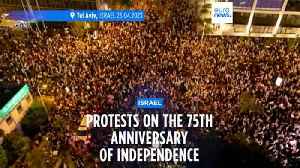 Divisions plague Israel's Independence and Memorial Days

Prime Minister Benjamin Netanyahu's plan to overhaul the judiciary has stoked widespread discontent and spurred weeks of protests. The demonstrations have brought cities to a standstill and continued as the country celebrated its 75th Independence Day.
Credit: euronews (in English) Duration: 00:50
Published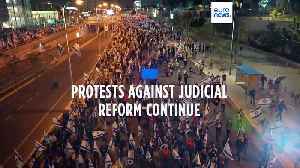 Tens of thousands of Israelis protest, call on government to scrap judicial overhaul plan

Protest organizers aim to maintain momentum and increase pressure on Prime Minister Netanyahu and his government until the proposed changes are scrapped.
Credit: euronews (in English) Duration: 00:36
Published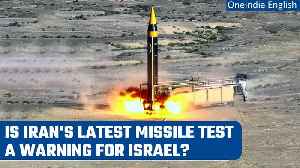 Khorramshahr missile: Iran claims successful test of 4th gen nuclear-capable missile |Oneindia News

Iran has said that it has successfully tested a 2,000 km-range ballistic missile named Kheiber..or Khorramshahr. The test has come just two days after the chief of Israel's armed forces raised the prospect of "action" against Tehran over its nuclear programme. Iran, which has one of the biggest missile programmes in the Middle East, says its weapons are capable of reaching Israel and US bases in the region. Despite opposition from the United States and European countries, Tehran has said it would further develop its "defensive" missile programme. The missile's extended range, advanced guidance and control system, and improved structural features further solidify Iran's status as a formidable missile power. Kheibar is one of the most advanced missiles designed by the experts of the Ministry of Defense's Aerospace Industries Organization. It is a liquid-fueled missile with a range of 2,000 kilometers and a warhead weighing 1,500 kilograms with impressive strategic and tactical capabilities. #iranballisticmissile #iranmissile #latestnews #oneindianews #iranmissiletechnology #iranballisticmissilelaunch ~PR.153~ED.101~HT.178~
Credit: Oneindia Duration: 02:24
Published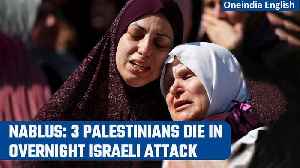 West Bank:3 Palestinians killed in overnight raid by the Israeli forces in Balata camp|Oneindia News

The Israeli army has killed three Palestinian men during a large-scale raid on the Balata refugee camp in the city of Nablus in the northern occupied West Bank. The West Bank has been occupied by Israel since the 1967 Six-Day War. Nearly 3 million Palestinians live there, along with about 490,000 Israelis in settlements considered to be illegal under international law. According to Palestinian health ministry, at least seven other Palestinians were injured, including four with live ammunition, and dozens of others suffered tear gas inhalation. Hundreds of Israeli soldiers and special forces participated in the raid that began at about 1am last night and continued until 5am today. #Nablusttack#Palestineislamicjihad#Nabluswestbank ~PR.153~ED.103~HT.178~
Credit: Oneindia Duration: 02:13
Published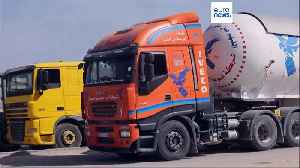 Ceasefire between Israel and militants in Gaza appears to hold after days of fighting

While the ceasefire brought a sense of calm was restored to the Gaza Strip after five days of rockets fired, an air of unease and anger lingered amongst Palestinians.
Credit: euronews (in English) Duration: 01:00
Published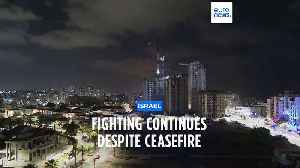 Gaza celebrates Egyptian-brokered ceasefire between Israel and Palestinians

There were celebrations in the streets of Gaza on Saturday night as an Egyptian-brokered ceasefire brought hopes of peace after five days of bloodshed in which 33 Palestinians and two Israelis have died in air strikes and rocket attacks.
Credit: euronews (in English) Duration: 01:00
Published
You Might Like
Related videos from verified sources