COVID deaths could have been reduced with earlier UK lockdown, scientist tells inquiry

Tuesday, 17 October 2023
The UK could have had fewer COVID-related deaths if the country had gone into lockdown two weeks earlier, a government scientist has said.
💡 newsR Knowledge: Other News Mentions
You Might Like
Related videos from verified sources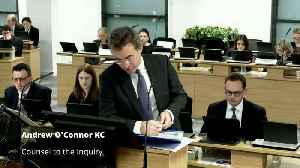 Lee Cain: Johnson dithered on Covid lockdown

Boris Johnson's long-term adviser Lee Cain says the former prime minister was presented with the "wrong crisis" in the form of the Covid-19 pandemic. Mr Johnson dithered between wanting a..
Credit: ODN Duration: 04:32
Published