India gifts a Dornier aircraft to Sri Lanka just a day before Chinese 'spy' ship docks at Hambantota

Monday, 15 August 2022
India on Monday handed over a Dornier-228 maritime patrol and reconnaissance aircraft to Sri Lanka to reaffirm bilateral security ties, even as Sri Lankan President Ranil Wickremesinghe stressed that the two countries may at times have "differences" but they should not be allowed to become "disputes".
You Might Like
💡 newsR Knowledge: Other News Mentions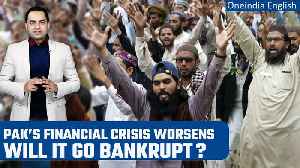 Pakistan seeks bailout from IMF as the economic crisis gets worse | Oneindia News*Explainer

For Pakistan, its problems don't seem to be anywhere near its end. The economic crisis the country is battling…is showing no signs of improving. Infact, it is worsening with almost each passing day. Just yesterday, Pakistan's currency fell to a record low of ₹ 255 against the US dollar…and now, it has forex reserves just enough for 3 weeks at max. Recently, the central bank increased its benchmark interest rate to 17%...the highest in over 24 years ! And these unending strings of issues are coming when its economy is struggling to cope with mounting debt, global inflation and political instability, and has been pushed to the brink of a collapse. But how did the country reach at such critical stage? Talks have been doing the rounds that it may also go the Sri Lanka way. But how close is it to that situation? Let's break it down for you in this video. But before that don't forget to like, share and subscribe to Oneindia. #Pakistaneconomiccrisis#Pakistancrisis #Pakistancurrency
Credit: Oneindia Duration: 03:55
Published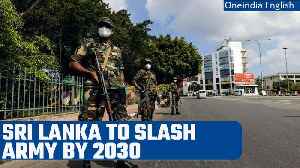 Sri Lanka to slash its military by one third by 2030 says defense ministry | Oneindia News *News

Sri Lanka which is currently going through an economic crisis has decided to slash its army to a third of its current size by 2030. #SriLanka #SriLankaArmy #SriLankaCrisis
Credit: Oneindia Duration: 01:41
Published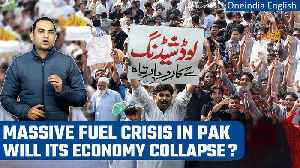 Is Pakistan headed for an economic disaster as fuel crisis deepens? | Oneindia News*Explainer

Pakistan's economy seems to be on the verge of crashing. The economic issues especially the fuel crisis that the country has been facing appear to be finally taking a toll on common citizens. Although Pakistan had been grappling with such issues since quite long, things seem to be quite apocalyptic for the common citizens this time. The power crisis has worsened to such an extent that orders have been given for early closure of shopping malls, markets. Pakistan barely even has enough stock of oil, gas and electricity to keep its basic infratructures up and running. Just recently, Pakistan cabinet has approved the 'National Energy Conservation Plan' to save energy to deal with the power and fuel crisis. But how did the country reach at such critical stage? Is it also going Sri Lanka and Bangladesh's way when it comes to economic hardships? Let's break it down for you in this video. But before that don't forget to like, share and subscribe to Oneindia. #Pakistanfuelcrisis #Pakistangasshortage #Pakistaneconomiccrisis
Credit: Oneindia Duration: 03:46
Published
Former Sri Lankan President Gotabaya Rajapaksa leaves for US | Oneindia News *News

Gotabaya Rajapaksa, the former President of Sri Lanka, who was forced to step down after public outrage has left for the USA along with his family. #GotabayaRajapaksa #SriLanka #USA
Credit: Oneindia Duration: 02:52
Published
Related videos from verified sources
Sri Lanka Tragedy; Could America be Next? - The Friends of Zeus Podcast #76

Sri Lanka's President, Gotabaya Rajapaksa, decided that his desire to increase Sri Lanka's ESG score was of less importance than his own life somewhere around July 13th, 2022. What happens when..
Credit: Rumble Duration: 04:15
Published
Inflation in Sri Lanka running at 60.8%, Central bank warns of 8% contraction this year

Economic crisis in the island nation of Sri Lanka is worsening with each passing day. Amid pressing financial concerns, the IMF has decided to resume talks with the country on Friday.
Credit: Rumble Duration: 01:13
Published
Amazing Traditional Village Fishing Fish Catching_ Fishing Videos

Sri Lanka Cast Net Fishing, Island Fishing, Sri lanka fishing, big shrimp, shrimp fishing, sri lanka, sri lanka fishing documentary, sri lanka fishing video, lanka, sri lanka fish catching, tilapia..
Credit: Rumble Duration: 02:22
Published