"Best deal": Jaishankar defends India's crude oil imports from Russia

Wednesday, 17 August 2022
External affairs minister S Jaishankar who is in Thailand to attend the 9th India-Thailand Joint Commission Meeting defended India's crude oil imports from Russia by terming it the "best deal" for the country. Addressing the Indian community in Bangkok, he discussed the surge in energy prices across the world due to the Russia-Ukraine war.
Video Credit: Rumble - Published
Russia-US Face-Off: The Great Syrian Oil Loot

03:53

Syria says the United States of America has been stealing its crude oil. Russia, China, Iran and Turkey agree with Syria. If Syria, led by the Bashar al-Assad regime is to be believed, this year, America stole 80% of Syrian oil produced every day. Now, Washington seems to be facing the heat for its...
You Might Like
💡 newsR Knowledge: Other News Mentions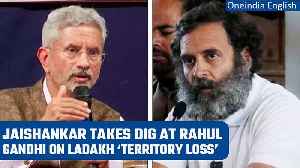 S Jaishankar slams Rahul Gandhi, says 'China occupied India's land in 1962, not now' | Oneindia News

On Saturday, Foreign Minister S Jaishankar claimed that the land that opposition leaders say has been occupied by China 'was in fact occupied in 1962'. His statement was made in a reference to the war when Jawaharlal Nehru was prime minister. He also took a swipe at Congress leader Rahul Gandhi, who recently spoke about an official report on loss of territory in Ladakh. #SJaishankar #RahulGandhi #IndiaChina
Credit: Oneindia Duration: 02:50
Published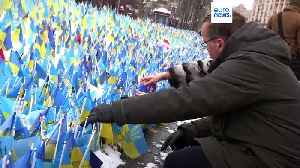 More tanks for Ukraine: Germany, Denmark and The Netherlands make new pledge

Germany, Denmark and the Netherlands plan to provide Ukraine with at least 100 refurbished Leopard 1 battle tanks in the coming months.
Credit: euronews (in English) Duration: 01:02
Published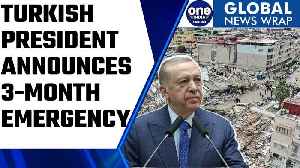 Turkey earthquake: Recep Tayyip Erdogan declares state of emergency for affected areas|Oneindia News

Turkish President Recep Tayyip Erdogan declares state of emergency in earthquake hit provinces; Turkey-Syria earthquake: Fifth quake hits Turkey as death toll rises above 5,000; Rishi Sunak plans mini cabinet reshuffle to revive UK economy: report; UN chief fears world is heading towards 'wider war' over Russia-Ukraine conflict. #Earthquake #TurkeyEarthquake #RecepTayyipErdogan
Credit: Oneindia Duration: 02:39
Published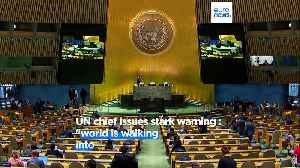 'Sleepwalking into wider war': Guterres says prospects for peace keep diminishing

UN secretary-general Antonio Guterres has warned war in Ukraine could become a wider war with "profound global implications".
Credit: euronews (in English) Duration: 01:36
Published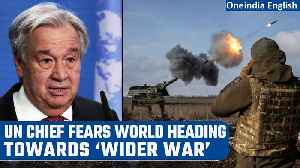 UN chief fears world is heading towards 'wider war' over Russia-Ukraine conflict | Oneindia News

The head of the United Nations, António Guterres, has warned that further escalation in the Russia-Ukraine conflict could mean the world is heading towards a "wider war". #RussiaUkraineWar #AntonioGuterres #UN
Credit: Oneindia Duration: 02:47
Published
Indian passengers exchange blows after a verbal spat on Bangkok-Kolkata flight, Watch |Oneindia News

A verbal spat turned into a fistfight onboard a Bangkok-Kolkata flight and the video of the same is going viral on social media. #Bangkok-Kolkata #Thaismile #fistfight
Credit: Oneindia Duration: 02:15
Published
Related videos from verified sources
Related news from verified sources