Deaths in Gambia due to India-made cough syrups: Centre takes steps to curb damage, Haryana firm remains non-operational

Saturday, 8 October 2022
Central Drugs Standard Control Organisation (CDSCO) launched an inquiry and alerted Haryana last week after learning about the Gambia tragedy.
💡 newsR Knowledge: Other News Mentions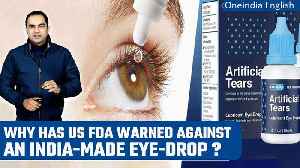 'Artificial Tears': US CDC issues advisory against India-made eye-drop | Explainer | Oneindia News

The US FDA has issued advisory against using 'Artificial Tears'…an eye drop manufactured by an Indian pharmaceutical company. This is the third such incident in the recent times in which Indian pharmaceutical companies have been in the crosshairs of health authorities. Just few months back, a controversy had erupted over the death of 66 children in Gambia after taking cough syrup imported from India. Then, towards the end of December, Uzbekistan had also claimed that 18 of 21 children with acute respiratory diseases died after ingesting Dok-1 Max syrup…a syrup that was manufactured and exported to Uzbekistan. In this video, we take a look at the possible reasons why the US FDA has issued caution over an India-made eye drop. But before that, don't forget to like, share and subscribe to Oneindia #USFDA#artificialtearseyedrop #USAbansindiaeyedrop
Credit: Oneindia Duration: 03:43
Published
Gambia foiled coup attempt, four soldiers arrested for plotting govt overthrow


Credit: FRANCE 24 English Duration: 01:07
Published
Gambia syrup scandal: MP's target Indian pharma group over child deaths


Credit: FRANCE 24 English Duration: 01:37
Published
Uzbekistan cough syrup case: Centre issues first statement, says probe underway | Oneindia News*News

Today, Union health minister Mansukh Mandaviya said the Central Drugs Standard Control Organisation (CDSCO) has been in touch with Uzbekistan's national drugs regulator since December 27. This comes as India's central government's first statement on the deaths of children in Uzbekistan after being given Doc-1 Max, a cough syrup made by Marion Biotech, an Indian manufacturer. #Uzbekistan #Indiancoughdrop #Doc1Max
Credit: Oneindia Duration: 01:46
Published
You Might Like
Related videos from verified sources
Cough Syrup in Gambia

In the Gambia, parents react to the recent measures taken by the authorities to stop the import of cough syrups that have been linked to the deaths of 69 children in the country. "If it is due..
Credit: Rumble Duration: 04:28
Published
Haryana stops production of cough syrups linked to deaths after WHO warning | Oneindia News*News

Haryana stops production of 4 cough syrups flagged by WHO after inspection; 'Don't compare me with Tharoor', says Mallikarjun Kharge on Congress presidential poll; ₹4 crore cash and documents..
Credit: Oneindia Duration: 02:24
Published
Related news from verified sources