RSS chief Mohan Bhagwat reveals how LGBTQ is connected to Mahabharata, says 'yeh LGBT ki samasya hai...'

Friday, 13 January 2023
RSS chief Mohan Bhagwat recounted an instance from the Mahabharata in regard to the LGBTQ community, backing the rights of the community.
💡 newsR Knowledge: Other News Mentions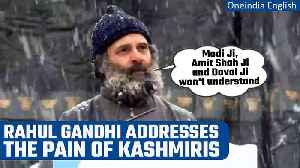 Rahul Gandhi marks the end of Bharat Jodo Yatra in J&K; addresses rally in Srinagar | Oneindia News

Today, Congress leader and Member of Parliament Rahul Gandhi said that he can understand the pain of Kashmiris and security forces better than BJP and RSS members. Amid heavy snowfall in Srinagar, Opposition party leaders joined Rahul Gandhi as he marked the completion of the Bharat Jodo Yatra. Addressing the mega rally in SK Stadium in Srinagar, he said that his family had faced the violence and can understand better. #RahulGandhi #BharatJodoYatra #JammuAndKashmir
Credit: Oneindia Duration: 02:10
Published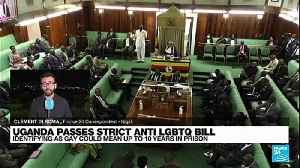 Uganda's parliament passes tough anti-LGBTQ bill


Credit: FRANCE 24 English Duration: 01:12
Published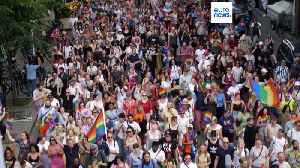 LGBTI people in Europe face an increasingly toxic and violent environment, new reports warns

ILGA-Europe warns that hateful rhetoric from politicians and religious leaders creates an environment of insecurity for LGBTI people.
Credit: euronews (in English) Duration: 03:16
Published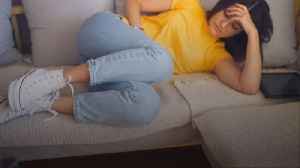 Spain Approves Menstrual Leave, Teen Abortion and Transgender Laws

Spain Approves Menstrual Leave, , Teen Abortion and Transgender Laws. NPR reports that on Feb. 16, Spain became the first European country to allow workers suffering from debilitating period pain to take paid menstrual leave. In addition, free menstrual products will now be available in schools and prisons. . State-run health centers will offer free morning after pills and hormonal contraceptives. The Spanish parliament also approved legislation giving teenagers more abortion and transgender rights. . Teenagers who are at least 16 years old can now have an abortion without parental consent in the country. They can also legally change their documented gender without a gender dysphoria diagnosis. LGBTQ "conversion therapy" has been banned. State support will be provided to LGBTQ people and single women who want IVF treatment. CNN reports that the traditionally Catholic country has become one of the most progressive European countries when it comes to reproductive rights
Credit: Wibbitz Top Stories Duration: 01:31
Published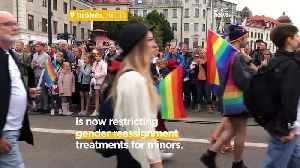 As Spain advances trans rights, Sweden backtracks on gender-affirming treatments for teens

Sweden, a pioneer in LGBTQ rights, is now restricting gender reassignment treatments for minors, citing concerns about their long-term side effects.
Credit: euronews (in English) Duration: 02:08
Published
You Might Like