'Deafening sound, balls of fire': Eyewitnesses recount tragic Sukhoi-Mirage crash in Madhya Pradesh

Saturday, 28 January 2023
In a tragic mid-air collision, two Indian Air Force fighter jets crashed into each other in Madhya Pradesh on Saturday, killing one pilot and injuring two others. Recounting the horrific crash, eyewitnesses in MP's Morena said they heard a deafening sound and saw balls of fire descending to the ground after the collision.
💡 newsR Knowledge: Other News Mentions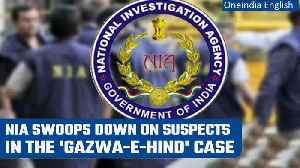 NIA conducts raids at several places in the 'Gazwa-e-Hind' case | Oneindia News

The National Investigation Agency has conducted searches at seven locations in Maharashtra, Gujarat and Madhya Pradesh in its ongoing probe in the Gazwa-e-Hind case. The case is linked to the radicalisation of impressionable youth over various social media platforms for carrying out violent terrorist acts. #NIA #NIAraids #Gazwaehind
Credit: Oneindia Duration: 02:01
Published
Will it rain in Delhi, UP today? Check rain forecast for this week; weather in Uttarakhand, Chennai and more
Several states other than Delhi, including Chennai, Uttarakhand, Gujarat, Maharashtra, Madhya Pradesh, Andhra Pradesh, Chattisgarh, Haryana, Karnataka, and..
DNA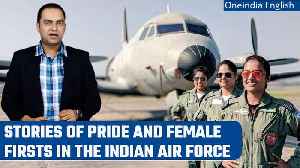 Women in Indian Air Force who made the country proud | International Women's Day 2023| Oneindia News

What could be more thrilling than flying in a fighter jet while protecting the skies of the motherland? Well, this Women's Day, we bring you the stories and valor of some of the bravest women in the modern era who never settled for anything less than free skies. India was one of the earliest countries in the world to induct women into the Air Force. While women in several other countries were fighting for equal voting rights, women in India were training shoulder to shoulder with men in the Indian Armed forces. You must have heard about Gunjan Saxena and Sreevidya Rajan who proved their mettle on the battlefield in the Kargil war of 1999. So today, we are going to talk about a few such women whose stories have not gotten much recognition from today's generation despite being so motivational. #IndianAirforceDay #InternationalWomensDay #WomenInIAF
Credit: Oneindia Duration: 04:59
Published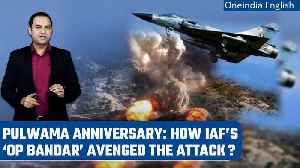 4 Years of Pulwama attack: Know 'Op Bandar'; India's surgical strike 2.0 |*Explainer | Oneindia News

Today is the 4th anniversary of the Pulwama attack…the attack in which 40 soldiers of the CRPF were martyred in 2019. Those CRPF soldiers were travelling in a bus that was a part of a convoy of over a thousand security personnel when an explosive-laden SUV had rammed into the convoy and had exploded. That was the deadliest terror attack witnessed in three decades of Kashmir's insurgency. And after some time, Pakistan's Jaish-e- Mohammad had claimed responsibility for this attack. In the wake of this, India's defence forces were given a free hand by the Prime Minister to decide the intensity, timing and scale of a retaliatory operation. Following this, the Indian Air Force had launched 'Operation Bandar' in a surprise attack to avenge the martyrdom of those CRPF personnel. In this video, we take a look at this operation by the Indian Air Force that destroyed the camps of those terrorists by crossing LOC. But before that, don't forget to like, share and subscribe to Oneindia. pulwama attack,pulwama terror attack, Op Bandar, Op Bandar IAF,pulwama attack anniversary,pulwama, pulwama attack anniversary 2023,pulwama attack news,pulwama attack crpf,pulwama crpf attack,pulwama news,crpf pulwama attack,pulwama attack 2023,pulwama attack video,pulwama attack latest news,pulwama attack anniversary news,pulwama attack fourth anniversary Oneindia English, Oneindia News #Pulwamaattack#Opbandar #IAF
Credit: Oneindia Duration: 05:18
Published
You Might Like
Related news from verified sources