Be secular, says Supreme Court as plea targets parties with faith-linked names

Tuesday, 31 January 2023
As a petitioner seeking cancellation of names and symbols of political parties which have religious connotations named only few parties related to the Muslim community, the Supreme Court on Tuesday asked him to be secular and not to go against any particular religion.
💡 newsR Knowledge: Other News Mentions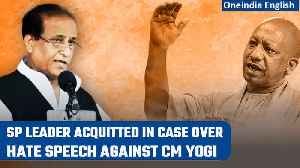 Samajwadi Party leader Azam Khan acquitted in 2019 hate speech on CM Yogi case | Oneindia News

Samajwadi Party national general secretary and former MLA from Rampur Mohammad Azam Khan has got a big relief from the court. He was acquitted in a hate speech case for which he was disqualified from the membership of assembly. On Wednesday, Rampur's Special MP-MLA Court acquitted the SP leader in the case setting aside the verdict of the magistrate court. The court gave a 70-page verdict quoting several instances of high court and Supreme Court judgements. #AzamKhan #SamajwadiParty #Rampur ~HT.99~PR.151~
Credit: Oneindia Duration: 02:05
Published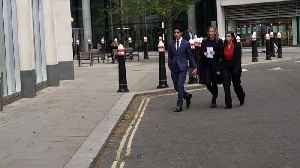 Phone Hacking: Royal biographer arrives at High Court

Royal biographer Omid Scobie, co-author of a book about the Duke and Duchess of Sussex titled 'Finding Freedom', arrives at the High Court. Mr Scobie is set to take to the stand to give evidence as part of a trial against Mirror Group Newspapers (MGN) who are accused of unlawful information-gathering. Report by Rowlandi. Like us on Facebook at http://www.facebook.com/itn and follow us on Twitter at http://twitter.com/itn
Credit: ODN Duration: 00:22
Published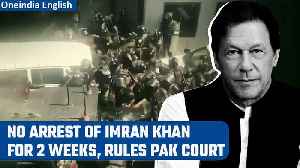 Pakistan turmoil: Islamabad court grants breather to Imran khan for next 2 weeks | Oneindia News

Former Pakistan prime minister Imran Khan is to be released on bail for two weeks following a decision from the Islamabad High Court. The bail means that he can't be re-arrested on those charges for at least next two weeks. Imran Khan was back in the court following his arrest on Tuesday on corruption charges, which had sparked countrywide violence that had left at least 10 people dead and dozens injured. He remained in the court after the decision as his lawyers petitioned judges for similar protection in a number of other corruption charges, trying to close off legal avenues for the government to arrest him again. Pakistan's Supreme Court had ruled yesterday that the arrest was unlawful and had ordered his immediate release from the custody. It had then asked the Islamabad High Court to reconsider its initial decision to uphold the arrest. #Imrankhanbail #Imrankhan #Pakistancrisis ~PR.153~HT.98~ED.155~
Credit: Oneindia Duration: 02:08
Published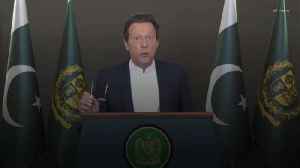 Imran Khan's Arrest Was Illegal, Pakistan's Supreme Court Rules

Imran Khan's Arrest Was Illegal, , Pakistan's Supreme Court Rules. The former prime minister was arrested on corruption charges by paramilitary troops at a courthouse in Islamabad on May 9, CNN reports. At the time, PTI spokesperson Fawad Chaudhry described the arrest as an "abduction," saying Khan had been "whisked away by unknown people to an unknown location.". Khan was reportedly detained in a police headquarters guesthouse and brought before a judge in a closed-door hearing on May 10. Khan's lawyers petitioned against the judicial proceedings since they didn't take place at a courthouse. On May 11, Pakistan's Supreme Court ruled that the arrest was unlawful and Khan must be released. Following Khan's detainment, protests have resulted in hundreds of arrests, over 300 injuries and eight deaths, CNN reports. . According to a government official, over 650 protesters have been detained in Khyber Pakhunkhwa. 1,000 supporters were arrested in Punjab. Khan's political party released a pre-recorded message after he was arrested. Khan told his supporters that "the time has come for all of you to come and struggle for your rights."
Credit: Wibbitz Top Stories Duration: 01:30
Published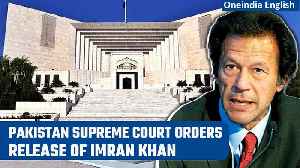 Pakistan Unrest: Imran Khan released from NAB custody by Supreme Court | Oneindia News

Days after former Pakistani Prime Minister Imran Khan was arrested from the Islamabad Court, the Supreme Court of the country called his arrest by rangers illegal. The top court also ordered that Khan be presented in Islamabad High court on Friday. #Pakistan #ImranKhan #SupremeCourt ~ED.101~PR.150~GR.125~HT.96~
Credit: Oneindia Duration: 02:07
Published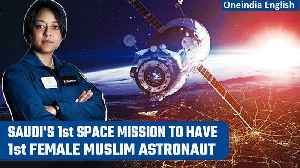 Saudi Arabia to launch its first space mission on May 21 from USA | Oneindia News

Saudi Arabia is going to launch its first space mission. The maiden space mission is scheduled to launch on May 21, with the Kingdom's first ever astronauts Ali al-Qarni and Rayyanah Barnawi, on board. Rayyanah Barnawi is the first Arab Muslim female astronaut. The two astronauts are set to travel to the International Space Station. They will be part of the four-man crew Axiom-2 mission scheduled to leave on May 21 from the Kennedy Space Center in Florida. The Saudi space mission, which marks a historical moment for the Kingdom, will be launched from the United States. The astronauts will conduct 14 pioneering scientific experiments in microgravity that will help scientists and researchers devise new ways to provide suitable conditions for humans to further explore space. They will conduct trailblazing experiments…including research into predicting and preventing cancer and a study into how to generate artificial rain in future human settlements on the Moon and Mars. They will also conduct three educational awareness experiments with 12,000 Saudi students via a live feed. #Saudispacemission #Rayyanahbarnawi, #Saudiarabia ~PR.153~ED.103~GR.123~HT.178~
Credit: Oneindia Duration: 02:15
Published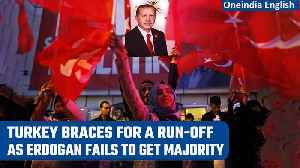 Turkey elections: Erdogan fails to get 50%; second round of elections most likely on 28 May

Turkey is heading towards a second round of elections as the current President Recep Tayyip Erdogan has failed to secure 50% of votes cast that would help him decisively extend his 20-year rule. So far…Erdoğan's rival, Kemal Kılıçdaroğlu, has scored 44.96% of the votes as per the latest figures, This is a disappointing outcome for him after late pre-election polls had shown him in the lead. Kilicdaroglu's camp had initially contested the vote count and claimed to be ahead. Turkey's first presidential run-off in the mostly Muslim but officially secular state's 100-year history is planned for May 28.This election has been billed as the most important one in Turkey's history with analysts claiming that the result will decide whether Turkey's electorate would choose modernity ..or the traditional version of Islam. For Turkey's President Recep Tayyip Erdoğan, this election is of massive historical significance. It falls 100 years after the foundation of Mustafa Kemal Atatürk's secular republic and, if Erdoğan wins, he will be empowered to put even more of his stamp on the trajectory of a geostrategic heavyweight of 85 million people. The fear in the West is that he will see this as his moment to push toward an increasingly religiously conservative model, characterized by regional confrontationalism, with greater political powers centered around himself. #Turkeyelection #Kemalkiricdaroglu #Receperdogan ~PR.153~HT.98~ED.102~
Credit: Oneindia Duration: 03:01
Published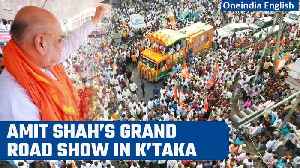 Karnataka Elections 2023: Amit Shah holds a road show in Tumkur district | Watch | Oneindia News

Union Home Minister Amit Shah held a massive roadshow in the Tumakuru region of poll-bound Karnataka and addressed the huge crowd that had gathered there. 'Yeddyurappa ji has done a lot of work for Karnataka, we've increased reservation of Lingayat & Dalit communities by abolishing 4% Muslim reservation. If Congress comes to power, it will take all these reservations and bring Muslim reservations back,' said Shah while addressing the public. "If Karnataka brings BJP to power, Narendra Modi will return as Prime Minister again in 2024," HM Shah added. Watch the road show video here. #KarnatakaElection2023 #AmitShah #AmitShahRoadShow ~PR.152~ED.102~HT.178~GR.125~
Credit: Oneindia Duration: 06:44
Published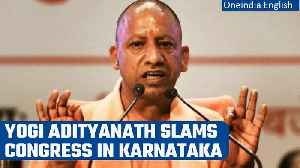 Karnataka Elections 2023: Yogi Adityanath emphasizes double-engine government | Oneindia News

Yogi Adityanath who is visiting Karnataka ahead of the assembly elections slammed the Congress for giving reservation to the Muslims in the state. #YogiAdityanath #KarnatakaElections2023 #BJP ~PR.150~HT.99~
Credit: Oneindia Duration: 03:13
Published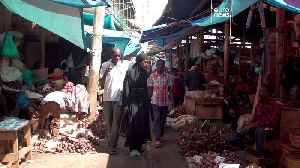 Meet the Ugandan woman who cooked up a feast for homeless children during Ramadan

In partnership with Qatar Media City During Ramadan, some Muslims go the extra mile by performing additional prayers, reading the Quran, or squashing negative tendencies like eating junk and gossiping. For Aisha Ornella Aniotrih cooking for the homeless children completes her Ramadan.
Credit: euronews (in English) Duration: 06:00
Published
You Might Like
Related videos from verified sources