Those who have eaten beef can also be converted back to Hinduism: RSS leader

Thursday, 2 February 2023
Even those who have eaten beef can also be converted back to Hinduism, and it can't be closed off to them, the general secretary of Rashtriya Swayamsevak Sangh (RSS) Dattatreya Hosabale said on Wednesday. The RSS leader said, "The term 'Hindu' has already entered our Constitution and country. It is a fact of history. Hindu is an identity and a culture to which people belong."
💡 newsR Knowledge: Other News Mentions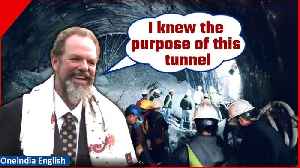 Uttarkashi Tunnel Rescue: Tunneling expert Arnold Dix speaks on successful mission | Oneindia News

Delhi: Professor Arnold Dix, an international tunnelling expert who provided important technical support on the ground in the Uttarakhand tunnel rescue operation, says, "Before I arrived here, I knew this region was a very sacred area for Hindu people. Also, I knew the purpose of this tunnel was to allow pilgrims to go between sacred temples. There was an epic dimension to this mission. It is a Himalayan mountain; it doesn't get any bigger than that." #ArnoldDix #UttarkashiRecue #UttarkashiTunnel #Uttarakhand #Uttarkashi #PushkarSinghDhami #PMModi #Modi #India #UttarakhandNews #Dehradun #OneIndia #OneindiaNews ~HT.178~GR.125~PR.151~ED.194~
Credit: Oneindia Duration: 02:58
Published
A temple where a dog is the deity
In Sikandrabad town of Uttar Pradesh's Bulandshahr district lies a unique temple where the deity is a dog. Surrounded by Hindu gods, there's a special grave and..
IndiaTimes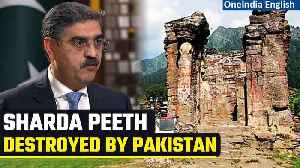 Historic Hindu temple 'Sharda Peeth' in PoK demolished by Pakistan | Oneindia News

Pakistan faces criticism for destroying an ancient Hindu temple in PoK to ere-ct a soldiers' coffee house, labeled as 'Hindophobia.' The Dara Shikoh Foundation urges UNESCO to intervene, alleging deliberate damage to 'Sharda Peeth' despite a Supreme Court order against demolition. #Pakistannews #Pakistan #Shardamandir #Shardapeeth #UNESCO #Hinduphobia #Hindus #Indianews #Worldnews #Oneindia #Oneindianews ~HT.178~ED.155~GR.121~
Credit: Oneindia Duration: 02:26
Published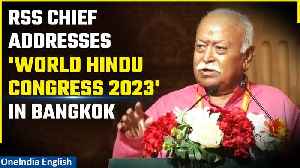 RSS Chief Mohan Bhagwat's Insightful Speech at World Hindu Congress 2023 in Bangkok | Oneindia News

Addressing the 'World Hindu Congress 2023' in Bangkok, Thailand, RSS Chief Mohan Bhagwat says, "...Some months back, the World Muslim Council's Secretary General, he came to Bharat and in his speeches there, he said that if we want harmony in the world, Bharat is a must. So this is our duty. This is why Hindu society came into existence..." #RSS #mohanbhagwat #speech #worldhinducongress #worldhinducongress2023 #worldhinduorganisation #rashtriyaswayamsevaksangh ~ED.102~GR.122~
Credit: Oneindia Duration: 02:27
Published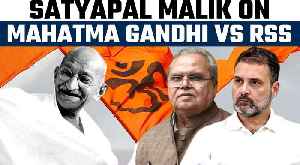 Rahul Gandhi-Satyapal Malik discuss the fight between Gandhism and RSS ideology | Oneindia

Congress leader Rahul Gandhi on Wednesday shared the video of his recent meeting with former J&K governor Satya Pal Malik who spoke to Rahul Gandhi on several issues including the Pulwama attack, the J&K situation, Adani and also going back to his earliest days in politics. Rahul said in the conversation that I think there is a fight between two ideologies in Indian politics, one Gandhian and the other RSS. In response to this question, Satyapal Malik said, I think that India will survive as a country only when it follows the path of liberal Hinduism, which was Gandhi's ideology. Watch the entire video here. #RahulGandhi #SatyapalMalik #RSS #Gandhism #MahatmaGandhi #PMModi #ManipurViolence #Manipur #ManipurAgitation #FarmersAgitation #Farmersdemand #MSP #SatyapalMalikInterview #J&KStatehood #JammuAndKashmirState #J&KPeople #SatyapalMalikOnPolitics #PulwamaAttack #SatyapalMalikPulwamaAttack #PoliticsHasBecomeBusiness #J&K #Pulwama ~HT.178~ED.194~PR.152~GR.125~
Credit: Oneindia Duration: 03:53
Published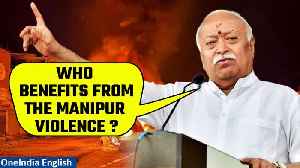 Manipur Violence: RSS chief Mohan Bhagwat says Manipur violence orchestrated | Oneindia News

RSS chief Mohan Bhagwat on Tuesday said the Manipur violence was orchestrated, and blamed "outside forces" for the situation in the north eastern state. "Meiteis and Kukis were living together for a long time there. It is a border state. Who benefits from such secessionism and internal conflict? Outside forces also benefit. Were people from outside involved in what happened there," Bhagwat asked. Addressing the RSS Dussehra rally at Nagpur, Bhagwat also said cultural Marxists and woke elements are using their influence in media and academia to spoil the country's education and culture. #ManipurViolence #Manipur #MohanBhagwat #RSSChief #MohanBhagwatManipurViolence ~PR.152~ED.155~GR.124~HT.96~
Credit: Oneindia Duration: 03:11
Published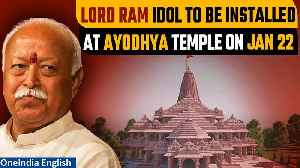 Lord Ram's idol to be installed at Ayodhya temple on January 22, Mohan Bhagwat announces | Oneindia

The Rashtriya Swayamsevak Sangh (RSS) chief Mohan Bhagwat made several announcements at the annual RSS Vijayadashami event in Nagpur. The idol of Lord Ram will be installed at the Ayodhya temple on January 22, RSS chief Mohan Bhagwat said on Tuesday. He added that on that day, Indians can organise programmes at the temples across the country to celebrate. #RamMandir #RamMandirAyodhya #Ayodhya #LordRamIdol #Vijayadashami #Dussehra #MohanBhagwat #RSS ~HT.99~PR.152~ED.103~
Credit: Oneindia Duration: 03:34
Published
You Might Like
Related news from verified sources