Govt likely to clear 5 names recommended for elevation as Supreme Court judges

Friday, 3 February 2023
On December 13 last year, the Supreme Court Collegium recommended to the government to appoint Justice Pankaj Mithal, Chief Justice, Rajasthan High Court; Justice Sanjay Karol, Chief Justice, Patna High Court; Justice P V Sanjay Kumar, Chief Justice, Manipur High Court; Justice Ahsanuddin Amanullah of Patna High Court; and Justice Manoj Misra of Allahabad High Court as apex court judges.
You Might Like
💡 newsR Knowledge: Other News Mentions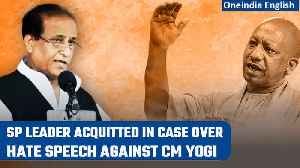 Samajwadi Party leader Azam Khan acquitted in 2019 hate speech on CM Yogi case | Oneindia News

Samajwadi Party national general secretary and former MLA from Rampur Mohammad Azam Khan has got a big relief from the court. He was acquitted in a hate speech case for which he was disqualified from the membership of assembly. On Wednesday, Rampur's Special MP-MLA Court acquitted the SP leader in the case setting aside the verdict of the magistrate court. The court gave a 70-page verdict quoting several instances of high court and Supreme Court judgements. #AzamKhan #SamajwadiParty #Rampur ~HT.99~PR.151~
Credit: Oneindia Duration: 02:05
Published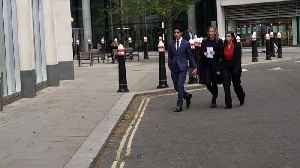 Phone Hacking: Royal biographer arrives at High Court

Royal biographer Omid Scobie, co-author of a book about the Duke and Duchess of Sussex titled 'Finding Freedom', arrives at the High Court. Mr Scobie is set to take to the stand to give evidence as part of a trial against Mirror Group Newspapers (MGN) who are accused of unlawful information-gathering. Report by Rowlandi. Like us on Facebook at http://www.facebook.com/itn and follow us on Twitter at http://twitter.com/itn
Credit: ODN Duration: 00:22
Published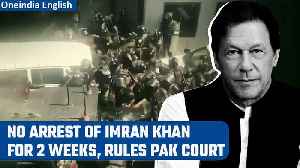 Pakistan turmoil: Islamabad court grants breather to Imran khan for next 2 weeks | Oneindia News

Former Pakistan prime minister Imran Khan is to be released on bail for two weeks following a decision from the Islamabad High Court. The bail means that he can't be re-arrested on those charges for at least next two weeks. Imran Khan was back in the court following his arrest on Tuesday on corruption charges, which had sparked countrywide violence that had left at least 10 people dead and dozens injured. He remained in the court after the decision as his lawyers petitioned judges for similar protection in a number of other corruption charges, trying to close off legal avenues for the government to arrest him again. Pakistan's Supreme Court had ruled yesterday that the arrest was unlawful and had ordered his immediate release from the custody. It had then asked the Islamabad High Court to reconsider its initial decision to uphold the arrest. #Imrankhanbail #Imrankhan #Pakistancrisis ~PR.153~HT.98~ED.155~
Credit: Oneindia Duration: 02:08
Published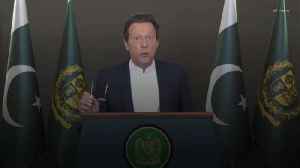 Imran Khan's Arrest Was Illegal, Pakistan's Supreme Court Rules

Imran Khan's Arrest Was Illegal, , Pakistan's Supreme Court Rules. The former prime minister was arrested on corruption charges by paramilitary troops at a courthouse in Islamabad on May 9, CNN reports. At the time, PTI spokesperson Fawad Chaudhry described the arrest as an "abduction," saying Khan had been "whisked away by unknown people to an unknown location.". Khan was reportedly detained in a police headquarters guesthouse and brought before a judge in a closed-door hearing on May 10. Khan's lawyers petitioned against the judicial proceedings since they didn't take place at a courthouse. On May 11, Pakistan's Supreme Court ruled that the arrest was unlawful and Khan must be released. Following Khan's detainment, protests have resulted in hundreds of arrests, over 300 injuries and eight deaths, CNN reports. . According to a government official, over 650 protesters have been detained in Khyber Pakhunkhwa. 1,000 supporters were arrested in Punjab. Khan's political party released a pre-recorded message after he was arrested. Khan told his supporters that "the time has come for all of you to come and struggle for your rights."
Credit: Wibbitz Top Stories Duration: 01:30
Published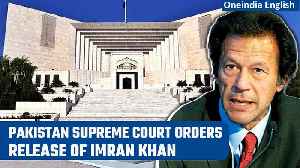 Pakistan Unrest: Imran Khan released from NAB custody by Supreme Court | Oneindia News

Days after former Pakistani Prime Minister Imran Khan was arrested from the Islamabad Court, the Supreme Court of the country called his arrest by rangers illegal. The top court also ordered that Khan be presented in Islamabad High court on Friday. #Pakistan #ImranKhan #SupremeCourt ~ED.101~PR.150~GR.125~HT.96~
Credit: Oneindia Duration: 02:07
Published
Related videos from verified sources
Related news from verified sources