Locals in quake-hit Turkey exchanged hugs and mementos with NDRF rescuers

Wednesday, 22 February 2023
After working in quake-ravaged Turkiye for 10 days, the 152 rescuers of National Disaster Response Force (NDRF) were looking forward to not just reuniting with their families that were understandably concerned after news of multiple aftershocks, but also to a bath in running water.
You Might Like
💡 newsR Knowledge: Other News Mentions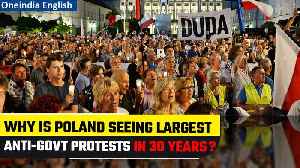 Poland Protest: Warsaw sees millions descending on streets against the ruling regime |Oneindia News

Hundreds of thousands of people have carried out marches in anti-government protests in Poland's capital with citizens traveling from across the country to voice their anger. They have marched against Poland's national-conservative ruling Law and Justice party in the country's largest demonstrations since mass protests against the introduction of a near-total ban on abortion in 2020. The protests have erupted against the perceived erosion of democratic norms and fears that the nation is perhaps following the footsteps of Hungary and Turkey down the path to autocracy. The march was held yesterday, on 4 June, because it is the anniversary of the partially free elections in 1989 at which the success of the Solidarity movement led by Lech Wałęsa had paved the way for the end of Poland's communist regime. Warsaw Mayor Rafal Trzaskowski, who belongs to the opposition party that led the main march in Warsaw, estimated that 500,000 people took part. Large crowds also gathered in Krakow and other cities across the nation of 38 million people, showing frustration with a government that critics accuse of violating the constitution and eroding fundamental rights in Poland, a country long hailed as model of peaceful and democratic change. Amid a red, white and blue sea of Polish and European flags, participants waved banners blaming the Law and Justice party PiS for soaring inflation and accusing it of nepotism, corruption and destroying democracy. #PolandProtest #AntiGovernmentProtests #WarsawProtests #Poland #OneindiaNews #OneEnglish #EnglishNews ~PR.153~ED.101~HT.178~
Credit: Oneindia Duration: 03:07
Published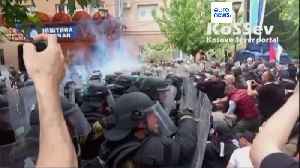 NATO boosts security in Kosovo after recent clashes with police and KFOR

A Turkish commando battalion has arrived in northern Kosovo in response to a request from NATO for more troops to help quell violent unrest between ethnic Serbs and Albanians.
Credit: euronews (in English) Duration: 01:15
Published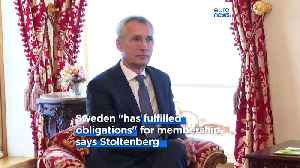 Stoltenberg: Sweden has fulfilled its agreement with Turkey to join NATO

NATO Secretary-General Jens Stoltenberg made no breakthrough on Sunday in talks about Sweden's membership in the military organization with Turkish President Recep Tayyip Erdogan, with officials from the two countries to meet in just over a week to try to bridge their differences.
Credit: euronews (in English) Duration: 01:00
Published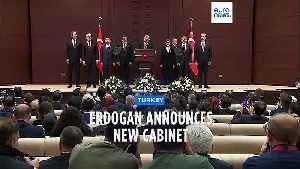 Erdogan names new cabinet after he is sworn in as Turkey's president for an historic third term

Turkey's President Recep Tayyip Erdogan names his new cabinet after being sworn in for an historic third term in office.
Credit: euronews (in English) Duration: 00:35
Published
Odisha Train Accident | Who was the NDRF jawan to first alerted about the incident | Oneindia News

An off duty NDRF jawan Venkatesh NK who was onboard the Coromandal Express first alerted his seniors about the Odisha train accident. #odishatrainaccident #ndrf #coromandalexpress ~HT.99~PR.150~ED.101~
Credit: Oneindia Duration: 02:15
Published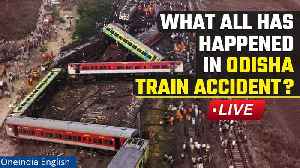 Odisha Train Accident | Major highlights of the accident and rescue | Oneindia News

The Odisha train accident is one of the major accidents in railways history in history. The NDRF, SDRF and other teams are working at war footing to bring back normalcy. #odishatrainaccident #balasore #indianrailways ~PR.150~ED.102~HT.99~
Credit: Oneindia Duration: 42:14
Published
Related news from verified sources