Tit-for-tat move? Barricades outside British high commission removed

Wednesday, 22 March 2023
The extra barricades and security set-up deployed outside the British high commission as well as the residence of Alex Ellis, the UK's high commissioner to India, were removed on Wednesday in what appeared to be a response to British authorities failing to prevent vandalisation of the Indian high commission by Khalistan supporters in London on Sunday.
You Might Like
💡 newsR Knowledge: Other News Mentions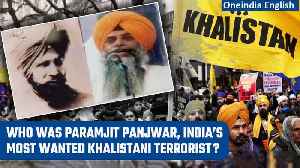 Khalistan Commando Force chief Paramjit Panjwar shot dead in Lahore | Oneindia News

Designated terrorist and Khalistan Commando Force (KCF) chief Paramjit Singh Panjwar alias Malik Sardar Singh was shot dead by two unidentified gunmen in Johar Town of Lahore in Pakistan. Let us know who Paramjit Singh Panjwar was and why he was India's most wanted Khalistani terrorist? #ParamjitSinghPanjwar #ParamjitSinghPanjwarKilled #KCFChief ~PR.152~ED.101~GR.125~HT.96~
Credit: Oneindia Duration: 03:26
Published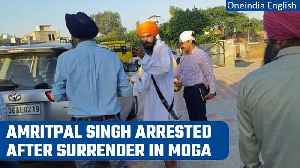 Amrtipal Singh surrenders in Moga, Punjab police arrest to Khalistani sympathiser | Oneindia News

After being on the run for more than a month, the chief of Waris Punjab De and fugitive Khalistani sympathiser Amirtpal Singh surrendered before Punjab police in Moga. #AmripalSingh #AmritpalSingharrested #WarisPanjabDe ~PR.150~ED.102~HT.98~
Credit: Oneindia Duration: 02:19
Published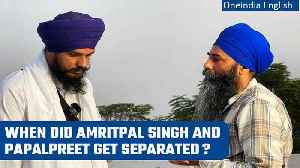 Amritpal Singh & Papalpreet got separated on March 28 in Hoshiarpur, claim sources | Oneindia News

A day after an aide of fugitive Khalistani separatist Amritpal Singh Papalpreet was arrested from Hoshiarpur, sources in the intelligence unit of Punjab Police said both of them got separated on March 28 during the police chase. Sources added that since then, there has been no contact between the two. #AmritpalSingh #PapalpreetSingh #WarisPanjabDe ~PR.151~ED.101~GR.125~HT.96~
Credit: Oneindia Duration: 03:08
Published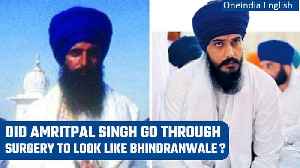 Amritpal Singh underwent surgery in Georgia to look like Bhindranwale, claims sources |Oneindia News

Sources in the intelligence agency said that fugitive Khalistani separatist Amritpal Singh underwent eye surgery in Georgia to resemble Khalistani militant Jarnail Singh Bhindranwale before returning to India in 2022. According to sources, the revelation was made by aides of Amritpal Singh who are currently lodged in Assam's Dibrugarh jail after police slapped National Security Act (NSA) charges on them. #AmritpalSingh #AmritpalSinghCrackdown #JarnailSinghBhindranwale ~PR.151~HT.102~HT.99~
Credit: Oneindia Duration: 03:01
Published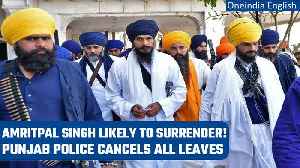 Amid speculations of Amritpal's surrender, Punjab Police cancels leave until April 14| Oneindia News

All leaves of Punjab cops have been cancelled until April 14, amid speculations that Khalistani sympathiser Amritpal Singh will surrender in Gurudwara. Amritpal Singh, who has been on the run for several days now has asked the chiefs of the top Sikh body, Akal Takht, to convene the "sarbat khalsa" gathering on the occasion of Baisakhi on April 14. Until then, the leaves of all gazetted and non-gazetted officers have been cancelled. #Amritpalsingh #Khalistan #Punjabpolice ~PR.153~ED.155~HT.98~
Credit: Oneindia Duration: 02:01
Published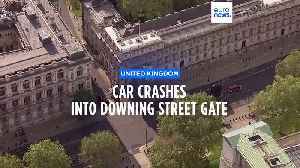 Man arrested after car collides with gates of UK's Downing Street

A car collided Thursday with the gates of Downing Street in central London, where the British prime minister's home and offices are located, setting off a rapid security response in one of London's most-fortified sites.
Credit: euronews (in English) Duration: 00:35
Published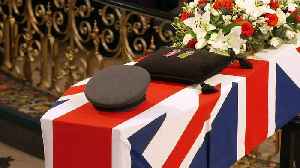 WWII veteran who died alone receives the funeral he deserved

Flight Sergeant Peter Brown died alone in London at 96 years old. With no known relatives in the UK, a campaign sought to organise a military funeral for the WWII veteran. And after a monumental effort, he was finally laid to rest. Report by Reeda. Like us on Facebook at http://www.facebook.com/itn and follow us on Twitter at http://twitter.com/itn
Credit: ODN Duration: 02:35
Published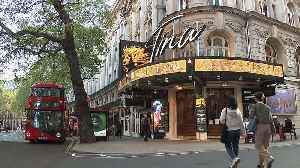 Tina Turner fans' emotional reaction to singer's death

Fans of Tina Turner speak emotionally outside the Aldwych Theatre in central London after the 'Queen of Rock 'n' Roll' dies aged 83. 'Tina: The Tina Turner Musical' premiered at the theatre in 2018 and has been performed there ever since. Report by Jonesia. Like us on Facebook at http://www.facebook.com/itn and follow us on Twitter at http://twitter.com/itn
Credit: ODN Duration: 01:25
Published