Amritpal Singh fled to Haryana, may now be in Uttarakhand

Thursday, 23 March 2023
Fugitive Khalistan sympathiser Amritpal Singh was spotted by CCTV cameras in a town of Haryana's Kurukshetra district on March 20 after spending the night in the house of a woman who has since been arrested, Punjab Police claimed Thursday as the manhunt for him entered the sixth day without a breakthrough.
💡 newsR Knowledge: Other News Mentions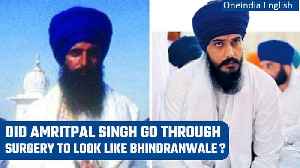 Amritpal Singh underwent surgery in Georgia to look like Bhindranwale, claims sources |Oneindia News

Sources in the intelligence agency said that fugitive Khalistani separatist Amritpal Singh underwent eye surgery in Georgia to resemble Khalistani militant Jarnail Singh Bhindranwale before returning to India in 2022. According to sources, the revelation was made by aides of Amritpal Singh who are currently lodged in Assam's Dibrugarh jail after police slapped National Security Act (NSA) charges on them. #AmritpalSingh #AmritpalSinghCrackdown #JarnailSinghBhindranwale ~PR.151~HT.102~HT.99~
Credit: Oneindia Duration: 03:01
Published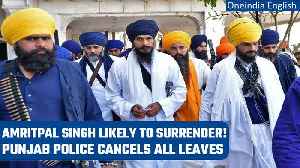 Amid speculations of Amritpal's surrender, Punjab Police cancels leave until April 14| Oneindia News

All leaves of Punjab cops have been cancelled until April 14, amid speculations that Khalistani sympathiser Amritpal Singh will surrender in Gurudwara. Amritpal Singh, who has been on the run for several days now has asked the chiefs of the top Sikh body, Akal Takht, to convene the "sarbat khalsa" gathering on the occasion of Baisakhi on April 14. Until then, the leaves of all gazetted and non-gazetted officers have been cancelled. #Amritpalsingh #Khalistan #Punjabpolice ~PR.153~ED.155~HT.98~
Credit: Oneindia Duration: 02:01
Published
IMD weather: Delhi, Punjab, Uttarakhand, Haryana, Bihar to get respite from heatwaves; rain prediction in these states
The meteorological service predicted that heavy rain will fall on May 24 in Jammu and Kashmir, Ladakh, Gilgit, Baltistan, Muzaffarabad, Uttarakhand, Punjab and..
DNA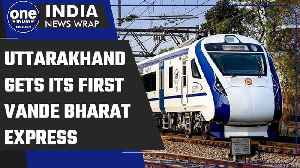 Uttrakhand gets its first Vande Bharat Express, PM Modi flags off virtually | Oneindia News

Prime Minister Modi on Thursday inaugurated the first ever Vande Bharat Express of Uttarakhand via video conference. #VandeBharatTrain #Uttrakhand #PMModi ~PR.150~HT.98~ED.103~
Credit: Oneindia Duration: 02:14
Published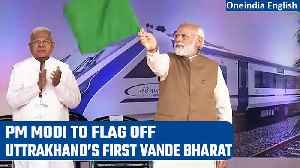 PM Modi to flag off Uttrakhand's first Vande Bharat Express via video conference | Oneindia News

PM Modi on Thursday will flag off the first Vande Bharat Express train of Uttrakhand. The train will travel from Delhi to Dehradun. #PMModi #VandeBharatExpress #Uttrakhand ~HT.98~PR.150~ED.101~
Credit: Oneindia Duration: 02:03
Published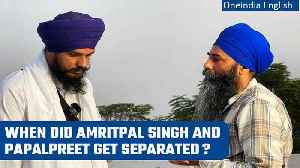 Amritpal Singh & Papalpreet got separated on March 28 in Hoshiarpur, claim sources | Oneindia News

A day after an aide of fugitive Khalistani separatist Amritpal Singh Papalpreet was arrested from Hoshiarpur, sources in the intelligence unit of Punjab Police said both of them got separated on March 28 during the police chase. Sources added that since then, there has been no contact between the two. #AmritpalSingh #PapalpreetSingh #WarisPanjabDe ~PR.151~ED.101~GR.125~HT.96~
Credit: Oneindia Duration: 03:08
Published
You Might Like
Related videos from verified sources