I'm fighting for voice of India, ready to pay any price: Rahul Gandhi

Friday, 24 March 2023
Congress leader Rahul Gandhi on Friday said he is fighting for the voice of India and is ready to pay any price, hours after he was disqualified from Lok Sabha. In a tweet in Hindi, the 52-year-old former Congress president said, "I am fighting for the voice of India. I am ready to pay any price." Announcing his disqualification, the Lok Sabha Secretariat in a notification said it was effective from March 23, the day of his conviction.
You Might Like
💡 newsR Knowledge: Other News Mentions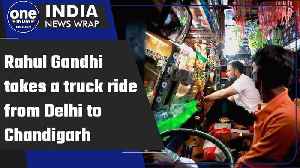 Rahul Gandhi takes a truck ride from Delhi to Chandigarh, interacts with drivers | Oneindia News

Congress leader Rahul Gandhi on Monday night took a truck ride from Delhi to Chandigarh and on the way interacted with truck drivers. #RahulGandhi #Delhi #Chandigarh ~PR.150~HT.99~ED.101~
Credit: Oneindia Duration: 02:20
Published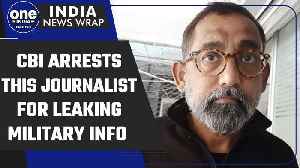 Journalist Vivek Raghuvanshi & ex-navy Ashish Pathak arrested in espionage case | Oneindia News

CBI arrests journalist Vivek Raghuvanshi and ex-navy officer Ashish Pathak in espionage case; Sources said that Siddaramaiah to be the next CM of Karnataka, DK Shivakumar to meet Rahul Gandhi soon; NIA carries out raids at multiple locations against Jaswinder Singh Multani and SFJ; India and China hold talks on ongoing LAC row; conduct a major general-level dialogue. #VivekRaghuvanshi #CBI #AshishPathak ~PR.151~ED.101~HT.178~
Credit: Oneindia Duration: 02:13
Published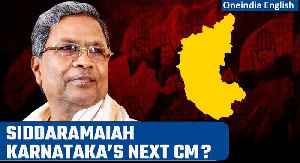 Siddaramaiah to be the next CM of Karnataka, DK Shivakumar to meet Rahul Gandhi soon | Oneindia News

Ending the ongoing suspense, the Congress high command has finalised senior leader Siddaramaiah as the next Chief Minister of Karnataka, sources said. This comes after three days of a tussle as Siddaramaiah and Karnataka Congress president DK Shivakumar both were adamant on CM's post. The official announcement regarding the development will be made by Rahul Gandhi in a press conference at 1 pm. #KarnatakaCM #Siddaramaiah #DKShivakumar #RahulGandhi #KarnatakaElections ~PR.152~ED.102~HT.98~
Credit: Oneindia Duration: 02:28
Published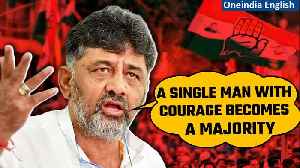 Karnataka results 2023: Shivakumar calls him single man army before leaving for Delhi| Oneindia News

The selection of Chief Minister of Karnataka has now reached Delhi. The Congress observers of the Center who collected the opinion of the new MLAs in the Congress Legislative Party meeting yesterday have now submitted it to the Congress High Command including Mallikarjun Kharge, Sonia Gandhi and Rahul Gandhi. In this background, DK Shivakumar (DK Shivakumar) and Siddaramaiah (Siddaramaiah), who are vying for the position of CM, have been given High Command Bulao. DK Shivakumar, who is now leaving for Delhi, held a press conference. The high command will decide who will be the CM. All the MLAs who won are ours, I don't have anyone,' said Shivakumar in the press conference. #DKShivakumar #KarnatakaElections #KarnatakaResults
Credit: Oneindia Duration: 03:15
Published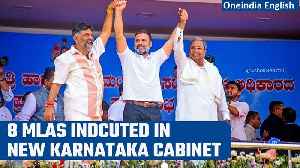 Karnataka oath-taking ceremony: 8 MLAs take oath as ministers | Siddaramaiah & DKS | Oneindia News

Eight Congress MLAs were sworn in as ministers in the Karnataka Cabinet during the oath-taking ceremony in Bengaluru on Saturday. Governor Thaawarchand Gehlot administered the oath of office and secrecy to the MLAs at the swearing-in ceremony held at the Kanteerava Stadium in Bengaluru. Congress president Mallikarjun Kharge's son Priyank Kharge, party's MLAs G Parameshwara and MB Patil were among the eight MLAs. The other MLAs who took oath included KH Muniyappa, KJ George, Satish Jarkiholi, Ramalinga Reddy and BZ Zameer Ahmed Khan. Congress leader Siddaramaiah was sworn in as the Chief Minister of Karnataka for the second time on Saturday after the party's sweeping victory in the Assembly elections. DK Shivakumar was sworn in as only Deputy Chief Minister of Karnataka. #KarnatakaCabinet #KarnatakaOathTakingCeremony #Congress ~PR.151~ED.103~HT.178~
Credit: Oneindia Duration: 03:01
Published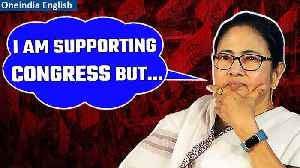 Mamata Banerjee on Karnataka Results: BJP can't win where regional parties are strong| Oneindia News

West Bengal Chief Minister Mamata Banerjee issued a fresh call for Opposition unity on Monday ahead of the 2024 Lok Sabha elections. The Trinamool Congress chief said that she would back the Congress in certain areas, asserting that the BJP was unable to fight in areas where a regional party was strong. The remarks came days after the Congress secured a landslide win in Karnataka and set its sights on several other state polls. #KarnatakaResults #KarnatakaElections2023 #MamataBanerjee #TMC #Congress ~PR.152~ED.101~HT.178~GR.123~
Credit: Oneindia Duration: 03:36
Published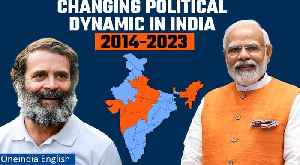 How statewise politics changed in India since BJP came to power | Karnataka election | Oneindia News

As of May this year, the BJP is in power in 9 states/union territories. But in a coalition the BJP also has 6 more states. So, now it has control directly and indirectly over 15 states. In 2014, when Narendra Modi had come to power, the BJP ruled just 7 states. The Congress on the other hand which held 13 states in 2014 came down to six in 2022. This year will see five more assembly elections in the country. As the 2024 Lok Sabha polls thump forward, let's see how the political dynamic shifts in India by the end of this year. #KarnatakaElectionResults #KarnatakaResults #KarnatakaElections #KarnatakaResultsWithOI
Credit: Oneindia Duration: 03:34
Published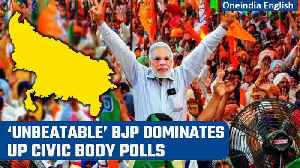 UP Municipal Election Results: Clean sweep for BJP; Samajwadi Party, BSP fail | Oneindia News

Karnataka results might have disappointed the BJP, but the results of the UP Civic Body polls have come as a sign of relief for the party. BJP has performed extremely well in the municipal body polls. The trends have now started turning into results. People have approved the work of the Yogi Adityanath government of UP in the body elections, which are being considered as semi-finals before the 2024 Lok Sabha elections . #UPMunicipalElections #UPCivicBodyPolls #BJPinUP ~PR.152~ED.101~GR.125~HT.96~
Credit: Oneindia Duration: 03:14
Published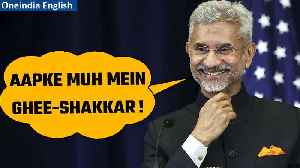 Jaishankar's reply to a query on 'Pani Puri replacing Hamburger in West' goes viral | Oneindia News

External Affairs Minister S Jaishankar used the popular Hindi phrase 'aapke muh mein ghee-shakkar' while responding to a question on the globalisation of Indian culture during his interaction with the Indian community members here, leaving them in laughter. Jaishankar, who is on a three-day visit to Sweden to participate in the EU Indo-Pacific Ministerial Forum (EIPMF), interacted with the Indian community in Sweden on Sunday evening and apprised them of the progress in the bilateral relationship. The minister spoke about the transformations underway in India and the opportunities it created for Indians living abroad. When asked whether in this age of globalisation, will the West start eating 'Pani Puri' instead of hamburger and will H&M T-shirts have New Delhi printed on it instead of New York, Jashankar said, "There is a term, which says 'aapke muh mein ghee-shakkar' (what you are saying, hope it comes true)" as the audience laughed and clapped. #SJaishankar #JaishankarSweden #JaishankarReply #AapkeMuhMeinGheeShakkar ~PR.152~HT.98~ED.155~
Credit: Oneindia Duration: 03:21
Published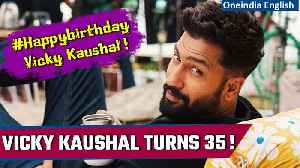 Vicky Kaushal turns 35, Know about the actor's personal life | Oneindia News

Vicky Kaushal is an Indian actor known for his work in Hindi films. Kaushal is the recipient of numerous accolades including a National Film Award and two Filmfare Awards, and has appeared in Forbes India's Celebrity 100 list of 2019. Wishing Vicky Kaushal a very Happy Birthday! The actor turns 35 today. Known for his powerful acting skills, Vicky has carved a niche for himself as one of the finest actors in the industry. He has proved his versatility in a very short span. Here we list some interesting facts about him that every fan must know! #VickyKausal #HappyBirthdayVickyKaushal #Bollywood ~PR.154~GR.124~HT.96~
Credit: Oneindia Duration: 03:25
Published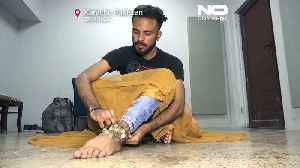 WATCH: Belly dancer Yousha Hussain breaks taboos in Pakistan around professional dance

Yousha Hussain decided that he wanted to become a belly dancer in Pakistan after watching Hindi movies growing up.
Credit: euronews (in English) Duration: 01:00
Published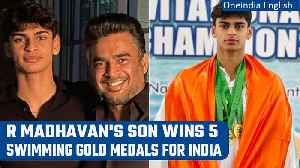 Actor R Madhavan beams with pride as son Vedaant wins 5 gold medals for India | Oneindia News

Actor R Madhavan is going through a proud papa bear phase. The South Indian and Hindi film actor has shared that his son Vedaant has won five gold medals for India in swimming at a championship in Malaysia. #RMadhavan #VedaantMadhavan #Swimming ~PR.151~ED.155~GR.125~HT.178~
Credit: Oneindia Duration: 03:12
Published
Related videos from verified sources