Amritpal Singh crackdown: Anonymous caller threatened to dislodge Indian flag from Pragati Maidan, claims Delhi man

Saturday, 25 March 2023
A case was registered at the complaint of a man who received the pre-recorded message on his phone when he arrived at the Delhi airport.
You Might Like
💡 newsR Knowledge: Other News Mentions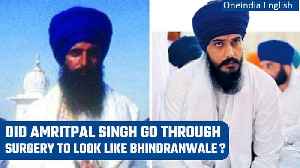 Amritpal Singh underwent surgery in Georgia to look like Bhindranwale, claims sources |Oneindia News

Sources in the intelligence agency said that fugitive Khalistani separatist Amritpal Singh underwent eye surgery in Georgia to resemble Khalistani militant Jarnail Singh Bhindranwale before returning to India in 2022. According to sources, the revelation was made by aides of Amritpal Singh who are currently lodged in Assam's Dibrugarh jail after police slapped National Security Act (NSA) charges on them. #AmritpalSingh #AmritpalSinghCrackdown #JarnailSinghBhindranwale ~PR.151~HT.102~HT.99~
Credit: Oneindia Duration: 03:01
Published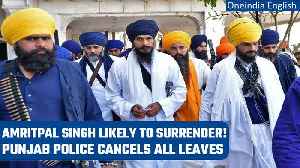 Amid speculations of Amritpal's surrender, Punjab Police cancels leave until April 14| Oneindia News

All leaves of Punjab cops have been cancelled until April 14, amid speculations that Khalistani sympathiser Amritpal Singh will surrender in Gurudwara. Amritpal Singh, who has been on the run for several days now has asked the chiefs of the top Sikh body, Akal Takht, to convene the "sarbat khalsa" gathering on the occasion of Baisakhi on April 14. Until then, the leaves of all gazetted and non-gazetted officers have been cancelled. #Amritpalsingh #Khalistan #Punjabpolice ~PR.153~ED.155~HT.98~
Credit: Oneindia Duration: 02:01
Published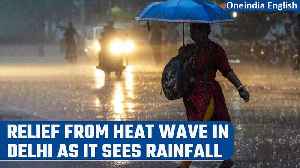 Delhi-NCR witness rain and strong winds as relief from severe heat wave | IMD | Oneindia News

Rain along with strong winds and dust storms hit parts of Delhi on Thursday, days after the weather office declared a heat wave in the capital. The India Meteorological Department (IMD) said today that similar conditions are expected to prevail in the capital over the next two to three days and that no heat wave is predicted until May 30. #IMD #Delhi #Rainfall ~PR.151~HT.98~ED.155~
Credit: Oneindia Duration: 02:08
Published
Related news from verified sources
Delhi-Amritsar-Katra Expressway: Delhi- Vaishno Devi in 6 hours, Delhi-Srinagar in 8 hours, know routes, key features
Delhi-Amritsar-Katra Expressway: The residents of Delhi always have to think twice before visiting Vaishno Devi, largely because of traffic or weather issues....
DNA
'Strongest Possible Action' Against Student For Urinating On Passenger On New York-Delhi Flight: Delhi Police
Senior officials with the Delhi police said that the accused identified as Arya Vohra, a resident of Delhi, did not behave properly on-board New York-Delhi...
Zee News
Delhi liquor 'scam': Manish Sisodia to be lodged in Tihar Jail no 1
Manish Sisodia, former Delhi deputy chief minister and AAP leader, is taken to Tihar jail in New Delhi, Monday, March 6, 2023 after being remanded to judicial...
DNA