Humza Yousaf's mother-in-law hopes that by telling her story, people may listen to her calls for a ceasefire

Monday, 20 November 2023 ()
Before 7 October, Elizabeth El-Nakla was a grandmother, a retired nurse and the mother-in-law of Scotland's first minister.
You Might Like
Related videos from verified sources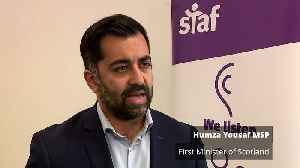 Humza Yousaf calls for Gaza ceasefire

Scotland's first minister says 'every single government' should be calling for a ceasefire between Israel and Hamas. Humza Yousaf, whose in-laws are currently trapped in Gaza, says 'there are..
Credit: ODN Duration: 00:35
Published