Blood Moon 2019: Skywatchers Enjoy Cosmic Spectacle During Lunar Eclipse

Monday, 21 January 2019
by 👨‍💻 Marc Pinter-Krainer


Imagine you could see the sunsets occurring around the globe all at once. To achieve this feat you would need to leave Earth, positioning yourself at a far enough distance to see our planet in its entirety, and in a spot where the sun is exactly behind it. You'd have to be in the middle of the shadow that our planet casts into space as our bright star illuminates the other side.

That shadow, a fast-moving cone that's rather narrow and - one might argue - insignificantly small in comparison to the vast expanse of our solar system, is rather tricky to catch but on rare occasions our lunar satellite passes through it. The result - a lunar eclipse - is seen from Earth as a dimming of the usually bright full moon as direct sunlight no longer reaches it. In the rare case of a total lunar eclipse, the entire lunar surface is immersed in the darkness of the Earth's shadow.

Standing on the moon's surface during such a special occasion would reward the viewer with quite a spectacle as our planet's outline appears to glow in a red colour - like a thin ring of fire. This is due to sunlight being refracted by the Earth's atmosphere, causing the sky to appear red - as it does during a sunset. Rather than viewing a sunset from a particular location on Earth, a moon visitor would be able to witness all the Earth's sunsets at the same time.

The only glimpse of this astronomical feast us Earthlings can enjoy is to look at the moon's reflection of the red-coloured sunset light - which causes our lunar companion to turn dark red in colour.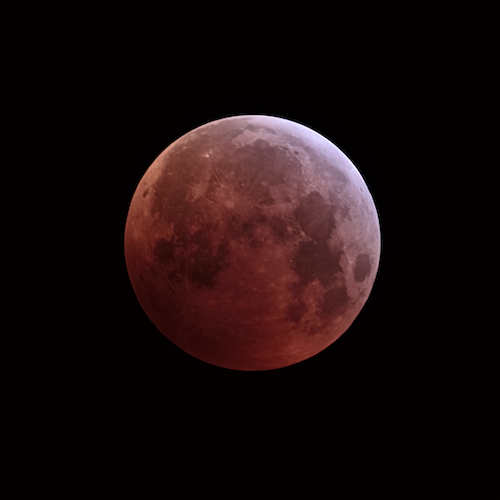 "Wolf Blood Moon" total lunar eclipse photographed by the author in Brighton, UK
This phenomenon just happened during the early hours of Monday morning. Stargazers on both sides of the Atlantic endured cold temperatures to venture out and take snapshots of the eclipsed moon. Visible from North and South America as well as northern and western parts of Europe, the "blood moon" lunar eclipse of 2019 was a rare cosmic show as a similar event won't happen now until December 2029.

'Super blood wolf moon': the best images as total lunar eclipse wows skygazers [video]
You Might Like
💡 newsR Knowledge: Other News Mentions
Council urges people to avoid Brighton on hottest day

Brighton and Hove City Council have urged people to stay away from the area after expressing concern about the number of visitors on what is the hottest day of the year so far. Report by Etemadil. Like us on Facebook at http://www.facebook.com/itn and follow us on Twitter at http://twitter.com/itn
Credit: ODN Duration: 02:09
Published
Brighton Hospital locked-down after stabbing

The Royal Sussex County Hospital in Brighton has been put under lockdown after a staff member was stabbed. Sussex Police say they "quickly secured" the hospital following the attack. Report by Etemadil. Like us on Facebook at http://www.facebook.com/itn and follow us on Twitter at http://twitter.com/itn
Credit: ODN Duration: 00:24
Published
Man arrested after hospital staff member stabbed

A man has been arrested on suspicion of attempted murder after a member of hospital staff was stabbed.The Royal Sussex County Hospital in Brighton was put in lockdown following the incident on Sunday morning.
Credit: PA - Press Association STUDIO Duration: 00:34
Published
Jofra Archer trip could have been 'a disaster' for England's summer of cricket

Jofra Archer's unauthorised trip to Brighton could have resulted in "a disaster" costing "tens of millions of pounds" according to the Ashley Giles.Archer breached the strict bio-security guidelines that have been placed on the ongoing Test series against the West Indies by taking a brief detour to his Brighton home and meeting an unnamed individual following last week's defeat in Southampton.
Credit: PA - Press Association STUDIO Duration: 01:14
Published
Guardiola confident CAS will find in City's favour

Raheem Sterling struck a hat-trick as Manchester City crushed Brighton 5-0, Pep Guardiola confident ahead of CAS decision.
Credit: Reuters - Sports Duration: 01:56
Published
Tweets about this
•More original news reports from newsR