Red Bull dominate Saudi GP first practice

Friday, 17 March 2023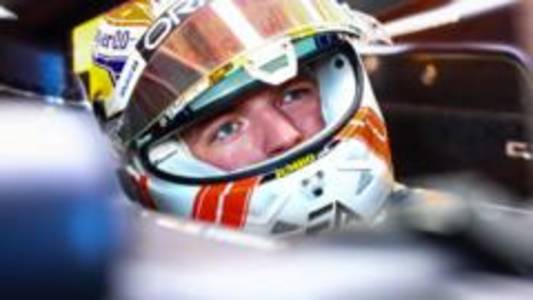 Red Bull pick up at the Saudi Arabian Grand Prix where they left off in Bahrain two weeks ago by dominating first practice in Jeddah.
💡 newsR Knowledge: Other News Mentions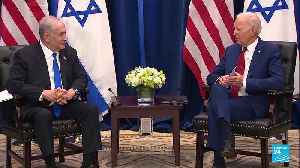 Saudi crown prince says 'every day we get closer' to normalisation with Israel


Credit: FRANCE 24 English Duration: 02:06
Published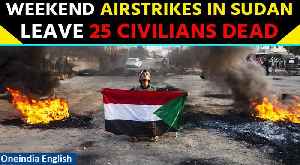 Sudan Airstrikes: Weekend bombardment, shelling leads to 25 civilian casualties | Oneindia News

Sudan's army has reportedly suspended its participation in talks over a ceasefire and humanitarian access...raising fears of renewed fighting that has displaced tens of thousands of people. The talks with the rival paramilitary Rapid Support Forces (RSF) had began in the Saudi Arabian port city of Jeddah in early May and had produced a declaration of commitments to protect civilians and two short-term ceasefire deals that have been repeatedly violated. The army and the RSF had agreed to extend a weeklong ceasefire deal by five days just before it was due to expire late on Monday. Fighting had already been reported yesterday both in Khartoum's metropolitan area and in the western region of Darfur. Both sides have accused each other of breaking the ceasefire by carrying out actions that violate the truce deal. The RSF has accused the army of violating the truce, saying that its militias would "exercise the right to defend themselves. The truce was brokered and was being remotely monitored by Saudi Arabia and the United States, which said that it has been violated by both sides. This protracted fight has left the civilians in dire need of aid, ffod, essential supplies and help. According to UN figures, around 25 million people in Sudan are in need of aid and protection, with entire districts of Khartoum being without running water and receiving only a couple of hours of electricity per week. #Sudantairstrike #RSFSudan#Sudanfighting ~HT.98~PR.153~ED.155~
Credit: Oneindia Duration: 02:41
Published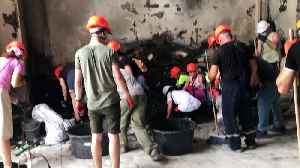 Ukraine war: Kyiv 'satisfied' with Jeddah summit, UNESCO damage in Odesa, deadly Russian strike

All the latest news from the war in Ukraine.
Credit: euronews (in English) Duration: 01:05
Published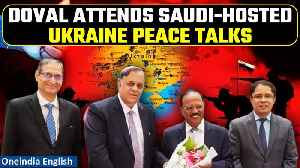 Ajit Doval reaches Jeddah for Saudi Arabia hosted Ukraine peace talks | Oneindia News

National Security Adviser Ajit Doval arrived in Jeddah to participate in a summit of national security advisers and other officials being hosted in Saudi Arabia today to discuss the ongoing Russia-Ukraine war. Doval received a warm welcome from Indian Ambassador to Saudi Arabia Suhel Khan and Consul General Mohammed Shahid Alam at the airport. #AjitDoval #NSA #UkrainePeaceTalks #AjitDovalJeddah #SaudiArabia #SaudiCrownPrince #RussiaUkraineWar #VolodymyrZelenskyy #SaudiArabiaPeaceTalks ~HT.97~ED.152~ED.194~
Credit: Oneindia Duration: 02:27
Published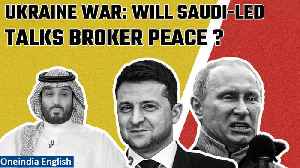 Ukraine Peace Talks: Saudi Arabia-led peace talks summit to begin tomorrow sans Russia I Oneindia

Saudi Arabia is all set to host Ukraine, the U.S., some European countries and major developing countries for peace talks on the Russia-Ukraine war on August 5 and 6 in the Red Sea port city of Jeddah. India has also confirmed its active participation in this much-anticipated peace summit saying it is in line with her position that dialogue and diplomacy is the only way forward. The summit comes when there seems to be no end to the stalemate between Russia and Ukraine and drone warfare between the two countries are becoming new normal. Russia has not been invited for the talks but it says that it will indeed be keeping a very close watch on this summit where Ukraine would be seeking to garner support for its 10-point peace plan proposed last year. The most crucial question is whether this peace summit would be able to achieve anything substantial. Whether the world would be able to thaw the ice between Russia and Ukraine. #Ukrainepeacetalks #Saudiukrainepeacetalksjeddah #Ukrainepeacesummit ~PR.153~ED.194~HT.178~
Credit: Oneindia Duration: 03:48
Published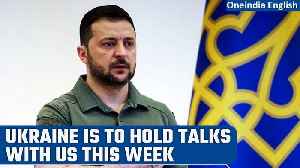 US-Ukraine talks to be held this week: NATO membership and security pledge on agenda | Oneindia News

Ukrainian President Volodymyr Zelenskyy's chief of staff said that Ukraine is to start consultations with the United States this week on providing security guarantees for Kyiv pending the completion of the process of joining Nato. Andriy Yermak said that officials from a number of countries were preparing to meet in Saudi Arabia to discuss Zelenskyy's peace plan for Ukraine, based on the departure of all Russian troops The Wall Street Journal first reported on the meeting in Saudi Arabia on Saturday, saying it would be held in Jeddah on August 5-6. #Ukraine #RussiaUkraineWar #US ~HT.98~PR.151~ED.101~
Credit: Oneindia Duration: 02:14
Published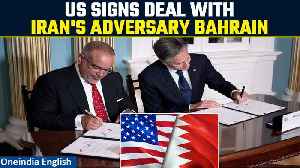 US' Antony Blinken sign strategic security and economic agreement with Bahrain PM | Oneindia News

The US has signed an agreement with Bahrain to enhance defence and economic ties. The move is reported to be a show of support for the Gulf monarchy that faced an arms embargo a decade ago. It is to be noted that Bahrain has tense relations with nearby Iran. It is already home to the US Navy's Fifth Fleet. But as per reports, the agreement will solidify the relationship both symbolically and by boosting cooperation, including through a commitment to share intelligence. US Secretary of State Antony Blinken signed the deal in a ceremony with Bahrain's Crown Prince, Prime Minister Salman bin Hamad al-Khalifa. #US #Bahrain #USBahrain #USBahrainDeal #AntonyBlinken #SalmanbinHamadalKhalifa ~HT.98~PR.151~ED.103~
Credit: Oneindia Duration: 02:29
Published
You Might Like
Related videos from verified sources