This school is the first HBCU to host a general presidential debate

Monday, 20 November 2023 ()
ViewVirginia State University will be the first historically black college or university (HBCU) to host a general election presidential debate, the school announced Monday. 

Candidates will face off at the school, located near Petersburg, Virginia, just south of the state's capital city, on Oct. 1, 2024. 

"We are...
You Might Like
Related videos from verified sources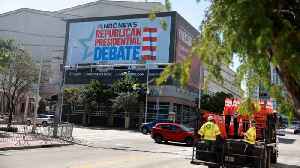 5 Republicans Qualify for Next Presidential Debate

5 Republicans , Qualify for Next Presidential Debate. The Republican National Committee (RNC) made the announcement on Nov. 6, CNN reports. The five presidential candidates that have qualified for..
Credit: Wibbitz Top Stories Duration: 01:31
Published