Police respond to reports of a shooting at an Ohio Walmart

Tuesday, 21 November 2023 ()
ViewPolice in Beavercreek, Ohio, responded to a shooting incident at a city Walmart Monday.

In a post on X, the Beavercreek Police Department said they were on the scene of a shooting at the store on Monday night.

Police say the building has been secured, and that there is no remaining active threat.

Multiple outlets...
You Might Like
Related videos from verified sources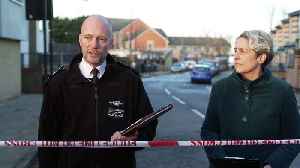 Woman, 42, killed in potentially 'gang-linked' shooting

A 42-year-old woman killed in a shooting in east London has been named by police as Lianne Gordon. A young man and a teenage boy were injured and left in a non-life-threatening condition in hospital..
Credit: ODN Duration: 01:22
Published