Wadala
Locality in Maharashtra, India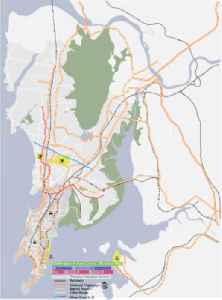 Wadala is a locality in Mumbai. Wadala Road is a station on the Harbour Line of Mumbai's railway network.


Maha BJP chief will need 12 years to do PhD on me: Sharad Pawar
Maharashtra BJP president Chandrakant Patil will need at least 12 years to do a "PhD" on me, NCP chief Sharad Pawar said here on Sunday. The veteran politician was interacting with college youths at a..
IndiaTimes - Published
SC asks Bombay HC to decide over felling on December 12
"The Bombay high court shall decide the matter on felling of trees to make a way for Metro 4 line on elevated corridors from Wadala in Mumbai to Kasarvadavali in Thane on December 12," a bench headed..
IndiaTimes - Published
MLAs to take oath today, Maharashtra governor appoints pro tem speaker
Over a month after the state assembly results were declared, Maharshtra governor Bhagat Singh Koshyari has called for a special session of the legislative assembly on Wednesday, which will begin at..
IndiaTimes - Published
Mumbai: BEST workers' strike intensifies as families of staff join protests
On Thursday morning, the family members including women and children came to Wadala depot for the participating in the hunger strike.
DNA - Published
Mumbai: Driver hits dog at Wadala, inflicts serious spinal damage
The doctor said they have to do multiple surgeries to fix the spinal cord
DNA - Published
Maharashtra cabinet gives approval to three new Metro routes
The proposed Metro routes are Wadala to CST, Gaymukh to Shivaji chowk at Mira road while Kalyan to Taloja in extended suburbs.
DNA - Published
Fatka gang: Two arrested by Wadala railway police
The accused are identified as Rahul Chauhan (18), a resident of Ghatkopar and Mustak Mulla (20), a resident of Antop hill.
DNA - Published
Mumbai: 15 suffer from suffocation as fire breaks out at Wadala
A blaze erupted on the first floor of the 21- storey building located near Barkal Ali Naka in Kamla Ram Nagar in Wadala east. Fire brigade tankers rushed to the spot and the fire doused within a half..
DNA - Published
Fire breaks out in high-rise; 15 suffer from suffocation in Mumbai
15 residents from a high rise suffered from suffocation and were hospitalised after a fire broke out in a 21-storey building at Ram Nagar in suburban Wadala.
DNA - Published
Mumbai: Man killed over business dispute in Wadala
The deceased is identified as Anand Narayan who was a former journalist with print and broadcast media.
DNA - Published
You Might Like