Odisha
State in eastern India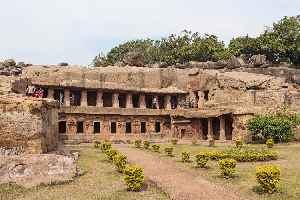 Odisha, formerly Orissa, is an Indian state located in eastern India. It neighbors the states of West Bengal and Jharkhand to the north, Chhattisgarh to the west and Andhra Pradesh to the south. Odisha has a coastline of 485 kilometres (301 mi) along the Bay of Bengal. It is the 8th largest state by area, and the 11th largest by population. The state has the third largest population of Scheduled Tribes in India.


Fire breaks out at Sadguru COVID hospital in Odisha's Cuttack

A massive fire broke out at Sadguru COVID hospital in Odisha's Cuttack on September 21. Fire occurred in Jagatpur town of Cuttack district. COVID-19 patients are being shifted to other hospitals in..
Credit: ANI Duration: 01:33
Published
No district of West Bengal included in PMGKRA as state did not share data: Sitharaman

Union Finance Minister Nirmala Sitharaman on September 19 said that West Bengal government did not share data of returning migrant labourers with the Centre and no district of the state could be..
Credit: ANI Duration: 02:38
Published
6-member central team arrives in Odisha for flood damage assessment

A six-member Central team arrived in Odisha's Bhubaneswar to inspect damages caused by floods in the state. They are on a two-day visit in the state. During the 2-day programme, the team is likely to..
Credit: ANI Duration: 01:12
Published
India limits COVID cases, deaths to 3,328 and 55 deaths per million population respectively: Harsh Vardhan

While addressing in the Lok Sabha during 1st day of monsoon session, Health Minister Dr Harsh Vardhan spoke on COVID-19 pandemic. He said, "Maximum cases and deaths primarily reported from Maharashtra,..
Credit: ANI Duration: 01:34
Published
Inter-religious group in Odisha feeding mentally challenged poor people

It's been said that kindness costs nothing but means everything... Several examples of kindness can be witnessed in nooks and corners of the country, thus strengthening the common bond shared by..
Credit: ANI Duration: 02:26
Published
Police bust adulterated 'puja' items, honey manufacturing unit in Cuttack

Police busted an adulterated honey and 'puja' items manufacturing unit in Odisha's Cuttack and arrested one person. The accused has been sent to judicial custody. Police seized around 180 bottles of..
Credit: ANI Duration: 02:11
Published
Watch: Snake caught while eating hen's egg in Odisha's Mayurbhanj

A snake was caught by the snake catcher in Odisha's Mayurbhanj on September 12. Snake was eating hen's egg at the time of rescue. Soon after the rescue, it was released in the forest.
Credit: ANI Duration: 01:26
Published
NEET Exam: Aspirants reach Bhubaneswar via special train amid COVID-19

In Odisha, the National Eligibility-cum-Entrance Test (NEET) aspirants reached Bhubaneswar via special train to give exam amid COVID-19 pandemic. The East Coast Railway (ECoR) ran special train to NEET..
Credit: ANI Duration: 02:47
Published
Paradip gets its first-ever Emergency Response Center for chemical accidents

The first-ever Emergency Response Centre for chemical accidents has been inaugurated in Odisha's Paradip after the port town recorded several accidents related to chemical factories. The center is..
Credit: ANI Duration: 01:50
Published
Odisha Governor administered oath of office to State Information Commissioners

The Governor of Odisha, Ganeshi Lal administered the oath of office to two State Information Commissioners. Bikram Kumar Senapati and Dilip Kumar Bisoi took oath as State Information Commissioners. The..
Credit: ANI Duration: 01:29
Published
Facing labour shortage, Surat textile businessmen urges govt to run special trains for workers

Businessmen are complaining that the textile industry in Surat is facing a shortage of workers as they have not returned in the absence of transport services. Most of the workers come from Odisha...
Credit: ANI Duration: 03:16
Published
Jharkhand CM Soren interacts with President, PM over New Education Policy

Jharkhand Chief Minister Hemant Soren on September 07 held a video conference with President Ram Nath Kovind and Prime Minister Narendra Modi. During the video conference, the dignitaries discussed..
Credit: ANI Duration: 03:35
Published
Monsoon to remain weak over Odisha for next 4-5 days with thunder-storms, moderate rainfall: IMD

Director of Bhubaneshwar Meteorological Centre on September 07 informed that Monsoon will remain weak over Odisha for the next 4-5 days with likely thunder-storms and light to moderate rainfall. "In..
Credit: ANI Duration: 01:39
Published
Watch: DRDO successfully tests indigenous Hypersonic Technology Demonstrator Vehicle

Defence Research and Development Organisation (DRDO) has shown the successful demonstration of hypersonic air-breathing scramjet technology with the flight test of Hypersonic Technology Demonstration..
Credit: ANI Duration: 02:06
Published
Watch: India successfully tests hypersonic technology demonstrator vehicle

India successfully tested the indigenously developed Hypersonic Technology Demonstrator Vehicle developed by the Defence Research and Development Organisation. The test was conducted about 11:03 am..
Credit: HT Digital Content Duration: 02:52
Published
You Might Like



DRDO conducts successful flight test of ABHYAS

India on Tuesday successfully conducted the flight test of ABHYAS - High-speed Expendable Aerial Target (HEAT) - from a test range in Odisha, government sources said. The trial, carried out by the..




IndiaTimes - Published





BJD's opposition to farm bills triggers political debate in Odisha

Opposition to the farm bills by Biju Janata Dal, which has backed the Narendra Modi Government on many issues in the past, has triggered sharp reactions in Odisha political circles with the BJP leaders..




IndiaTimes - Published





BJD to back NDA candidate in RS deputy chairman election: Naveen Patnaik

BJD president and Odisha chief minister Naveen Patnaik declared his party's support to NDA candidate Harivansh Narayan Singh in the Rajya Sabha deputy chairman election likely to be held on Monday.




IndiaTimes - Published





Chellakumar replaces Jitendra Singh as new AICC in-charge of Odisha




IndiaTimes - Published





BJD issues whip to its Rajya Sabha MPs to be present in House on Sept 14

The party issued the whip a day after JD(U) president and Bihar Chief Minister Nitish Kumar called up BJD supremo and his Odisha counterpart Naveen Patnaik to extend support to NDA nominee Harivansh..




IndiaTimes - Published





With HSTDV technology, India now enters the elite club of hypersonic regime; here's why it matters

Prime Minister Narendra Modi congratulated the Defence Research and Development Organisation (DRDO) for successfully demonstrating the hypersonic air-breathing scramjet technology with the flight test..




DNA - Published





We will form govt in Odisha with 50% vote: Nadda to BJP workers




IndiaTimes - Published





CHSE Odisha class 12 Arts stream exams 2020: Results to be declared soon, check @orissaresults.nic.in.

Odisha class 12 Arts stream exams 2020: Results to be declared soon




DNA - Published




32 yrs on, Orissa high court clears two men of murder charge




IndiaTimes - Published





COVID-19: Health ministry to rush central teams to UP, Jharkhand, Chhattisgarh, Odisha

As per the government's statement on Monday, these central teams will assist the state government to strengthen containment, surveillance, testing and efficient clinical management to combat the..




DNA - Published





Central teams to 4 states where Covid cases have surged

The health ministry will deploy central teams in four states — Uttar Pradesh, Jharkhand, Chhattisgarh and Odisha — after a sudden surge in Covid-19 cases in these states, with some reporting more..




IndiaTimes - Published





Centre to deploy teams in UP, Jharkhand, Chhattisgarh, Odisha to tackle rising Covid cases

The health ministry will deploy Central teams in four states - Uttar Pradesh, Jharkhand, Chhattisgarh and Odisha – after a sudden surge in Covid-19 cases in these states, while some are even..




IndiaTimes - Published




NEET, JEE Main 2020: These states to provide free travel, accommodation for candidates

Due to the ongoing coronavirus pandemic and flood-like situation across the country, states like Odisha, Madhya Pradesh, and Chhattisgarh have decided to provide free travel and accommodation to..




DNA - Published





Odisha government to provide free transportation, accommodation to NEET, JEE applicants




IndiaTimes - Published





JEE-NEET: Odisha govt to facilitate transportation for aspirants

The government will provide free transportation and accommodation to those who do not have any arrangement, informed Chief Secretary Asit Tripathy.




DNA - Published





Heavy rain triggers flood in Odisha's Bhadrak district, water-level of Baitarani river rises

Due to heavy rainfall and flooding, 7 persons have died and 2 are missing in the last 3 days in Odisha.




DNA - Published





Downpour triggers flood in Odisha, IMD forecasts intense rainfall in central, north India




IndiaTimes - Published





Patnaik speaks to PM over phone, seeks postponement of NEET, JEE exams

Odisha Chief Minister Naveen Patnaik on Thursday spoke to Prime Minister Narendra Modi over the phone and requested him to postpone NEET and JEE exams, in view of the Covid-19 pandemic and the flood..




IndiaTimes - Published





Intense rainfall activity expected over north, central and east India during next 4-5 days: IMD

Under the influence of this system, widespread rainfall with isolated heavy to very heavy falls are very likely over Odisha, Gangetic West Bengal, Jharkhand till August 28 and over Chhattisgarh, Madhya..




IndiaTimes - Published





'Replace your mobile with Nokia 5310': IPS officer Arun Bothra's 'epic advice' to UPSC aspirant

IPS officer Arun Bothra recently advised a UPSC aspirant to replace his smartphone with Nokia 5310 in order to crack the prestigious civil services exams. Bothra, who is an Odisha cadre officer, gave..




DNA - Published





PM Modi wishes people on Nuakhai, lauds farmers

Prime Minister Narendra Modi on Sunday greeted people on the occasion of Nuakhai, a harvest festival celebrated in parts of the country, especially Odisha.




IndiaTimes - Published





Heavy rainfall likely in West Bengal, Odisha, Jharkhand on August 24-26

The IMD said that this is due to the likely formation of a Low-Pressure Area over North Bay of Bengal around August 24




DNA - Published





British national sexually assaults minor boy in shelter home in Odisha, arrested

During the inquiry, the minor has alleged that Bridge had sexually assaulted him when he was returning with the British national from his home in Rayagada district last year.




DNA - Published





6 'migrant states' in north, east witness surge in cases

While Maharashtra and the southern states continue to log the highest number of fresh Covid-19 cases and deaths in the country, there has been a significant surge in infections in at least six states..




IndiaTimes - Published





IMD issues red alert for 2 Maharashtra districts; more rains likely in Odisha, Telangana, Chhattisgarh on Monday




IndiaTimes - Published





Record 57,381 Covid-19 patients discharged in a day, recovery rate rises to 71.61 pc: Health ministry

Delhi has the highest recovery rate of 89.87 per cent followed by Tamil Nadu at 81.62 per cent, Gujarat 77.53 per cent, Madhya Pradesh 74.70 per cent, West Bengal 73.25 per cent, Rajasthan 72.84 per..




IndiaTimes - Published





Odisha govt issues guidelines for Independence Day celebrations in schools amid COVID-19 pandemic

During the Independence Day celebrations, COVID-19 norms and safety protocols would be followed, and only10 people would be allowed.




DNA - Published





Large parts of country likely to receive heavy to very heavy rainfall during next 2-3 days: IMD

Large parts of the country are likely to receive heavy to very heavy rainfall during the next two-three days, the India Meteorological Department (IMD) said on Thursday. The IMD said a low pressure..




IndiaTimes - Published





Ensure doctors write legible prescriptions, preferably in capital letters: HC to Odisha govt

Expressing anguish over "indecipherable" hand-writings of doctors, the Orissa high court has asked the state government to issue a circular to ensure that they write legible prescriptions, preferably..




IndiaTimes - Published





New low-pressure area forming over Bay of Bengal, rainfall expected in many parts of Odisha till Wednesday




IndiaTimes - Published





Earthquake of 3.8 magnitude hits Odisha's Ganjam & Gajapati districts

An earthquake of 3.8 magnitude hit Odisha's Gajapati and Ganjam districts on Friday morning, an official said. There was no report of any damage or loss of life from anywhere, an official said.




IndiaTimes - Published





Earthquakes hit Assam, Odisha

According to the National Centre for Seismology (NCS), the quake occured 73 kilometres West South-West (WSW) of Berhampur at 7:10 am.




DNA - Published





Odisha: Eartquake of magnitude 3.8 hits Berhampur

According to the National Centre for Seismology (NCS), the quake occured 73 kilometres West South-West (WSW) of Berhampur at 7:10 am.




DNA - Published





UNESCO recognises two Odisha villages as Tsunami Ready




IndiaTimes - Published





Coronavirus: Rapid spread in Bihar, Odisha cause of worry




IndiaTimes - Published





Odisha: KIIT-DU to provide free education for Covid deceased's children




IndiaTimes - Published





Covid-19 vaccine by October-November: Adar Poonawalla to Naveen Patnaik

Adar Poonawalla, during an interaction with Odisha chief minister Naveen Patnaik through a video conference, expressed optimism that the Covid-19 vaccine could be ready by October-November this year..




IndiaTimes - Published





Centre asks Bengal, Assam, Bihar, Odisha to strengthen efforts to combat Covid-19




IndiaTimes - Published





14-day complete lockdown in 4 Odisha districts: What's allowed, what's not

Here is what will be allowed to open during the 14-day lockdown in Odisha's Ganjam, Khordha, Cuttack, Jajpur districts and Rourkela Municipal Corporation area from 9 pm of July 17 to July 31 midnight:




DNA - Published





Odisha announces 14-day complete lockdown in 4 districts with highest COVID-19 cases

The lockdown will be in place from 9 pm of July 17 to July 31 midnight.




DNA - Published





PCI condemns attack on journalists in Punjab, Odisha




IndiaTimes - Published





COVID-19 crisis: WB teacher Chiranjit Dhibar gets call for human trial of coronavirus vaccine in Odisha

"Inspired by the RSS, I have donated my body for the benefit of the state and society to covid 19 vaccine trials," he stated in his facebook post.




DNA - Published





Union minister Pratap Sarangi goes into home quarantine

Union minister and Balasore MP Pratap Sarangi has quarantined himself at his New Delhi residence after a BJP MLA from Odisha he shared the dais with at two events last week tested positive for..




IndiaTimes - Published





Goa, Punjab, Jharkhand... new Covid-19 hotspots emerging

Odisha, Punjab, Jharkhand, Chhattisgarh and a few smaller states like Goa and the Union territory of J&K are emerging as new Covid-19 hotspots with positivity rates, or total cases per 100 tests, more..




IndiaTimes - Published





Forces kill four Maoists in Odisha forest




IndiaTimes - Published





4 Maoists killed in encounter with security forces in Odisha




IndiaTimes - Published





Groom among five arrested for violating COVID-19 guidelines during marriage procession in Odisha

Odisha Police have arrested five persons including groom for gross negligence and violation of COVID-19 guidelines during his marriage procession.




DNA - Published





Rs 2,000 incentive to people who complete isolation period in Odisha's quarantine centres

Amid people's reluctance to go into institutional quarantine, Odisha has found a way incentivise and compensate them for the period they spend in quarantine centres.




DNA - Published





Railways to generate 8 lakh man days of employment for returning migrants, to spend 1,800 crore by October

Rs 1800 crore would be spent in 116 identified districts of six states - Uttar Pradesh, Bihar, Rajasthan, Madhya Pradesh, Orissa and Jharkhand - as part of the Garib Kalyan Rojgar Abhiyaan.




DNA - Published





SC rethinks, allows rath yatra with curbs

Four days after stalling rath yatras across Odisha, the Supreme Court on Monday made an exception for the world famous chariot festival in Puri but ordered that it would be held under curfew with..




IndiaTimes - Published