Lucknow
Metropolis and state capital in Uttar Pradesh, India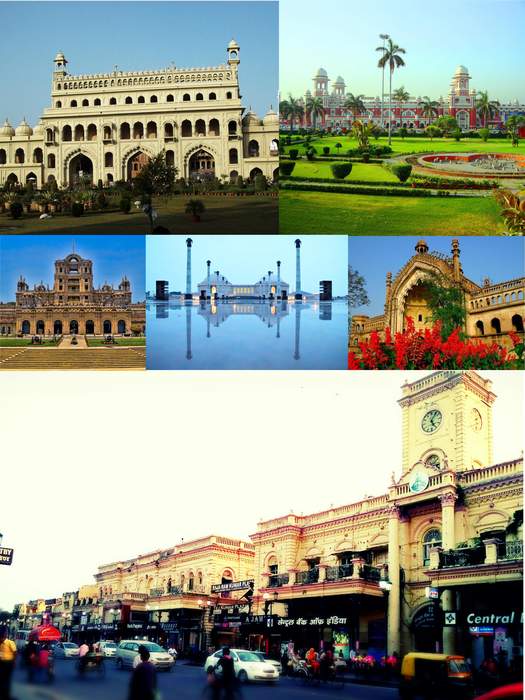 Lucknow is the capital city of the Indian state of Uttar Pradesh, and is also the administrative headquarters of the eponymous district and division. It is the fourteenth-most populous city and the twelfth-most populous urban agglomeration of India. Lucknow has always been a multicultural city that flourished as a North Indian cultural and artistic hub, and the seat of power of Nawabs in the 18th and 19th centuries. It continues to be an important centre of governance, administration, education, commerce, aerospace, finance, pharmaceuticals, technology, design, culture, tourism, music and poetry.


UP govt official arrested for alleged sexual assault after video goes viral online | Oneindia News

A state government official in Uttar Pradesh, named Ichcha Ram Yadav, was caught on camera forcing himself on a woman employee. Yesterday, he was arrested in Lucknow after videos of the assault..
Credit: Oneindia Duration: 01:37
Published
UP Elections 2022: Priyanka Gandhi Vadra to launch 'Padayatra' across Lucknow | Oneindia News

Ahead of the UP assembly elections, Congress leader Priyanka Gandhi Vadra will launch a Padayatra across Lucknow. This is part of Congress's Pragati Yatra launched last month. #UPElections..
Credit: Oneindia Duration: 02:00
Published
Petrol price hiked for 7th consecutive day, crosses ₹110 in Delhi | Diesel price | Oneindia News

Today, petrol prices have again been hiked, the seventh time in a row; Trinamool Congress is on track to wrest two seats won by the BJP in the April-May state polls; Priyanka Gandhi Vadra met Rashtriya..
Credit: Oneindia Duration: 02:19
Published
8 accused of allegedly raping a woman and robbery in Pushpak Express train | Oneindia News

Today, the police have informed that eight people have been accused of gang-raping a woman on board a train headed to Maharashtra's Mumbai from Uttar Pradesh's capital Lucknow. #PushpakExpresss..
Credit: Oneindia Duration: 01:16
Published
Congress protests in Lakhimpur, MoS Mishra summoned to New Delhi | Oneindia News

Despite no permission, Rahul Gandhi was making his way to Lakhimpur Kheri via Lucknow to stand in solidarity with farmers killed in Sunday's violence; Union Minister Ajay Mishra Teni was asked to reach..
Credit: Oneindia Duration: 03:09
Published
Lucknow police impose section 144 till November 8 amid farmers' protest, festivals | Oneindia News

The Lucknow police on Tuesday announced that restriction under section 144 of the Code of Criminal Procedure will remain in the city until November 8th. In view of the farmers protest and the upcoming..
Credit: Oneindia Duration: 01:47
Published
You Might Like



Shocking! Miscreants steal tyre of Mirage fighter jet from truck carrying military equipment in Lucknow

An FIR has been filed at Ashiyana Police Station in Lucknow. An investigation about the same is currently underway.




DNA - Published





'Stir not over yet': SKM takes farm fight to poll-bound Uttar Pradesh

Unmoved by Prime Minister Narendra Modi's decision to repeal the three contentious farm laws, Samyukt Kisan Morcha (SKM) on Monday unleashed the combined might of 40 farm unions in Lucknow and warned..




IndiaTimes - Published





Lucknow: Saadat Ali, the cab driver who was slapped 22 times, joins politics

Saadat Ali has said that he wants to work for the men who are harassed by women in the country.




DNA - Published





Backed by PM Modi: UP CM Yogi's photos with PM go viral, spark debates

On Sunday, UP CM Yogi Adityanath met PM Narendra Modi, who was in Lucknow to attend the DGP's conference.




DNA - Published





SKM to organise farmers' mahapanchayat in Lucknow tomorrow




IndiaTimes - Published





Yogi Adityanath shares picture with PM Modi, assures 'committed to building new India'

Uttar Pradesh CM Yogi Adityanath on Sunday shared his photograph with PM Narendra Modi and described it as 'committed to building a new India'. "We have embarked on a journey. We have dedicated our..




IndiaTimes - Published





Agitation will continue; some issues still pending: Farmer leaders

Darshan Pal Singh of the Krantikari Kisan Union has said that farmers will hold their Lucknow rally on November 22, a gathering to mark one year of the agitation on November 26 and a tractor rally to..




IndiaTimes - Published





Priyanka Gandhi urges PM Modi to not share dias with Ajay Mishra Teni at DGP conference in Lucknow




IndiaTimes - Published





Gorakhpur hospital deaths: Suspended Dr Kafeel Khan sacked

Lucknow/Gorakhpur, Doctor Kafeel Khan of Gorakhpur's BRD Medical College and Hospital, who had been suspended in 2017 after the death of 70 children due to lack of oxygen supply to the hospital, has..




IndiaTimes - Published





PM Narendra Modi to launch Purvanchal Expressway on November 16

Prime Minister Narendra Modi is likely to inaugurate the 341km-long Purvanchal Expressway, between Lucknow and Ghazipur, on November 16. This is one of the several projects in the state lined up to be..




IndiaTimes - Published





Akhilesh Yadav praises Sardar Patel, mentions Jinnah in same breath

Lucknow, Samajwadi Party chief Akhilesh Yadav on Sunday spoke of Mahatma Gandhi, Sardar Vallabhai Patel, Jawaharlal Nehru and Muhammad Ali Jinnah in the same breath as leaders who fought for India's..




IndiaTimes - Published





Ahead of UP polls, 6 rebel BSP MLAs, BJP lawmaker join SP

Six rebel BSP MLAs and one sitting legislator from BJP formally joined Samajwadi Party in Lucknow on Saturday. After inducting the seven MLAs into the party fold, SP chief Akhilesh Yadav said BJP..




IndiaTimes - Published





Yogi govt fulfilled 90% of poll promises, says Union minister Amit Shah in Lucknow




IndiaTimes - Published




Protesting farmers plan mega rally in Lucknow on November 22




IndiaTimes - Published




Mantri's son taken to Kheri to recreate crime scene

The SIT took Union minister Ajay Mishra's son Ashish, Ankit and two members of the convoy — Shekhar Bharti and Lateef — to Kheri on Thursday to recreate the crime scene, with forensic experts..




IndiaTimes - Published





PM Modi came to Lucknow but did not visit kin of Lakhimpur Kheri violence victims: Priyanka Gandhi Vadra




IndiaTimes - Published





Rahul Gandhi boards flight for Lucknow ahead of his Lakhimpur Kheri visit

Congress leader Rahul Gandhi on Wednesday boarded a flight for Lucknow ahead of his visit to Uttar Pradesh's Lakhimpur Kheri district, where 8 people lost their lives in a violent incident on Sunday...




IndiaTimes - Published





Lakhimpur Kheri violence: Farmers under attack in Modi regime, says Rahul Gandhi

Congress leader Rahul Gandhi on Wednesday attacked the BJP government over the Lakhimpur Kheri incident and said that farmers are under attack in the Modi regime. Slamming the Prime Minister for not..




IndiaTimes - Published





Robert Vadra says stopped at Delhi airport from going to Lucknow




IndiaTimes - Published





Uttar Pradesh: Section 144 imposed in Lucknow till November 8- Here's why

The UP Police has decided to imposed Section 144 in the state's capital, Lucknow, till November 8, as per the official notification issued yesterday.




DNA - Published





CM Baghel claims he is not being allowed to leave Lucknow airport




IndiaTimes - Published





PM Modi visits Azadi@75 Expo in Lucknow

Prime Minister Narendra Modi visited 'Azadi@75-New Urban India: Transforming Urban Landscape' Expo at Indira Gandhi Pratishthan in Uttar Pradesh's capital Lucknow on Tuesday. Defence minister Rajnath..




IndiaTimes - Published





Detained en route, Priyanka makes 'sweeping' statement

Priyanka Gandhi Vadra gave the heavy police cordon in Lucknow the slip to head off towards Lakhimpur Kheri late on Sunday night. She managed to reach Sitapur before she could be stopped, by tracking..




IndiaTimes - Published





PM Modi likely to visit Lucknow on Oct 5: CMO




IndiaTimes - Published





Mundra port drug haul: DRI nabs head of Afghan cartel in country from Shimla

A fortnight after the Directorate of Revenue Intelligence seized 3,000 kg of Afghan heroin worth approximately Rs 21,000 crore from two containers at Mundra port in Gujarat, DRI's Lucknow and Noida..




IndiaTimes - Published





NEET 2021 entrance exam paper leak: Rs 5 lakh charged to write exam, arrests made in Patna, Varanasi

The police probe in the NEET 2021 paper leak case has now reached Patna, Varanasi, and Lucknow, with several arrests made.




DNA - Published





UP chief minister Yogi Adityanath lauds PM Modi as India's Covid vaccination coverage crosses 75 crore

After India crossed 75 crore mark in Covid-19 vaccination coverage on Monday, Uttar Pradesh chief minister Yogi Adityanath congratulated the citizens and lauded Prime Minister Narendra Modi for leading..




IndiaTimes - Published





Over 400 admitted to hospitals due to viral diseases in Lucknow, citizens panic

According to reports, over 400 people have been admitted to the hospitals in Lucknow due to the rising cases of viral diseases.




DNA - Published





When President Ram Nath Kovind spoke his 'Mann ki Baat' on aborted Kargil visits

After failing to visit Kargil even once in the last three years, President Ram Nath Kovind has been assured by none other than Chief of Defence Staff General Bipin Rawat that his wishes would come true..




IndiaTimes - Published





PM Modi pays last respects to ex-UP CM Kalyan Singh in Lucknow

Prime Minister Narendra Modi on Sunday paid his last respects to former Uttar Pradesh chief minister Kalyan Singh here. Singh, who was ailing for some time, died at the Sanjay Gandhi Post Graduate..




IndiaTimes - Published





PM Modi, other BJP leaders reaches Lucknow to pay last respects to former Uttar Pradesh CM Kalyan Singh

Prime Minister Narendra Modi reached Lucknow on Sunday to pay respects to the former chief minister of Uttar Pradesh, and BJP leader, Kalyan Singh




DNA - Published





Former UP CM Kalyan Singh's condition deteriorates, put on dialysis

The condition of former Uttar Pradesh chief minister Kalyan Singh has deteriorated, and he has been placed on dialysis, the Sanjay Gandhi Post Graduate Institute of Medical Sciences (SGPGIMS) said on..




IndiaTimes - Published





After Rita Bahuguna's tough stance, BJP sacks Jitendra 'Babloo'

Less than a week after inducting him, Bharatiya Janata Party sacked former BSP MLA Jitendra Singh Babloo on Tuesday. The sacking came in the backdrop of a hard stance taken by BJP MP Rita Bahuguna..




IndiaTimes - Published





Faceoff: Netizens battle it out after Lucknow girl thrashes overspeeding cab driver

Twitter was divided after the video went viral. Many condemned the girl's action, while others pointed that she acted in self-defense after the cab driver tried to jump a red-light.




IndiaTimes - Published





Azam Khan's condition deteriorates, referred to Lucknow hospital

The health condition of senior Samajwadi Party leader Azam Khan, lodged in the Sitapur jail, deteriorated on Monday morning after which he was referred to a hospital in Lucknow, prison officials said.




IndiaTimes - Published





FIR against UP Congress chief Lallu, others in connection with Lucknow protest

The case has been registered for damaging public property, sitting on protest without permission and without giving prior information, Lucknow police commissioner D K Thakur said.




IndiaTimes - Published





Priyanka Gandhi Vadra on 3-day visit to Lucknow to chalk out poll plan




IndiaTimes - Published





Mission Uttar Pradesh: Priyanka Gandhi to visit Lucknow on July 14

Congress general secretary Priyanka Gandhi Vadra will visit Lucknow on Wednesday (July 14) to kickstart her 'Mission UP' and will take stock of the poll preparations as the state will vote early next..




IndiaTimes - Published





UP ATS arrests two suspected Al Qaeda terrorists from Lucknow, explosives recovered

UP ATS IG GK Goswami, told that the suspects were planning serial blasts in the state capital and other cities in the coming days.




DNA - Published





UP ATS busts al-Qaida module in Lucknow, arrests two terrorists




IndiaTimes - Published





Opinion of Congress workers & organisation will be important for UP polls: Priyanka Gandhi Vadra

Months ahead of the 2022 Uttar Pradesh assembly election, Congress general secretary Priyanka Gandhi Vadra on Sunday urged party workers to stand with people of the country, and share their pain and..




IndiaTimes - Published





IRCTC to run 'Bharat Darshan' special train from August 24: Check ticket price, how to book

Passengers interested to travel on this train can book from the IRCTC office in Lucknow or by logging on to the IRCTC official website.




DNA - Published





President Kovind lays foundation stone for Ambedkar memorial in Lucknow

President Ram Nath Kovind on Tuesday laid the foundation stone for Bharat Ratna Dr Ambedkar Memorial and Cultural Centre here.​




IndiaTimes - Published





Ahead of UP Elections, rebel MLAs of BSP meet Akhilesh Yadav, may join SP

Yadav met the MLAs who were expelled from BSP at the SP office in Lucknow.




DNA - Published





Modi praised UP's measures to battle second wave: UP govt

Prime Minister Narendra Modi on Friday appreciated the measures taken by the UP government in battling the second wave of the Covid-19 pandemic, according to an official statement put out soon after UP..




IndiaTimes - Published





Buzz of rejig in Lucknow & Delhi as Yogi meets Amit Shah

Yogi's arrival in the national Capital once again reignited speculation about an imminent leadership change in UP, perplexing the party brass. ​​Senior saffron figures are intrigued by the..




IndiaTimes - Published





17 killed as bus collides with auto in UP's Kanpur, PM Modi announces Rs 2 lakh ex-gratia

The bus, which was travelling from Lucknow to Delhi, collided with an auto coming from the opposite direction.




DNA - Published





Speculation over change in UP government a media creation: UP CM Yogi Adityanath

Making light of the speculation about changes in the UP government in view of the recent visits of senior BJP and RSS leaders to Lucknow, CM Yogi Adityanath on Monday said BJP would win with a..




IndiaTimes - Published





SP leader Azam Khan in critical condition, on oxygen support

Samajwadi Party leader Azam Khan is on oxygen support and his condition is critical, informed Medanta Hospital, Lucknow on Saturday.




DNA - Published





Black fungus stalks states: 5,500 cases, 126 lives lost

With 14 mucormycosis deaths, Haryana's casualties are second highest in the country after Maharashtra. Uttar Pradesh has recorded eight deaths, all of them in Lucknow. The figures for the rest of the..




IndiaTimes - Published