Lucknow
Metropolis and state capital in Uttar Pradesh, India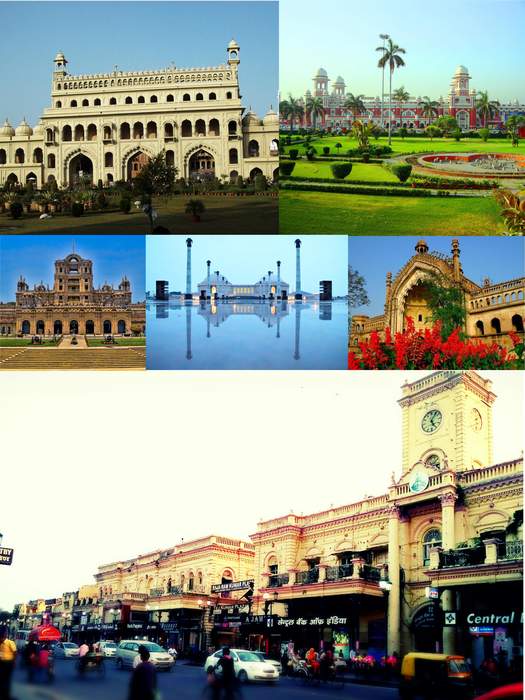 Lucknow is the capital city of the Indian state of Uttar Pradesh, and is also the administrative headquarters of the eponymous district and division. It is the fourteenth-most populous city and the twelfth-most populous urban agglomeration of India. Lucknow has always been a multicultural city that flourished as a North Indian cultural and artistic hub, and the seat of power of Nawabs in the 18th and 19th centuries. It continues to be an important centre of governance, administration, education, commerce, aerospace, finance, pharmaceuticals, technology, design, culture, tourism, music and poetry.


Yogi Adityanath meets PM Modi in Delhi| UP Cabinet reshuffle| UP polls 2022 | Oneindia News

Uttar Pradesh CM Yogi Adityanath on Friday morning reached the residence of Prime Minister Narendra Modi in New Delhi for a crucial meeting amid speculation of a state Cabinet reshuffle ahead of the..
Credit: Oneindia Duration: 01:24
Published
Covid body transported by JCB excavator in UP | Shocking video | Watch | Oneindia News

A distressing video has surfaced 250 kilometres away from Lucknow, in Sant Kabir Nagar. A family used a JCB excavator to transport the corpse of a family member who died from Covid-19. #UP..
Credit: Oneindia Duration: 02:01
Published
Lucknow man files complaint against Adar Poonawalla for 'no antibodies' despite jab | Oneindia News

A man in Lucknow has filed a complaint against Serum Institute of India CEO Adar Poonawalla and others, alleging that he did not develop antibodies despite taking a Covishield dose. The complaint has..
Credit: Oneindia Duration: 01:48
Published
COVID: Lucknow mosques remain deserted on 'Jumu'atul-Wida'

'Jumu'atul-Wida' is being observed on May 07 but due to COVID-19 crisis, mosques in Lucknow were seen deserted. Uttar Pradesh Government has directed observers to celebrate 'Jumu'atul-Wida' at home due..
Credit: ANI Duration: 01:12
Published
People in Lucknow violate 'Corona Curfew'

Uttar Pradesh Government, in an attempt to curb the coronavirus spread, announced extension of the 'Corona Curfew' till 7 am, May 10. During this time, all restrictions will remain as before and only..
Credit: ANI Duration: 01:05
Published
3 killed after cylinder bursts at Lucknow oxygen station

As many as 3 persons killed after an oxygen cylinder burst at an oxygen gas filling station located on Dewa road in Uttar Pradesh's Lucknow on May 05. Speaking to ANI, Police Commissioner DK Thakur..
Credit: ANI Duration: 02:00
Published
'Oxygen Express' arrives in Lucknow

The 'Oxygen Express' carrying 10 oxygen tankers arrived in Lucknow from Jamshedpur in Jharkhand on May 04. The requirement of oxygen has soared in the country due to COVID situation. In view of this,..
Credit: ANI Duration: 01:34
Published
People queue up outside oxygen plant amid shortage in Lucknow

The country is fighting with COVID-19 wave currently and is also suffering from shortage of oxygen supply. Due to increase in demand, people were seen queuing up outside an oxygen plant to refill their..
Credit: ANI Duration: 01:44
Published
UP Panchayat election results: Counting underway in Lucknow

Counting of votes for UP Panchayat elections 2021 underway. Started from May 02, counting of votes is likely to end today. The Supreme Court on May 01 allowed the process of counting of votes of the..
Credit: ANI Duration: 01:53
Published
UP panchayat polls: Lucknow DM takes stock of preparations at counting booth

In the ongoing Uttar Pradesh Panchayat election results day, District Magistrate of Lucknow visited Rajkiya Polytechnic counting centre on May 01. He took stock of preparations at a counting centre in..
Credit: ANI Duration: 02:16
Published
UP begins vaccinating 18-44 age group in 7 districts with high positivity rate

UP govt started the first phase of vaccination for 18-44 age group in seven districts. CM Yogi Adityanath launching the programme from Avantibai Hospital in Lucknow. He said people above 18 years are..
Credit: HT Digital Content Duration: 03:57
Published
IAF, Army help Agra admin to restart oxygen producing plant

With the help of Indian Air Force and Indian Army, an oxygen producing plant in Uttar Pradesh's Agra has been restarted. DM Prabhu N Singh informed that once operations here get underway, 1100-1200..
Credit: ANI Duration: 02:17
Published
2 oxygen tankers carrying 29 tonnes each arrived in Lucknow: ACS Home

Two oxygen tankers carrying 29 tonne each have arrived in Lucknow it will be sent to King George's Medical University and PGI Lucknow, informed Additional Chief Secretary of Home department Awanish K..
Credit: ANI Duration: 02:02
Published
Lucknow's Gurudwara distributes water, biscuits to people outside oxygen refilling agency

Volunteers of Yahiyaganj Gurudwara in Lucknow distributed biscuits and a bottle of water to the people standing outside medical oxygen refilling agency on April 28. They also distributed biscuit and..
Credit: ANI Duration: 01:24
Published
Oxygen special train arrives in Lucknow

The second Oxygen special train with tankers of oxygen arrived in Lucknow from Bokaro in Jharkhand. The requirement of oxygen has soared in the country due to COVID situation.
Credit: ANI Duration: 01:00
Published
You Might Like



Ahead of UP Elections, rebel MLAs of BSP meet Akhilesh Yadav, may join SP

Yadav met the MLAs who were expelled from BSP at the SP office in Lucknow.




DNA - Published





Modi praised UP's measures to battle second wave: UP govt

Prime Minister Narendra Modi on Friday appreciated the measures taken by the UP government in battling the second wave of the Covid-19 pandemic, according to an official statement put out soon after UP..




IndiaTimes - Published





Buzz of rejig in Lucknow & Delhi as Yogi meets Amit Shah

Yogi's arrival in the national Capital once again reignited speculation about an imminent leadership change in UP, perplexing the party brass. ​​Senior saffron figures are intrigued by the..




IndiaTimes - Published





17 killed as bus collides with auto in UP's Kanpur, PM Modi announces Rs 2 lakh ex-gratia

The bus, which was travelling from Lucknow to Delhi, collided with an auto coming from the opposite direction.




DNA - Published





Speculation over change in UP government a media creation: UP CM Yogi Adityanath

Making light of the speculation about changes in the UP government in view of the recent visits of senior BJP and RSS leaders to Lucknow, CM Yogi Adityanath on Monday said BJP would win with a..




IndiaTimes - Published





SP leader Azam Khan in critical condition, on oxygen support

Samajwadi Party leader Azam Khan is on oxygen support and his condition is critical, informed Medanta Hospital, Lucknow on Saturday.




DNA - Published





Black fungus stalks states: 5,500 cases, 126 lives lost

With 14 mucormycosis deaths, Haryana's casualties are second highest in the country after Maharashtra. Uttar Pradesh has recorded eight deaths, all of them in Lucknow. The figures for the rest of the..




IndiaTimes - Published





SP leader Azam Khan shifted to Covid-19 ICU of Lucknow hospital




IndiaTimes - Published





Amid shortage, Oxygen being supplied to Lucknow hospitals under police protection

Due to shortage, oxygen is being supplied only to the hospitals and not private customers in the capital city.




DNA - Published





No lockdown in Lucknow, others? Yogi govt refuses to follow Allahabad HC's order

The high court had ordered the Uttar Pradesh government to impose a lockdown in five cities till April 26 amid rising COVID-19 cases.




DNA - Published





Lockdown in UP's Lucknow, Prayagraj, Kanpur, Varanasi, Gorakhpur from tonight

Lockdown in UP's Lucknow, Prayagraj, Kanpur, Varanasi from tonight




DNA - Published





Covid-19: Rajnath Singh directs DRDO to provide 150 jumbo oxygen cylinders to UP govt

An additional 1,000 cylinders would be provided by the DRDO later. The oxygen would be supplied to hospitals in Lucknow for Covid-19 patients. The Covid-19 situation in Uttar Pradesh has deteriorated..




IndiaTimes - Published





DRDO joins Covid battle: 1,000-bed makeshift hospital to be set up in Lucknow




IndiaTimes - Published





UP Lockdown: Lucknow, Varanasi and several other cities under 'curfew' from today - check rules here

Uttar Pradesh has reported 4,689 COVID-19 cases on Wednesday taking the total number of active cases in the state to 27,509.




DNA - Published





COVID-19: CM Yogi Adityanath to hold meeting today at 7:30 pm - details here

The Lucknow administration has imposed a night curfew in view of the rising coronavirus cases from 9 pm on April 8 till 6 am on April 16.




DNA - Published





After service of 132 years, Indian Army closes military farms

The military farms in India are spread over more than 20,000 acres of prime defence land across the country in cities such as Ambala, Kolkata, Srinagar, Agra, Pathankot, Lucknow, Meerut, Allahabad and..




IndiaTimes - Published





Good news! Northern Railways plans to run 90% of its trains - Details here

The zones which come under Northern Railways are Delhi, Ferozepur, Ambala, Lucknow and Moradabad.




DNA - Published





International Women's Day 2021: Free entry for women at Lucknow's monuments

According to a notification issued by Lucknow's DM Abhishek Prakash, this step has been taken under 'Mission Shakti' campaign.




DNA - Published





Section 144 imposed in Lucknow till April 5 due to this reason

The decision was taken in view of the protests that could be organised by politicians, or students against the farm laws.




DNA - Published





Indian flight makes emergency landing in Karachi after passenger suffers cardiac arrest

Indigo Flight 6E1412 was coming from Sharjah and was bound for Lucknow. The plane was at the Karachi airport for 2 hours before leaving for Ahmedabad.




DNA - Published





'For morning vaccination slot, got SMS alert later that noon'

It was already afternoon when Uttar Pradesh's joint commissioner of police Naveen Arora received an SMS recently, informing him that his vaccination shot was scheduled for the morning at a hospital..




IndiaTimes - Published





Uttar Pradesh set to get third international airport in this city soon

The Kushinagar international airport will be the third in state after Lucknow and Varanasi.




DNA - Published





Railways rolls out AC 3-tier economy class coach - know features, specifications

The newly designed 3-tier AC coaches were rolled out from the Rail Coach Factory, Kapurthala to Research Design and Standards Organisation, Lucknow.




DNA - Published





PM Narendra Modi's brother sits on dharna at Lucknow airport

It is reported by the airport officials that Modi had arrived at the Lucknow airport via an Indigo flight on the evening of February 3.




DNA - Published

Also reported by •IndiaTimes


Allahabad HC asks UP cops not to harass interfaith couple

The Lucknow bench of the Allahabad high court has barred Amethi police from taking any coercive action against an interfaith couple in a three-year-old case . The bench asked the state government's..




IndiaTimes - Published





30-day notice for interfaith marriage optional, says HC

The Allahabad high court's Lucknow bench has ruled that it should be optional rather than mandatory for an interfaith couple to give 30 days' prior notice to a marriage officer to register their..




IndiaTimes - Published





ED asks former Noida CEO, other ex-officials to join probe in Amprapali money-laundering case

The Enforcement Directorate has asked former chairman and CEO of Noida authority Mohinder Singh and six other high-ranking ex-officials of Noida and Greater Noida Authority to join investigations at..




IndiaTimes - Published





'Mission UP': Priyanka Gandhi will camp in Lucknow from February

Congress general secretary and in-charge of the party's Uttar Pradesh unit Priyanka Gandhi Vadra is all set to kickstart 'Mission UP' with an eye on the 2022 assembly polls after setting the house in..




IndiaTimes - Published





Great Friday freeze: Sub-zero temperatures in 3 cities even in plains

The mercury dropped to below-zero in as many as three cities, with Hisar in Haryana recording -1.2 degrees Celsius and Churu (Rajasthan) and Bathinda (Punjab) -0.2 degrees Celsius each. Faridkot in..




IndiaTimes - Published





Rajnath Singh says he does not approve of conversion for marriage, backs law brought by UP government

Backing the "anti-conversion" legislation brought by Uttar Pradesh government, Defence Minister Rajnath Singh on Wednesday said that he personally does not support conversion for marriage. He was..




IndiaTimes - Published





In a first, Lucknow youth issued challan for displaying caste on car

This comes a day after the UP Additional Transport Commissioner issued an order to all RTOs asking them to seize vehicles displaying caste identities.




DNA - Published





Ayodhya mosque against Waqf Act, illegal under Shariat law: AIMPLB's Zafaryab Jilani

The blueprint of the mosque and a hospital to be built on a five-acre land in Ayodhya's Dhannipur village was unveiled on Saturday at the Indo-Islamic Cultural Foundation (IICF) office in Lucknow. The..




IndiaTimes - Published





Akhilesh Yadav detained after staging sit-in protest outside his residence in Lucknow

UP police detained former CM and SP president Akhilesh Yadav after he staged a sit-in protest with his supporters on the road outside his residence.




DNA - Published





Mumbai offers highest quality of life, Chennai treats its women best: Study

Overall, Mumbai tops the list of 14, followed closely by Delhi, Kolkata and Chennai. But so important is the gender role index that quality of life rankings of six cities would have changed had it not..




IndiaTimes - Published





Uttar Pradesh: Interfaith wedding consented by parents stopped by cops in Lucknow

The 22-year-old Hindu bride and the 24-year-old Muslim bridegroom are now awaiting approval from the District Magistrate for the marriage.




DNA - Published





Lucknow cops stop interfaith wedding just before rituals

The police intervened in the wedding of chemistry postgraduate Raina Gupta (22) and pharmacist Mohammad Asif (24) on the basis of information provided by the district Hindu Mahasabha chief. No FIR was..




IndiaTimes - Published





Gita as subject in schools: HC junks plea as 'vague'

A Lucknow bench of Allahabad high court has dismissed a PIL petition, requesting the court to direct the Uttar Pradesh government and its education authorities that "Bhagavad Gita" be taught as one..




IndiaTimes - Published





PM Modi unveils coin, postal stamp to mark 100 years of Lucknow varsity




IndiaTimes - Published





'One of our most experienced': PM Modi greets Mulayam Singh Yadav on 82nd birthday

Samajwadi Party workers celebrated party supremo Mulayam Singh Yadav's 82nd birthday outside his residence and the party office in Lucknow on Sunday.




DNA - Published





Man shot dead at Samajwadi Party MLC's house in Lucknow during birthday party

It is alleged that the gun accidentally went off during a playful scuffle between friends who were in an intoxicated condition.




DNA - Published





DNA Exclusive: 'Would have got him hanged if I were President', says Munawwar Rana on Charlie Hebdo row

In his interview from Lucknow with our reporter, Pawan Sengar, the poet said that people either did not understand or misinterpreted his statement given on the French issue. He further stated that..




DNA - Published





Adani Group to take over operations of Ahmedabad, Lucknow & Mangaluru airports by Nov 7

The Airport Authority of India has signed MOUs with three entities of the Adani group.




DNA - Published





TRP scam: CBI registers case on Yogi govt's recommendation over complaint filed in UP

The Lucknow police registered an FIR based on the complaint of "Golden Rabbit Communications" on Saturday. Within 24 hours, the central government had cleared the UP government's proposal for a CBI..




DNA - Published





JP Nadda cracks whip, directs MLA Surendra Singh to stay away from Ballia firing incident probe

BJP National President JP Nadda has asked party's Uttar Pradesh chief Swatantra Dev Singh to convey it to the MLA to stay away from the probe, sources said. This comes a day after the MLA met Swatantra..




IndiaTimes - Published





Ballia firing: Main accused held from Lucknow




IndiaTimes - Published





Ballia firing: UP STF arrests prime accused Dhirendra Singh, 2 others from Lucknow

Dhirendra Pratap Singh, the absconding main accused in the Ballia murder case, was arrested by the Special Task Force (STF) in Lucknow on Sunday morning. Two other accused were also arrested.




DNA - Published





Lucknow: Woman who self-immolated dies, UP Congress leader arrested for 'inciting'

Police say they have evidence to prove that the Congress leader was in constant contact with the woman for several days.




DNA - Published





Another Love Jihad? Harassed by Muslim in-laws, Hindu woman attempts self-immolation outside UP assembly

She has been admitted to the civil hospital in Lucknow and her condition is said to be critical.




DNA - Published





Cremation without victim kin's consent infringement of their rights: HC

The Hathras district administration's decision to cremate the alleged gang-rape victim's body without the consent of the family and without following religious rituals was prima facie an infringement..




IndiaTimes - Published





Law student turns hostile in Chinmayanand 'rape' case

The 23-year-old LLM student who had accused former BJP MP Chinmayanand of sexual exploitation last year, turned hostile before a special MP-MLA court in Lucknow on Tuesday. The court was hearing the..




IndiaTimes - Published