Coronavirus disease 2019
Disease caused by severe acute respiratory syndrome coronavirus 2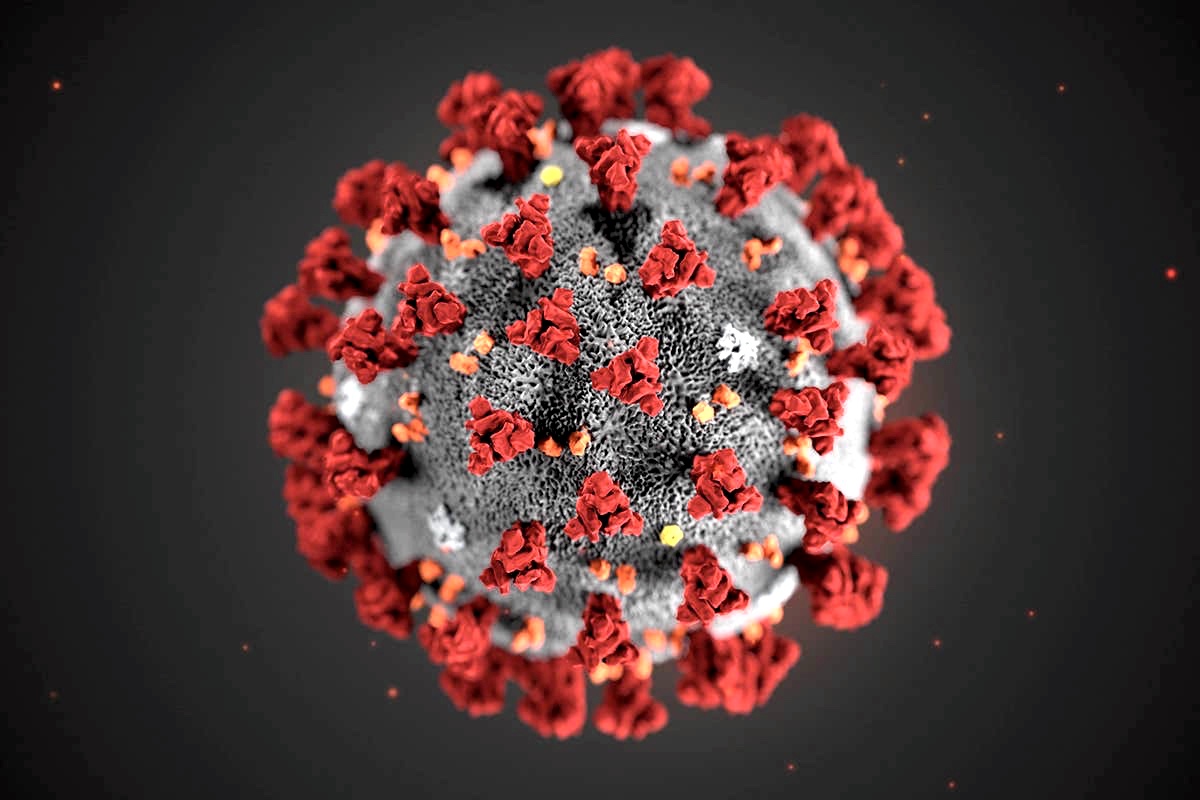 Coronavirus disease 2019 (COVID-19) is a contagious disease caused by severe acute respiratory syndrome coronavirus 2 (SARS-CoV-2). The first case was identified in Wuhan, China, in December 2019. It has since spread worldwide, leading to an ongoing pandemic.


India records 13,788 new COVID cases in last 24 hours

As per the data released by Ministry of Health and Family Welfare (MoHFW), India on January 18 reported single-day spike of 13,788 new coronavirus cases in the last 24 hours. 145 deaths in the same..
Credit: ANI Duration: 01:26
Published
Music producer Phil Spector, convicted of murder, dead at 81

Rock producer Phil Spector, who changed the sound of pop music in the 1960s with his "Wall of Sound" recordings and was convicted of murder for the 2003 murder of a Hollywood actress, has died at age..
Credit: Reuters - Politics Duration: 01:31
Published
Coronavirus in numbers: UK death toll reaches 89,261

Public Health England said a further 671 people had died within 28 days oftesting positive for Covid-19 in the UK as of Sunday.
Credit: PA - Press Association STUDIO Duration: 00:37
Published
6 states conduct COVID vaccination sessions today, 17,072 beneficiaries vaccinated: Health Ministry

Additional Secretary of Health Ministry Manohar Agnani informed about the vaccination drive which started on January 16 across the country. He said that only six states conducted COVID-19 vaccination..
Credit: ANI Duration: 01:32
Published
Under PM Modi's leadership, India among countries with fewer COVID deaths: HM Shah

Union Home Minister Amit Shah on January 17 said that under Prime Minister Narendra Modi's leadership, India is counted among those countries which have recorded fewer deaths due to COVID-19. He was..
Credit: ANI Duration: 01:08
Published
UP records 404 new COVID cases, 666 recoveries in last 24 hours

Uttar Pradesh Additional Chief Secretary, Health, Amit Mohan Prasad on January 17 informed about the current situation of the state. He said that as many as 404 new COVID-19 cases have been recorded in..
Credit: ANI Duration: 01:17
Published
Delhi Police trying to reduce Republic Day gathering to 25,000 amid COVID

Delhi Police informed that they are trying to reduce gathering to 25,000 as compared to 1.5 lakh earlier on Republic Day keeping in mind the spread of COVID. "In the view of COVID19, we are trying to..
Credit: ANI Duration: 01:05
Published
K'taka Health Minister inaugurates COVID vaccination drive at Manipal Hospitals

Karnataka Health and Family Welfare Minister, K Sudhakar inaugurated COVID-19 vaccination drive on January 17 for the healthcare workers. He inaugurated the drive at Manipal Hospitals in Bengaluru..
Credit: ANI Duration: 03:18
Published
India records 15,144 new COVID cases, nationwide vaccination drive underway

India reported 15,144 new COVID-19 infections and 17,170 discharges on January 17. COVID tally of the country stood at 1,05,57,985, including 2,08,826 active cases. So far, 1,01,96,885 patients have..
Credit: ANI Duration: 01:29
Published
'Entire nation needs to be linked to Covid vaccination drive': Amit Shah

Home Minister Amit Shah said that there is a need for the entire nation to be linked to the Covid-19 vaccination drive which began on January 16. He also urged people not to spread rumors so that..
Credit: HT Digital Content Duration: 02:18
Published
People express joy as Indian soldiers rehearse ahead of 72nd Republic Day

Ahead of Republic Day parade, Indian soldiers carried out rehearsals in the national capital. The number of soldiers in the parade has been reduced this year in wake of COVID-19. Locals at the India..
Credit: ANI Duration: 02:13
Published
Biden plans flurry of Day One executive actions

The promised executive actions to be taken on Day One include policy changes on housing, student loans, climate change and immigration. This report produced by Jonah Green.
Credit: Reuters - Politics Duration: 01:27
Published
Biden lays out plan to get America vaccinated

[NFA] U.S. President-elect Joe Biden on Friday said he would order increased production of syringes and other supplies to ramp up vaccinations against COVID-19 and improve upon the Trump administration..
Credit: Reuters Studio Duration: 02:43
Published
Entire country needs to be linked with COVID vaccination drive: HM Shah

Union Home Minister Amit Shah on January 16 urged people who are spreading rumours for COVID-19 vaccination, to not to do anything that brings two views in the public regarding the vaccination. He said..
Credit: ANI Duration: 01:23
Published
Happy to take COVID-19 vaccine shot: Apollo Hospitals Chairman

Apollo Hospitals Chairman Prathap C Reddy expressed happiness after taking the first shot of COVID-19 today. "I am happy that I took COVID-19 vaccine today. By the time I take 2nd shot, my immunity..
Credit: ANI Duration: 01:19
Published
You Might Like



'Depressed', Covid patient jumps to death in hospital




IndiaTimes - Published





India to ship Covid vaccine to neighbours




IndiaTimes - Published





Game, set, mattress - isolating Australian Open players practise in hotel rooms

Some competitors must stay in their hotel rooms, following positive Covid cases on inbound flights.




BBC Sport - Published





Nearly a third of COVID patients readmitted to hospital within 140 days - study

Nearly a third of COVID-19 patients who needed hospital treatment were readmitted within 140 days, a study suggests.




Sky News - Published





All data pertaining to Covid vaccine trials should be made public: PMSF




IndiaTimes - Published





Over 2.2L vaccinated against Covid; only 447 adverse events so far: Govt

Total 447 adverse events following immunisation against Covid-19 were reported during the first two days of the vaccination drive. While only three cases were initially hospitalized, two have already..




IndiaTimes - Published





Music Producer Phil Spector Dead at 81

Phil Spector, the music producer responsible for some of the biggest hits in music and the architect of The Wall of Sound has died ... sources with direct knowledge tell TMZ. We're told he died from..




TMZ.com - Published





British tennis star forced to train in hotel room after Australian Open quarantine

British tennis player Heather Watson has been forced to train for the upcoming Australian Open in her hotel room, after a passenger on her plane to Melbourne tested positive for COVID-19.




Sky News - Published




Republic Day: Security measures tightened in anticipation of terror threat

Due to the COVID pandemic, no foreign guest will be present at India's Republic Day parade,




DNA - Published





Abdullah requests PM to restore 4G internet in J&K; prays for success of Covid vaccine




IndiaTimes - Published





More than half of over-80s have received COVID vaccine as 140 jabs given a minute

More than half of over-80s have received at least one dose of a coronavirus vaccine, as the government has revealed that 140 jabs are being given out a minute. 




Sky News - Published





Will poor and underprivileged get Covid-19 vaccine for free? Asks Congress

A day after India rolled out the world's largest inoculation drive against Covid-19, the Congress on Sunday asked the government whether it plans to provide free vaccines to all Indians, especially the..




IndiaTimes - Published





PM Modi should have taken Covid vaccine shot: Congress leader




IndiaTimes - Published





Australian Open: More players to quarantine after another positive Covid test on Melbourne flight

More Australian Open players will be confined to their hotel rooms after a positive coronavirus test result on a third flight bound for the tournament.




BBC Sport - Published





All UK adults will be offered COVID vaccine by September, foreign secretary says

All UK adults will be offered the first dose of a COVID vaccine by September, Dominic Raab has told Sky News.




Sky News - Published





Covid: Australian Open players frustrated by hotel isolation

Dozens of top players are confined to hotel rooms for 14 days, throwing their training into disarray.




BBC Sport - Published





Covid-19: India records 15,144 new cases

India's Covid-19 tally of cases climbed to 1,05,57,985 with 15,144 new cases in a day, while 1,01,96,885 people have recuperated so far pushing the national recovery rate to 96.58 per cent, according..




IndiaTimes - Published





More mass vaccination centres opening as target to reach 2m jabs a week appears within reach

Ten new vaccination centres are due to open in England on Monday as the drive continues to protect the population against COVID-19.




Sky News - Published





COVID-19: Vaccination drive temporarily halted in this state, here's why

The vaccination drive will not resume in Maharashtra till January 18 (Monday) due to some technical issues with the CoWIN App.




DNA - Published





'India has a dense pipeline of future Covid vaccines'




IndiaTimes - Published





Waive newsprint import duty, say Covid-hit news publishers




IndiaTimes - Published





COVID-19 vaccination: Statewise list of target and achieved data on Day 1

A total of 16,755 vaccinators were involved in organising COVID-19 vaccination sessions. The earlier number of 1,65,714 was recorded till 5:30 pm.




DNA - Published





Latin Singer Chesca Positive for COVID, MLK Day Performance Still On

Latin singer Chesca -- an artist who was supposed to perform at Joe Biden's MLK Day celebration -- just announced she caught the coronavirus ... but the show will still go on, with her in the mix no..




TMZ.com - Published





PM hails Covid warriors, scientists, says vaccines will give decisive win

Launching India's vaccine drive by addressing health workers in different cities, Modi became emoti-onal, recalling healthcare personnel who succumbed to the virus, never to ret-urn home, pausing..




IndiaTimes - Published





Keep a check on rumours, disinformation regarding Covid-19 vaccines: Harsh Vardhan to states




IndiaTimes - Published





Medics call for law to protect them from COVID 'unlawful killing' cases

Medics are calling for emergency legislation to protect them from "inappropriate" legal action over COVID-19 treatment decisions made under pressure of the pandemic.




Sky News - Published





Liv Tyler Says She Was Physically and Emotionally Tormented by COVID

Liv Tyler has had a terrifying 2021, which began with a COVID diagnosis that left her in physical and emotional turmoil. Liv said she found out on New Year's Eve she tested positive for the virus .....




TMZ.com - Published





COVID-19: One shows serious side effect after receiving vaccine shot in Delhi, 51 minor side effects

At least 4,319 healthcare workers received COVID-19 shot against the target of 8,117.




DNA - Published





TMC MLAs, leaders get Covid vaccine on Day 1, spark row




IndiaTimes - Published





Fresh weather warnings after snow forces COVID testing centres to close

Heavy rain is forecast for parts of England and Wales next week following a weekend when COVID testing centres were closed by snow and cars skidded off roads in freezing temperatures.




Sky News - Published





Day 1 of Covid vaccination drive successful, no hospitalisations reported so far: Health ministry

The health ministry on Saturday called the day one of Covid vaccination drive in India a "success" and said that no case of post-vaccine hospitalisation has been reported so far.




IndiaTimes - Published





Revealed: Councils losing tens of millions of pounds supporting companies through COVID

Local authorities are losing tens of millions of pounds supporting struggling business tenants through the pandemic which could have dire and long-lasting consequences for local services, Sky News has..




Sky News - Published





Memorable and historic day, says Ravi Shankar Prasad on COVID vaccination drive

Prime Minister Narendra Modi on Saturday (January 16) launched India's coronavirus vaccination drive via video conference.




DNA - Published





Want to get vaccinated against COVID? Keep these documents handy to receive the jab

India launched the world's largest inoculation drive today. We bring before you the full list of documents needed for registration to get vaccinated.




DNA - Published





New Covid-19 vaccine-focussed caller tune released, voice of Amitabh Bachchan replaced




IndiaTimes - Published





COVID-19: Resident doctors of RML hospital show reservations about Covaxin, want Covishield

The most-awaited nationwide vaccination drive against the novel coronavirus infection in India commenced on Saturday.




DNA - Published





In numbers: India's Covid-19 vaccination drive

India kicked off world's largest vaccination drive against Covid-19 on January 16. In the first phase, around 3 crore healthcare and frontline workers will be vaccinated.




IndiaTimes - Published




India will export indigenously developed Covid-19 vaccines: Rajnath Singh




IndiaTimes - Published





COVID-19: Bharat Biotech to pay compensation for any side effect of Covaxin, details here

Bharat Biotech, has received a government purchase order for the supply of 55 lakh doses of Covaxin.




DNA - Published





India kicks off world's largest Covid-19 immunisation programme: Top developments




IndiaTimes - Published





Town's rapid COVID testing centres shut because of snow

All three rapid COVID testing centres in Luton have been shut because of snow in the area, the council has said.




Sky News - Published





COVID-19: Health Minister Harsh Vardhan calls vaccine "Sanjeevani"

"Covid vaccine will work like 'Sanjeevani' in the fight against the pandemic," Harsh Vardhan said on the launch of the vaccination drive in India.




DNA - Published





PM turns emotional recalling people's sufferings, sacrifices of healthcare, frontline workers

On the day of the nationwide launch of the Covid-19 vaccination drive, Prime Minister Narendra Modi turned emotional recalling people's sufferings during the pandemic, death of healthcare workers while..




IndiaTimes - Published





Australian Open 2021: Forty-seven players to quarantine in Melbourne after Covid cases on flights

Forty-seven players will stay confined to the their hotel rooms before the Australian Open after other passengers on their flights tested positive for coronavirus.




BBC Sport - Published





Stars and Scars -- You Be the Judge

Final stretch, folks. Trump only has days left, but what exactly does that mean re: COVID, violence, etc? So we gotta ask ...




TMZ.com - Published





NBA: Minnesota Timberwolves' Karl-Anthony Towns defiant over Covid-19

Minnesota Timberwolves player Karl-Anthony Towns says he will "not end up in a box" after testing positive for Covid-19 - which has claimed seven members of his family.




BBC Sport - Published





PM Modi gets emotional while speaking about sacrifices by frontline workers during fight against Covid-19




IndiaTimes - Published





Bhutan PM congratulates India for launch of vaccination drive against Covid-19




IndiaTimes - Published




Dr Harsh Vardhan says Indian vaccine will work as 'sanjeevani' in fight against Covid-19

The Indian vaccine will work as 'sanjeevani' in the fight against Covid-19, said Union health minister Dr Harsh Vardhan on Saturday. The minister joined the doctors and potential vaccine beneficiaries..




IndiaTimes - Published





COVID-19: THIS man becomes first person in India to receive coronavirus vaccine

A sanitation worker became the first person in India to receive COVID-19 vaccine jab at AIIMS, New Delhi. The worker identified as Manish Kumar received the vaccine in the presence of Union Health..




DNA - Published