Coronavirus disease 2019
Infectious respiratory disease caused by severe acute respiratory syndrome coronavirus 2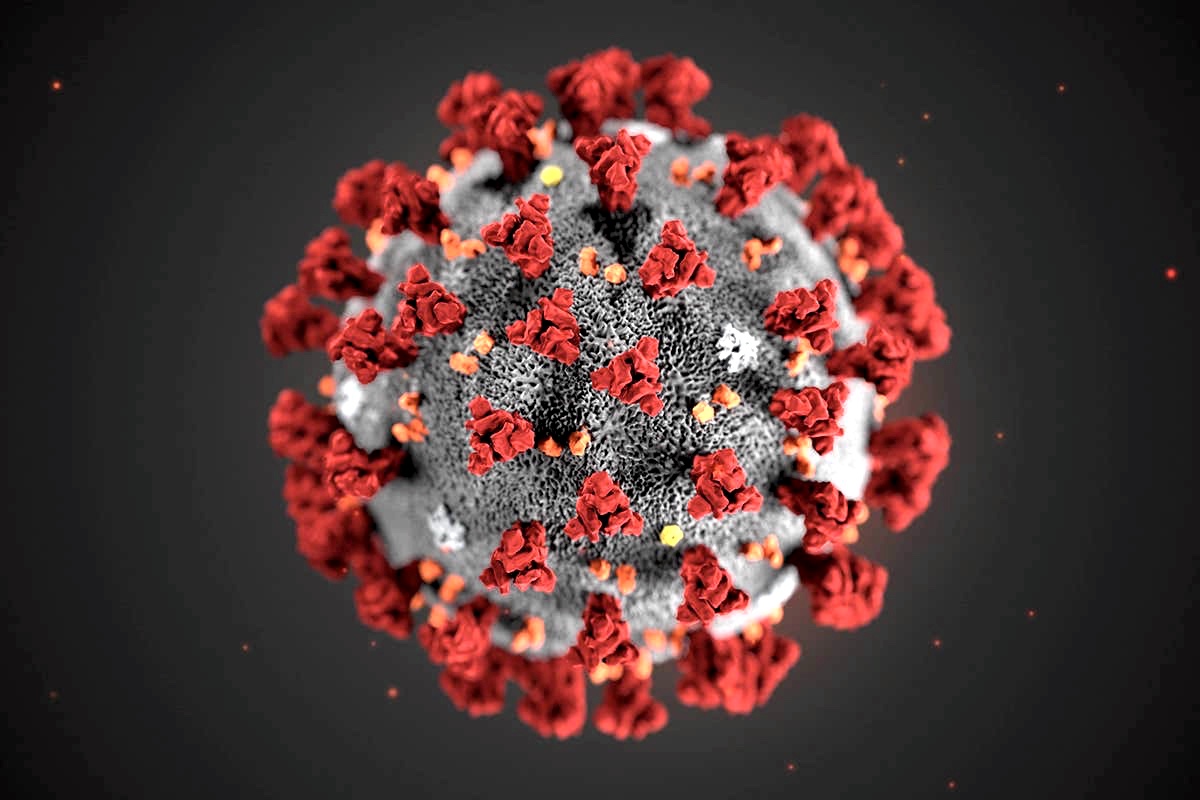 Coronavirus disease 2019 (COVID-19) is a contagious respiratory and vascular disease. It is caused by becoming infected with severe acute respiratory syndrome coronavirus 2 (SARS-CoV-2), which is a specific type of coronavirus. Common symptoms include fever, cough, fatigue, shortness of breath or breathing difficulties, and loss of smell and taste. The incubation period, which is the time between becoming infected with the virus and showing symptoms, may range from one to fourteen days. While most people have mild symptoms, some people develop acute respiratory distress syndrome (ARDS) possibly precipitated by cytokine storm, multi-organ failure, septic shock, and blood clots. Longer-term damage to organs has been observed, and there is concern about a significant number of patients who have recovered from the acute phase of the disease but continue to experience a range of effects—including severe fatigue, memory loss and other cognitive issues, low grade fever, muscle weakness, breathlessness, and other symptoms—for months afterwards.


Towns to receive Covid £3.6bn funding boost, Zahawi says

Business Minsiter Nadhim Zahawi has said seven areas across England are to receive millions of pounds worth of funding to invest in their local economies throughout the Covid pandemic. The..
Credit: ODN Duration: 01:14
Published
Coronavirus: Belgian hospitals could reach limit within 15 days

Belgium's interfederal Covid-19 spokesperson, Yves Van Laethem, said Monday that the capacity of the country's intensive care units could be reached in the next two weeks. View on euronews
Credit: euronews (in English) Duration: 01:52
Published
PM Modi interacts with PM SVANidhi scheme beneficiaries

Prime Minister Narendra Modi interacted with Pradhan Mantri Street Vendor's Atmanirbhar Nidhi Yojana (PM SVANidhi) beneficiaries from Uttar Pradesh on October 27. He interacted with the food vendors..
Credit: ANI Duration: 01:49
Published
El Paso, Texas starts curfew to fight COVID-19

The U.S. border city of El Paso has been put under a two-week long curfew in an attempt to stem a surge in coronavirus infections. Flora Bradley-Watson reports.
Credit: Reuters - Politics Duration: 01:39
Published
India records lowest 24 hour spike in last 3 months, daily death toll below 500

India records lowest 24-hour spike in 3 months with 39, 469 new COVID infections. The COVID tally of the country stands at 79,46,429 cases. With 488 new deaths, death toll mounts to 1,19,502. Around..
Credit: ANI Duration: 01:31
Published
Study estimates exposure to air pollution increases COVID-19 deaths by 15% worldwide

Long-term exposure to air pollution has been linked to an increased risk of dying from COVID-19 and, for the first time, a study has estimated the proportion of deaths from the coronavirus that could..
Credit: ANI Duration: 01:14
Published
Not all coronavirus tests are the same - Which one is right for you?

Across the world mass testing of Covid-19 is being carried out as a tool tocontrol the spread of the virus. The tests vary and are used to determine ifsomeone has a current or past infection. Here's a..
Credit: PA - Press Association STUDIO Duration: 02:59
Published
Firecracker workers in Ahmedabad reeling under COVID impact

As the country is reeling under the impact of COVID-19, several firecracker workers are facing hardship even as Diwali approaches. Factory workers in Ahmedabad are suffering due to the dip in demand..
Credit: ANI Duration: 02:06
Published
How They Blew It: Why Two Major Cities Are Dropping Google's COVID-19 Testing Program

Gizmodo reports San Francisco and Alameda counties in California have stopped using Verily to test for the novel coronavirus. Google's health-centered sister company launched a $55 million pilot..
Credit: Wochit News Duration: 00:40
Published
PM Modi providing free ration to 9 crores Bihar citizens during COVID-19, not 'lalten': Smriti Irani

Union Minister for Women and Child Development, Smriti Irani addressed a public rally in Bodh Gaya on October 26. "There was a time in Bihar when leaders made money from fodder and poor slept empty..
Credit: ANI Duration: 01:48
Published
Doubts raised over new instant Covid-19 tests

Doubts have been raised over the accuracy of new Covid tests that will provide a result in 12 minutes. The £120 nasal swab tests are being rolled out at select pharmacies from next month, but..
Credit: ODN Duration: 00:37
Published
Ultra-Orthodox communities illegally reopen schools amid COVID-19

The country's recent surge in COVID-19 cases was driven by a high rate of infection within Ultra-Orthodox communities.
Credit: Al Jazeera STUDIO Duration: 02:44
Published
Covid-19 anxiety and stress 'causing body image issues'

Covid-19 anxiety and stress is causing serious body image issues amongst men and women, according to a new study.
Credit: Cover Video STUDIO Duration: 01:04
Published
Belgian region of Flanders sees COVID-era boom in homeschooling

Although schools remain open in Belgium, some parents have decided to home-school as a way to spend more quality time with their children and get out into nature. View on euronews
Credit: euronews (in English) Duration: 02:34
Published
Tampa auto chemical company helps in fight against COVID-19

The pandemic has forced millions of people to reinvent themselves. One of those people is Michael Lamb. Story: https://bit.ly/2IWxaAH
Credit: ABC Action News Duration: 01:49
Published
Santa will arrive at Westfield Malls this year but expect a lot of changes due to COVID-19

Santa will be at some Westfield Mall locations in late November, but don't expect your child to sit onhis lap this year. Story: https://bit.ly/3kwMO3B
Credit: ABC Action News Duration: 00:34
Published
FDA Approves Remdesivir to Treat COVID-19

US regulators have approved the use of remdesivir, an antiviral medicine, for COVID-19 treatment.
Credit: Cover Video STUDIO Duration: 01:20
Published
Vendors excited to be back at the Grand Prix after a tough year financially

It's been a rough year for food and beverage vendors who normally make money at big events year-round. With COVID-19, many of those events have been canceled. It's why the Firestone Grand Prix was..
Credit: ABC Action News Duration: 01:37
Published
Former Brazil striker Ronaldinho says he has tested positive for COVID-19

Former Brazil striker Ronaldinho Gaucho announces on social media that he has tested positive for COVID-19 and is self-isolating
Credit: Reuters - Sports Duration: 00:43
Published
You Might Like



PM Modi to review state of economy with Finance Minister Nirmala Sitharaman today

Though the finance minister is not carrying a specified agenda for discussion with the PM, she is likely to present a picture of the state of the economy and impact on the ground and the progress made..




DNA - Published





India's Covid-19 active cases stand at 6.25 lakh, lowest after 11 weeks

Active cases of Covid-19 in the country have "drastically declined" to 6.25 lakh comprising merely 7.88 per cent of the total caseload, with 35 per cent of the total active infections being reported..




IndiaTimes - Published





First phase of Bihar assembly elections on Wednesday; 71 seats go to polls

More than two crore voters in Bihar will decide the fate of 1,066 candidates on Wednesday across 71 assembly segments in the first phase of elections. Guidelines have been issued by the Election..




IndiaTimes - Published





India's COVID-19 spike drops to 36,469, less than 500 new deaths

With 1,34,657 total active cases, Maharashtra continues to be the worst affected state by COVID-19 in the country.




DNA - Published





Covid vaccine will be free for all: Minister




IndiaTimes - Published





Maharashtra deputy CM Ajit Pawar tests Covid positive




IndiaTimes - Published





Air pollution may hinder India's fight against Covid-19, say scientists




IndiaTimes - Published





COVID-Safety Voting Costing Cities Millions of Dollars

You've probably heard it a million times -- this is the most important election of our lives -- and it's probably the most expensive too ... based on the millions it's costing to try to keep voters..




TMZ.com - Published





Covid-19: India's case fatality rate lowest since March 22 at 1.5%

India's Case Fatality Rate (CFR) of Covid-19 has touched 1.5 per cent, the lowest since March 22 and is continuously declining, said the union ministry of health and family welfare (MoHFW) here on..




IndiaTimes - Published





COVID-19: With spike of 45,149 cases, India's coronavirus tally crosses 79 lakh

With 1,41,001 total active cases, Maharashtra continues to be the worst affected state by COVID-19 in the country.




DNA - Published

Also reported by •IndiaTimes


Man hits doctors over Covid death, Bombay HC slaps Rs 1 lakh 'fine'




IndiaTimes - Published





Sharpest weekly drop in Covid numbers

India recorded just over 3.6 lakh fresh cases during the week, the lowest in absolute terms in three months (since 3.2 lakh were detected in the July 20-26 week), as per data collated from state..




IndiaTimes - Published





Adele Jokes About Her Weight Loss on 'SNL', Attributes it to COVID

Adele was awesome on 'SNL' Saturday night, and made a hilarious joke about her weight loss. The '"Somebody Like You" singer looked INCREDIBLE as she took the stage to host the show. She acknowledged,..




TMZ.com - Published





Reserve Bank of India governor Shakti Kanta Das tests positive for COVID-19

Das tweeted that he has tested positive for coronavirus and that he is asymptomatic.




DNA - Published





Covid-19: India's national recovery rate touches 90%




IndiaTimes - Published





Remember soldiers guarding our borders, light a 'diya' for them: PM Modi

In his monthly 'Mann ki Baat' radio broadcast, Modi wished people on Dussehra and said that with various festivals coming up, they need to show patience and follow health guidelines in celebrating..




IndiaTimes - Published





Covid-19: India records 50,129 fresh cases, 578 deaths




IndiaTimes - Published




Devendra Fadnavis tests positive for Covid




IndiaTimes - Published




Cooperatives absorb Covid shock, help milk farmers beat crisis

Data of first six months (April-September) of current and previous financial years show that dairy cooperatives did not stop procurement despite selling less during the six months in 2020 compared to..




IndiaTimes - Published





India sees 580 more Covid deaths, lowest in 98 days

India had last recorded a lower daily death count on July 18, as per TOI's database collated from official numbers released by state governments. The average daily death toll this week has fallen to..




IndiaTimes - Published





COVID-19: ZEEL donates 20 ambulances, 4000 PPE kits to Rajasthan

Chief Minister Ashok Gehlot flagged of all 20 ambulances in the presence of Heath Minister Dr Raghu Sharma.




DNA - Published





China's aggression and Covid solutions to dominate US-India 2+2 talks

Security and defence cooperation in the Indo-Pacific region in the face of China's aggressive behavior and public health collaboration with an eye on the ongoing pandemic will be among topics that will..




IndiaTimes - Published





Delhi CM Arvind Kejriwal pitches for free Covid vaccine throughout India




IndiaTimes - Published





Khabib vs. Georges St-Pierre Was Late Father's Dream, Trainer Says

It's starting to make more sense why Khabib Nurmagomedov so badly wants to fight Georges St-Pierre -- it was his father's plan. Khabib's dad, Abdulmanap Nurmagomedov, passed away back in July after..




TMZ.com - Published





61% of Covid-19 recoveries reported from six states/UTs: Health ministry

About 61 per cent of the total recovered cases from Covid-19 are from six states and UTs of Maharashtra, Andhra Pradesh, Karnataka, Tamil Nadu, Uttar Pradesh and Delhi, the Union health ministry said..




IndiaTimes - Published





India-Myanmar agree to jointly produce, distribute and supply COVID-19 vaccine

After first round of discussion earlier this week, India and Myanmar have decided to come together to collaborate on development of COVID-19 vaccine. This step by India can be seen as a boost to..




DNA - Published





53,370 new cases take India's Covid-19 tally to 78,14,682

India's Covid-19 tally climbed to 78.14 lakh with 53,370 fresh cases in a day, while 70,16,046 people have so far recuperated pushing the national recovery rate to 89.78 per cent on Saturday, the Union..




IndiaTimes - Published





Recoveries cross 7 million, nearly 90% of all Covid cases




IndiaTimes - Published





Covid shots may come under UIP




IndiaTimes - Published





Assam, Telangana too promise free Covid vaccine




IndiaTimes - Published





Dr. Fauci Says He Doesn't Have President's Ear as COVID Stats Soar

President Trump's talking like he and Dr. Anthony Fauci are still on friendly terms -- despite each jabbing the other lately -- but that's news to Fauci, who says he has zero access to the Oval Office...




TMZ.com - Published





Next 3 months decisive in determining India's Covid-19 trajectory: Vardhan

Union Health Minister Harsh Vardhan on Friday said the next three months are going to be decisive in determining the coronavirus situation in the country as he urged people to follow Covid appropriate..




IndiaTimes - Published





India seeks health worker database for possible Covid-19 vaccination




IndiaTimes - Published





ICMR issues advisory for use of Feluda paper strip test

The paper-strip uses cutting-edge CRISPR gene-editing technology to identify and target the genetic material of SARS-CoV-2, the virus that causes Covid-19 in less than an hour. As claimed by the..




IndiaTimes - Published





DRDO lauds Air Force for supporting its weapon trials, anti-COVID-19 measures

In the last six months, the Indian Air Force has flown more than 160 hours for supporting the missions of Defence Research and Development Organisation for COVID-19 relief and weapon trials.




DNA - Published





COVID Patients Are Voting From Their Hospital Beds

Astronauts are voting from space, millions are mailing ballots and patients battling COVID-19 are voting from their hospital beds ... welcome to the 2020 election. Voter turnout is expected to be on..




TMZ.com - Published





Only those who vote for BJP to get Covid vaccine shows it's discriminatory nature: Sanjay Raut




IndiaTimes - Published





PM Modi should speak on Chirag Paswan, Covid-19 deaths at rally: Pappu Yadav




IndiaTimes - Published





ICMR issues advisory on CRISPR technology-based SARS CoV-2 test

The Indian Council of Medical Research (ICMR) on Thursday issued an advisory on the CRISPR SARS CoV-2 test that has been approved by the Drugs Controller General of India for Covid-19 detection. As..




IndiaTimes - Published





Russian Sputnik V Covid-19 vaccine to be tested on 100 Indian volunteers

The Russian Sputnik V vaccine against Covid-19 will be tested in India on 100 volunteers, the Indian Central Drugs Standard Control Organisation's Drug Controller General (DCGI) told Sputnik on..




IndiaTimes - Published





PM greets Bengal on Durga Puja, calls for Covid caution




IndiaTimes - Published





Autopsy finds Covid patient's lungs 'hard as a leather ball'




IndiaTimes - Published





Covid: India's active cases below 7 lakh after 21-day decline




IndiaTimes - Published





People who never tested positive turning up with post-Covid issues




IndiaTimes - Published





Covid: Madhya Pradesh, Tamil Nadu, Karnataka too say they'll give free vaccine doses




IndiaTimes - Published





After BJP's Bihar poll promise, MP CM Shivraj says will give free vaccine to poor

Taking a cue from BJP in Bihar who announced on Thursday to provide free Covid vaccine to the poor in the state, Madhya Pradesh chief minister Shivraj Singh Chouhan said that poor families in the state..




IndiaTimes - Published





Top 10 news of the day: BJP releases Bihar manifesto; Sushil Modi tests positive for Covid-19 & more




IndiaTimes - Published





Bihar deputy CM Sushil Modi tests positive for COVID-19

Earlier, BJP spokesperson and star campaigner in Bihar, Shahnawaz Hussain was also found to be Coronavirus positive.




DNA - Published





India's active Covid-19 cases fall below 10% since last 3 days: MoHFW

Active cases of Covid-19 in India have fallen below 10 per cent while the positivity rate of the disease was reported below 5 per cent in the last three days, the Ministry of Health and Family Welfare..




IndiaTimes - Published





Free Covid vaccine, 19 lakh jobs: BJP releases Bihar manifesto

Bharatiya Janata Party (BJP) on Thursday released its manifesto for the three-phased Bihar elections promising to distribute the coronavirus vaccine free of cost once approved by the ICMR, and also..




IndiaTimes - Published