Delhi
Metropolitan City and Union Territory of India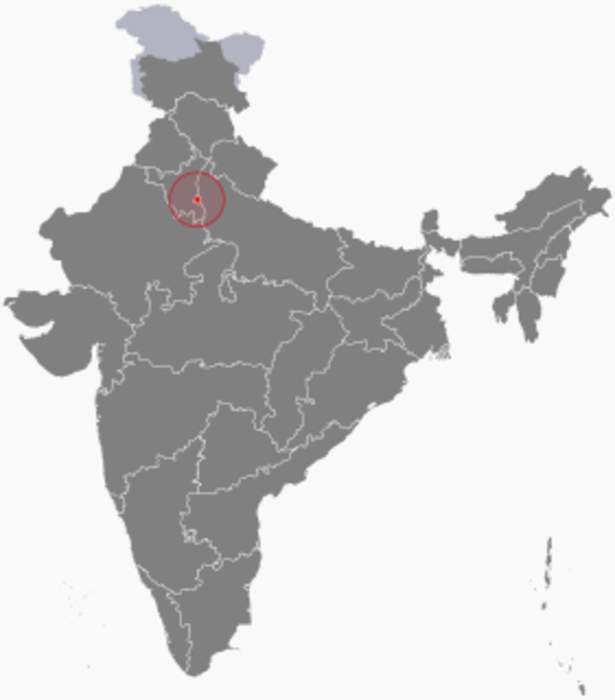 Delhi, officially the National Capital Territory (NCT) of Delhi, is a city and a union territory of India containing New Delhi, the capital of India. It is bordered by the state of Haryana on three sides and by Uttar Pradesh to the east. The NCT covers an area of 1,484 square kilometres (573 sq mi). According to the 2011 census, Delhi's city proper population was over 11 million, the second-highest in India after Mumbai, while the whole NCT's population was about 16.8 million. Delhi's urban area is now considered to extend beyond the NCT boundaries, and include the neighbouring satellite cities of Ghaziabad, Faridabad, Gurgaon and Noida in an area called the National Capital Region (NCR) and had an estimated 2016 population of over 26 million people, making it the world's second-largest urban area according to the United Nations. Recent estimates of the metro economy of its urban area have ranked Delhi either the most or second-most productive metro area of India. Delhi is the second-wealthiest city in India after Mumbai and is home to 18 billionaires and 23,000 millionaires. Delhi ranks fifth among the Indian states and union territories in human development index. Delhi has the second-highest GDP per capita in India. Delhi is of great historical significance as an important commercial, transport, and cultural hub, as well as the political centre of India.


Delhi prepares 5000 youths for Covid duty ahead of third wave: Details | Oneindia News

Delhi Chief Minister Arvind Kejriwal announced that the government has made an ambitious plan to keep 5000 health assistants ready in anticipation of a possible third wave of the pandemic. Ravi Shankar..
Credit: Oneindia Duration: 03:34
Published
Mayawati's MLAs in touch with SP, may cross over to Akhilesh camp: Reports | Oneindia News

9 BSP MLAs reportedly met with Samajwadi Party chief Akhilesh Yadav this morning and are reportedly about to cross over to the rival camp, dealing a blow to Mayawati ahead of the UP Assembly election;..
Credit: Oneindia Duration: 03:49
Published
Kerala CM on IS widows' return: Vijayan says it is a national issue | Oneindia News

Kerala CM Pinarayi Vijayan said the state has no role to play in bringing back widows of Islamic State fighters to India. A Delhi-based website had on March 15 last year released a video showing 4..
Credit: Oneindia Duration: 02:19
Published
Novavax Covid vaccine found 90% effective against Covid and its variants| Oneindia News

Shares of six listed Adani Group companies tumbled on the stock market after a report suggested that the National Securities Depository Limited (NSDL) has taken action against three foreign funds with..
Credit: Oneindia Duration: 02:30
Published
Delhi opens vaccine centre for students, workers, athletes going abroad | Oneindia News

PM Modi congratulated new Israeli PM Naftali Bennett and conveyed gratitude to osted former PM Benjamin Netanyahu after Israel is set to see a regime change after 12 years; LJP's Chirag Paswan on..
Credit: Oneindia Duration: 03:44
Published
CM Kejriwal on Delhi unlock: Markets to reopen with some restrictions | Oneindia News

Delhi Chief Minister addressed the people of Delhi in a video. He announced that all markets are to be reopened while maintaining Covid norms. He claimed that the state is taking ample preparations to..
Credit: Oneindia Duration: 05:50
Published
Fire breaks out at Lajpat Nagar Market, Delhi; No casualties reported yet | Watch | Oneindia News

Today morning, a major fire broke out at Delhi's market area in Lajpat Nagar. Delhi Fire Services chief Atul Garg said that the fire was reported from a showroom in the Central Market. #LajpatNagar..
Credit: Oneindia Duration: 01:10
Published
Kashmir attack: 2 cops, 2 civilians dead | Mass exits in Lakshadwep BJP | Oneindia News

At least two cops were martyred after terrorists attacked a joint team of police and CRPF in Jammu and Kashmir's Sopore, 2 civilians were also killed; The Shiromani Akali Dal (SAD) has formed an..
Credit: Oneindia Duration: 04:00
Published
Mukul Roy set to meet Mamata Banerjee, likely to ditch BJP and return to TMC | Oneindia News

Once a close aide of Mamata Banerjee, Mukul Roy, who joined the BJP with much fanfare, is likely to return to Trinamool Congress along with his son Subhrangshu Roy. Chief Minister Yogi Adityanath met..
Credit: Oneindia Duration: 02:50
Published
Yogi Adityanath meets PM Modi in Delhi| UP Cabinet reshuffle| UP polls 2022 | Oneindia News

Uttar Pradesh CM Yogi Adityanath on Friday morning reached the residence of Prime Minister Narendra Modi in New Delhi for a crucial meeting amid speculation of a state Cabinet reshuffle ahead of the..
Credit: Oneindia Duration: 01:24
Published
Yogi Adityanath met Amit Shah today, to meet PM Modi tomorrow| UP Polls 2022| Oneindia News

Yogi Adityanath is in Delhi for meetings with Prime Minister Narendra Modi and other top BJP leaders amid reports of dissent in Uttar Pradesh. This is his first face-time with the Delhi leadership..
Credit: Oneindia Duration: 02:03
Published
Southwest monsoon: Mumbai on red alert; Low-pressure to form over Bay of Bengal | Oneindia News

Indian Meteorological Department announced that the southwest monsoon has arrived in Mumbai and its neighbouring areas today; A low-pressure area is likely to form over the North Bay of Bengal around..
Credit: Oneindia Duration: 02:22
Published
India revises vaccination policy as Delhi, Mumbai eases virus lockdowns


Credit: FRANCE 24 English Duration: 01:50
Published
Delhi unlocks: Ground report | Some hope & fear after second wave onslaught | Oneindia News

After 51 days, Delhi has eased restrictions from June 7, allowing standalone shops, market complexes, malls and the metro to start functioning again. While business owners welcome the reopening, the..
Credit: Oneindia Duration: 06:33
Published
Prime Minister Narendra Modi to address the nation at 5 pm today| Covid-19| Oneindia News

Covid-19, Coronavirus Pandemic, Covid-19 cases in India, 'Jahan vote, Wahan vaccination', Covidshield, Covaxin, Door to Door vaccination, Pakistan train collision, Pak PM Imran Khan, Ivermectin,..
Credit: Oneindia Duration: 02:46
Published
Manish Sisodia's car allegedly attacked by Congress workers | Watch | Oneindia News

Today, Congress workers have purportedly attacked Delhi Deputy Chief Minister Manish Sisodia's car. It is being reported that a bunch of Congress workers pelted stones at Manish Sisodia's..
Credit: Oneindia Duration: 01:27
Published
Indian Railways: 27 lakh people caught without tickets amid Covid restrictions | Oneindia News

93 retired top civil servants from across the country have signed a letter to Prime Minister Narendra Modi; The single-day tally of fresh cases recorded in the national capital is now the lowest since..
Credit: Oneindia Duration: 02:56
Published
Delhi's GB Pant Hospital withdraws order directing nurses not speak in Malayalam| Oneindia News

Delhi's Govind Ballabh Pant Institute of Post Graduate Medical Education and Research (GIPMER) on Sunday withdrew its controversial order of directing its nursing staff to use only Hindi and English..
Credit: Oneindia Duration: 01:20
Published
Arvind Kejriwal accuses Centre and 'ration mafia' for blocking ration home delivery | Oneindia News

Today. the Delhi Chief Minister accused PM Modi of blocking his plans to launch doorstep delivery of rations under the "influence" of the ration mafia. This comes after the tussle yesterday regarding..
Credit: Oneindia Duration: 01:14
Published
Centre blocks Delhi's ration home delivery, draws ire of AAP-ruled state | Oneindia News

The national transporter said on Saturday that Indian railways 'Oxygen Express' trains have delivered 25,000 tonnes of LMO; The Trinamool Congress has promoted Lok Sabha MP Abhishek Banerjee to the..
Credit: Oneindia Duration: 01:58
Published
Delhi markets, mall, metro to open from Monday: Here is how | Oneindia News

Delhi starts unlocking from Monday with markets, malls aned metro to start functioning again; Five senior functionaries of the Rashtriya Swayamsevak Sangh lost their blue tick verification badges even..
Credit: Oneindia Duration: 02:53
Published
Delhi man calls up police, threatens to kill PM Modi| Khajuri Khas| Salman| Oneindia News

A 22-year-old man was arrested in Delhi's Khajuri Khas after he allegedly made a phone call with a death threat to Prime Minister Narendra Modi. He was reportedly out on bail and wanted to go back to..
Credit: Oneindia Duration: 01:22
Published
CBSE class 12th exams cancelled, 'decision taken in the interest of students'| Oneindia News

No CBSE Class 12 exams will take place this year, taking a decision in the interest of students.The Centre has issued a show-cause notice to former West Bengal Chief Secretary Alapan Bandyopadhyay, who..
Credit: Oneindia Duration: 02:41
Published
Delhi permits liquor home delivery via apps to prevent lockdown violation? | Oneindia News

Today, the Delhi government in an order permitted home delivery of Indian and foreign brands of liquor. Delhites are now allowed to place their order through a mobile application or online web..
Credit: Oneindia Duration: 01:22
Published
Manipur climate activist's father arrested for fraud | Licypriya Kangujam | Oneindia News

Young climate activist Licypriya Kangujam's father KK Singh has been arrested in a joint operation by Delhi and Manipur police. Kanarjit Kangujam, also known as Dr KK Singh is arrested in a fraud..
Credit: Oneindia Duration: 02:00
Published
You Might Like



Bengal governor in Delhi, meets central ministers, NHRC chief




IndiaTimes - Published





After Delhi, Gurgaon Twitter raids, cops quizzed MD in Bengaluru




IndiaTimes - Published





Self-styled Godman Siva Shankar Baba arrested in Delhi by Tamil Nadu CB-CID

Right after the case against him was transferred from the Chennai Police to the CB-CID, he was missing.




DNA - Published





Conditions still not favourable for monsoon to cover parts of north India: IMD

Atmospheric conditions are still not favourable for further advance of monsoon into Rajasthan, remaining parts of Gujarat, Punjab, Haryana and Delhi, the India Meteorological Department (IMD) said on..




IndiaTimes - Published





Alert! Old cars plying on Delhi roads to be seized, owners to be fined Rs 10,000

The govt has said that 10-year-old diesel and 15-year-old petrol cars should be scrapped soon, otherwise action will be taken against their owners.




DNA - Published





Bail to student activists in riots case: Delhi Police challenges HC order in Supreme Court

Delhi Police on Wednesday challenged the high court's order granting bail to three student activists in the 2020 Delhi riots case. The special leave petition was filed by the police against the Delhi..




IndiaTimes - Published





'Protest is a right, it's not terror': HC gives bail to 3 key Delhi riots accused

Protesting without arms is a fundamental right and not a "terrorist activity", the Delhi high court said on Tuesday, granting bail to three university students jailed under stringent anti-terror..




IndiaTimes - Published





Delhi Unlock: This restaurant is offering special discount to vaccinated customers

Till now, this discount was on takeaway, but after unlock-3 in Delhi, now one can get a 20 percent discount for eating in the restaurant.




DNA - Published





Bengal governor to visit Delhi after his Monday's meeting with BJP MLAs over law and order situation

A day after a delegation of BJP MLAs petitioned him for alleged deterioration of the law and order situation in the state, West Bengal Governor Jagdeep Dhankhar will on Tuesday embark on a four-day..




IndiaTimes - Published





Faceoff: Bail to Jamia and JNU activists in Delhi riots case, Twitter reacts

​Twitter reacted to the development, with many opposing the bail. There were others who claimed that the young activists were wrongly targeted.​​




IndiaTimes - Published





Delhi-NCR weather update today: Thunderstorms and rain likely, says IMD

Delhi, Punjab and Haryana are predicted to witness thunderstorms with lightning, hail and squall (speed reaching 50-60 kmph).




DNA - Published





Northeast Delhi riots case: High court grants bail to JNU, Jamia student activists

The Delhi High Court on Tuesday granted bail to student activists Devangana Kalita, Natasha Narwal and Asif Iqbal Tanha, booked under the stringent Unlawful Activities (Prevention) Act (UAPA) law, in..




IndiaTimes - Published





Why it's a tall order for Arvind Kejriwal's AAP in 2022 Gujarat assembly election

Though Delhi chief minister and Aam Aadmi Party (AAP) supremo Arvind Kejriwal on Monday declared that his party would contest all 182 assembly seats in Gujarat in the 2022 state election, an impressive..




IndiaTimes - Published





Delhi Unlock 3.0: All shops in markets, restaurants open from today - What's allowed, what's not

With COVID numbers in Delhi dropping to a three-month low, all market activities are allowed from today, i.e. June 14, but with certain restrictions.




DNA - Published





Covid roundup: Centre gives 26cr vaccine doses to states, religious places open in Delhi, 80% Tibetans get first dose




IndiaTimes - Published





Russia's Sputnik V likely to be available at Delhi's Indraprastha Apollo Hospital from next week




IndiaTimes - Published





Delhi Unlock 3.0: All markets to reopen, theatres, gyms, public parks to remain closed, says CM Arvind Kejriwal

Delhi Chief Minister Arvind Kejriwal on Sunday (June 13) announced that after 5 am tomorrow, all activities will be allowed except some activities.




DNA - Published





Lockdown in Delhi: CM Arvind Kejriwal to make BIG announcements today; salons, spas, weekly markets may reopen

On May 31, CM Kejriwal had announced phased reopening of Delhi had allowed the resumption of construction and manufacturing activities,




DNA - Published





Delhi's power corridor abuzz with talks of Union Cabinet reshuffle

The buzz that was going on for quite sometime intensified after series of meetings took place between Prime Minister Narendra Modi and Home Minister Amit Shah and BJP National President JP Nadda in the..




IndiaTimes - Published





In rare 4-hr surgery, 106 fibroids removed from 29-yr-old woman's uterus

Five years ago, she had to have 48 uterine fibroids removed in a surgery. When the woman, 29, from Delhi started getting abdominal pains again, she suspected something was wrong. By and by, her stomach..




IndiaTimes - Published





Modi praised UP's measures to battle second wave: UP govt

Prime Minister Narendra Modi on Friday appreciated the measures taken by the UP government in battling the second wave of the Covid-19 pandemic, according to an official statement put out soon after UP..




IndiaTimes - Published





Bad days have come for UP CM as he's wandering door-to-door to retain post: Samajwadi party chief Akhilesh Yadav

In an apparent reference to Uttar Pradesh chief minister Yogi Adityanath's New Delhi visit, Samajwadi Party chief Akhilesh Yadav on Friday said that bad days have come for the chief minister as he has..




IndiaTimes - Published





COVID-19 causing hearing loss in patients, 15 cases found in Delhi

So far, 15 such patients have come to the ENT department of the same government hospital in Delhi.




DNA - Published





Gyms, cinema halls may soon reopen in Delhi under Unlock 3

At present, under Unlock 2 in Delhi, shops have been allowed to open on odd-even basis.




DNA - Published





Caution! Centre sets speed limit for vehicles in Delhi, heavy fine for violating rules

Drivers on the roads of Delhi now have to be extra careful as violations of these speed limits will result in paying a heavy fine.




DNA - Published





Uttar Pradesh CM Yogi Adityanath arrives at Lok Kalyan Marg to meet PM Modi

Chief minister Yogi Adityanath, who is on a two-day visit to Delhi, arrived at 7 Lok Kalyan Marg, PM's official residence, to meet PM Narendra Modi on Friday morning. The UP CM will also meet BJP..




IndiaTimes - Published





Uttar Pradesh Chief Minister Yogi Adityanath meets PM Modi in Delhi

After meeting with the Prime Minister, Adityanath will meet BJP chief JP Nadda to discuss the political situation in the state




DNA - Published





Indians stuck, allow two-way travel, Delhi tells Beijing on curbs




IndiaTimes - Published





Buzz of rejig in Lucknow & Delhi as Yogi meets Amit Shah

Yogi's arrival in the national Capital once again reignited speculation about an imminent leadership change in UP, perplexing the party brass. ​​Senior saffron figures are intrigued by the..




IndiaTimes - Published





Thousands of farmers march towards Delhi, police on alert

The farmers had made a call that they would reach Delhi's Singhu border on June 10 and be a part of the months-long farmers' agitation.




DNA - Published

Also reported by •IndiaTimes


Uttar Pradesh CM likely to meet Shah, Nadda in Delhi

Uttar Pradesh chief minister Yogi Adityanath is on a visit to the national capital where he is likely to meet top BJP leaders, including Union home minister Amit Shah and party chief JP Nadda, sources..




IndiaTimes - Published





Give Sachin Pilot what he was promised, says Rahul aide Jitendra

On a day the Congress suffered a jolt with Jitin Prasada joining the BJP in Delhi, the crisis in the party deepened in Rajasthan with AICC general secretary and former MP Bhanwar Jitendra Singh coming..




IndiaTimes - Published





17 killed as bus collides with auto in UP's Kanpur, PM Modi announces Rs 2 lakh ex-gratia

The bus, which was travelling from Lucknow to Delhi, collided with an auto coming from the opposite direction.




DNA - Published





Delhi weather update: Temperature to soar up to 43 degrees today

After observing 42 degrees Celsius on Tuesday, The IMD has issued a warning that the temperature in Delhi could rise further today.




DNA - Published





Suvendu Adhikari meets Amit Shah in Delhi




IndiaTimes - Published





Population of farm labourers is higher than that of cultivators in over half of India's districts: Report

Farmer protests in India have registered an almost five-fold increase since 2017, said the Centre for Science and Environment (CSE) in its new report that also factored in the ongoing protests against..




IndiaTimes - Published





Free vaccines: States thank Centre for 'accepting request'; Delhi govt credits SC for decision

Several opposition-ruled states on Monday thanked the Centre for "accepting their demand" of centralised procurement of Covid vaccines even as the Delhi govt credited the Supreme Court for the decision..




IndiaTimes - Published





Over 31 lakh vaccine doses administered on Monday; total crosses 23.5 crore

The cumulative number of Covid-19 vaccine doses administered in the country exceeded 23.59 crore, with over 31 lakh doses given on Monday, the Union health ministry said. Bihar, Delhi, Gujarat,..




IndiaTimes - Published





Delhi govt thanks Supreme Court for free vaccines as states welcome Centre's new policy




IndiaTimes - Published





Uddhav Thackeray to meet PM Modi in Delhi tomorrow to discuss Maratha reservation issue




IndiaTimes - Published





Delhi all set to begin Unlock 2.0 from today: Know what's open, what's shut

Public movement, transport, markets, and malls will restart partially in the national capital from Monday after one and half months' lockdown.




DNA - Published





Covid cases falling twice as fast in north India than in south India and Maharashtra

Since hitting its peak on May 9, the seven-day rolling average of daily cases in Haryana has declined at an average rate of 8.9% each day (till June 3), the sharpest among 18 major states that TOI..




IndiaTimes - Published





Need to prioritise pregnant women for Covid-19 vaccination: Report

For Covid not to further aggravate the already heavy burden of maternal and under five mortality, there is a strong case for inclusion of pregnant women as a high priority group for vaccination, a..




IndiaTimes - Published





Delhi govt hospital bars nurses from speaking Malayalam at work, withdraws order after outrage

The circular invited criticism from the medical fraternity, political leaders and the public.




DNA - Published





Forest fires may have worsened Doon air quality to Delhi levels




IndiaTimes - Published





Delhi government's ration scheme returned for reconsideration: LG

Earlier, the Delhi government had claimed that Lieutenant Governor Anil Baijal has blocked its 'Doorstep Delivery of Ration' scheme.




DNA - Published





Delhi preparing for 37,000 cases a day during third Covid wave: CM Kejriwal




IndiaTimes - Published





Delhi lockdown latest update: CM Arvind Kejriwal makes BIG announcement, markets, mall to open on odd-even basis

Delhi had begun the unlocking process from May 31 with factories and the construction sector to resume operations.




DNA - Published





Delhi high court dismisses Juhi Chawla's lawsuit against 5G, slaps 20 lakh fine




IndiaTimes - Published





Delhi Unlock 2.0: Markets may open soon, Delhi metro likely to resume in staggered manner

It is also expected that the Delhi metro will resume functioning in a staggered manner during Unlock 2, which is expected to start from June 7.




DNA - Published