Delhi
Megacity and union territory of India, containing the national capital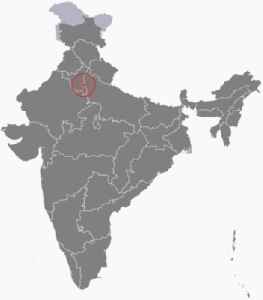 Delhi, officially known as the National Capital Territory of Delhi (NCT), is a city and a union territory of India containing New Delhi, the capital of India. It is bordered by the state of Haryana on three sides and by Uttar Pradesh to the east. The NCT covers an area of 1,484 square kilometres (573 sq mi). According to the 2011 census, Delhi's city proper population was over 11 million, the second-highest in India after Mumbai, while the whole NCT's population was about 16.8 million. Delhi's urban area is now considered to extend beyond the NCT boundaries, and include the neighbouring satellite cities of Ghaziabad, Faridabad, Gurgaon and Noida in an area called the National Capital Region (NCR) and had an estimated 2016 population of over 26 million people, making it the world's second-largest urban area according to the United Nations. Recent estimates of the metro economy of its urban area have ranked Delhi either the most or second-most productive metro area of India. Delhi is the second-wealthiest city in India after Mumbai and is home to 18 billionaires and 23,000 millionaires. Delhi ranks fifth among the Indian states and union territories in human development index. Delhi has the second-highest GDP per capita in India. Delhi is of great historical significance as an important commercial, transport, and cultural hub, as well as the political centre of India.


Medical apathy! Newborn dies at Delhi hospital due to unavailability of ventilator

A newborn baby died at a Delhi hospital due to unavailability of ventilator. The family claimed that they didn't receive the needed treatment. "The newborn had a pre-mature birth and needed ventilator..
Credit: ANI Duration: 02:10
Published
Riots case: Why Delhi police didn't act against Kapil Mishra | On The Record

As a controversy rages over Delhi Police's probe into the February 2020 riots, former chief of the force, Neeraj Kumar, has come out in support of the investigation so far. In a conversation with..
Credit: HT Digital Content Duration: 09:58
Published
Why are Covid cases rising in Delhi? Health Minister Satyendar Jain answers

Delhi Health Minister Satyendar Jain on Thursday said that COVID-19 cases are likely rise in Delhi as testing in the national capital has been increased four times. The health minister added that the..
Credit: HT Digital Content Duration: 04:00
Published
COVID death rate in Delhi for last 10 days at 0.7%: Satyendar Jain

The national capital, which has shown tremendous increment in COVID cases since the beginning of this month, reported 4,473 new cases on September 16. "The death rate is at 0.7% from the last 10 days...
Credit: ANI Duration: 01:26
Published
COVID cases to further rise in Delhi due to increased testing: Satyendar Jain

Delhi Health Minister Satyendar Jain on September 17 said that his government has increased COVID-19 testing cases four times due to which numbers are likely to rise in Delhi for 10-15 days. "This will..
Credit: ANI Duration: 02:18
Published
BJP youth wing plants 70 tress at Delhi's Lodhi Garden on PM Modi's 70th birthday

Bharatiya Janata Yuva Morcha (BJYM) planted 70 trees on the occasion of Prime Minister Narendra Modi's 70th birthday on September 17. They planted trees at Lodhi Garden to mark and celebrate the 70th..
Credit: ANI Duration: 03:17
Published
PM Modi birthday: 70 NDMC workers felicitated, 70-kg laddoo offered at temple

'Seva Saptah' is being celebrated by BJP to mark PM Modi's birthday. Prime Minister Narendra Modi turns 70 on September 17, 2020. As a part of celebration, 70 NDMC workers were felicitated for their..
Credit: HT Digital Content Duration: 02:12
Published
Delhi gyms reopen with proper COVID precautionary measures

Gyms re-opened in the national capital after over 5 months in the wake of COVID-19 pandemic. Proper COVID-19 precautionary measures have been taken at the gyms to ensure safety. The clients are..
Credit: ANI Duration: 02:40
Published
CPI-M protest in Kerala against Yechury being named in Delhi riots cases

The Communist Party of India (Marxist) on Tuesday staged protest against the naming of party general secretary Sitaram Yechury in cases related to Delhi riots. The violence took place in northeast..
Credit: ANI Duration: 01:36
Published
India's average COVID-19 positivity rate is 8.4%: Health Ministry

Union Health Ministry Secretary, Rajesh Bhushan held a press conference in Delhi to brief the media over the current situation of COVID-19 in the nation. He said that the country's average positivity..
Credit: ANI Duration: 02:09
Published
Watch: Fitness enthusiasts explain what it's like to work out as Delhi gyms reopen

The Delhi government allowed gyms and yoga centres in the national capital to reopen after being closed for over five months due to the Covid-19 pandemic. In an order issued, the Delhi Disaster..
Credit: HT Digital Content Duration: 02:36
Published
Delhi riots: Facebook's refusal to appear before Delhi committee is attempt to conceal facts, says Raghav Chadha

Delhi Assembly's Peace and Harmony Committee Chief Raghav Chadha said, "We had summoned Facebook India VP and MD Ajit Mohan over its role in Delhi riots. In reply, Facebook has asked to withdraw summon..
Credit: ANI Duration: 03:53
Published
Covid-19: India at 80k deaths, cases move closer to 5 million

Hindustan Times' National Political Editor, Sunetra Choudhury brings you the top stories you need to know. Sunetra talks about the number of Covid-19 cases in India so far; 1000 daily deaths; Covid..
Credit: HT Digital Content Duration: 03:53
Published
Unlock 4.0: Gyms resumes operations in Delhi after over 5 months

Gymnasiums, yoga centres and fitness clubs began operations in Delhi from September 14. Delhi government issued new guidelines for unlock 4.0 amid coronavirus pandemic. The gym owners are making sure..
Credit: ANI Duration: 03:43
Published
Covid update: 1,500 crore vaccine doses; onion export ban; Oct-Nov warning

From the CEO of the world's largest vaccine manufacturer commenting on the possible timeline of the final vaccine reaching every person on the planet, to the World Health Organisation warning that the..
Credit: HT Digital Content Duration: 02:18
Published
You Might Like



UPSC aspirant raped in Delhi's Nehru Vihar, accused absconding

A UPSC aspirant, who came to Delhi to prepare for the exams was allegedly raped by a man after she refused to marry him.




DNA - Published





Political parties meet President Ram Nath Kovind, demand judge-led inquiry, 'credible, unbiased probe' into Delhi riots




IndiaTimes - Published





This is why COVID-19 cases in Delhi are likely to rise

Delhi Health Minister has said that the number of coronavirus cases in the national capital is likely to rise for around 10 to 15 days.




DNA - Published





Opposition leaders to meet President over Delhi riots case




IndiaTimes - Published





Maha to send panel to Delhi, seek rollback of onion export ban




IndiaTimes - Published





17,000-page chargesheet filed against 15 for riots conspiracy

A little less than 200 days after filing an FIR to investigate the conspiracy behind the riots that rocked northeast Delhi in February this year, Delhi Police's special cell on Wednesday filed a..




IndiaTimes - Published





814 hectares of rail land under encroachment across country: Railway minister

The Supreme Court, in its order dated August 31 issued in the context of piling up of the waste/garbage beside the railway tracks in Delhi, has directed for preparation of a comprehensive plan for..




IndiaTimes - Published





Delhi Riots Case: Police name 15 people in 20,000-page chargesheet

The charge sheet in Delhi riots case filed today does not have names of Umar Khalid and Sharjeel Imam as accused as they were arrested a few days ago. So, their names will be in the supplementary..




DNA - Published





Delhi BJP chief Adesh Gupta tests positive for coronavirus

At 9:30 AM on this day, the COVID-19 tally in the country has reached 50,20,360 cases, which include 9,95,933 active cases; 39,42,361 cured, discharged, or migrated patients, and 82,066 deaths.




DNA - Published





NSCN-IM brass in Delhi to thrash out final deal




IndiaTimes - Published





2 Noida, 4 Mumbai healthcare workers are confirmed cases of reinfection

Two healthcare workers from a Noida hospital could be the country's first genetically proven cases of Covid-19 reinfection, according to the preprint of a research paper submitted by the prestigious..




IndiaTimes - Published





Centre asks Karnataka, Andhra Pradesh, Maharashtra and Delhi to ramp up testing

The Centre has asked Karnataka, Andhra Pradesh, Maharashtra and Delhi to ramp up testing as the positivity rate in these states continues to be significantly higher than the national average of 8.4% .




IndiaTimes - Published





Attempt was made to influence Delhi polls, says ex-staffer of FB

A former Facebook employee, Sophie Zhang, has alleged that a "coordinated attempt" was made on the social media platform to "influence" the Delhi elections in February this year.




IndiaTimes - Published





Delhi assembly panel to issue 'final notice' to Facebook after representative skips proceedings

A Delhi assembly panel decided on Tuesday to issue a "final notice" to Facebook after no representative appeared before the committee that is hearing allegations against the social media giant. During..




IndiaTimes - Published





Amid Taliban talks, US special representative for Afghanistan reaches Delhi




IndiaTimes - Published





Delhi Deputy Chief Minister Manish Sisodia tests positive for COVID-19

Taking to microblogging site Twitter, Sisodia said, "After having a mild fever, the corona test was conducted today, whose report has come positive. I have kept myself in isolation. Right now there is..




DNA - Published





Academicians, activists condemn Umar Khalid's arrest, call it 'witch-hunt'

A section of academicians, politicians and social activists on Monday expressed solidarity with former JNU student leader Umar Khalid, who was arrested under the Unlawful Activities (Prevention) Act..




IndiaTimes - Published





'Tested positive in Delhi, negative in Jaipur': MP Hanuman Beniwal shares conflicting COVID-19 test reports on Twitter

In the wake of 17 Member of Parliament (MPs) testing positive for coronavirus disease (COVID-19) on Day 1 of the Parliament's Monsoon Session, Rashtriya Loktantrik Party (RLP) MP Hanuman Beniwal on..




DNA - Published





No slum dwellers along railway tracks in Delhi will be removed till decision is taken: Centre to SC

A bench headed by Chief Justice S A Bobde was informed by Solicitor General Tushar Mehta that a final decision would be taken in consultation with the Railways, the Delhi government and the Urban..




IndiaTimes - Published





Delhi slum eviction: 48,000 slums won't be removed along rail tracks till final decision, Centre tells SC

The Centre on Monday informed the Supreme Court that for the time being there will be no removal of 48,000 slums along the railway tracks in Delhi till a decision is taken.




DNA - Published





Delhi Riots: Former JNU student leader Umar Khalid arrested under UAPA; to be produced in court today

Former JNU student leader Umar Khalid was arrested by the Delhi Police on Sunday night, under the Unlawful Activities (Prevention) Act (UAPA) in connection with northeast Delhi riots that broke out in..




DNA - Published





Umar Khalid held for Delhi riots 'conspiracy'

Police claimed to have found "crucial evidence", including Khalid's movement during the riots, after interrogating him about meeting members of 'United Against Hate' groups and the Popular..




IndiaTimes - Published





Ex-JNU student leader Umar Khalid arrested in connection with northeast Delhi riots




IndiaTimes - Published





Farooq Abdullah arrives for Monsoon Session, his first Delhi visit since J&K special status withdrawn




IndiaTimes - Published





Gyms, Yoga Institutes allowed to reopen in Delhi except in containment zones; here are important guidelines, SOPs

Gyms and Yoga Institutes across the national capital Delhi have been allowed on Sunday (September 13) to reopen their doors to the public with immediate effect, as part of the arrangements to reopen..




DNA - Published




Delhi Riots: Congress opposes naming of Left leader Sitaram Yechury in charge sheet, to raise issue in Parliament

The Congress has flayed the naming of Left leader Sitaram Yechury and others in a Delhi Police supplementary charge sheet in a Delhi riots case and said it will raise the issue in Parliament.




DNA - Published





Former Union Minister Raghuvansh Prasad Singh passes away at 74

Singh was undergoing treatment at Delhi's AIIMS after he developed post COVID-19 complications.




DNA - Published





Delhi mixologist raises bar, debuts on World 100 list of top watering holes




IndiaTimes - Published





Delhi riots: Sitaram Yechury, Yogendra Yadav, economist Jayati Ghosh named co-conspirators in supplementary chargesheet

According to the news agency, they were named accused based on the confession of three students--women's collective Pinjra Tod members and JNU students Devangana Kalita and Natasha Narwal, and Gulfisha..




DNA - Published





Bookings for daily flights from Darbhanga airport to start by month-end: Aviation Minister Hardeep Puri

The bookings for daily flights will start by end of September from Darbhanga to Delhi, Mumbai and Bengaluru, said Hardeep Singh Puri, MoS, I/C, Civil Aviation. After reviewing the groundwork of..




DNA - Published





Couple of briefings after Batla House encounter, MHA said no more pressers: Karnal Singh

After Delhi Police held a few press conferences following the Batla House encounter, it was instructed by MHA not to brief the media further on the progress of probe, says Karnal Singh, who spearheaded..




IndiaTimes - Published





Ready to help Delhi fight Covid, if they ask: Punjab CM Amarinder




IndiaTimes - Published





South India's first 'Kisan Rail' carrying vegetables and fruits from Andhra Pradesh reaches Delhi

With an aim to help farmers to sell their produce, South India's first 'Kisan Rail', carrying 332 tonnes of vegetables and fruits from Andhra Pradesh's Anantapur reached Adarsh Nagar railway station on..




IndiaTimes - Published





Renowned social activist, Arya Samaj leader Swami Agnivesh passes away in Delhi hospital

Renowned Arya Samaj leader Swami Agnivesh passed away on Friday after a cardiac arrest at the Institute of Liver and Biliary Sciences here on Friday evening. The hospital records have confirmed 6.30 pm..




DNA - Published

Also reported by •IndiaTimes


Congress leader Ajay Maken moves SC for rehabilitation of dwellers along rail tracks before eviction

Senior Congress leader and former minister Ajay Maken has moved the Supreme Court seeking rehabilitation of slum dwellers prior to the removal of 48,000 dwellings alongside the railway tracks in Delhi...




IndiaTimes - Published





ED brings Deepak Kochhar to Delhi for interrogation




IndiaTimes - Published





Delhi violence: Suspended AAP councillor Tahir Hussain sent to judicial custody in money laundering case

Additional Solicitor General SV Raju, representing the ED, said that Tahir Hussain has been sent to judicial custody by a trial court today and the agency did not seek his further custody. Raju said..




DNA - Published





Monsoon to stay longer in Delhi, withdrawal in Oct 1st week: IMD

Monsoon is likely to stay longer in the national capital and start withdrawing only in the "initial days of October", an India Meteorological Department official said on Thursday.




IndiaTimes - Published





Unlock 4: Delhi metro resumes services on Red, Green, Violet lines

The Delhi Metro will be running on Rithala - Shaheed Sthal (Red Line), Kirti Nagar/Inderlok - Brig. Hoshiar Singh (Green Line) and Kashmere Gate - Raja Nahar Singh (Violet Line) routes from 7 am to 11..




DNA - Published





French defence minister arrives in Delhi, to attend Rafale induction ceremony at Ambala

French Defence Minister Florence Parly arrived here in the national capital on an official visit on Thursday morning, ahead of the formal induction of the first five Indian Air Force Rafale jets at..




IndiaTimes - Published





Delhi records highest single-day increase in COVID-19 cases, tally crosses two lakh-mark

In the last 24 hours, 2,623 people were cured and so far 1,72,763 people have been cured. The total number of patients in home isolation is 12,518. A total of 19,03,780 tests have been conducted in..




DNA - Published





Bihar's Darbhanga Airport to get flight connectivity with Delhi, Mumbai, Bengaluru

Airports Authority of India (AAI) is developing the civil enclave at Darbhanga for the commencement of civil flight operations for Delhi, Mumbai, and Bengaluru under the Regional Connectivity Scheme..




DNA - Published





Delhi: 90-year-old woman raped, 37 years old accused arrested

Delhi police have arrested a 37-year-old man for allegedly raping a 90-year-old woman. The incident took place in a secluded southwest Delhi's Chhawla region. Police said that on Monday the elderly..




DNA - Published





Delhi health minister Satyendar Jain says COVID cases spike will 'plateau' after 10 days

Delhi Health Minister Satyendar Jain also asserted that the home isolation policy has proved a "game changer" in taming the surge, a strategy the city government will continue to pursue.




DNA - Published





CM BSY to pursue Suburban rail project in Delhi




IndiaTimes - Published





Delhi: 86-year-old woman raped by youth in Chhawla village area

The accused offered her a lift after which he took her to a secluded area and raped her. The accused is a resident of Rewla Khanpur locality in the national capital.




DNA - Published





ZEE News thanks the auto-rickshaw drivers of Delhi and Noida

The role of these auto-rickshaw drivers went unnoticed and unrecognized during this pandemic but team ZEE News has yet again stood by their values of a responsible news channel. Here's what they did




DNA - Published





Ram temple construction committee chairman Nripendra Mishra's visit to Ayodhya begins today

The chairman of the committee for the construction of the Ram temple, Nripendra Mishra, will begin his visit to Ayodhya today. Mishra is scheduled to reach Ayodhya from Delhi by today evening.




IndiaTimes - Published





'I didn't travel to Delhi for the case, didn't meet my lawyer'




IndiaTimes - Published





At 66%, Andhra's literacy rate worst, Delhi's 2nd best at 89%




IndiaTimes - Published