Delhi
Megacity and union territory of India, containing the national capital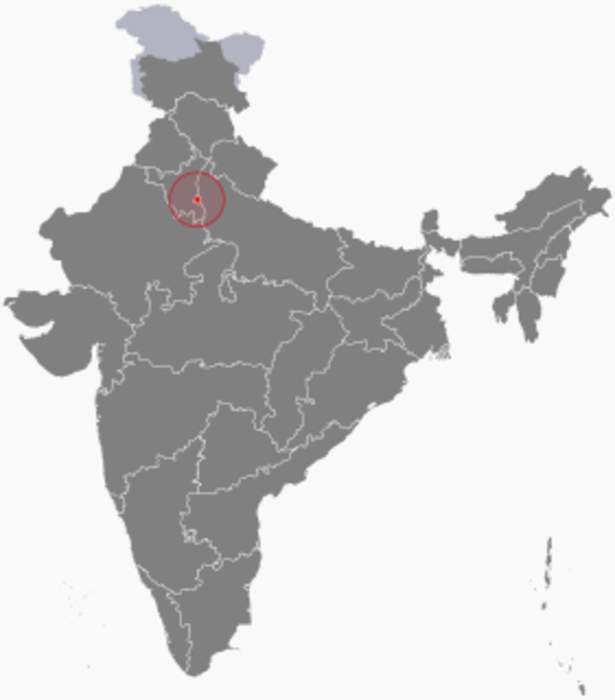 Delhi, officially known as the National Capital Territory (NCT) of Delhi, is a city and a union territory of India containing New Delhi, the capital of India. It is bordered by the state of Haryana on three sides and by Uttar Pradesh to the east. The NCT covers an area of 1,484 square kilometres (573 sq mi). According to the 2011 census, Delhi's city proper population was over 11 million, the second-highest in India after Mumbai, while the whole NCT's population was about 16.8 million. Delhi's urban area is now considered to extend beyond the NCT boundaries, and include the neighbouring satellite cities of Ghaziabad, Faridabad, Gurgaon and Noida in an area called the National Capital Region (NCR) and had an estimated 2016 population of over 26 million people, making it the world's second-largest urban area according to the United Nations. Recent estimates of the metro economy of its urban area have ranked Delhi either the most or second-most productive metro area of India. Delhi is the second-wealthiest city in India after Mumbai and is home to 18 billionaires and 23,000 millionaires. Delhi ranks fifth among the Indian states and union territories in human development index. Delhi has the second-highest GDP per capita in India. Delhi is of great historical significance as an important commercial, transport, and cultural hub, as well as the political centre of India.


Fog, cold waves engulf Delhi

A layer of fog engulfed parts of the national capital in the wee hours of January 19. Fog reduced visibility in parts of the city. Cold waves persisted over the northern-region.
Credit: ANI Duration: 01:03
Published
Farmers' tractor rally won't disturb Republic Day parade: Rakesh Tikait

Bharatiya Kisan Union (BKU) spokesperson Rakesh Tikait on January 18 said that farmer's tractor parade on January 26 will not disturb the Republic Day event of the government. "Tomorrow we will talk to..
Credit: ANI Duration: 01:29
Published
6 Rohingyas arrested from Anand Vihar Railway Station: Police

Delhi Police has arrested six Rohingyas from Anand Vihar Railway Station after receiving inputs about their arrival in the national capital from Tripura by a special train on January 06. DCP (East)..
Credit: ANI Duration: 00:55
Published
Meet the chef taking Delhi's spices to new horizons

Spices are at the heart of all Indian food and Chef Kuldeep Negi understands them better than most. In his Singapore restaurant, Negi serves up a bite of his Delhi heritage – with a kick.
Credit: Bleacher Report AOL Duration: 02:36
Published
Harsh Vardhan inaugurates Burn and Plastic Surgery block at Delhi's AIIMS

Union Health Minister Dr Harsh Vardhan inaugurated the 'Burn and Plastic Surgery' block at All India Institute of Medical Sciences (AIIMS), New Delhi on January 18. "It is a matter of joy for AIIMS..
Credit: HT Digital Content Duration: 02:21
Published
Delhi schools reopen for Class 10, 12 students; Sisodia inspects Covid protocols

Public & Private schools for Class 10 and 12 reopened in the national capital after 10 months. Educational institutions were shut due to the coronavirus pandemic. After a long break, students reached..
Credit: HT Digital Content Duration: 04:41
Published
Manish Sisodia visits school in Delhi's Chirag Enclave

Delhi Deputy Chief Minister and Education Minister Manish Sisodia visited Kautilya Govt Sarvodaya Bal Vidyalaya. He met the students in Delhi on January 18. Government, government-aided/unaided schools..
Credit: ANI Duration: 02:48
Published
Schools for classes 10th, 12th reopen in Delhi

After remaining closed for nearly 10-months, due to the pandemic induced lockdown, Delhi government allowed reopening of schools from January 18. The school has been opened for classes 10th and 12th...
Credit: ANI Duration: 03:20
Published
Delhi continues to shiver under cold wave

Dense fog shrouded the national capital reducing the visibility in the morning of January 18. Cold waves blowing across city left Delhiites shivering. Severe winters continued to tighten its grip over..
Credit: ANI Duration: 02:14
Published
R-Day terror threat: Posters in Delhi after govt's Khalistan warning on farm stir

Delhi police put up 'wanted terrorist' posters ahead of Republic Day in Connaught Place. Alleged operatives of Khalistani groups and Al Qaeda were named in posters. Just days earlier, the government..
Credit: HT Digital Content Duration: 02:38
Published
Farmers will take out R-Day tractor parade on Delhi's Outer Ring Road: Yogendra Yadav

Swaraj India's Yogendra Yadav on January 17 informed that farmers will carry out a tractor parade on Republic Day on Outer Ring Road of Delhi, in an attempt to make government listen to their demands..
Credit: ANI Duration: 02:07
Published
Delhi Police puts up posters of Khalistani, Al-Qaeda terrorists in CP over Jan 26 threats

Delhi Police has placed posters of terrorists affiliated with Khalistani outfits and Al-Qaeda at Connaught Place after receiving "inputs that some terrorist organisations including Khalistani outfits..
Credit: ANI Duration: 01:58
Published
'51 minor, 1serious events were reported,' says Satyendar Jain on vaccination drive

Delhi Health Minister Satyendar Jain informed that around 4,317 health care workers were inoculated with COVID-19 vaccine on January 17. As the number was far less than the set target, Satyendar Jain..
Credit: ANI Duration: 01:53
Published
Some people want to turn farmers' agitation violent on behest of govt: Kisan Sangharsh Samiti

While addressing a joint press conference at Tikri Border on January 17, the convener of Kisan Sangharsh Samiti in Haryana, Mandip Nathwan spoke on farmers protest. Nathwan said, "On behest of..
Credit: ANI Duration: 02:00
Published
Delhi shivers amid dense fog, cold waves

Cold weather continued to tighten its grip over North India. Dense fog shrouded the national capital reducing the visibility in the morning of January 17. Delhi shivered due to the severe cold waves..
Credit: ANI Duration: 01:55
Published
You Might Like



Delhi Police to decide on farmers' entry into capital, SC says

The Supreme Court on Monday said it is for Delhi police to decide whether to allow the protesting farmers to enter the national capital on Republic Day. Hearing the application filed by Delhi Police..




IndiaTimes - Published





Delhi Police to decide entry into capital, says SC on Republic Day tractor march by farmers

The Supreme court on Monday (January 18) said during a hearing that it is the responsibility of Delhi police to determine who should enter the capital




DNA - Published





Delhi air quality improves slightly, AQI moves from 'severe' to 'very poor'

SAFAR predicted a slight increase in pollutants for Tuesday and further improvement is expected on January 20.




DNA - Published





Will hold tractor rally in Delhi on Republic -Day: Farmers




IndiaTimes - Published





64% vaccine turnout after 2 days, government expects footfall to rise

Four states — Tamil Nadu, Punjab, Tripura and Puducherry — recorded low turnout of beneficiaries in the range of 22-34%, whereas other states reported more than 50% attendance of those who were..




IndiaTimes - Published





CBI arrests Senior Railways officer, two others for demanding bribe of Rs 1 crore

CBI launched a widespread search operation at 21 locations in five states - Delhi, Uttarakhand, Tripura, West Bengal and Assam.




DNA - Published





Govt asks farmers to give up stubborn stand, agitators firm on Republic Day tractor march

Farmers will carry out a tractor parade along Delhi's Outer Ring Road on Republic Day, announced Swaraj India leader Yogendra Yadav on Sunday.




DNA - Published





COVID-19 vaccination: 51 cases of adverse effects in Delhi, one 'bit serious'

The remaining people were not hospitalised but were closely observed for a while.




DNA - Published





Farmer unions say they will go ahead with tractor march in Delhi on Republic Day

Farmer unions protesting against the Centre's agri laws said on Sunday that they will go ahead with their proposed tractor parade in Delhi on Republic Day.




IndiaTimes - Published





Farmers prepared to protest till May 2024: BKU leader Tikait

Bharatiya Kisan Union (BKU) leader Rakesh Tikait on Sunday said farmers are prepared to protest against the Centre's new farm laws "till May 2024", and termed the ongoing agitation by peasants at Delhi..




IndiaTimes - Published





Farmers' protest: SC to hear Centre's plea against proposed tractor rally on Jan 18

A three-judge bench headed by Chief Justice of India Sharad Arvind Bobde will hear the application on January 18 along with pleas raising the issue of farmers protesting at Delhi borders.




IndiaTimes - Published





RTI applicant must disclose interest in seeking info, says Delhi HC

Har Kishan had sought information that included the complete address and father's name of all those who had been appointed to the post of multitasking staff, and alleged irregularities. During the..




IndiaTimes - Published





Some vaccinate, others vacillate: 53% of those enrolled turn up in Delhi

Most of the beneficiaries were staffers working at the hospitals where vaccine centres have been set up. Those scheduled to get the vaccine but could not turn up will not be accommodated on the next..




IndiaTimes - Published





COVID-19: One shows serious side effect after receiving vaccine shot in Delhi, 51 minor side effects

At least 4,319 healthcare workers received COVID-19 shot against the target of 8,117.




DNA - Published





Will continue working without hesitation, says sanitation worker who received Covid-19 vaccine shot

Manish Kumar, a sanitation worker who was the first person to receive Covid-19 vaccine jab at AIIMS, Delhi on Saturday said he will continue to fulfill his duties without hesitation. "After..




IndiaTimes - Published





Resident docs in RML Hospital want Covishield, expresses 'bit apprehension' about Covaxin

Resident doctors of Delhi's Ram Manohar Lohia Hospital have requested the medical superintendent to vaccinate them with Covishield. "The residents are a bit apprehensive about the lack of complete..




IndiaTimes - Published





Poor visibility in Delhi-NCR due to dense fog, AQI turns 'severe' too

According to the IMD, Delhi recorded minimum and maximum temperature of 6.4 and 20.8 degrees Celsius respectively on January 15, a notch above normal.




DNA - Published





War room in Delhi to keep real-time tabs on Operation Vaccine




IndiaTimes - Published





No chicken and egg items on Vistara, IndiGo flights from Delhi




IndiaTimes - Published





Mollified, Satabdi cancels Delhi trip




IndiaTimes - Published





President gives Rs 5 lakh for construction of Ram Temple

Kovind made the donation to a delegation of Shree Ram Jambhoomi Teerth Kshetra Trust, which visited him at 11am on Friday. Trust treasurer Govind Dev Giri, VHP working president Alok Kumar,..




IndiaTimes - Published





COVID-19 vaccine, border issue discussed during India-Nepal talks in Delhi

On the COVID-19 vaccine, the Indian side assured that Nepal's requirement will be a priority consideration.




DNA - Published





Congress leaders laugh at Rahul's remarks, party had promised similar laws: Union agriculture minister Narendra Singh Tomar

Union agriculture minister Narendra Singh Tomar hit back at Congress leader Rahul Gandhi on Friday for his remarks against Prime Minister Narendra Modi over the ongoing farmers' protest at Delhi's..




IndiaTimes - Published





Delhi prepares for COVID-19 vaccination on Saturday, check details

Vaccination will kick off from the state-run LNJP Hospital with a simple ceremony in the presence of Kejriwal




DNA - Published





9th round of talks between government, farmer leaders underway in Delhi

When asked if the government will continue dialogue with farmers, Tomar said that will depend on the outcome of today's meeting.




DNA - Published





Fire breaks out at scrap godown in Delhi's Kirti Nagar, three dead

Police said the fire reportedly started in a small scrap shop near a government liquor shop in Kamla Nehru Camp, Kirti Nagar owned by Tony Mehto.




DNA - Published





Delhi govt extends 14-day quarantine order for UK returnees till January 31

Flights from the United Kingdom resumed on Friday in a limited capacity amid concerns about the new strain of the COVID-19 that was recently detected.




DNA - Published





Anna Hazare says he will launch hunger strike on farmers' issues in Delhi




IndiaTimes - Published





Delhi: 20-month-old toddler becomes youngest cadaver donor, saves five lives

Despite the irreparable loss, parents of Dhanishtha, Ashish Kumar and Babita had the magnanimity to donate their child's organs.




DNA - Published





COVID-19 vaccine free for everyone in Delhi, not just health workers: Kejriwal

The Delhi chief minister made the announcement three days before the COVID-19 vaccination drive is going to start in the country on January 16.




DNA - Published





Delhi court summons BJP MP Hans Raj Hans for providing 'ambiguous information' in election affidavit

The court also issued notice to Investigating Officer to file a report regarding the progress of the further investigation.




DNA - Published





No relief to Delhiites from cold weather this week, temperature to fall

On Thursday, the temperature slipped to 4.4 degrees Celsius in Delhi at 5:30 am. Thick fog decreased the visibility to less than 10 metres.




DNA - Published





After Delhi and West Bengal, this state announces free vaccine for its people - Read details here

The government had announced on Saturday (January 9) that the vaccination program will start from January 16 across the country.




DNA - Published





COVID-19: Delhi CM Arvind Kejriwal makes big announcement about vaccines-details here

The government had announced on Saturday (January 9) that the vaccination program will start from January 16 across the country.




DNA - Published





Mumbai, Bengaluru & Delhi in top 10 world cities in traffic congestion; indicating revival of economic activities

If increased traffic is an indicator of revived economic activities after the pandemic induced lockdown, then India seems to be doing well. Mumbai, Delhi and Bengaluru made it to the list of top 10..




IndiaTimes - Published





After Covishield, first batch of Bharat Biotech's Covaxin arrives in Delhi

Both Covishield and Covaxin, the two COVID-19 vaccines, have received Emergency Use Authorisation from the government.




DNA - Published





Air India carries first consignment of Bharat Biotech Covid vaccine from Hyderabad to Delhi




IndiaTimes - Published





India's biggest vaccine rollout begins as SII ships 55 lakh doses

Delhi, Chennai, Kolkata and Hyderabad, the four major regional depots for Covid-19 vaccines, received their quantum of Covishield doses within 10 hours since their dispatch began from the SII premises..




IndiaTimes - Published





All 4 members back agri laws, will proceed with R-Day rally: Protesters

Farmer unions opposed to the central farm laws on Tuesday said the stay on implementation of farm legislations was not a solution as it could be undone any time and therefore they would continue their..




IndiaTimes - Published





Covid norms see 1-way US fares fly past Rs 1 lakh

Airfares to the US are at an all-time high for Indian passengers with the cheapest one-way fare for travel this month from cities such as Mumbai, Delhi and Bengaluru to places such as New York and San..




IndiaTimes - Published





Agriculture experts welcome SC decision to stay implementation of new farm laws

Eminent agriculture economists on Tuesday welcomed the Supreme Court's decision to stay the implementation of the new farm laws till further orders and set up a four-member committee to resolve the..




IndiaTimes - Published





First Covishield vaccine consignment from Pune reaches Delhi

The government had announced on January 9 that the vaccination program will start from January 16 across the country.




DNA - Published





SpiceJet carries India's first consignment of Covid vaccine 'Covidshield' from Pune to Delhi




IndiaTimes - Published





Bird flu scare: Delhi, Uttar Pradesh among 10 states to confirm outbreak - Check complete list here

The outbreak of bird flu has been confirmed in Kerala, Rajasthan, MP, Himachal Pradesh, Haryana, Gujarat, UP, Delhi, Uttarakhand and Maharashtra.




DNA - Published





Delhi, Maharashtra confirm bird flu cases: All you need to know




IndiaTimes - Published





After Maharashtra, bird flu confirmed in Delhi, 9th state to be affected

Apart from Kerala, bird flu has reached Gujarat, Haryana, Madhya Pradesh, Himachal Pradesh, Rajasthan, Maharashtra, Delhi and Uttar Pradesh.




DNA - Published





BJP chief JP Nadda on 2-day Assam visit from today, to address rally in Silchar

He would visit the famous Kamakhya temple in Guwahati on Tuesday, before leaving for Delhi. He attended various party programmes in West Bengal.




DNA - Published





16 pilgrims from Delhi injured in J&K accident

At least 16 pilgrims from Delhi visiting Mata Vaishno Devi shrine in J&K were injured when their vehicle overturned near Chenani in Udhampur district late Saturday. Ten others escaped unhurt in the..




IndiaTimes - Published





Bird flu confirmed in 7 states; test results of Delhi, Maharashtra samples awaited




IndiaTimes - Published





Delhi: Farmer allegedly commits suicide at Singhu border

The farmer was a resident of Punjab's Fatehgarh Sahib district He has been identified as Amarinder Singh.




DNA - Published