Karnataka
State in southern India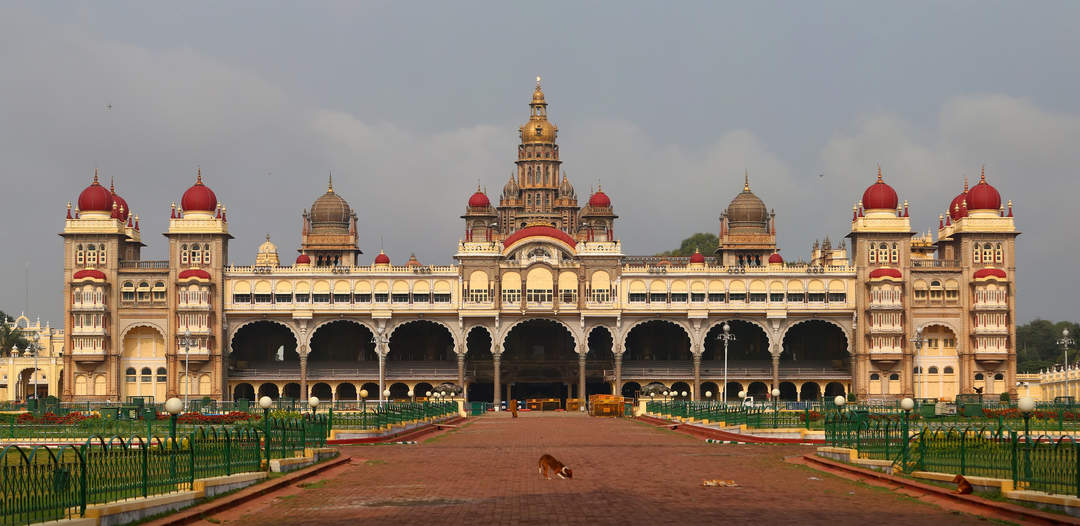 Karnataka, formerly Mysore State, is a state in the southwestern region of India. It was formed as Mysore State on 1 November 1956, with the passage of the States Reorganisation Act, and renamed Karnataka in 1973. The state was part of the Carnatic region in British terminology. Its capital and largest city is Bengaluru (Bangalore).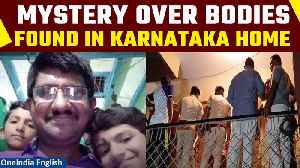 Mystery deepens over Couple & Three Children Found Lifeless in Karnataka Home | Oneindia

In a devastating incident in Karnataka, a couple and their three children were discovered dead at their residence in Tumakuru. Join us as we delve into the details of this tragic event, exploring the..
Credit: Oneindia Duration: 02:01
Published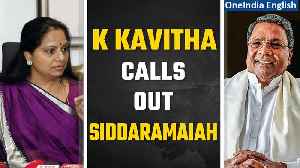 MLC K Kavitha Calls Out Siddaramaiah's Inaccuracies in Telangana Visit| Oneindia

BRS MLC K Kavitha criticizes Karnataka CM Siddaramaiah for inaccuracies during his visit to Kamareddy, where Telangana CM KCR is contesting. She urges him to do thorough research before discussing..
Credit: Oneindia Duration: 01:52
Published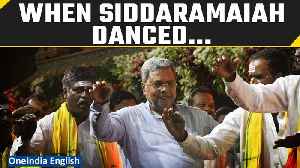 Siddaramaiah Launches Year-Long Karnataka Sambhrama at Hampi Ceremony, Dances| Oneindia News

Chief Minister Siddaramaiah defies superstitions at Hampi's Virupaksha Temple, launching Karnataka Sambhrama – 50, marking the State's 50th renaming anniversary. Lighting the same lamp as CM Devaraj..
Credit: Oneindia Duration: 02:09
Published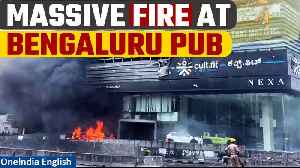 Bengaluru Fire: Massive blaze engulfs a pub in Koramangala | Watch Video | Oneindia

In a shocking incident, a massive fire broke out on the fourth floor of a building in Karnataka's Bengaluru on Wednesday afternoon. The fire erupted in the building which is located in the Koramangala..
Credit: Oneindia Duration: 01:40
Published
Watch| Fire Tragedy in Bengaluru| Blaze at Firecracker store Claims 14 Lives| OneIndia News

A tragic fire at a Bengaluru firecracker shop in Attibele resulted in 14 deaths, injuries, and extensive vehicle damage. Karnataka Chief Minister Siddaramaiah expressed sorrow, promising Rs 5 lakh..
Credit: Oneindia Duration: 05:01
Published
You Might Like



With DKS as minder, Congress pitches tent in Karnataka to ring-fence MLAs

Congress chooses Karnataka as sanctuary for MLAs from Rajasthan and Telangana. Congress may also bring MLAs from MP and Chhattisgarh to Karnataka. Deputy CM D K Shivakumar tasked with preempting..




IndiaTimes - Published





Congress may shift Telangana MLAs to Bengaluru in case of close finish

Exit polls suggest Congress victory in Telangana assembly polls. Party may relocate MLAs to prevent poaching. Decision on relocation after vote counting. Congress falls short of 70-seat mark. MLAs may..




IndiaTimes - Published





'No violation committed, we have not asked for votes': Karnataka deputy CM DK Shivakumar on EC notice over Telangana advertisements




IndiaTimes - Published





Karnataka govt ads in Telangana trying to sway voters, BJP tells EC

BJP accuses Congress government in Karnataka of using Telangana media to influence assembly polls; urges Election Commission to take action. BJP delegation submits complaint, alleging violation of..




IndiaTimes - Published





EC seeks explanation from Congress govt in Karnataka over Telangana ads violating poll code

It has sought an explanation by 5 pm on Tuesday on the circumstances which led to the violation of the commission's Model Code of Conduct (MCC) instructions.




DNA - Published





EC stops Karnataka govt ads in Telangana, seeks explanation after BJP's complaint




IndiaTimes - Published





Congress govt in Karnataka giving advertisements in Telangana to influence assembly polls: BJP

BJP has accused the Congress government in Karnataka of influencing Telangana assembly polls through advertisements in Telangana media; BJP delegation submitted a complaint to the Election Commission..




IndiaTimes - Published





Karnataka doctor who allegedly performed around 900 illegal abortions arrested

Bengaluru Police arrest doctor and lab technician for performing approximately 900 illegal abortions in Mysuru Hospital. The doctor, Dr Chandan Ballal, and lab technician, Nisar, charged Rs 30,000 for..




IndiaTimes - Published





Rahul unemployed, Congress job calendar a joke: KTR

Ahead of the November 30 Telangana assembly elections, BRS working president KT Rama Rao on Sunday called former Congress president Rahul Gandhi politically unemployed, and challenged him to tell how..




IndiaTimes - Published





Biker 75% guilty in bus hit, says HC, cuts payout by 3 quarters

The Karnataka high court reduced the compensation awarded to a motorcyclist in an accident case by 75% due to contributory negligence. The court found that the motorcyclist had swerved to the extreme..




IndiaTimes - Published





EC remains silent when PM Modi makes 'Jai Bajrang Bali' remark in Karnataka polls: Sitaram Yechury




IndiaTimes - Published





'Empathy, remorse' bring dog to dead man's mom

A stray dog in Karnataka's Davanagere mourns the death of a 21-year-old biker who fell to his death while trying to dodge the dog. The dog walks several kilometers to the biker's home, fights other..




IndiaTimes - Published





Massive political fight breaks out over Karnataka government decision to withdraw the CBI probe against DK Shivakumar

The Karnataka High Court has adjourned the hearing of the appeal filed by Deputy Chief Minister DK Shivakumar against the sanction accorded by the previous government to the CBI to prosecute him in the..




IndiaTimes - Published





Shakti scheme for women touches milestone of 100 crore free bus rides in Karnataka

Karnataka government's ambitious 'Shakti' scheme, which has made travel free of charge for women in the state in non-luxury public transport buses has achieved the milestone of logging over 100 crore..




IndiaTimes - Published





Cauvery panel directs Karnataka to release 3216 cusecs water every day to Tamil Nadu for next 38 days

The Cauvery Water Regulation Committee (CWRC) recommended the Karnataka government to release 3216 cusecs of water every day to Tamil Nadu for 38 days starting November 24, 2023. The committee also..




IndiaTimes - Published





Order for Karnataka Research Foundation soon, merger of organisations on cards

Karnataka science and technology minister announces the establishment of the Karnataka Research Foundation (KRF) to facilitate R&D activity in the state. The official order for the KRF is expected..




IndiaTimes - Published





Congress not implementing poll guarantees in Karnataka: JP Nadda warns Telangana of 'false promises'




IndiaTimes - Published





Missing papers, Congress fissures stall Karnataka caste census

The Karnataka government has delayed its plan to accept the controversial caste census report due to internal divisions within the Congress party and opposition from dominant communities. The..




IndiaTimes - Published





Don't fall for Congress' lies, says BJP leader Yediyurappa in poll-bound Telangana

Senior BJP leader B S Yediyurappa accused the Congress of deceiving the people of Karnataka by not fulfilling its pre-poll guarantees after coming to power. He warned the people of Telangana to not..




IndiaTimes - Published





'Vishwaguru' should answer why malnutrition is increasing in India: Karnataka CM Siddaramaiah

Karnataka Chief Minister Siddaramaiah on Wednesday expressed concern over malnutrition in the country and said that it is increasing in Gujarat and India. He stated that Prime Minister Modi, who refers..




IndiaTimes - Published





Karnataka BJP chief demands that CM Siddaramaiah seek resignation of ministers Priyank Kharge, Zameer Ahmed Khan over conduct, remarks

Karnataka BJP President B Y Vijayendra has called for the resignation of Ministers Priyank Kharge and Zameer Ahmed Khan, accusing them of undermining their positions. Vijayendra criticized Kharge for..




IndiaTimes - Published





Silent revolution against BRS in Telangana, BJP will form government: Kishan Reddy

Telangana BJP chief G Kishan Reddy has claimed that there is a silent revolution against the ruling BRS party in the state, with people gaining confidence that the BJP will come to power in the..




IndiaTimes - Published





Girl dies after falling into vessel with hot sambar

A small girl, seven-year-old, died after falling into a vessel which was containing hot sambar at her school in Karnataka's Kalaburagi. After falling into the van, she got badly injured and later on,..




IndiaTimes - Published





Will retire from politics, if proved I have taken money in single case of transfer: Karnataka CM Siddaramaiah

Karnataka Chief Minister Siddaramaiah has stated that he will retire from politics if it is proven that he has taken money in any government transfer case. He made the statement in response to repeated..




IndiaTimes - Published





Venkitaramanan, who steered RBI during 1991 crisis, passes away at 92

S Venkitaramanan, the former governor of the Reserve Bank of India (RBI), has passed away at the age of 92. Prior to his role as RBI governor, he served as the finance secretary and an advisor to the..




IndiaTimes - Published





Karnataka govt restricts all forms of head cover in recruitment exams; allows mangalasutra

Though the dress code does not explicitly ban hijab, it is implied by the new guidelines. The order said that this is part of the effort to stop exam malpractices using bluetooth devices.




DNA - Published





Bachelor Karnataka farmers plan temple march in search for brides

Scores of Karnataka farmers are planning to go on a march to a shrine in Mandya next month in search of brides. They believe that there is a "bride crisis" caused by the reluctance of women and their..




IndiaTimes - Published





BJP goes easy over age, turns to warhorses to retain power in MP

The saffron party seems to have gone a bit easy over age this time by fielding 14 candidates who are 70-plus, with the oldest being 80. In contrast, the opposition Congress has fielded nine..




IndiaTimes - Published





Kumaraswamy hits out at Congress CM Siddaramaiah for making tall promises in Telangana

JD(S) Karnataka President H D Kumaraswamy criticized Chief Minister Siddaramaiah for not fulfilling key election promises in Karnataka, but making similar promises in Telangana. Kumaraswamy mocked..




IndiaTimes - Published





Vedic corpus, philosophy for engineering students in Karnataka university




IndiaTimes - Published





Didn't expect Vijayendra's appointment as Karnataka BJP chief, never asked party leadership for it: Yediyurappa

The former chief minister expressed confidence that Vijayendra will take every one in the party together to strengthen the organisation, and ensure that the BJP wins more than 25 out of total 28 Lok..




IndiaTimes - Published





Eye on Lingayats, BJP names BSY's son Karnataka party chief

B.S. Yediyurappa's son, B.Y. Vijayendra, has been appointed as the Karnataka BJP president in an attempt to consolidate support among the Lingayat community and form an alliance with the JD(S)...




IndiaTimes - Published





Modi govt to continue with its zero tolerance approach towards illegal immigration, says Amit Shah

Union Home Minister Amit Shah has stated that the Indian government will maintain a zero-tolerance stance towards illegal immigration. The National Investigation Agency (NIA) recently conducted raids..




IndiaTimes - Published





Congress govt in Karnataka 'as good as dead', charges BJP veteran Yediyurappa




IndiaTimes - Published





'Prime Minister should read Karnataka's political history': Priyank Kharge

Responding to Prime Minister Narendra Modi raising doubts on Karnataka Chief Minister Siddaramaiah's tenure in government, Congress MLA Priyank Kharge suggested that Prime Minister Narendra Modi should..




IndiaTimes - Published





Congress government in Karnataka ready to accept its own caste survey

The Karnataka State Commission for Backward Classes plans to submit a "fresh" socio-economic educational survey — commonly called the caste census — to the Congress government in a bid to..




IndiaTimes - Published





Who was Prathima KS, Karnataka officer mysteriously murdered after multiple raids? Sequence of events

Prathima KS was an officer of in Karnataka but was found murdered at her home in Bengaluru after successfully conducting multiple raids across the city.




DNA - Published





Congress implemented its guarantees in Karnataka, will do so in Madhya Pradesh: Congress leader Jairam Ramesh

Congress leader Jairam Ramesh released the theme song for the party's upcoming assembly elections in Madhya Pradesh. He highlighted the success of Rahul Gandhi's padyatra and expressed confidence in..




IndiaTimes - Published





Karnataka official who took on mining mafia killed in Bengaluru home

A senior government geologist in Bengaluru, who had been cracking down on illegal mining, was found murdered at her home. The 45-year-old woman's body was discovered with signs of strangulation and..




IndiaTimes - Published





After asserting he'd be CM for full term, Siddaramaiah retracts

After initially stating that he would remain as Karnataka CM for a full term, Siddaramaiah has now said he will abide by the decision of the high command on his tenure. This comes as three other..




IndiaTimes - Published





CWMA orders Karnataka to release 2,600 cusecs of Cauvery water to Tamil Nadu




IndiaTimes - Published





UP Finance Minister Suresh Khanna becomes convenor of GoM of GST Council

Uttar Pradesh's Finance Minister, Suresh Khanna, has been appointed as the convenor for the Group of Ministers (GoM) by the GST Council to review tax rates on goods and services. The decision was made..




IndiaTimes - Published





Zika found in Karnataka, state on high alert




IndiaTimes - Published





Karnataka high court stands by depressed man who went AWOL for 632 days

The Karnataka High Court has observed that layoffs can lead to increased levels of depression and upheld an order to reinstate a dismissed employee of Karnataka Power Transmission Corporation Limited..




IndiaTimes - Published





No change of CM, I will be in office for 5 years: Siddaramaiya

Karnataka Chief Minister Siddaramaiah has dismissed rumors of a possible leadership change, stating that he will remain in his position for the full five-year term. Some Congress MLAs and ministers had..




IndiaTimes - Published





Zika virus detected in mosquito species in Karnataka's Chikkaballapura

The virus was detected in Aedes aegypti mosquitoes after samples from six waterbodies in Chikkaballapura were collected and sent for examination in August last week.




DNA - Published





Karnataka CM Siddaramaiah appeals to PM Modi for lifesaving aid for toddler battling rare disease

Karnataka Chief Minister Siddaramaiah has requested assistance from PM Modi for the medical treatment of a 15-month-old boy with a rare disease. The CM has asked for financial support from the Centre..




IndiaTimes - Published





2024 Lok Sabha elections: Why Congress strategy with Karnataka at centre could fail




IndiaTimes - Published





'Can't run sweat shops': Karnataka IT minister Kharge on Narayana Murthy's 70-hr work week comment




IndiaTimes - Published





Maratha quota stir: Internet services suspended in several districts; CM calls for all-party meet

Violent incidents have been reported in Maharashtra during the ongoing agitation for reservation for the Maratha community. The state's chief minister has called for an all-party meeting to discuss the..




IndiaTimes - Published