Karnataka
State in southern India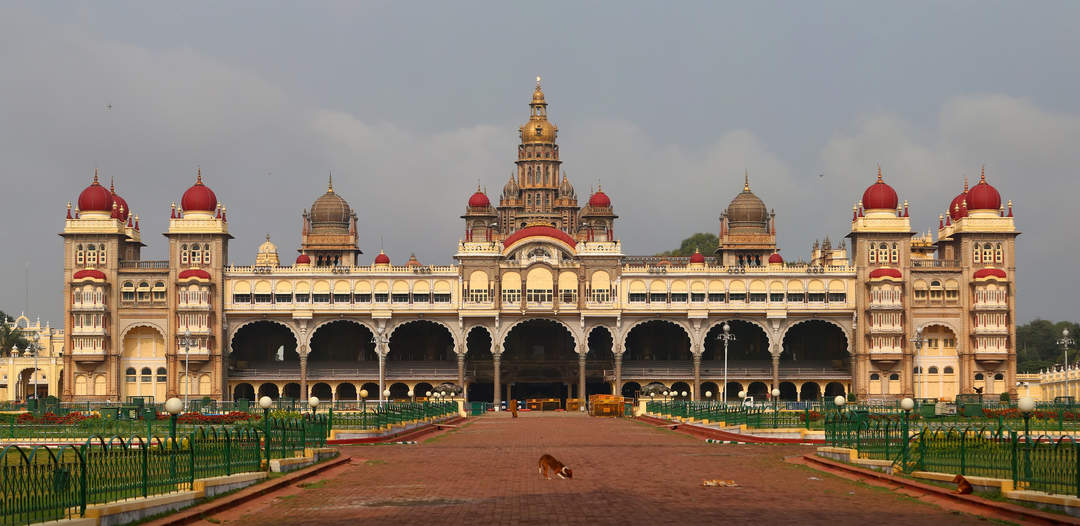 Karnataka is the largest state in South India and sixth largest in India. The state is in the south western region of India. It was formed on 1 November 1956, with the passage of the States Reorganisation Act. Originally known as the State of Mysore, it was renamed Karnataka in 1973. The state corresponds to the Carnatic region. Its capital and largest city is Bangalore.


Yogi Adityanath may contest 2022 election from Ayodhya, sitting MLA supports | Oneindia News

In the run-up to the Uttar Pradesh Assembly polls in 2022, Chief Minister Yogi Adityanath may contest the election from the Ayodhya constituency; DMRC has clarified that only 50 passengers will be..
Credit: Oneindia Duration: 02:17
Published
J&K district magistrates in CBI net| India's arms licence scam| Oneindia News

India today lodged a strong protest over drone activities by Pakistan authorities in Jammu areas during a sector commander-level meeting between the Border Security Force and the Pakistan Rangers...
Credit: Oneindia Duration: 02:36
Published
Lingayat seers back Yediyurappa | Who are the Lingayats | Oneindia News

Amid speculations that Karnataka CM BS Yediyurappa may be replaced by the BJP, Lingayat seers have rallied behind him saying that such a move would have consequences. #BSYediyurappa #Lingayat..
Credit: Oneindia Duration: 02:13
Published
Yediyurappa offered to quit? Karnataka CM meets PM Modi, dismisses 'rumours' | Oneindia News

Karnataka CM BS Yediyurappa made a quick trip to Delhi last evening to meet the PM, apaprently on the latter's instance. Some reports said that the Yediyurappa had offered to resign citing health..
Credit: Oneindia Duration: 01:38
Published
NCP chief Sharad Pawar meets PM Modi | Is he a President candidate? | Oneindia News

NCP chief Sharad Pawar met with Prime Minister Narendra Modi at the latter's residence amid rumours about his elevation as President of India; Amid rumours of his resignation, Karnataka Chief Minister..
Credit: Oneindia Duration: 03:06
Published
DK Shivakumar slaps man for trying to put arms around him| Congress leader| Oneindia News

The Karnataka Congress president DK Shivakumar slapped a party worker for trying to put his hand on his shoulder. The incident took place in Karnataka's Mandya on July 09 when Shivakumar was..
Credit: Oneindia Duration: 02:02
Published
Cabinet Reshuffle: Thawarchand Gehlot to be Karnataka Governor| Jyotiraditya Scindia| Oneindia News

Thawarchand Gehlot, who was also the BJP's Rajya Sabha leader, will take over as Governor of Karnataka. PS Sreedharan Pillai, the Governor of Mizoram, has been moved to Goa. Tripura Governor Ramesh..
Credit: Oneindia Duration: 02:49
Published
Water wars reignited: Tamil Nadu, Karnataka and the Mekedatu project problem | Oneindia News

Water wars between Tamil Nadu and Karnataka have been reignited. In the latest development, Tamil Nadu Chief Minister MK Stalin on Sunday urged his Karnataka counterpart BS Yediyurappa to not pursue..
Credit: Oneindia Duration: 02:17
Published
Viral video: Crocodile casually strolls in Karnataks's Kogilban village | Watch | Oneindia News

A video clip shows a crocodile strolling through a village in Karnataka. The video has now gone viral with many sharing it across different social media platforms. #Crocodile #ViralVideo #Karnataka
Credit: Oneindia Duration: 01:22
Published
Trouble in Karnataka BJP? MLC says nobody is happy with CM Yediyurappa's son | Oneindia News

The Karnataka BJP is facing rough weather as a rebellion seems to be brewing in its ranks. A section of the party there is unhappy with the leadership of CM BS Yediyurappa and his son BY Vijayendra's..
Credit: Oneindia Duration: 03:03
Published
Doctors beaten, Ramdev's allopathy comments | Covid warriors fight 'apathy' | Oneindia News

Yoga Guru Ramdev's remarks about allopathy and assault on doctors in Assam and Karnataka have angered the medical fraternity, who feel that not enough has been done to address their..
Credit: Oneindia Duration: 05:02
Published
Google issues apology after search shows Kannada as 'ugliest language in India'| Oneindia News

Google's recent answer to a query has sparked outrage, After Kannada appeared as the answer to a query in Google on the ugliest language in India. The Karnataka government said it would issue a legal..
Credit: Oneindia Duration: 02:04
Published
Mysuru's Dramatic IAS feud: Shilpa quits alleging harassment by Rohini Sindhuri | Oneindia News

In the middle of one of the worst health crises India, and indeed the world, has witnessed, there is a feud in Karnataka's Mysuru between 2 Indian Administrative Service officers. Mysuru City..
Credit: Oneindia Duration: 02:01
Published
Mamata Banerjee appoints new chief advisor| West Bengal New Chief Secretary| Oneindia News

The Supreme Court Monday on Monday restrained Andhra Pradesh police from taking any coercive action against two Telugu news channels. Recording its worst ever performance in over four decades, India..
Credit: Oneindia Duration: 02:37
Published
You Might Like



Waiting for leadership's signal on my future as CM: B S Yediyurappa

A day before completing two years in office, B S Yediyurappa said on Sunday that he was still waiting for a signal from the party leadership on his future as chief minister of Karnataka and stressed..




IndiaTimes - Published





Karnataka minister Murugesh Nirani in Delhi amid speculations about CM Yediyurappa's exit




IndiaTimes - Published





'Let's go for polls, let the people decide,' Shivakumar challenges BJP govt in Karnataka




IndiaTimes - Published





'Once the message comes...': Yediyurappa awaits nod from high command amid replacement talks

Without explaining too much, Karnataka CM BS Yediyurappa said that he will follow the party's diktats.




DNA - Published





Rainfall update: Incessant rain leaves 135 dead in Maharashtra, 'Red Alert' in Karnataka

While Raigad and Ratnagiri were among the worst-hit areas of Maharashtra, Malenadu and north-interior region of Karnataka was hit by torrential rains




DNA - Published





Karnataka lockdown relaxations: Religious places to open for devotees from Sunday, colleges to open from Monday

Bangalore University affiliated colleges will reopen on Monday, but Jnana Bharati campus will stay closed till Aug 2 as a hostel is COVID Care Centre.




DNA - Published





HC quashes UP police's notice to Twitter India MD

The Karnataka high court quashed on Friday UP police's notice to Twitter India MD Manish Maheshwari to appear in connection with a probe, calling it mala fide and an "arm-twisting method".




IndiaTimes - Published





It's treason, no other word for this: Rahul Gandhi on Pegasus project

"They have used it politically, they've used it in Karnataka, they've used it to scuttle probes, they've used it against Supreme Court, they have used it against all the institutions of this country...




IndiaTimes - Published





Is Karnataka Chief Minister BS Yediyurappa resigning?

Amid weeks of speculation over his exit, Karnataka Chief Minister BS Yediyurappa said that he will abide by the decision of the party high command




DNA - Published





'Will abide by high command directions': Yediyurappa on future as Karnataka CM

The 78-year old Lingayat strongman also said that the party high command will give him directions on July 25 about his future as the chief minister of Karnataka.




IndiaTimes - Published





How Yediyurappa is an exception to BJP rule

Whether or not Karnataka chief minister BS Yediyurappa steps down from his post on July 26, he has already created a record of sorts in the BJP, which is at the helm at the centre and in the state. His..




IndiaTimes - Published





'Karnataka netas, ex-JNU students, activists picked for possible surveillance'

Mobile phone numbers of former Karnataka deputy chief minister G Parameshwara and the personal secretaries of former chief ministers H D Kumaraswamy and Siddaramaiah were alleged to have been selected..




IndiaTimes - Published





Congress-JD(S) leaders in Karnataka were potential Pegasus spyware targets in 2019: Report




IndiaTimes - Published





RAW NTR- NGO based on the ideals of NT Rama Rao is feeding the poor amid the pandemic

They started the 365 Days Food Donation Program across Telugu states (Andhra Pradesh & Telangana) and also few areas in Karnataka and Tamil Nadu.




DNA - Published





Karnataka announces further relaxations: All you need to know




IndiaTimes - Published





Karnataka eases Covid-19 curbs, allows cinemas to operate




IndiaTimes - Published





Karnataka lockdown news: Restrictions eased further, theatres, colleges to reopen

Ease of restrictions came after a review meeting chaired by the Chief Minister BS Yediyurappa along with top ministers on Saturday




DNA - Published





Thanksgiving: Christian businessman builds Ganesha temple in Karnataka




IndiaTimes - Published





Amid talk of his quitting, Karnataka CM BS Yediyurappa may call MLAs' meet

Speculation on Karnataka CM 's continuance in office continued with suggestions that he might consider calling a meeting of party MLAs towards the end of the month. The objective of the meeting might..




IndiaTimes - Published





Central leaders asked me to continue as Karnataka CM: BS Yediyurappa




IndiaTimes - Published





'Not at all': Karnataka CM Yediyurappa dismisses rumours about his resignation

"Yesterday I met the PM, we discussed the development of the state and I will come back again in August. There is no value of such news," Yediyurappa said when asked if he has resigned.




IndiaTimes - Published





BSY meets PM Modi, laughs off buzz about change of CM in Karnataka

Yediyurappa, who has faced frequent speculation about his time in office, laughed off the talk of a leadership change. "I don't know of any rumour about leadership change. You tell me," he told..




IndiaTimes - Published





Union Jal Shakti minister told us Karnataka can't build Mekedatu dam: Duraimurugan

Duraimurugan was speaking to reporters in Tamil Nadu House, after leading a delegation of Tamil Nadu legislature parties to convey to Shekhawat the opposition of the state against Mekedatu dam.




IndiaTimes - Published





Big news! Karnataka govt allows reopening of medical, dental colleges with conditions

Only the academic institutions pertaining to the health and medical sector are allowed to open.




DNA - Published





Karnataka CM Yediyurappa meets PM Modi in Delhi




IndiaTimes - Published





Focus on 'Test-Track-Treat-Vaccinate': PM Modi's advice to states to stop third wave

Interacting with CMs of Tamil Nadu, Andhra, Karnataka, Odisha, Maharashtra & Kerala, PM asked them to focus on 'Test-Track-Treat-Vaccinate' approach.




DNA - Published





We don't have cabinet discussion proposal, let's see what happens in Delhi: Yediyurappa

Karnataka chief minister BS Yediyurappa on Thursday said they don't have a cabinet discussion proposal, however, any changes in this regard is subject to his meeting with Prime Minister Narendra Modi..




IndiaTimes - Published





There may be illegitimate parents, but no illegitimate kids: Karnataka HC




IndiaTimes - Published





Piyush Goyal replaces Thaawar Chand Gehlot as leader of House in Rajya Sabha

Goyal was the deputy leader when Gehlot, who has been appointed as governor of Karnataka, was the leader of the House. Prior to becoming a minister in 2014, Goyal was BJP treasurer, a post held by his..




IndiaTimes - Published




Karnataka's Mekedatu dam project: Tamil Nadu all-party delegation to leave for Delhi




IndiaTimes - Published





Union minister Piyush Goyal to be Leader of House in Rajya Sabha

Union minister Piyush Goyal has been appointed as the leader of house in Rajya Sabha, sources said on Wednesday. He will succeed Thawar Chand Gahlot who has been appointed the governor of Karnataka...




IndiaTimes - Published





Karnataka to study UP's population policy




IndiaTimes - Published





Don't wait for 3rd wave, try to avert it, says PM Narendra Modi

In his interaction, the PM spoke of the need to detect early signals of growing number of cases in some districts and take strict action at the micro level by creating containment zones to avoid..




IndiaTimes - Published





Karnataka needs to consider population control bill: BJP national general secretary Ravi




IndiaTimes - Published





Karnataka lockdown news: CM Yediyurappa to lift night curfew from next week? Check latest update here

Karnataka on Monday saw further decline in the COVID cases with 1,386 fresh infections and 61 deaths.




DNA - Published





Mekedatu row: TN cries 'conspiracy' over water flow, will implement it, says Karnataka




IndiaTimes - Published





Rainfall: IMD issues orange alert for Rajasthan, J&K; yellow for many north Indian states

The India Meteorological Department has issued an orange alert for Rajasthan and Jammu and Kashmir, and yellow alert for Himachal Pradesh, Uttarakhand and Uttar Pradesh for Tuesday with warning of..




IndiaTimes - Published





Colleges reopening in Karnataka: 'Under preparation', says Deputy CM

"The vaccination program has been going on and we have been inviting students to get vaccinated", he added.




DNA - Published





Thaawarchand Gehlot takes oath as 19th Governor of Karnataka

The Chief Justice of the Karnataka High Court Justice Abhay Shreeniwas Oka administered him the oath of office and secrecy to Gehlot at the Raj Bhavan in the presence of outgoing Governor Vala, Chief..




IndiaTimes - Published





Karnataka Congress chief Shivakumar slaps man for trying to put his arms around him




IndiaTimes - Published





Karnataka issues guidelines to prevent Zika virus spread in state, Kerala on high alert

Routine surveillance in rural areas and fortnightly surveillance activity in urban wards will be implemented on war footing in neighbouring Karnataka.




DNA - Published





Karnataka HC verdict on Twitter MD plea likely to be out on Tuesday




IndiaTimes - Published





Karnataka unlock news: KSRTC to resume bus services to this state from July 12, check details

The KSRTC is all set to start its services from Bengaluru, Mangaluru, Mysuru, and Puttur to selected places in Kerala.




DNA - Published





Lockdown in Karnataka again? This is what Revenue Minister R Ashoka said

After the Karnataka government implemented Unlock 3.0 Monday (July 5), the state reported 3,104 new COVID-19 cases and 92 deaths




DNA - Published





Cabinet reshuffle: Why PM Modi dropped these top 7 ministers

As many as 12 members of Prime Minister Narendra Modi's council of ministers tendered their resignation before 43 people were sworn in as Union ministers by President Ram Nath Kovind on Wednesday..




IndiaTimes - Published





With 4 more deaths, Covid toll in Delhi hits 25,000

With four more deaths in the past 24 hours, the toll due to Covid-19 in Delhi crossed the 25,000 mark on Tuesday. The total fatalities in the city now stands at 25,001— the fourth highest in the..




IndiaTimes - Published





Ready to meet police if no arrest threat: Twitter MD

Twitter India MD Manish Maheshwari submitted on Tuesday to the Karnataka high court that he was ready to appear in person in connection with a controversial video clip, and prepared to cooperate in the..




IndiaTimes - Published





Karnataka village panchayat turns role model for achieving 100% COVID-19 vaccination

The district administration is preparing to announce one more village panchayat shortly and many more are working with rapid speed and motivation.




DNA - Published





Thawarchand Gehlot appointed Karnataka governor amid Modi cabinet reshuffle buzz




IndiaTimes - Published




KSEEB Karnataka SSLC Class 10 exams dates latest updates: Education Minister Suresh Kumar makes BIG announcement

Karnataka Education Minister on Monday said that the SSLC) examinations will be held as per schedule on July 19 and 22.




DNA - Published