Karnataka
State in southern India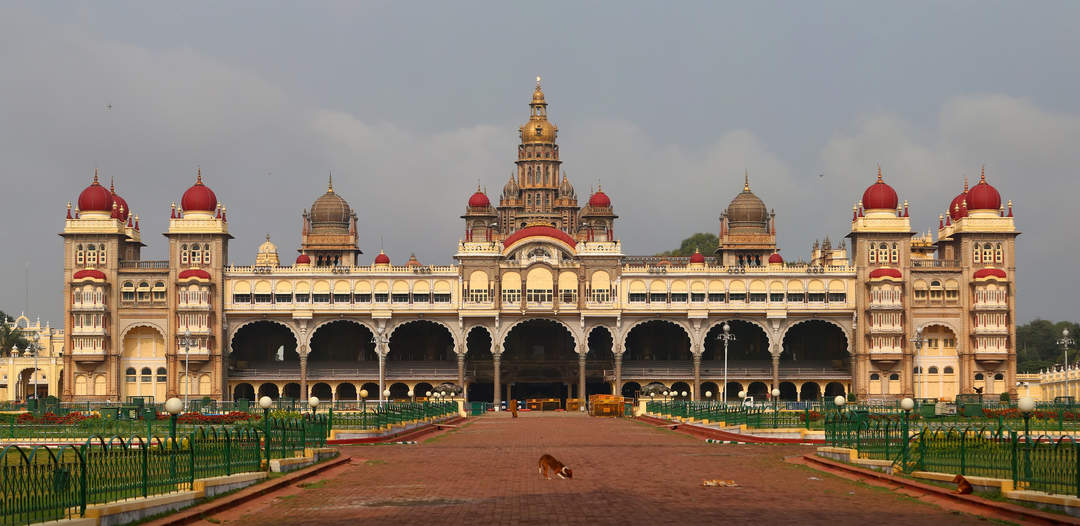 Karnataka is a state in the south western region of India. It is the largest state in South India and seventh largest in India. It was formed on 1 November 1956, with the passage of the States Reorganisation Act. Originally known as the State of Mysore, it was renamed Karnataka in 1973. The state corresponds to the Carnatic region. The capital and largest city is Bangalore.


Cyclone Nivar: 'Chennai to have moderate rainfall till tomorrow', informs IMD

Speaking to ANI, Director of Area Cyclone Warning Centre in Chennai, Dr N Puviarasan said, "Severe cyclonic storm Nivar expected to move Northwest wards and weaken into cyclonic storm in districts of..
Credit: ANI Duration: 01:51
Published
Smriti Irani vs Asaduddin Owaisi on 'love jihad' law, day after UP ordinance

Union minister Smriti Irani took on All India Majlis-e-Ittehadul Muslimeen chief Asaduddin Owaisi over the issue of 'love jihad', a conspiracy to convert Hindu women as alleged by some Hindutva groups...
Credit: HT Digital Content Duration: 03:03
Published
'Love jihad a cancer': Union minister wants law in Bihar like UP, MP, others

Union minister Giriraj Singh commented on the issue of 'love jihad' and the plans of many states to formulate laws against it. 'Love jihad' is a conspiracy to convert Hindu women, alleged by some..
Credit: HT Digital Content Duration: 03:02
Published
Watch: People flout COVID SOPs while shopping in Kalaburagi

People were seen not wearing mask while shopping in Karnataka's Kalaburagi on November 21. Administration urged locals to follow all COVID SOPs in public place. COVID cases continued to surge in..
Credit: ANI Duration: 01:13
Published
India saw more COVID recoveries than confirmed cases in last 45 days: Govt

In the last 45 days, the total number of COVID-19 recovered cases has increased and the number of active cases has decreased in the country, informed Rajesh Bhushan, Secretary of Health Ministry while..
Credit: ANI Duration: 01:49
Published
Bengaluru violence: Congress leader Sampath Raj reaches CCB office

On November 17, Congress leader and former Mayor Sampath Raj brought to Central Crime Branch (CCB) office in Bengaluru. He has been arrested in DJ Halli and KG Halli violence incident case that..
Credit: ANI Duration: 01:22
Published
With COVID caution, colleges in Karnataka re-open partially from today

Colleges in Karnataka reopened from November 17 amid COVID-19 scare. All the preparations have been made by the colleges in Bengaluru to keep the campuses safe and less populated. Only final year..
Credit: ANI Duration: 02:12
Published
Bengaluru colleges gear up to reopen

The department of higher education has formulated SOPs (standardized operating procedure) as per the UGC guidelines amid COVID-19 pandemic, in view of the opening of colleges and higher education..
Credit: ANI Duration: 02:55
Published
Hyderabad Police rescue abducted toddler within 20 hours

Hyderabad City Police solved a child-kidnapping case within 20 hours. "A three-year-old child was kidnapped from MGBS and rescued by Hyderabad City Police. The complaints on Nov 14, said that they were..
Credit: ANI Duration: 02:20
Published
Shopkeepers facing losses as COVID-19 hits Diwali

Amid COVID-19 impact, the shopkeepers selling Diwali decorative and earthen lamps faced loss in Bengaluru. People didn't come out for shopping amid COVID-19 which resulted in huge loss for the..
Credit: ANI Duration: 02:06
Published
Locals in Shivamogga boycott fire crackers to curb air pollution

In order to curb air pollution, some state governments have put a ban on fire crackers. No customers were seen at the fire cracker shops in Shivamogga. Shopkeepers urged people to buy green fire..
Credit: ANI Duration: 02:10
Published
Social distancing norms get tossed amid festive season in Kalaburagi

People rushed to markets amid festive season in Kalaburagi. Ahead of Diwali, a huge crowd was seen at a market. Social distancing norms were flouted as people came out for Diwali shopping. As per..
Credit: ANI Duration: 01:25
Published
Mahagathbandhan will form govt in Bihar with thumping majority: Congress's Avinash Pande

Speaking to ANI in Patna on November 09, Congress Observer of Bihar and party's ex-general secretary, Avinash Pande said that Mahagathbandhan will form government in Bihar with thumping majority."Be it..
Credit: ANI Duration: 02:15
Published
You Might Like



PM Modi has indicated Covid vaccine likely to be ready soon: Yediyurappa

Prime Minister Narendra Modi has indicated that the Covid-19 vaccine was likely to be ready soon and has asked states to prepare for its quick and effective distribution, Karnataka chief minister B S..




IndiaTimes - Published





Karnataka schools, PU colleges to remain closed till December end, confirms Yediyurappa

The scenario of COVID-19 in the state shall be reviewed in the last week of December to consider the reopening of schools at an appropriate time




DNA - Published





Karnataka not to reopen schools, Pre-University colleges in December




IndiaTimes - Published





Pro-Kannada outfits threaten Karnataka bandh on Dec 5 against Maratha body; Yediyurappa warns of action

At least a dozen pro-Kannada activists met and passed a unanimous resolution that they will go ahead with the bandh call given by them.




DNA - Published





COVID-19: With fresh spike of 45,882, India's caseload crosses 90 lakh

Maharashtra continues to be the worst affected state with 17,63,055 confirmed cases, followed by Karnataka, Andhra Pradesh, Tamil Nadu and Kerala.




DNA - Published





Yediyurappa bound for Delhi to discuss cabinet exercise

Karnataka Chief Minister B S Yediyurappa on Wednesday said he was going to New Delhi to discuss with the BJP central leadership expansion or reshuffle of his cabinet.




IndiaTimes - Published





Colleges affiliated to Karnataka's Rajiv Gandhi University of Health Sciences to reopen from Dec 1

All paramedical, nursing, pharmacy, Medical, dental and AYUSH colleges affiliated to RGUHS would be reopened from next month. The colleges will follow the SOP issued by the government under lockdown..




DNA - Published





Bypoll results 2020: Counting and results to be declared on 56 assembly seats in 11 states including MP

Bypoll results 2020 to 56 assembly seats in 11 states will be declared on Tusday. Bypolls to the states of Chhattisgarh, Gujarat, Haryana, Jharkhand, Karnataka, Madhya Pradesh, Manipur, Nagaland,..




DNA - Published





Important news for Goans: Citizens allowed to burst crackers in certain time slots, check here

States like Delhi, Maharashtra, West Bengal, Odisha, Rajasthan, Sikkim, Chandigarh, Haryana, Karnataka has imposed a ban on the selling and bursting of firecrackers




DNA - Published





From Chandigarh to Karnataka: Several states/UTs imposes ban on firecrackers




IndiaTimes - Published





Karnataka backtracks on cracker ban after 8 hours; allows sale, use of green fireworks

A single-page letter addressing the people of the state was released by the Chief Minister's Office on Friday, indicating that people are allowed to sell and use green firecrackers during Diwali.




DNA - Published





Karnataka will put an end to religious conversion in the name of 'love jihad': Yediyurappa




IndiaTimes - Published





Social media campaign forces duo to travel back 80 kms to pick trash they dumped on road

Two young travellers who threw a bag of pizza boxes on the road in Karnataka's Madikeri town had to travel back 80 km to pick up the litter after a social media campaign left the duo embarrassed.




DNA - Published





India adds 50,209 new cases, 704 deaths in one day; tally reaches 83.6 lakh

Maharashtra continues to be the worst-hit with a total of 16,98,198 cases, including 44,548 deaths; followed by Andhra Pradesh and Karnataka.




DNA - Published





NGT widens ambit of firecracker pollution cases beyond NCR, notices to 18 states, UTs

The green panel sought response from Andhra Pradesh, Assam, Bihar, Chandigarh, Chhattisgarh, Gujarat, Himachal Pradesh, Jammu and Kashmir, Jharkhand, Karnataka, Madhya Pradesh, Maharashtra, Meghalaya,..




IndiaTimes - Published





Unlock 5.0 : Karnataka studying Andhra model for reopening of schools from November 17

Karnataka government seems to be in a dilemma to reopen schools and colleges in the state. Prior to taking any decision they are studying the Andhra Pradesh model for reopening of schools.




DNA - Published





Rajasthan & Odisha ban crackers for safety of Covid patients

The Odisha government on Tuesday banned the sale and use of firecrackers from November 10-30, worried over the impact it may have on Covid-19 patients. Karnataka, meanwhile, is mulling a similar..




IndiaTimes - Published





India records over 38,310 new coronavirus cases, 490 deaths in last 24 hours

Maharashtra has the highest 1,19,352 active cases while 44,824 in Karnataka and 33,308 in Delhi.




DNA - Published





Karnataka bypolls: Voting underway at RR Nagar, Sira




IndiaTimes - Published





Voting underway for bypolls on 54 Assembly seats in 10 states

A total of 28 seats in Madhya Pradesh, 8 in Gujarat, 7 in Uttar Pradesh, 2 each in Odisha, Nagaland, Karnataka and Jharkhand, and one seat each in Chhattisgarh, Telangana and Haryana going to polls..




DNA - Published





MP 65th foundation day: Facts about 'The heart of India', its history and significance

Madhya Pradesh is celebrating its 65th foundation day on November 1 along with Chhattisgarh and four other states, Karnataka, Kerala, Punjab, and Haryana.




DNA - Published





Decline in active case-load in some worst-affected states, but Delhi records highest jump in 24 hours

The trajectory of active case-load of Covid infections has been diverse across the country with some of the worst-affected states like Maharashtra, Karnataka, Tamil Nadu and Kerala reporting a decline..




IndiaTimes - Published





61% of Covid-19 recoveries reported from six states/UTs: Health ministry

About 61 per cent of the total recovered cases from Covid-19 are from six states and UTs of Maharashtra, Andhra Pradesh, Karnataka, Tamil Nadu, Uttar Pradesh and Delhi, the Union health ministry said..




IndiaTimes - Published





Airtel to pump in Rs 6k-cr more in Karnataka

Telecom major Bharti Airtel is planning to invest another Rs 6,000 crore in Karnataka, and has also offered the government to use its services for automated meter reading (AMR) that can reduce the time..




IndiaTimes - Published





Covid: Madhya Pradesh, Tamil Nadu, Karnataka too say they'll give free vaccine doses




IndiaTimes - Published





'Yediyurappa will not remain CM for long': Karnataka BJP MLA hints at rebellion; party rules out leadership change

Indicating a rebellion, senior BJP legislator Basanagouda Patil Yatnal has said that B S Yediyurappa will not remain chief minister for long and the high command has decided that his successor will be..




IndiaTimes - Published





COVID-19: 46,791 new cases, 587 deaths reported in last 24 hours

The trend of daily cases in the five most affected states - Maharashtra, Karnataka, Kerala, Andhra Pradesh and Tamil Nadu - reveals stages of the decline of active cases.




DNA - Published





Centre, state govt making efforts to provide relief in flood-affected Karnataka: PM Modi

Several parts of Karnataka have been severely affected by incessant rain in the last week.




DNA - Published





Flood situation grim in parts of Telangana, Karnataka




IndiaTimes - Published





Army pressed into service in 4 flood-hit Karnataka dists; CM to undertake aerial survey




IndiaTimes - Published





PM Modi speaks to CMs of K'taka, Maha over flood situation; assures all possible help

"Spoke to CM @BSYBJP Ji (B S Yediyurappa) on the rainfall and flood situation in various parts of Karnataka. We stand in solidarity with our sisters and brothers of Karnataka affected by the floods...




IndiaTimes - Published





Floods:Centre stands in solidarity with Karnataka, PM Modi tells Yediyurappa

We stand in solidarity with our sisters and brothers of Karnataka affected by the floods," the Prime Minister tweeted. "Assured all possible support from the Centre in rescue and relief works that are..




IndiaTimes - Published





Covid-19: Central teams sent to Kerala, Karnataka, Rajasthan, Chhattisgarh, WB




IndiaTimes - Published




Flood-like situation in Maharashtra, Karnataka; NDRF undertakes rescue operation

Flood-like situation has occurred in parts of Maharashtra and Karnataka following heavy rainfall in both the states. The National Disaster Relief Force (NDRF) has initiated various rescue operations in..




IndiaTimes - Published





Heavy rainfall leaves 32 dead in Telangana; Hyd streets flooded

At least 23 people were killed in Telangana on Wednesday after a deep depression passed over the state, unleashing heavy rain and widespread destruction. Heavy rain was reported in Andhra Pradesh,..




IndiaTimes - Published





31 people dead in rain-related incidents in Telangana, AP, Maharashtra; heavy damage in Karnataka

Twenty-five deaths in rain-related incidents were reported in Telangana and Andhra Pradesh on Wednesday and heavy downpour wreaked havoc in Karnataka as a deep depression in the Bay of Bengal crossed..




IndiaTimes - Published





BJP announces candidates for by-polls in UP, Karnataka and Nagaland

Sangeeta Sengar, wife of former BJP MLA Kuldeep Sengar - convicted in rape case - has been denied a ticket.




DNA - Published





As COVID-19 cases surge among teachers, 3-week holiday for Karnataka schools from October 12-30

This comes after 34 students and some teachers tested positive for the COVID-19.




DNA - Published





SVAMITVA scheme: PM Modi to launch physical distribution of property cards on Oct 11

Under this, people from 763 villages of Uttar Pradesh, Haryana, Maharashtra, Madhya Pradesh, Uttarakhand and Karnataka will be the beneficiary of the 'SVAMITVA' scheme.




DNA - Published





Karnataka opposes Telangana demand on Krishna tribunal




IndiaTimes - Published





Reopening schools will lead to disaster, promote all on basis of past performance: Kumaraswamy to K'taka govt

A day after the Karnataka government held a virtual meeting to discuss reopening of schools amid the Covid-19 pandemic, former chief minister of Karnataka H D Kumaraswamy on Friday said such a step..




IndiaTimes - Published





Covid-19: Positivity rate drops to 6.8% amid 80 lakh tests in a week

The all India growth rate of confirmed cases has turned negative on a few days recently and on October 6 it stood at 0.9%. There has been a moderation of the growth rate in high caseload states like..




IndiaTimes - Published





CBI raids Karnataka Congress chief DK Shivakumar, brother's residences, recovers Rs 50 lakh

The raids come close on the heels of the announcement of dates for by-elections for two Assembly seats in Karnataka -- Sira and RR Nagar.




DNA - Published




CBI recovers Rs 50 lakh from premises searched in corruption case related to Cong leader DK Shivakumar

The Central Bureau of Investigation (CBI) is carrying out searches at 14 locations in Karnataka, Delhi and Maharashtra in the case that pertains to amassing of disproportionate assets, they said. The..




IndiaTimes - Published





''Freak accident'' in gas power plant injures 15 in Karnataka

This incident occurred when KPCL engineers were conducting several checks to test the turbine.




DNA - Published





Average weekly Covid cases go up in Kerala, Chhattisgarh

Average weekly Covid-19 cases are declining in most high-burden states, including Maharashtra, Karnataka, Andhra Pradesh and Tamil Nadu, but the situation is different in Kerala and Chhattisgarh where..




IndiaTimes - Published





By-election in 56 assembly seats across country on November 3, includes 28 from Madhya Pradesh

By-elections on 56 assembly constituency across states include 28 from Madhya Pradesh, eight from Gujarat, seven from Uttar Pradesh, two each from Jharkhand, Nagaland, Karnataka, Manipur, Nagaland, and..




DNA - Published





Over 5,000 accident spots across national highway network; maximum numbers in Tamil Nadu

Around 5,489 black spots across the national highway network were identified between 2015 to December 2019 with Tamil Nadu, West Bengal, Karnataka, Telangana, Andhra Pradesh, Rajasthan and Madhya..




IndiaTimes - Published





Farmers protest in Karnataka against new agriculture law, several detained

At noon, hundreds of farmers protested in front of the Town Hall in Bengaluru and several others blocked roads till the police asked them to move. However, the statewide strike called by the farmers..




DNA - Published





Karnataka: Bandh called by farmers against state farm bills today, here's what will be affected

The call for bandh has gathered support from political parties including the Congress and JD(S), pro-Kannada outfits, and several labour organisations.




DNA - Published