Karnataka
State in southern India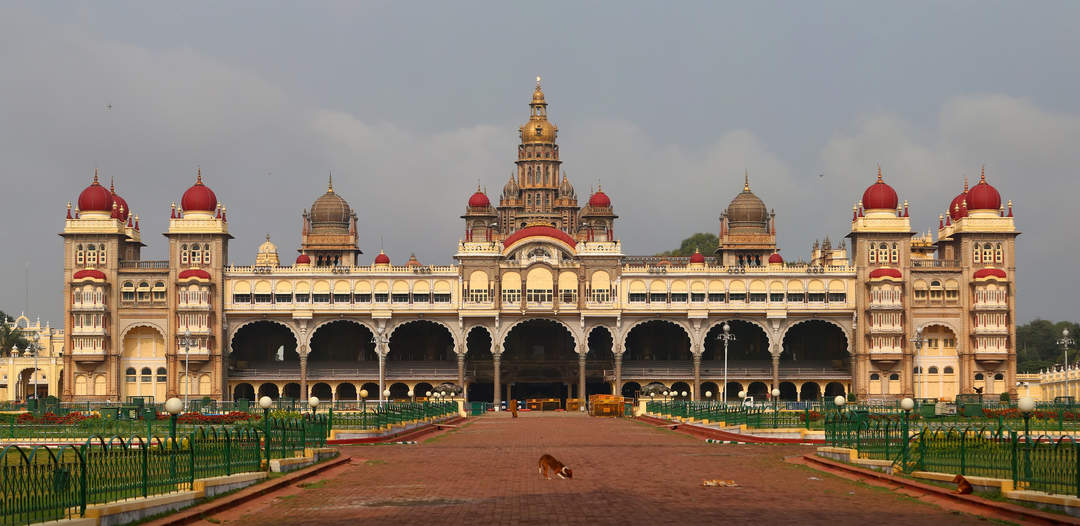 Karnataka is a state in the south western region of India. It is the largest state in South India and sixth largest in India. It was formed on 1 November 1956, with the passage of the States Reorganisation Act. Originally known as the State of Mysore, it was renamed Karnataka in 1973. The state corresponds to the Carnatic region. Its capital and largest city is Bangalore.


Karnataka's turmeric farmers benefitted as prices surge

Turmeric farmers of Karnataka's Belagavi expressed happiness over receiving high prices for their produce. Farmers were benefitted as the prices escalated due to less production. Factors including..
Credit: ANI Duration: 01:53
Published
Karnataka MLA pulls off shirt in Assembly | Video goes viral | Oneindia News

4 time Congress MLA BK Sangameshwara was suspended for a week by the Karnataka Assembly speaker for the disrespectful act of taking off his shirt inside the House. The MLA was protesting against the..
Credit: Oneindia Duration: 01:19
Published
'Dictatorial attitude, arbitrary': Siddaramaiah on suspension of Congress MLA

While speaking to media in Bengaluru on March 04, the Leader of Opposition (LoP) in Karnataka Legislative Assembly and former Karnataka chief minister, Siddaramaiah condemned suspension of Congress MLA..
Credit: ANI Duration: 01:10
Published
Uddhav Thackeray: We Don't Have To Learn Hindutva From You | Oneindia News

Arvind Kejriwal slams BJP saying the party has failed to govern the municipal corporations in Delhi. Karnataka Minister resigns on moral grounds after tape scandal. Maharashtra Chief Minister Uddhav..
Credit: Oneindia Duration: 02:43
Published
High-level committee to mull over reservation demands by communities: Karnataka HM

Karnataka Home Minister Basavaraj Bommai on demands for reservations by several communities said a 3-member high-level committee will be formed to look into the matter. "We've appointed a high-level..
Credit: ANI Duration: 01:45
Published
Ramesh Jarkiholi resigns after pressure from the BJP, claims 'innocence'| Oneindia News

Karnataka Water Resources Minister Ramesh Jarkiholi submitted his resignation to Chief Minister B S Yediyurappa following allegations of harassment against him. Karnataka Water Resources minister..
Credit: Oneindia Duration: 01:17
Published
Women to lead farmers protest on Women's Day: Yogendra Yadav

Swaraj India president Yogendra Yadav on March 02, announced that women protesters will be in front at farmers' protest sites on International Women's Day. Yogendra Yadav said, "In today's meeting of..
Credit: ANI Duration: 02:09
Published
Over 150 monks test COVID positive at Himachal Pradesh monastery

154 monks have been tested COVID-19 positive in Gyuto Tantric Monastery in Himachal Pradesh's Sidhbari. A total of 330 monks have been tested so far. The monastery has been declared as 'containment..
Credit: ANI Duration: 02:11
Published
Mobile library bus introduced in Karnataka

A mobile library bus rolled out by North Eastern Karnataka Road Transport Corporation (NEKRTC) in Kalaburagi in association with zilla panchayat and education department in Kalaburagi. The mobile..
Credit: ANI Duration: 02:56
Published
COVID-19: 51 persons hospitalised in total, out of which 23 deaths reported, informs Health Ministry

Health Ministry Joint Secretary Dr Mandeep Kumar Bhandari informed that the five highest vaccinating states today are Uttar Pradesh, West Bengal, Gujarat, Karnataka and Maharashtra. Bhandari said that..
Credit: ANI Duration: 01:27
Published
Chikkaballapur blast: Siddaramaiah visits incident site

Former Karnataka chief minister Siddaramaiah on February 23 visited the incident site where a quarry blast took lives of six people. He reviewed the site and talked to the authorities regarding the..
Credit: ANI Duration: 01:40
Published
Karnataka: 6 killed while trying to dispose of explosives in Chikkaballapur

Six people were killed when the gelatin sticks they were trying to dispose of exploded accidentally at a stone quarry site in a village here early on Tuesday, police said. The incident comes close on..
Credit: HT Digital Content Duration: 02:42
Published
6 dead, 1 injured in quarry blast in Karnataka's Chikkaballapur

Around 6 people died and one injured in a quarry blast in Karnataka's Chikkaballapur district. The incident took place in Hirenagavalli Village of Chikkaballapur last night. Karnataka Health and Family..
Credit: ANI Duration: 02:13
Published
Karnataka govt makes screening mandatory for people arriving from Kerala

As the COVID-19 cases surge in Kerala, Karnataka government issued an order to make screening mandatory for people coming from Kerala. Checks conducted at Thalapady border for people of Kerala entering..
Credit: ANI Duration: 02:08
Published
You Might Like



Netas get media gagged; Karnataka minister sees a plot




IndiaTimes - Published





HDK: Karnataka minister's 'video' leaked after Rs 5 crore deal went awry




IndiaTimes - Published





Covid-19: Maharashtra, Kerala, Punjab, Tamil Nadu, Gujarat, Karnataka continue to see upsurge in new cases

Maharashtra, Kerala, Punjab, Tamil Nadu, Gujarat and Karnataka continue to report a surge in fresh Covid-19 cases and they account for 85.95 per cent of the cases reported in a span of 24 hours, the..




IndiaTimes - Published





3.4 lakh Covaxin vials lie unused in Karnataka




IndiaTimes - Published





90% health workers get 1st dose in 9 states/UTs

States such as Jharkhand, Karnataka, Tamil Nadu and Gujarat and the UT of Ladakh have achieved 100% coverage of healthcare workers for the first dose, the government said, underlining that even states..




IndiaTimes - Published





Covid-19 cases rise for 16th day in a row

Total of 98 fatalities reported in India on Tuesday. Maharashtra again accounted for more than half of India's death toll with 54 fatalities, followed by Kerala (16), Punjab (10) and Karnataka (7)...




IndiaTimes - Published





Karnataka minister Jarkiholi courts controversy after sexual harassment charge

Karnataka Water Resources Minister Ramesh Jarkiholi courted controversy on Tuesday as a social activist lodged a police complaint alleging sexual harassment to a 'job aspirant' and threatening her and..




IndiaTimes - Published





Don't lower guard, deal firmly with violations: Centre tells states amid fresh spurt in Covid cases

The Centre on Saturday advised states and UTs reporting a surge in Covid-19 cases to not lower their guard, enforce Covid appropriate behaviour and deal firmly with violations. "Six states –..




IndiaTimes - Published





From UP to Karnataka, 12 desis drive Nasa's Mars mission




IndiaTimes - Published





Karnataka, Maharashtra, UP awarded for efficient PM-Kisan implementation




IndiaTimes - Published





Karnataka CM Yediyurappa calls on public representatives to introspect




IndiaTimes - Published





Leaks, cheating have perverted exam system, Supreme Court says

The Supreme Court on Tuesday said question paper leaks and mass cheating in examinations had "distorted and perverted" the examination system and stayed a Karnataka high court order discharging a..




IndiaTimes - Published





UP leads in total vaccine doses, Karnataka in most 2nd shots given

India had administered over 1.08 crore doses of Covid-19 vaccines till Saturday evening, with Karnataka inoculating the maximum number of healthcare workers with the second dose so far. Karnataka had..




IndiaTimes - Published





About 50 per cent of 2.1 crore vaccine doses supplied used; many states stare at expiry

According to the Union health ministry, India has vaccinated more than 1 crore (1,01,88,007) people so far, which means about 47% of the 2.15 crore+ doses it supplied to states have been used. In..




IndiaTimes - Published





Maharashtra, Tamil Nadu & Uttar Pradesh top states in employability: Skills report

Maharashtra, Tamil Nadu and Uttar Pradesh remained the top three states with the highest employable talent, according to the India Skills Report 2021. Karnataka takes the fourth spot followed by Andhra..




IndiaTimes - Published





HDK demands transparency in Sangh Parivar's Ram temple fund collection drive

Days after alleging RSS was marking houses of those who did not donate for Ram Temple in Ayodhya, former Karnataka chief minister H D Kumaraswamy on Wednesday said he was not opposed to the..




IndiaTimes - Published





Surrender BPL cards if you own TV, fridge or two-wheeler in Karnataka, face legal action otherwise

Karnataka Minister Umesh Katti said that anyone earning more than Rs 1.20 lakh annually should not use BPL cards and has to return it before March 31.




DNA - Published





Kerala, Maharashtra, Karnataka account for 77% of 1.39 lakh active Covid cases: Health ministry




IndiaTimes - Published





Own a TV or fridge or 2 wheeler in Karnataka? Surrender BPL cards or face action




IndiaTimes - Published





Inter-caste marriages will possibly reduce caste and community tensions: SC

It said the way forward to the police authorities is to counsel the Investigating Officers (IO) and lay down some guidelines and training programmes on how to handle such socially sensitive cases. The..




IndiaTimes - Published





SC protects Tharoor, Sardesai and five journalists from arrest

The Supreme Court on Tuesday shielded Congress leader Shashi Tharoor and six journalists, including Rajdeep Sardesai, from arrest in any of the 11 FIRs lodged against them in Delhi, Haryana, UP, MP and..




IndiaTimes - Published





Over 54 lakh people vaccinated against Covid-19 in India: Health ministry

Of the 54,16,849 beneficiaries inoculated, the highest number of people were vaccinated in Uttar Pradesh at 6,73,542, followed by Maharashtra at 4,34,943, Rajasthan at 4,14,422 and Karnataka at..




IndiaTimes - Published





Kerala becomes second worst Covid-19-hit state; accounts for 44% of total active cases in the country

Kerala overtook Karnataka in total Covid cases on Wednesday to emerge as the second worst-affected state in India after Maharashtra in terms of virus caseload. It also has the highest number of active..




IndiaTimes - Published





President Ram Nath Kovind on 3-day visit to Karnataka, Andhra Pradesh, to address Aero India 2021

The 13th edition of the biennial international event at Air Force Station Yelahanka is the world's first hybrid aerospace show.




DNA - Published





Over 15,000 attend 'mahapanchayat' in UP's Bijnor, farmer leaders from Karnataka & Maharashtra also join them




IndiaTimes - Published





Transgenders from Tamil Nadu, WB sought most aid during lockdown

Through the National Backward Class Finance and Development Corporation, Union ministry of social justice and welfare transferred a one-time cash assistance of Rs 1,500 to 6,940 people in 33 states,..




IndiaTimes - Published





Karnataka Congress leader Prakash Rathod caught checking obscene video clips in Assembly

The MLC is seen surfing through his phone and among other visuals, a few porn clips were also seen on his phone storage.




DNA - Published





Explained: What is Belagavi border dispute between Karnataka and Maharashtra




IndiaTimes - Published





UP, Karnataka, Bihar top the list in fortnightly Covid tests




IndiaTimes - Published





Declare Marathi-speaking Karnataka-Maharashtra border areas as UT: Uddhav




IndiaTimes - Published





Covid vaccine tracker: India and the world

Over 19 lakh healthcare workers across India have received shots of Covid-19 vaccine till January 25, the tenth day of the nationwide immunisation drive. According to the latest health ministry data,..




IndiaTimes - Published





16 lakh vaccinated against Covid, Karnataka tops list with 1.9 lakh




IndiaTimes - Published





Covid-19 vaccination: Over 16 lakh beneficiaries inoculated

Over 16 lakh healthcare workers across the country have received Covid vaccine jabs till the evening of the ninth day of the nationwide immunisation drive, as per provisional reports, the health..




IndiaTimes - Published




Vaccination drive: Anxiety behind 7 of 9 AEFI cases in Karnataka




IndiaTimes - Published





Karnataka: KPSC FDA exam postponed after question paper leak, six held

The dates for the test would be rescheduled and announced in due course, a press release said.




DNA - Published





Over 10 lakh administered shots against Covid-19; Karnataka tops the list

Nearly 10.5 lakh beneficiaries have received anti-coronavirus shots under the countrywide Covid-19 vaccination, according to the health ministry.




IndiaTimes - Published





Karnataka: Severe dynamite explosion in Shivamogga, 8 dead

Witnesses say that the explosion was so strong that the glass panes of the houses nearby were broken.




DNA - Published





Eight killed in Karnataka as truck with gelatin sticks explodes




IndiaTimes - Published





Karnataka doctor dies 2 days after given jab; govt says no vaccination link




IndiaTimes - Published





Karnataka political leaders blast Thackeray, protests erupt over his statement on border issue




IndiaTimes - Published





BJP govt in Karnataka will complete 5 year term and return to power again: Amit Shah




IndiaTimes - Published





Karnataka cabinet expansion: Take up grievances with BJP high command, says Yediyurappa

Amid simmering discontent post his cabinet expansion, Karnataka chief minister B S Yediyurappa has asked sulking BJP leaders to take up the matter with the national leadership and urged them to refrain..




IndiaTimes - Published





Karnataka files 2 cases under anti-cow slaughter law




IndiaTimes - Published





Karnataka HC sends notice to law min on validity of contempt Act

The Karnataka high court on Tuesday ordered notice to the ministry of law and justice on a PIL challenging the constitutional validity of Section 2(c)(i) of the Contempt of Courts Act, 1971 on the..




IndiaTimes - Published





Karnataka cabinet expansion likely to take place on Jan 13, says CM Yediyurappa after meeting Amit Shah, Nadda

Chief Minister BS Yediyurappa further said that seven new members may be inducted into the Cabinet.




DNA - Published





Air India's longest direct route flight lands at Bengaluru airport

With four women pilots, Air India's longest direct route flight landed at Kempegowda International Airport in Bengaluru on Monday. Taking the Atlantic route, the flight covered a distance of about..




IndiaTimes - Published





Reliance seals Karnataka rice deal, to pay above MSP

In the first big transaction between a large corporate entity and farmers since the promulgation of the amended APMC Act in Karnataka, Reliance Retail Ltd has closed a deal for the purchase of 1,000..




IndiaTimes - Published





Forest staff in Maharashtra have 'lathis' to defend; in Karnataka they roam in 'chappals': SC




IndiaTimes - Published





Karnataka bride ties knot with guest after groom flees from wedding venue on D-day

As per reports, Naveen ran away after his girlfriend threatened to spoil his wedding by drinking poison in front of the wedding guests.




DNA - Published





Bird flu: Government confirms cases in five states; other states increase surveillance

Ministry of fisheries, animal husbandry and dairying on Wednesday confirmed avian influenza, commonly known as bird flu, cases have been reported from Rajasthan, Madhya Pradesh, Himachal Pradesh and..




IndiaTimes - Published