Mumbai
Megacity in Maharashtra, India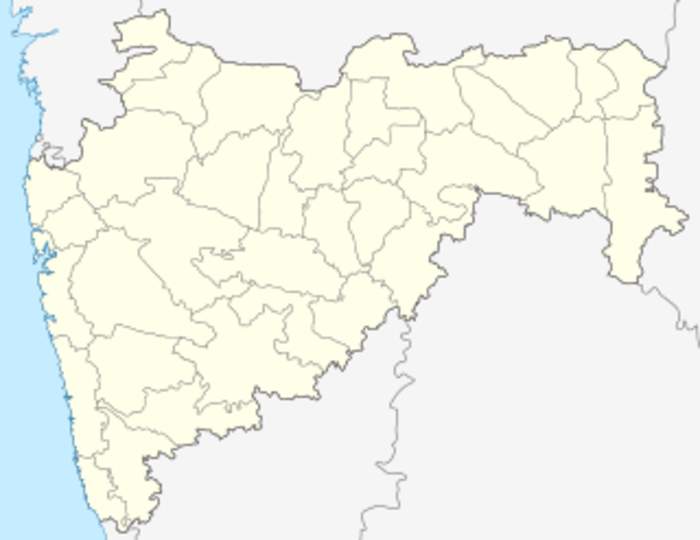 Mumbai is the capital city of the Indian state of Maharashtra. According to the United Nations, as of 2018, Mumbai is the second-most populous city in the country after Delhi and the seventh-most populous city in the world with a population of roughly 20 million. As per Indian government population census of 2011, Mumbai was the most populous city in India with an estimated city proper population of 12.5 million living under Municipal Corporation of Greater Mumbai. Mumbai is the centre of the Mumbai Metropolitan Region, the sixth most populous metropolitan area in the world with a population of over 23 million. Mumbai lies on the Konkan coast on the west coast of India and has a deep natural harbour. In 2008, Mumbai was named an alpha world city. It has the highest number of millionaires and billionaires among all cities in India. Mumbai is home to three UNESCO World Heritage Sites: the Elephanta Caves, Chhatrapati Shivaji Maharaj Terminus, and the city's distinctive ensemble of Victorian and Art Deco buildings.


In the sky, again: In conversation with skydiver Sajid Chougle

Meet skydiver and BASE jumper Sajid Chougle, who explains what it is like to fly once again after being chained to the ground for most of 2020 due to the pandemic-induced lockdown. The Mumbai-based..
Credit: HT Digital Content Duration: 46:50
Published
Hritihik Roshan records statement in fake email case involving Kangana Ranaut

Bollywood actor Hrithik Roshan on February 27 recorded his statement at the office of Crime Branch in Mumbai in connection with the 2016 complaint in fake email ID case involving Kangana Ranaut. He was..
Credit: ANI Duration: 01:02
Published
Hrithik Roshan vs Kangana Ranaut: Actor appears before cops in email case

Hrithik Roshan visited Mumbai Police's Crime Branch office on Saturday to record statement. This is in connection with his 2016 complaint on fake emails in his name to Kangana Ranaut. The actor, who..
Credit: HT Digital Content Duration: 02:17
Published
From Karisma to Kriti Sanon, B-town celebs spotted in Mumbai

Bollywood divas Karisma Kapoor, Malaika Arora and Kriti Sanon were spotted in Mumbai. Karisma Kapoor along with mother Babita visited Kareena's residence to meet her newborn son. Spotted in black tee..
Credit: ANI Duration: 01:32
Published
John Abraham vs Emraan Hashmi: 'Mumbai Saga' trailer full of action

Bollywood stars including John Abraham, Emraan Hashmi, Rohit Roy, Gulshan Grover, Kajal Aggarwal attended trailer launch of their joint venture 'Mumbai Saga'. The 3-minute-long trailer of the Sanjay..
Credit: ANI Duration: 02:45
Published
RPF rescue suicidal man | Virar station viral video | Oneindia News

Alert RPF personnel rescued a suicidal man at Mumbai's Virar railway station on february 24th. The 32-year-old man lay down on the railway tracks as the train approached. #RescueVideo #ViralVideo..
Credit: Oneindia Duration: 01:11
Published
Security heightened after explosives found in vehicle near Mukesh Ambani's house

Security has been heightened outside Mumbai-based industrialist Mukesh Ambani's house. This comes after a vehicle with explosive materials was found parked near his residence. Bomb squad and police..
Credit: HT Digital Content Duration: 01:44
Published
Watch: RPF personnel avert suicide attempt at railway tracks in Mumbai

On February 24, a suicide attempt was averted by RPF personnel when they dragged a man out of railway tracks where he was lying as a train was approaching him, at Virar railway station in Mumbai. The..
Credit: ANI Duration: 01:06
Published
Mumbai auto driver gets Rs 24 lakhs after viral story | Oneindia News

Remember the auto driver made famous by the facebook page Humans of bombay whose moving story went viral? 74-year-old Deshraj had talked about his struggles to provide an education for his dear..
Credit: Oneindia Duration: 01:35
Published
Watch: Cops rescue man from rail track seconds before being mowed to death

A suicide attempt was made on a railway track at Mumbai's Virar station. A man attempted suicide as he was distressed by the death of his mother. The man walked towards a railway track; spread a..
Credit: HT Digital Content Duration: 01:24
Published
Car with explosive materials found near Mukesh Ambani's house in Mumbai

A car carrying unassembled explosive materials was found abandoned at Carmichael Road in South Mumbai on Thursday evening, near the house of Reliance Industries chairman Mukesh Ambani. Bomb squad and..
Credit: ANI Duration: 01:18
Published
India dispatches COVID-19 vaccine doses to West Africa's Cote d'Ivoire

Keeping up with the commitment to assist countries in fight against pandemic, India on February 25 dispatched the first batch of COVID-19 vaccines to Abidjan, Cote d'Ivoire, country in West Africa from..
Credit: ANI Duration: 01:32
Published
Kapil Sharma spotted on a wheelchair, loses cool at paparazzi: Watch the video| Oneindia News

Wheelchair bound Kapil Sharma 'misbehaves' with paparazzi. Popular comedian Kapil Sharma was spotted on a wheelchair by the paparazzi at the Mumbai airport on Monday afternoon. The 'Firangi'..
Credit: Oneindia Duration: 01:01
Published
COVID: Streets wear deserted look in Maharashtra's Amravati

The streets in Maharashtra's Amravati wore a deserted look on February 23. The night curfew will continue till in the district till 6:00 am of March 01 to curb the spread of COVID-19 pandemic. During..
Credit: ANI Duration: 02:42
Published
Mumbai Mayor distributes masks as COVID-19 cases rise

Mumbai Mayor Kishori Pednekar distributed masks in Mumbai amid rising cases of coronavirus pandemic in the state. She distributed the face masks at Dadar vegetable market on February 23 as COVID-19..
Credit: ANI Duration: 02:14
Published
Anil Kapoor, Kartik Aaryan snap in Mumbai

Evergreen Anil Kapoor spotted at Mumbai airport and blessed his fans with selfies. He'll be next seen in crime thriller 'Jug Jug Jeeyo'. Actor Kartik Aaryan snapped outside dance class in Andheri...
Credit: ANI Duration: 01:28
Published
You Might Like



Ambani threat: SUV owner traced, police don't rule out terror angle

The crime branch, which is probing the case of an explosives-laden vehicle found near industrialist Mukesh Ambani's residence, has not ruled out a terror angle. Mumbai joint CP (crime) Milind..




IndiaTimes - Published





Mumbai's Arthur Road jail prepared to lodge fugitive diamond merchant Nirav Modi - details here

Fugitive diamond merchant Nirav Modi, wanted in India on charges of fraud remains behind bars in a London prison since his arrest in March 2019.




DNA - Published





Good news! Mumbai Airport to re-open Terminal-1 for domestic flight service soon

Mumbai's Chhatrapati Shivaji Maharaj International Airport is reopening its Terminal-1 for domestic flights from March 10 onwards.




DNA - Published





Vehicle with explosives found near Ambani residence

An abandoned SUV with 20 explosive gelatin sticks and a threatening note was found in south Mumbai near industrialist Mukesh Ambani's residence on Thursday afternoon, raising security concerns around..




IndiaTimes - Published





Mumbai: Base fares for taxi, auto hiked, here's how much you'll have to pay

These fares had not been increased since 2015 and several taxi and auto drivers were suffering especially during the COVID-19 lockdown.




DNA - Published





Lok Sabha MP Mohan Delkar found dead at hotel in Mumbai, suicide suspected

Mohan Delkar was Congress president of Dadra and Nagar Haveli when he quit the party in 2019 to contest the national election as an independent.




DNA - Published





Elgar Parishad case: Bombay HC grants interim bail for six months to poet Varavara Rao on medical grounds

Varavara Rao, 82, an accused in the Elgar Parishad-Maoist links case being probed by the NIA, is currently undergoing treatment in the Mumbai-based Nanavati Hospital where he had been admitted by the..




IndiaTimes - Published





Mumbai: Man pushes woman in front of moving train after she refuses to marry him

The incident happened at Mumbai's Khar railway station on Friday evening.




DNA - Published





Mumbai body mulls steps from early lockdown period




IndiaTimes - Published





COVID-19: BMC issues fresh guidelines, fine of Rs 200 for not wearing face masks in Mumbai

Wearing of masks mandatory at all public places including offices, markets, public transports.




DNA - Published





Bad air killed 1.2 lakh across 6 Indian cities, cost the $17.7bn: Study

An estimated 1.2 lakh deaths attributed to air pollution have been reported across six big Indian cities in 2020, with the national capital leading the table followed by Mumbai and Bengaluru. Bad air..




IndiaTimes - Published





Rail roko will be peaceful, will not join politics: Rakesh Tikait

"Rail roko protest will begin at 12 pm and go on till 3-4 pm. Trains are not plying anyway. It'll be done peacefully. We'll provide water, milk, lassi and fruits to people who are stranded. We will..




IndiaTimes - Published





Mumbai local trains update: BMC says this on lifting timing restrictions for general public

The local train services in Mumbai returned to full services from February 2 after a gap of 10 months, for the general public.




DNA - Published





Bombay HC grants transit pre-arrest bail to Nikita Jacob in 'toolkit' case

Bombay high court on Wednesday granted Mumbai advocate Nikita Jacob transit anticipatory bail of days in connection with the alleged farmers' protest 'Toolkit' case in which an environmental..




IndiaTimes - Published





Greta Thunberg toolkit case: Shantanu Muluk granted 10 days transit bail

Nikita Jacob's similar plea was heard by Justice P D Naik at the high court's principal bench in Mumbai, which said it would pass order on Wednesday.




DNA - Published





16 desi sailors stranded off China arrive in Mumbai




IndiaTimes - Published





16 seafarers, including three from Mumbai, stuck at Chinese anchorage reached India




IndiaTimes - Published





Will give Koshyari plane for return journey to Mumbai if he asks for it: CM Rawat




IndiaTimes - Published





COVID-19: After Delhi, Mumbai to get mobile RT-PCR lab for tests

The results of the test will be out within 24 hours and the cost of this test will be just Rs 499.




DNA - Published





Congress workers show black flags to Sitharaman on Mumbai visit




IndiaTimes - Published





This 'Boyfriend on rent' in Mumbai can be your date this Valentine's Day

This Mumbai man named Shakul has been a 'boyfriend on rent' on February 14 for the past 3 years now.




DNA - Published





HCs of Bombay, Calcutta and Allahabad face Judge shortage

The Allahabad HC with a sanctioned strength of 160 Judges is functioning with just 96 of them. In the Bombay HC out of sanctioned strength of 94 Judges, 30 are lying vacant. The situation is alarming..




IndiaTimes - Published





Mumbai DCP files defamation complaint against Arnab Goswami

The city police's deputy commissioner of police for zone IX has submitted a criminal defamation complaint against Arnab Goswami, his wife Samyabrata Ray Goswami and ARG Outlier Media Pvt Ltd, owner..




IndiaTimes - Published





BARC ex-CEO Partho Dasgupta mastermind of TRP scam: Mumbai court

A sessions court in its order rejecting former BARC CEO Partho Dasgupta's bail plea has said that while it was true that 14 accused have been released on bail, the case papers reflect Dasgupta was..




IndiaTimes - Published





Water supply to be hit in Mumbai on February 2-3, THESE areas will be affected

Andheri, Ville Parle, Santacruz, Khar, Bandra & BKC of the western suburbs will experience low water pressure on February 2 and 3 due to repair works.




DNA - Published





Mumbai: Actor molested, flashed by man at five-star hotel

The actor somehow managed to escape the washroom and alerted the authorities.




DNA - Published





Mumbai local trains resume services for general public today, here's all you need to know

The local trains in Mumbai are going to be available from the start of the day to 7 am, from 12 pm to 4 pm, and then from 9 pm to the end of the day.




DNA - Published





Fuel prices Feb 1: Petrol crosses Rs 86 in Delhi, nears Rs 93 in Mumbai

On Monday, the price of petrol in Mumbai is Rs 92.86 per litre, it is Rs 87.69 per litre in Kolkata, and it has reached Rs 88.82 per litre in Chennai.




DNA - Published





Mumbai local trains to resume services from tomorrow, commuters should follow these guidelines

Before the COVID-19 lockdown in March 2020, as many as 80 lakh passengers used the local train services in Mumbai.




DNA - Published





Arnab Goswami's culpability to be fixed in TRP case if nexus found: Police

The probe into the TRP manipulation scam is at a "crucial stage" and if any nexus is found between Arnab Goswami of Republic TV, ARG Outlier Media Pvt Ltd and the other accused, "then criminal..




IndiaTimes - Published





Israel Embassy blast: High alert at airports, railway stations, bus stands in Delhi, Mumbai

Communication has place between top officials of Indian and Israeli. Israeli Ambassador has been assured full security to the mission and diplomats.




DNA - Published





Mumbai local train services to resume for general public from THIS date, know timings, other details

The decision to resume Mumbai locals came after the Maharashtra government today extended the lockdown restrictions till February 28.




DNA - Published





India v England: Kevin Pietersen on his magnificent 186 in Mumbai

As England prepare to face India, former England batsman Kevin Pietersen talks BBC Sport through his iconic 186.




BBC Sport - Published





Mumbai Local Trains News Update: Full-fledged suburban services to resume for general public from THIS date

The Uddhav Thackeray-led Maharashtra government is planning to resume local trains for all from this date.




DNA - Published





Google celebrates 72nd Republic Day with Doodle showcasing India's diversity

As India observes its 72nd Republic Day today, Google marked the occasion with a creative doodle illustrated by Mumbai-based guest artist Onkar Fondekar.




IndiaTimes - Published





Google marks 72nd Republic Day with Doodle by Mumbai-based artist Onkar Fondekar

On this day 72 years ago, the Indian Constitution took effect and made official the country's full transition to a sovereign republic.




DNA - Published





NCP chief Sharad Pawar slams Centre over farm laws, makes this BIG claim

Pawar hailed the farmers for coming to Mumbai and slammed the Centre for raising doubts over those who are standing in support of farmers.




DNA - Published





Thousands of farmers hit Mumbai for today's rally




IndiaTimes - Published




India sends 30 lakh dosages of COVID-19 vaccine Covishield to Nepal, Bangladesh

The consignment arrived at Mumbai's Chhatrapati Shivaji Maharaj International Airport in the wee hours of Thursday.




DNA - Published





Mumbai's civic agency BMC lifts fine for not wearing mask in private vehicles

However, wearing masks is still mandatory in public transports and a fine will be levied on those violating the rules.




DNA - Published





Pay and skip quarantine: Cops bust scam at Mumbai airport




IndiaTimes - Published





No inoculation for coronavirus in Mumbai for next two days




IndiaTimes - Published





TRP scam: Ex-CEO of BARC hospitalised

Former CEO of ratings agency BARC, Partho Dasgupta, who was arrested in the alleged fake Television Ratings Point (TRP) case, has been admitted in the ICU of state-run JJ hospital in central Mumbai, an..




IndiaTimes - Published





NCP will wait for probe outcome in case against Munde: Pawar

NCP president Sharad Pawar on Friday said the party will think of any action against Maharashtra Minister Dhananjay Munde, facing rape accusation, only after the truth comes out post police probe in..




IndiaTimes - Published





Effectiveness of India's maritime preparedness tested in two-day mega exercise

India's preparedness to deal with all possible challenges in the maritime domain, including contingencies from peace to war-time, was tested in a two-day multi-agency military exercise that covered the..




IndiaTimes - Published





NCP minister Nawab Mailk's son-in-law held in Mumbai drug trafficking case

In ongoing probes into a drug bust involving a British national, the NCB on Wednesday arrested Sameer Khan, son-in-law of NCP spokesperson and Maharashtra's minority affairs and skill development..




IndiaTimes - Published





Mumbai, Bengaluru & Delhi in top 10 world cities in traffic congestion; indicating revival of economic activities

If increased traffic is an indicator of revived economic activities after the pandemic induced lockdown, then India seems to be doing well. Mumbai, Delhi and Bengaluru made it to the list of top 10..




IndiaTimes - Published





'Mumbai blasts perpetrators enjoying 5-star hospitality': Jaishankar slams Pak at UNSC

Calling out Pakistan for its support for terrorism, Jaishankar asserted that the international community must not allow terrorism to be justified.




DNA - Published





Covid norms see 1-way US fares fly past Rs 1 lakh

Airfares to the US are at an all-time high for Indian passengers with the cheapest one-way fare for travel this month from cities such as Mumbai, Delhi and Bengaluru to places such as New York and San..




IndiaTimes - Published





Mumbai: India awaits Pakistan response on witness testimony




IndiaTimes - Published